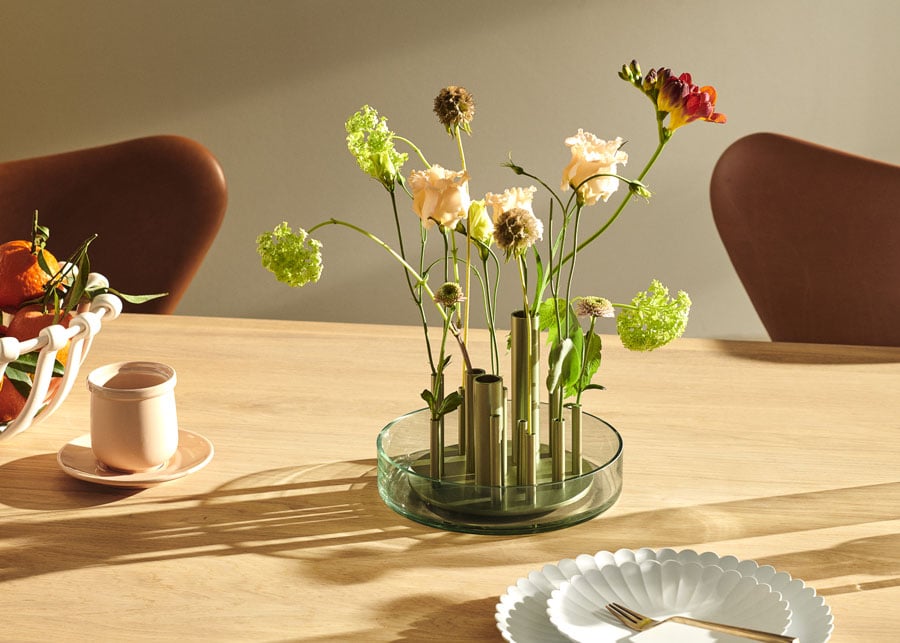 November 24, 2020
Metropolis Gift Guide 2020: Design & Technology
This holiday season, Metropolis's editors are highlighting our picks for the best design-minded gifts.
Whether you are sprucing up your at-home work area with a new handmade rug or monitoring your apartment for healthy air quality, this design and technology gift guide provides some of the most innovative and thoughtfully designed solutions to enhance any space through light, color, and sound.
DESIGN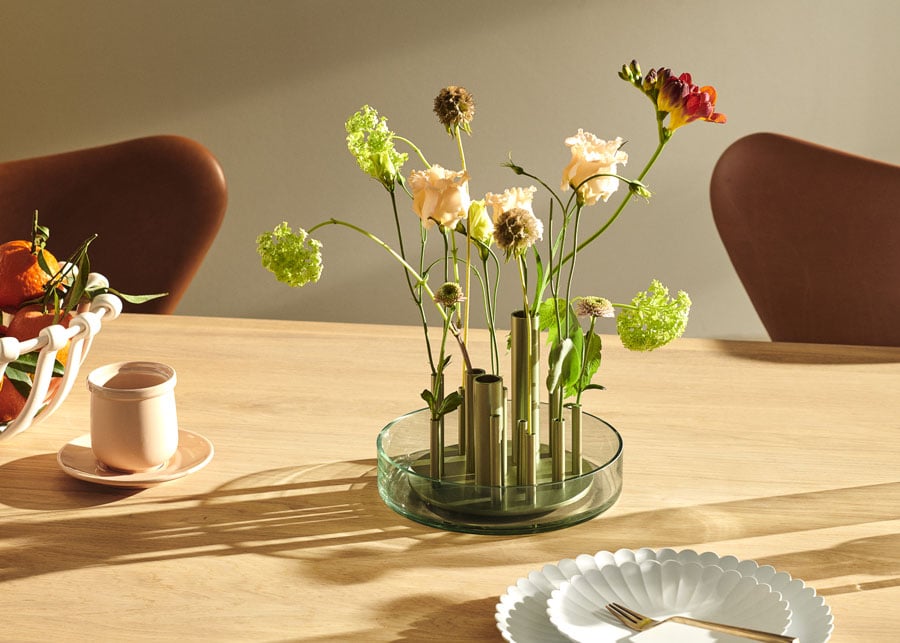 Ikeru Vase by Jaime Hayon for Fritz Hansen, $144
Available in two sizes, the Ikeru Vase by Jaime Hayon is inspired by the ancient Japanese art of Ikebana with metal flutes designed to hold individual flowers. Fill up the glass tray to keep the flowers fresh while you appreciate each clipping for its unique form and beauty.
Ladies & Gentlemen Studio's Lightscape Candle Light, $175
Inspired by László Moholy-Nagy's Light Space Modulator (1930), Ladies & Gentlemen's candle light features an intersecting composition of perforated and polished metal that elevates the flame while subtly obscuring it so that the resulting object places emphasis on the dynamic interplay of light and shadow. It is produced as a limited edition of 100, and offered by L&G directly with 50 percent of proceeds donated to food justice through Soul Fire Farm.
Handmade Morrocan Rug by Salam Hello, starting at $325
Berber women have been handweaving textiles since 600 BC and each textile tells a story of its maker. Salam Hello aims to provide an ethical platform for purchasing Berber textiles, ensuring that the women who create them are properly compensated for their time, material, and craft. In Arabic "Salam" means "peace", a quality that is sure to be welcomed into your home with one of these vibrant rugs. 
Puck Table Lamp by In Common With, $650
Founded by Nick Ozemba and Felicia Hung in 2018, In Common With is a design studio that works alongside glassblowers, ceramicists, and metalsmiths to design a diverse portfolio of handmade lighting. The Puck Collection comes in eight variations including pendants, floor lamps, table lamps, and surface-mounted fixtures. The table lamp pictured conceals electronics and bulbs inside the base. A dimmer allows for smooth adjustments.
Planters by Space Copenhagen for &Tradition, starting at $250
With winter afoot, it may be time to bring some plants indoors. Space Copenhagen's planters for &Tradition Collect help ease that transition. Perfect for large plants or trees, these vessels can be used indoors during the winter and moved outside once the warm weather returns. They are available in three sizes in either Shadow (pictured here) or Silver Grey.
RISOTTO 2021 Mini Calendar, starting at $9.92
Glasgow, Scotland–based RISOTTO Shop's 2021 Mini Calendar is a great way to bring some color into your home or office at the beginning of the new year. The Mini features 12 unique patterns and is printed on recycled paper and bound with cotton thread.
Atelier YUL's Desktop Tools, starting at $36
What better gift for the architect or designer in your life than a contemporary take on some of the most-used tools in their studio? Known for their minimal, leather bags and accessories for designers, Atelier YUL has recently launched collections of pencils, notebooks, and ruler sets for the design-savvy individual. Blending utility and style, the tools meet both technical needs and aesthetic considerations.
TECHNOLOGY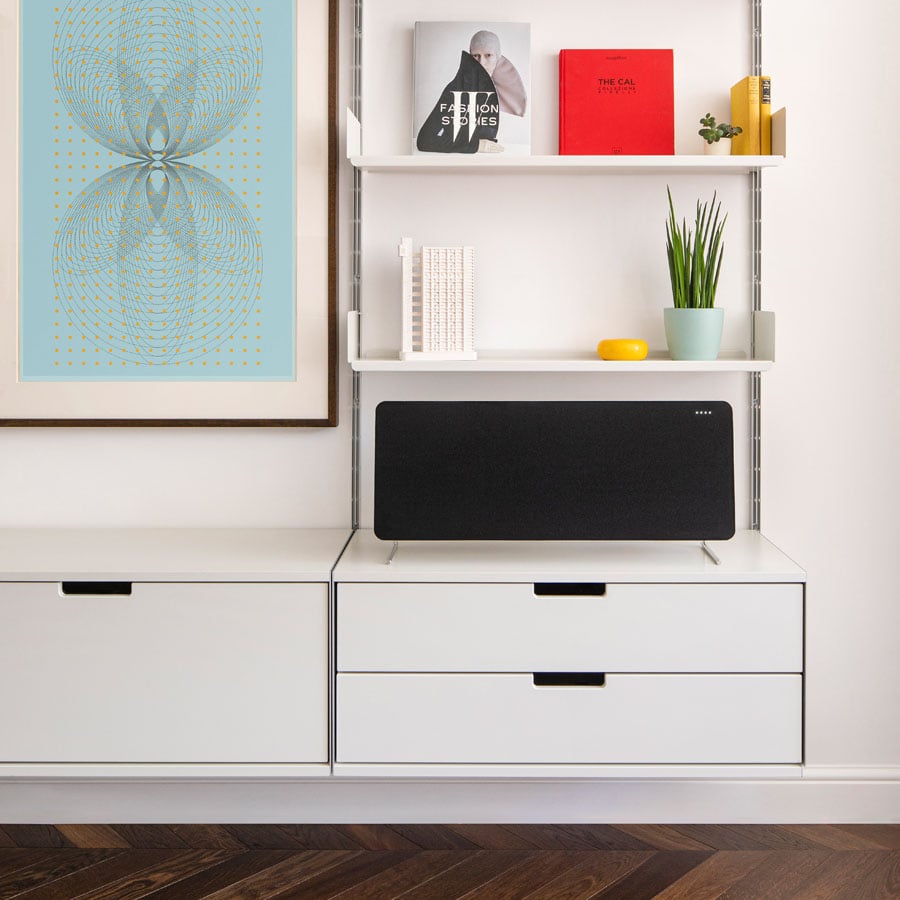 Braun Audio LE Wireless Speaker, $1,299
Inspired by the iconic LE 1 speaker designed by Dieter Rams in 1959, this MoMA Exclusive has been reimagined for today's high-tech audio capabilities. Available in three sizes, each can be used as a standalone speaker, stereo paired with another, or set up in groups.
AirBird desktop air quality control device, starting at $199
Available now for preorder, the AirBird is a desktop device that detects poor indoor air quality by measuring C02, temperature, and humidity every few minutes to look for unhealthy patterns. It gives feedback via gentle chirping sounds to prompt users to adjust ventilation, heating, or cooling. As more people spend their days working from home, this little birdy may prove to be necessary for determining the safety of our living spaces.
Easy Peasy Portable Table Lamp by Lodes, $485
The Easy Peasy Lamps are portable, rechargeable LED lights perfect for any location. The minimal design, available in four colors, features a warm dim effect with colored glass and a methacrylate diffuser which filters the light. A round pommel on top of the lamp allows users to dim the intensity.
OB-4 Speaker, starting at $599
Teenage Engineering's OB-4 speaker is "the magic radio", a portable high fidelity loudspeaker that can be used via line input, Bluetooth, or FM radio. The OB-4 can play for as long as a week on a single charge. Designed to be played outdoors or on the go, the speaker also comes in a leather bag that can be carried on the shoulder.
Dyson's Lightcycle Morph, starting at $650
Launched in January, the Lightcycle Morph is Dyson's most advanced offering yet. The versatile light can be transformed into four solutions: task, indirect, feature, or ambient. Its daylight tracking system makes use of a unique time, date, and location-driven algorithm in order to adjust the color temperature to align with your circadian rhythm.
You may also enjoy "Metropolis Gift Guide 2020: Read"
Would you like to comment on this article? Send your thoughts to: [email protected]
---
Register here for Metropolis's Think Tank Thursdays and hear what leading firms across North America are thinking and working on today