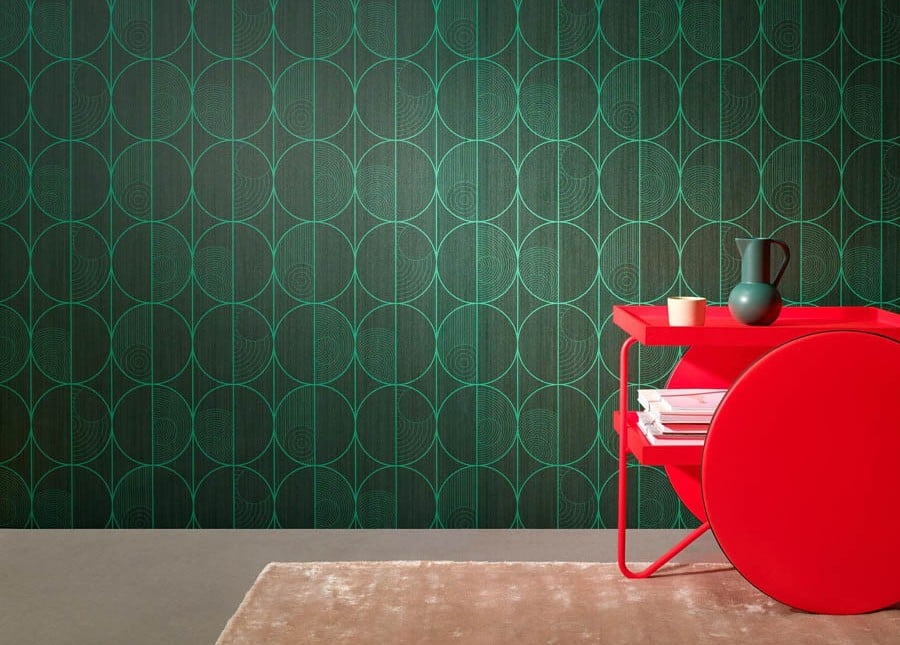 October 26, 2020
Announcing #MetropolisLikes NYCxDESIGN 2020 Winners
Metropolis editors select the best products available to interior designers and architects in New York this Fall.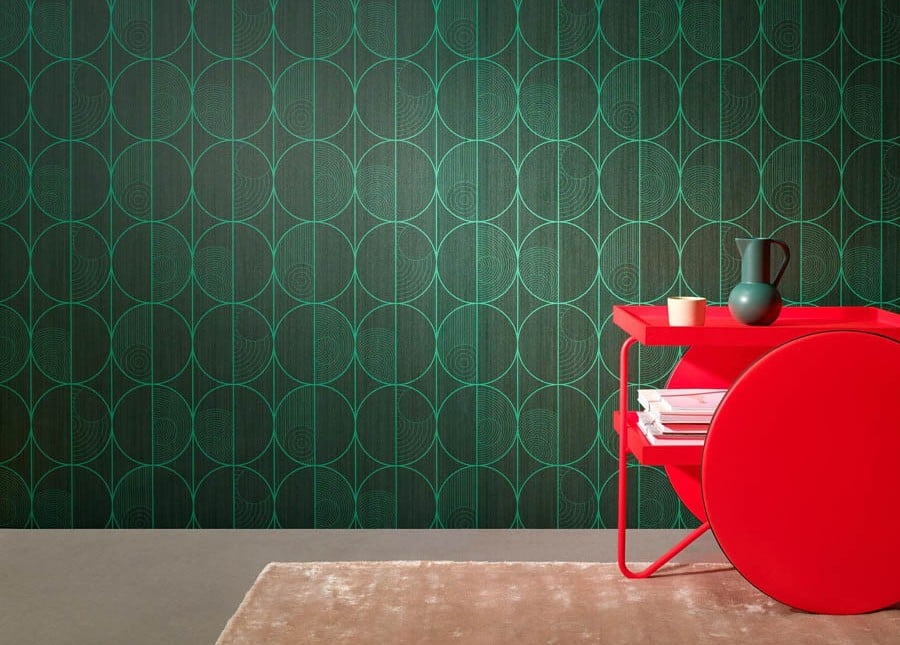 ---
Human ingenuity doesn't stop for a pandemic; and we all appreciate smart, beautiful spaces more now than ever before. The winners of the 2020 #MetropolisLikes NYCxDESIGN awards are creative solutions for the home, office, hotel, or hospital—each one providing comfort, wellness, and delight. They are all sensitive to human needs—whether it is accessibility for those with limited mobility or visual comfort and biophilia to support mental health. Many of them also bear verified sustainability credentials in the form of certifications or carbon-neutral manufacturing processes, which means they are good for both people and the planet.
Here are the 32 winners of the #MetropolisLikes NYCxDESIGN awards:
Aamsco Lighting Mirrorlux Assist Medicine Chest
This LED illuminated medicine chest is uniquely designed to allow the user to lower the interior shelving down to a comfortable level. It is ideal for aging-in-place residential use and assisted living facilities. The LED illuminated mirror is angled downwards, which allows someone with a disability to see their reflection easily. It is ideal for anyone who might have a lower field of vision, for example, someone that needs to use a wheelchair.
Grand Hotel presents a modern rendition of a classic mosaic pattern, in fine hand-worked tesserae. Crafted from classic materials including Bianco Dolomiti, Bardiglio Nuvolato, Bianco Carrara, China Black, and Statuary, the pattern pays homage to the grand hotels of Italy. Stocked in 10″ X 10 " interlocking sheets.
Quick and easy to install with less floor prep, RYME and RYME+ vinyl tiles hide flooring imperfections better than standard glue-down LVT. An IXPE backing on RYME+ delivers natural acoustical properties. Both collections are phthalate free, FloorScore certified, GreenGuard Gold certified, and have EPD, HPD and Declare labels.
Tangent's gently rounded powder-coated steel hugs a roomy, upholstered seat ready to scoop you up and cradle you in comfort. With eager-to-please proportions and an elegant silhouette, it's poised to put you and all of your guests in a comfortable spot.Tangent is BIFMA rated and its Maharam upholstery fabric is made from post-industrial or post-consumer recycled polyester.
Framework helps you use fabrics to create a consistent, modern narrative within a space. The series of textiles, designed in collaboration with Gensler, introduces highly textural anchor fabrics that are both handsome and tactile, while also offering the high levels of performance synonymous with Brentano.
BT45 was made in Germany, but American designers were involved in the design, so it combines the best of two worlds. Only one marble slab was used to create this entire marble island, making its production efficient and sustainable. The island has no visible joints, and the drawer organizers are specially designed to support all your culinary talents and desires.

Carnegie Acoustic Window Sheers
As our virtual and physical worlds collide, sound and acoustics grow in importance. These  innovative, sound absorbing textiles effectively combine sound insulation with beautiful aesthetics to achieve acoustic privacy and performance. The collection features 4 new acoustic sheers, including Sigmacoustic (shown here) that has a textured weave reminiscent of natural fibers.

Cosentino Dekton Avant-Garde Series
The Avant-Garde Series comprises three stunning new hues: Laurent, Helena and Khalo. The collection draws inspiration from the most coveted natural stone materials found around the world. Dekton by Cosentino is a revolutionary and innovative ultracompact surface with superior technical properties, such as resistance to UV rays, scratches, stains and thermal shock, and very low water absorption.

CoveringsETC Urban Fossil Bio-Glass
Urban Fossil is CoveringsETC's newest collection of Bio-Glass, an ecologically intelligent material made 100% from post-consumer upcycled content, and 100% recyclable. Both the manufacturing and packaging of Bio-Glass follow a circular strategy, preventing the generation of waste and the depletion of natural resources, and closing the loop on glass recycling. Bio-Glass products contain no colorants or additives, and the color of each slab is determined by the color of the raw materials used. Bio-Glass maycontribute toward LEED points.
Room Divider is the perfect solution for offices, restaurants, health facilities, and homes. The color range for the collection was carefully considered to include a combination of materials paring muted tones with a vibrant burst of color. Room Divider was designed by Dutch Invertuals, a design studio from the Netherlands that works with a large international network of passionate designers.
Duravit's first-ever integrated shower toilet, SensoWash i offers intelligent design in a beautiful package. The latest wellness innovation from Duravit x Philippe Starck, the SensoWash i shower-toilet incorporates Rear-, Lady- and Comfortwash in its shower-toilet functionality as well as a heated seat, odor extraction, individual adjustments for water, air dryer and seat temperature and an automatic opening/closing lid. Through the remote or a dedicated app users can program their perfect settings for up to two profiles.
Created by renowned Swedish furniture designer and architect Bruno Mathsson for DUX in 1969, the Jetson chair is an icon of Swedish furniture design. The chair reflects Bruno's obsession with comfort and alleviating back pain; his starting point was always the shape of the body and the interaction between furniture and the human form.
This illuminated decorative mirror with glass shade and integrated dimmable LED was designed by Barcelona-based Nahtrang Studio. A multifunctional piece, it's ideal for the bathroom, living room, bedroom or corridor.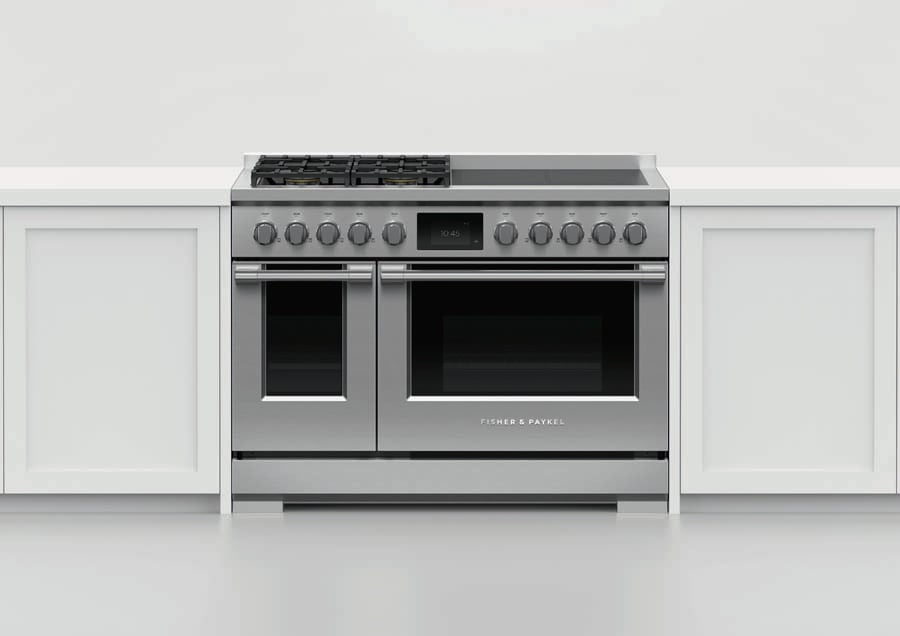 Fisher & Paykel 48″ Professional Range
The centerpiece of the kitchen, this range has craftsmanship in every detail. Made with stainless steel, dishwasher safe cast-iron trivets and beautifully weighted halo illuminated dials that switch from white to red when in use, the range features a myriad of design details. It induction and gas affording the power and tradition of gas cooking while having the safety and efficiency of induction.
Guardian SunGuard SuperNeutral Essential 50/25 HT coated glass
Guardian SunGuard SNE 50/25 HT is a high performance, low-E coated glass that gives architects a subtle, blue-gray color and mid-reflectivity aesthetic. 50/25 HT coating is available on multiple Guardian Glass substrates, including UltraClear low-iron glass, in 6 mm, 8 mm and 10 mm thicknesses and has similar durability and processing requirements as other SunGuard low-E coated glass products. It is available through the Guardian Select Fabricator network.
Designed for Haworth Collection by American designer Lauren Rottet, Lyda lounge is a modular seating platform for social spaces in commercial and hospitality environments. Lyda components are elevated off the floor, giving the sense the pieces are floating. It is constructed using traditional methods with heirloom quality in the US. Designers can incorporate storage, power capabilities and personal tables to support a variety of workstyles and give people autonomy.
Interface Embodied Beauty collection
The Embodied Beauty collection is designed to help restore the health of the planet and lower the carbon footprint of built spaces with style. The collection features a range of beautiful carpet tile designs, including Interface's first-ever cradle-to-gate carbon negative products in three unique styles: Shishu Stitch, Tokyo Texture, and Zen Stitch. In addition, all seven styles of the collection are carbon neutral across their full product life cycle through the Carbon Neutral Floors program.
The ARENA collection is a perfect balance between modern & retro, and the perforations of its surfaces simulate sand ripples on Mediterranean beaches. The materials are galvanized steel and aluminum, which are urable, suitable for intensive use and weather-resistant. Therefore, they are perfect for outdoor and indoor use. They are also 100% recycled and recyclable, and environmentally responsible.
Designed by Norm Architects, the Reprise Chair has a minimalistic design with Scandinavian simplicity. Using L.Ercolani's traditional woodturning and steam bending techniques, Reprise is a modern homage to Ercol's pieces dating back to 1944. The end product is a timeless, well-constructed lounge chair suitable for residential and commercial spaces alike.
These electronic faucets and soap dispensers are commercial grade, can be installed to meet ADA standards, and meet all Watersense criteria. They have integrated sensors and an auto-stop safety feature, offering the touch-free safety from spreading pathogens, while promoting water use savings and environmental consciousness.
Illan is composed of a very light body made with extremely thin, flexible, FSC-certified plywood, cut by laser along densely packed equidistant lines. Once suspended from the ceiling, Illan takes on volume thanks to the force of gravity and assumes its characteristic form that floats in the air. Skillful use of the LED source creates very comfortable, relaxing diffused lighting.
Optic Reset is a collection of 12″ x 36″ carpet plank styles based on graphic design and art, showcasing the interplay between positive and negative space. The three-tile system in nine colorways can be used to help with wayfinding and designing for distance through the incorporation of different visual cues. Optic Reset is net positive for both carbon and water, and is Living Product certified.
The Sky Collection is a modular pendant lighting system featuring multiple shade reflector solutions for various decorative and performance benefits. Sky Dome is available in both spun aluminum and pressed wood shade reflectors that when combined with their powerful 2-sided LED light source gives the lamp a weightless appearance while providing unparalleled illumination in all directions.
pba S.p.A. Hand Sanitizer Cover
The Hand Sanitizer Cover collection demonstrates how thoughtful design can make hand hygiene more attractive, elevating the appearance of all public-facing spaces. PBA collaborated with Gensler on this new range, which is suitable for office, hospitality, retail, education, healthcare, and aviation applications.
The textured, high-performance metal surfaces of Specular harness the transformative power of light, transcending the mundane with physical textures that allow light to respond to metal in unparalleled ways. In addition to Specular's longevity, the use of minimally processed aluminum, organic pigments, and industry leading resins makes it a 100% recyclable collection. Derived from a minimum of 20% post-consumer recycled content, Specular is VOC-free, Red List-free, HPD compliant, and LEED credit qualified.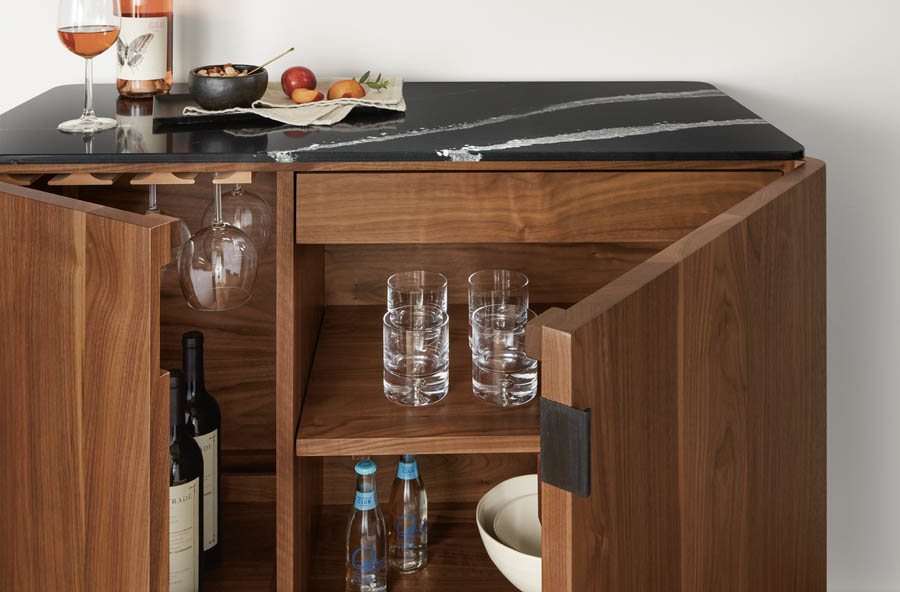 Designed by Room & Board and created in collaboration with Cambria, the Pren collection of tables and cabinets tell a story of American craftsmanship. West Virginia artisans shape U.S.-sourced solid wood into soft curves and beveled edges designed to draw your eye to the beauty of a Cambria natural quartz top.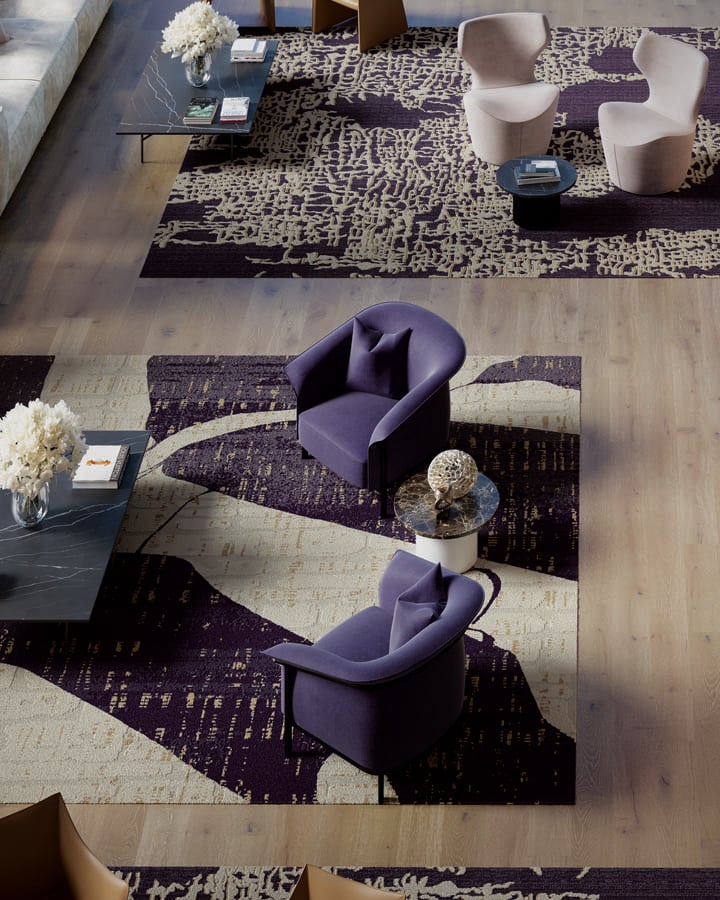 Shaw Contract Dialogue Hospitality
The patterns in Dialogue provide a mix scales, textures and constructions to meet a variety of aesthetic and budget considerations. Rich, luxurious textures are at the heart of the designs, with detailing that creates an embossed effect. Soothing colors evoke serenity and comfort. Constructed of Eco Solution Q nylon fiber, a 100% recyclable and supremely strong and durable carpet fiber, it is engineered to reduce the visibility of dirt and soil while retaining color and appearance.
Created for the active worker, Rec Work Tables provide a high work surface suited for social spaces. Harkening back to the era of the raw, rectangular tables commonly associated with the industrial age, Rec appeals to creative types who just need to sit or stand and accomplish some solo work. Available in a versatile range of top surface materials including linoleum, laminate, and veneer, Rec is suitable for a host of workspace aesthetics and easily complements existing furniture.
Available in more than 2,000 standard configurations, the Dela family of chairs and stools are the ultimate chameleons. The seven models—a task chair; two heights of stools; and lounge and guest chairs with and without arms—can be dressed up or down depending upon one's needs and budget. Each share a plywood shell and tubular steel frame, with a design that nods to minimalism, the Bauhaus, and Stylex's storied history of metalwork. Dela is Greenguard-certified and exceeds all BIFMA standards.
Uhuru Design Minim Conference Table System
Designed to be a kit of parts, the Minim Conference system is customizable with standard features in top finishes, base styles, power options, and dimensions. The system includes Uhuru's proprietary UL listed electrical module unit, powering the entire table. Function and durability meets style—this contract grade, commercial conference table system is designed to be easy to assemble, with only two tools required.
Bathroom renovations are one of the top improvements made in residential and commercial settings, but wall renovation choices are often limited to expensive materials like marble or lower-cost, unattractive options like metal shower units. Wetwall is the ultimate new [interior] surface for areas where water is ever-present — from tub skirts and shower walls, to wall cladding and backsplashes. This patented, water-proof panel system is durable, lightweight, and simple to install. All professional designs incorporate scratch & scuff resistant performance technology in addition to built-in antimicrobial protection.
This collection by Ghislaine Viñas features bold patterns that riff on the past by presenting a tongue-in-cheek twist on colors, scales, and forms found in retro designs from Wolf-Gordon's own mid-century archives. The metallic hints are created by the use of Mylar, lending the collection to luxe interiors where a range of vintage-inspired colors and sophisticated neutrals will stand out.