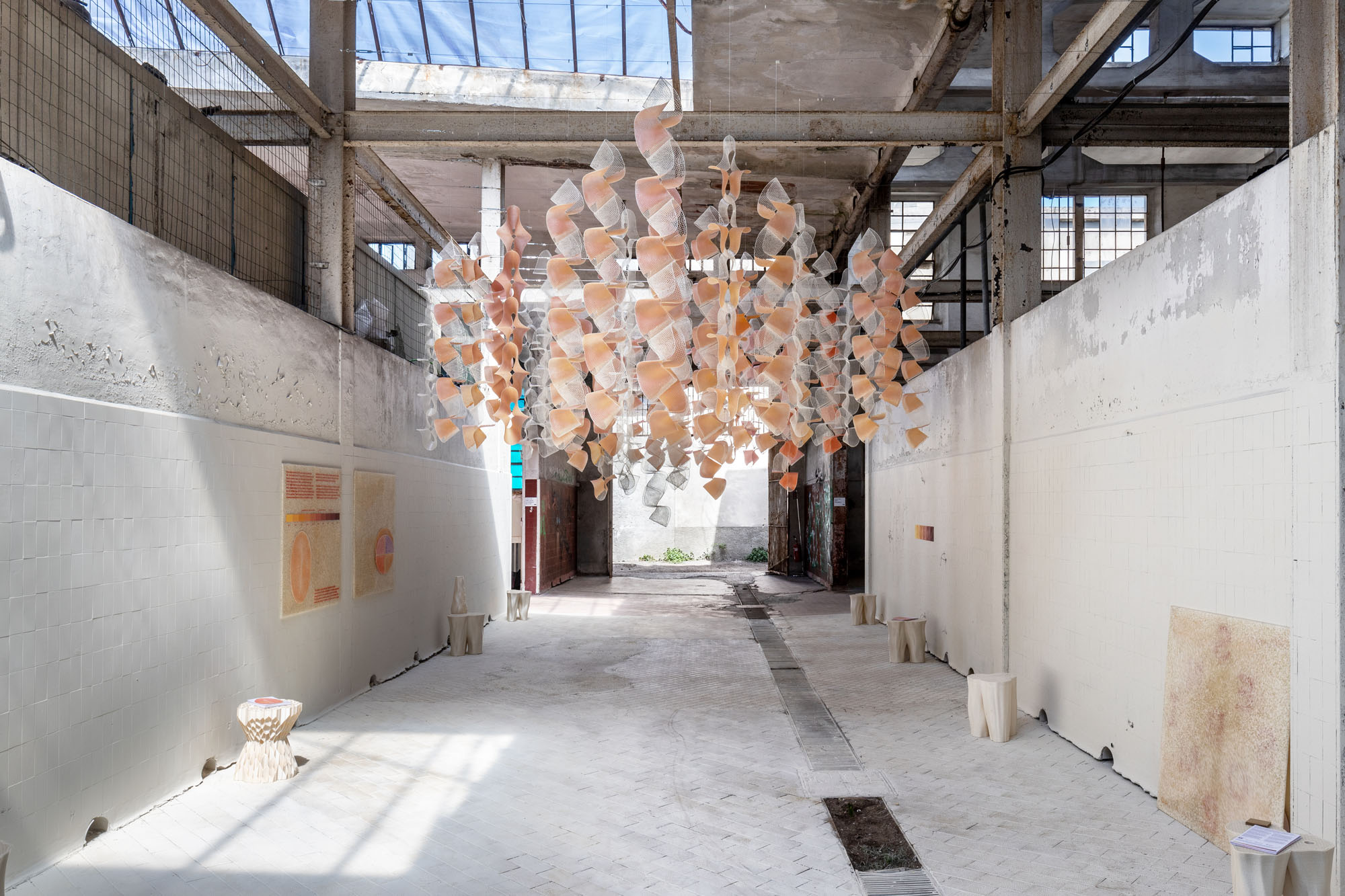 April 27, 2023
Milan Design Week 2023 Reflects an Evolving Design Industry
Milan Design Week is arguably the most important design event of the year. Returning to its original time (April 17–23) for the first time since COVID-19 pandemic began, the massive event reached its tentacles into almost every part of Italy's industrial capital.
Through a robust, mostly non-aligned program of showcases, debuts, interactive installations, special exhibitions, outdoor installations, and so much more, the nebulous happening catered to an audience exceeding 300,000. With a strong commitment to sustainability explored through fresh solutions in durability and material experimentation, promising up-and-comers and blue-chip brands were joined by an increased presence of fashion brands tapping into the lucrative homewares market. The cross pollination of different industries and disciplines was as prevalent as ever.
Salone del Mobile Keeps Up with the Times
The multifaceted event's ability to bridge commercial and cultural definitions is unmatched. Nowhere is that more evident than at the long-established jewel in its crown Salone del Mobile. The 61st edition of the world's preeminent furniture marketplace introduced a more fluid layout, expansive world-within-world booths, and interactive wayfinding that made navigating the 2000 or so exhibitors easier. This approach aptly reflects the fact that major brands like Knoll choose this fair as the place to communicate their evolving philosophies as much as securing significant sales.
The New York-based heritage furniture and textile producer debuted new collections by heavyweight Piero Lissoni and renditions of classics by Harry Bertoia and Florence Knoll herself. Newly appointed design director Jonathan Olivares tapped illustrious Belgian architecture firm OFFICE Kersten Geers David Van Severen to stage these releases in a booth design that resembles a sleek desert modern home, constructed using 100 percent upcycled materials. Actual and simulated domestic space was a common theme throughout the week.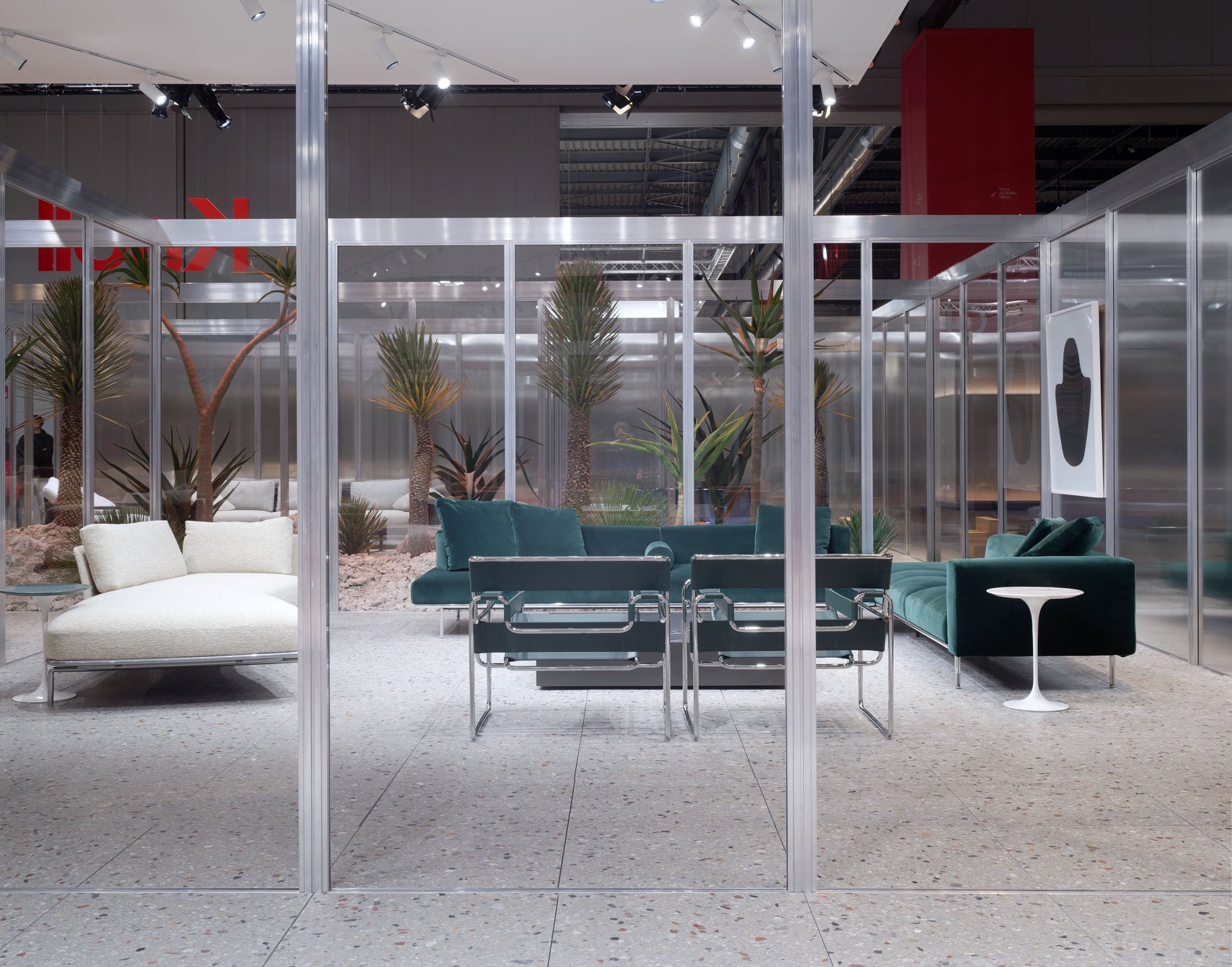 Enigmatic Lighting Introductions from Euroluce
This year's Salone del Mobile also played host to Euroluce—the twice annual fair within a fair that highlights the latest innovations in lighting design. Italian mainstay FontanaArte tapped noted art director Francesco Librizzi to create a multiple room display that reflects the layout of a home. The company released new art- and history-inspired collections by Claesson Koivisto Rune and Gabriele and Oscar Buratti who helped move the brand into the outdoor sector for the first time.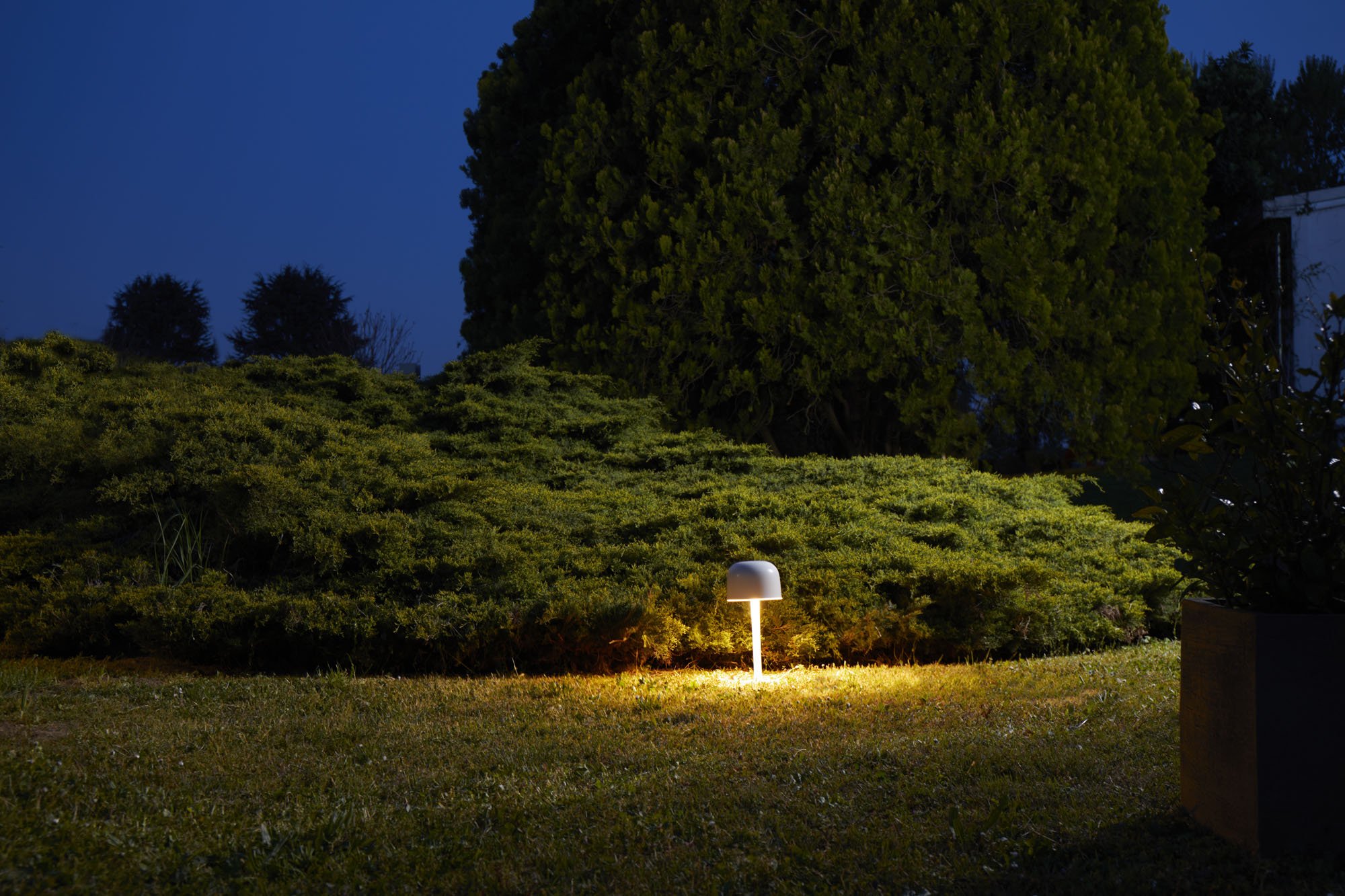 Standing out among an already impressive raft of format-defying luminaires, Vancouver-based A-N-D debuted the brutalism-inspired Vector collection. Metal planes intersect at precise angles, rendering the various pendant or standing fixtures in architectonic form with slatting that reveals diffused light.
Local producer Nemo Lighting opted out of doing a fair booth or standard showroom presentation this year. Instead, the illustrious producer of unique lighting designs by the likes of Foster + Partners, Vico Magistretti, and Charlotte Perriand launched new products and presented existing offerings in a series of multimedia installations by Israeli design provocateur Ron Gilad. The Enlightenment exhibition played on functionality, paradox, and perception; commonly-held symbolic associations we have light but also the interplay of digital and physical mediums.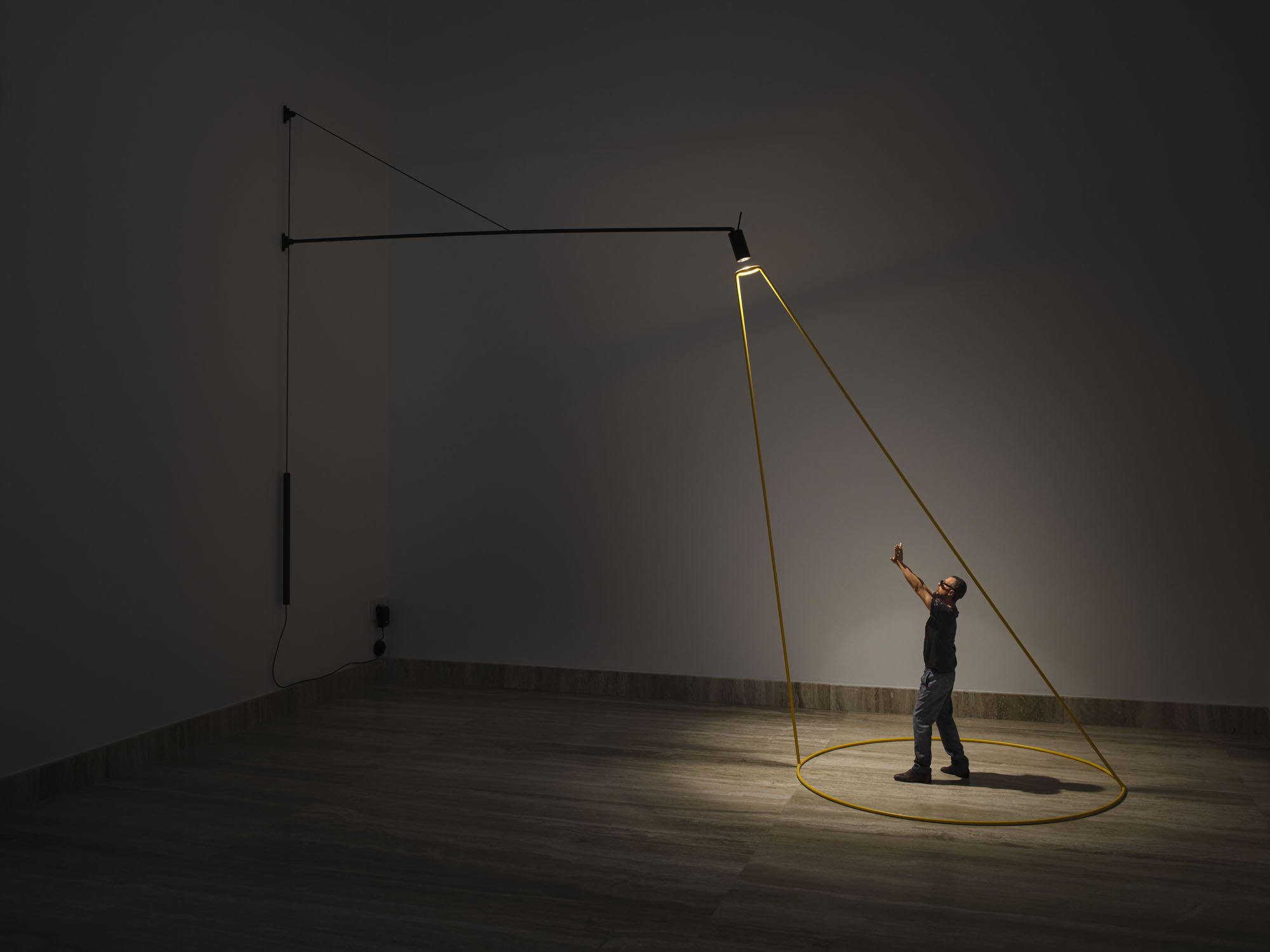 Immersive Installation and Performative Displays Take Over Milan
Ever the platform for dramatic presentations in the spirit of operatic excess, Milan Design Week's 2023 edition was marked by a rich plethora of performative set designs. Topping the list was Italian furniture powerhouse Cassina's Echoes, 50 Years of iMasteri exhibit. Milanese design powerhouse Patricia Urquiola and highly sought after curator Federica Sala mounted an immersive show that transformed Palazzo Broggi's subterranean bank vault with moody red light and poignant vignettes featuring key works from the brand's master collection.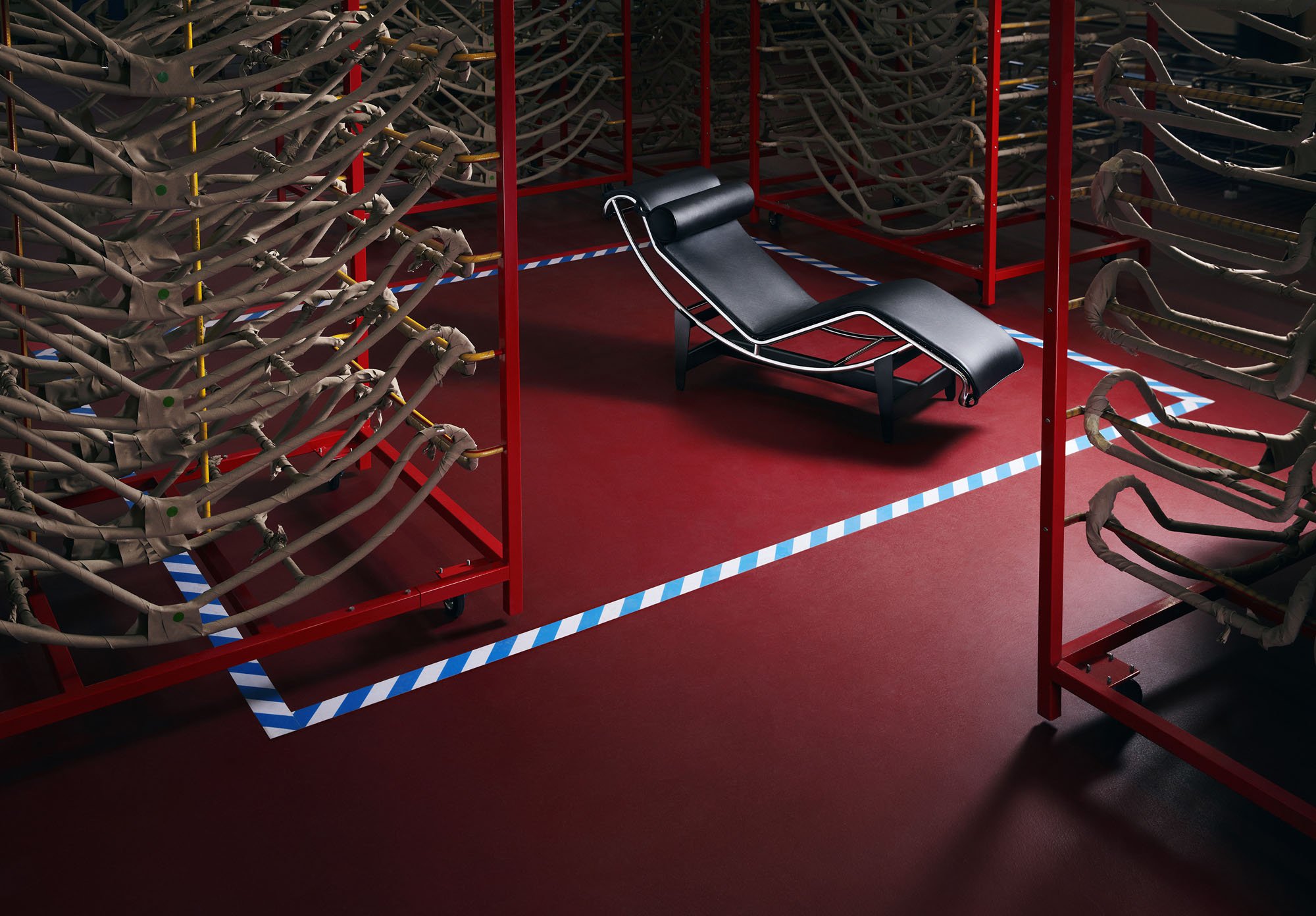 Collective design gallery Dimore transformed its sprawling space in the city's Centrale neighborhood with an animated, windswept scene in which its wares were placed in near perilous situations. Meanwhile, luxury linens brand Frette opted for a multisensory digital experience by artist Alberto Maria Colombo to celebrate its first 100 percent organic product line.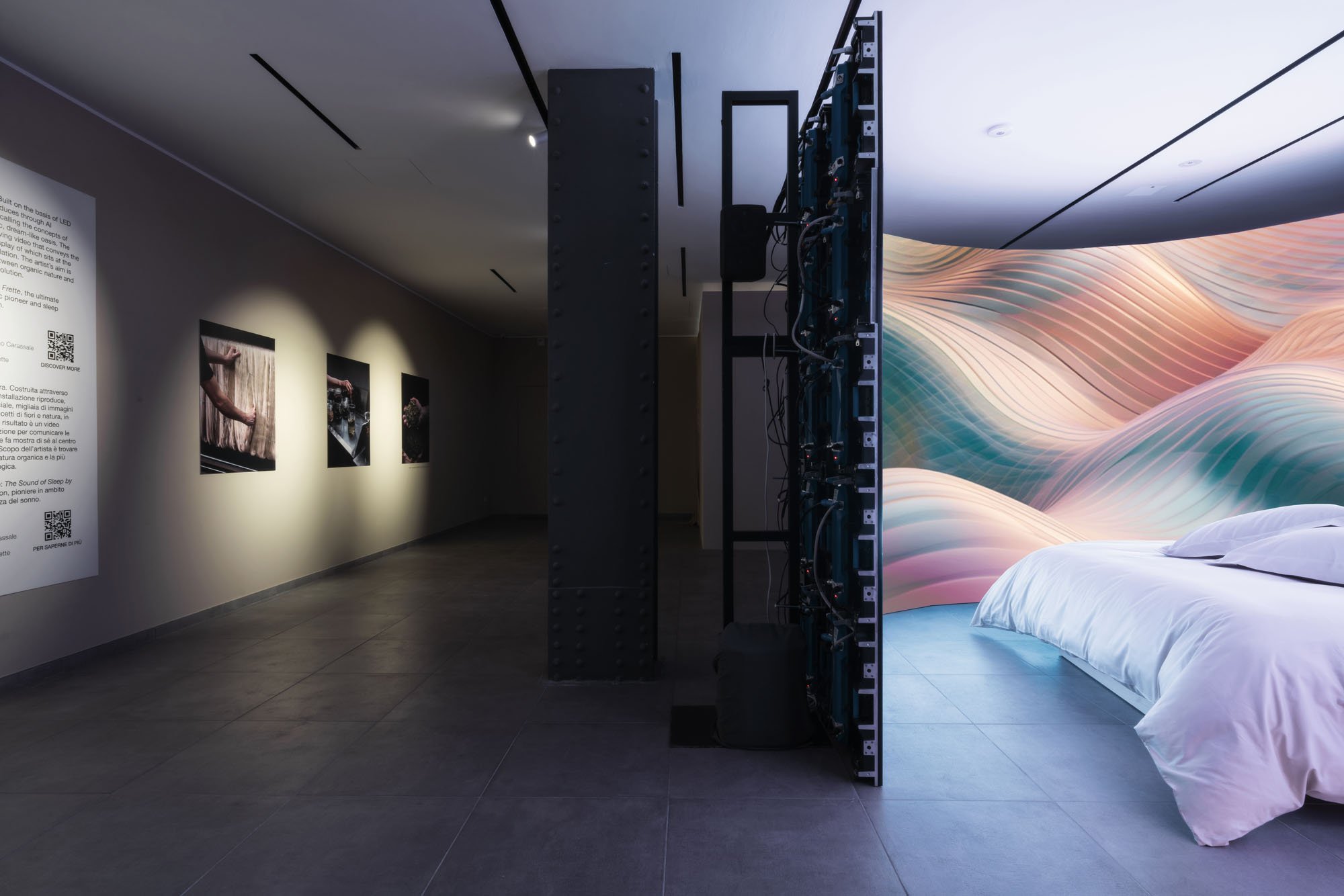 Inaugurating its new permanent Milanese showroom/apartment, Canadian lighting producer Bocci imbued the residence with scenes masterfully displaying its diverse range of decorative chandeliers and sconces, aided by equally sumptuous wallcoverings furnished by popular New York brand Calico. Lighting brand Flos and Michael Anastassiades presented an actual six day dance performance. Called Six Acts, it debuted the designer's revolutionarily flexible My Circuit track system with a paired-back theatrical staging activated by dancers every day of the week.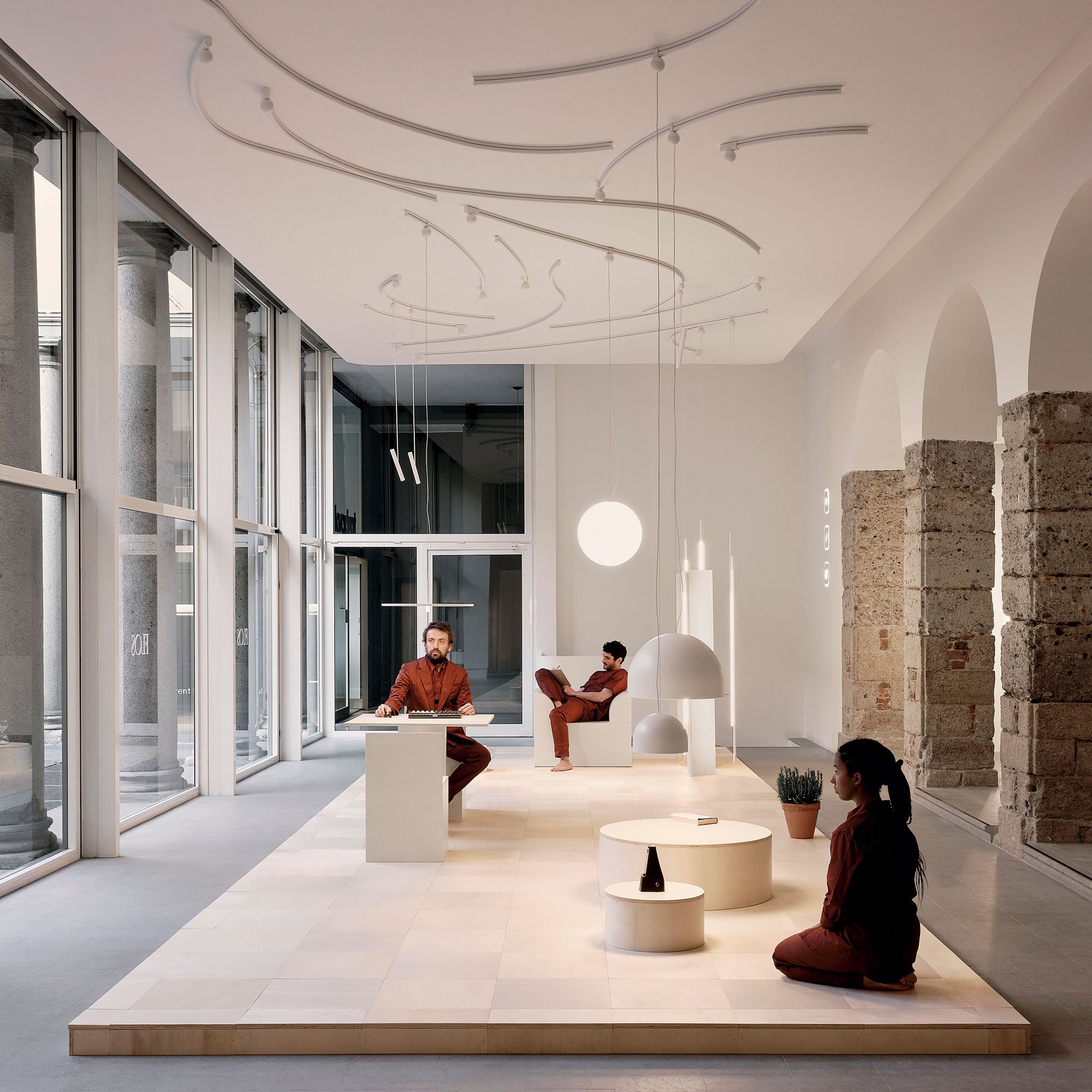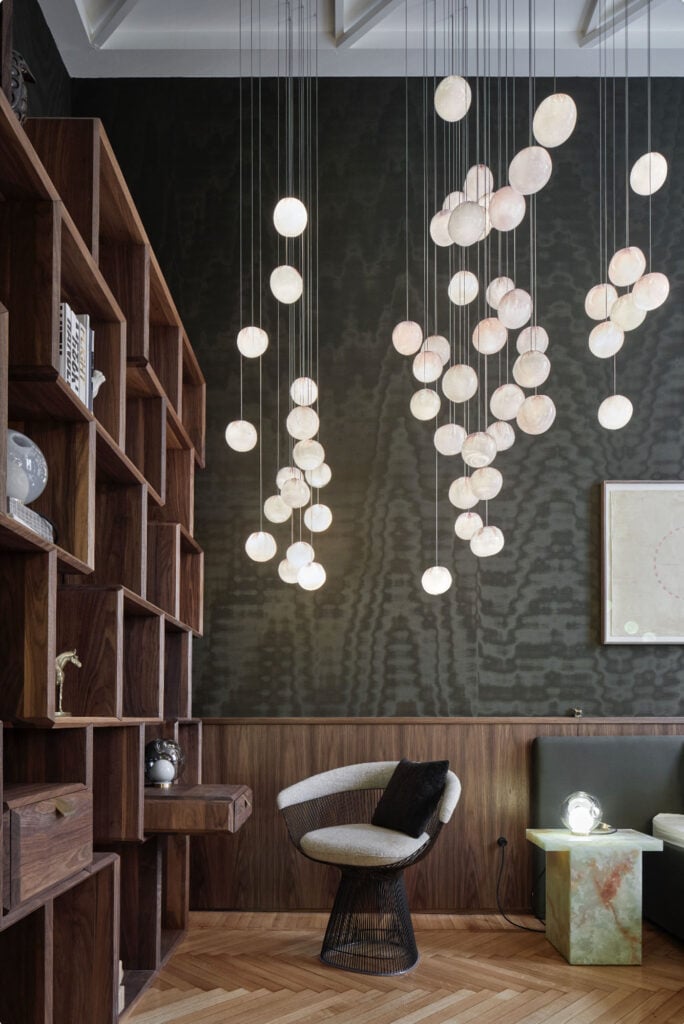 If luxurious apartments, bank vaults, and somewhat ominous settings weren't enough, maverick Danish design brand Gubi chose to program its Ten Exhibition around the striking Bagni Misterios fountain. Triennale Design Museum curator Marco Sammicheli selected ten interdisciplinary talents including Adam Nathaniel Furman to reinterpret the brand's now iconic Beetle Chair, originally conceived by Swedish-Italian duo GamFratesi in 2013. The 10 imaginative iterations represent a move toward the use of strong colors and shapes informing the design industry today.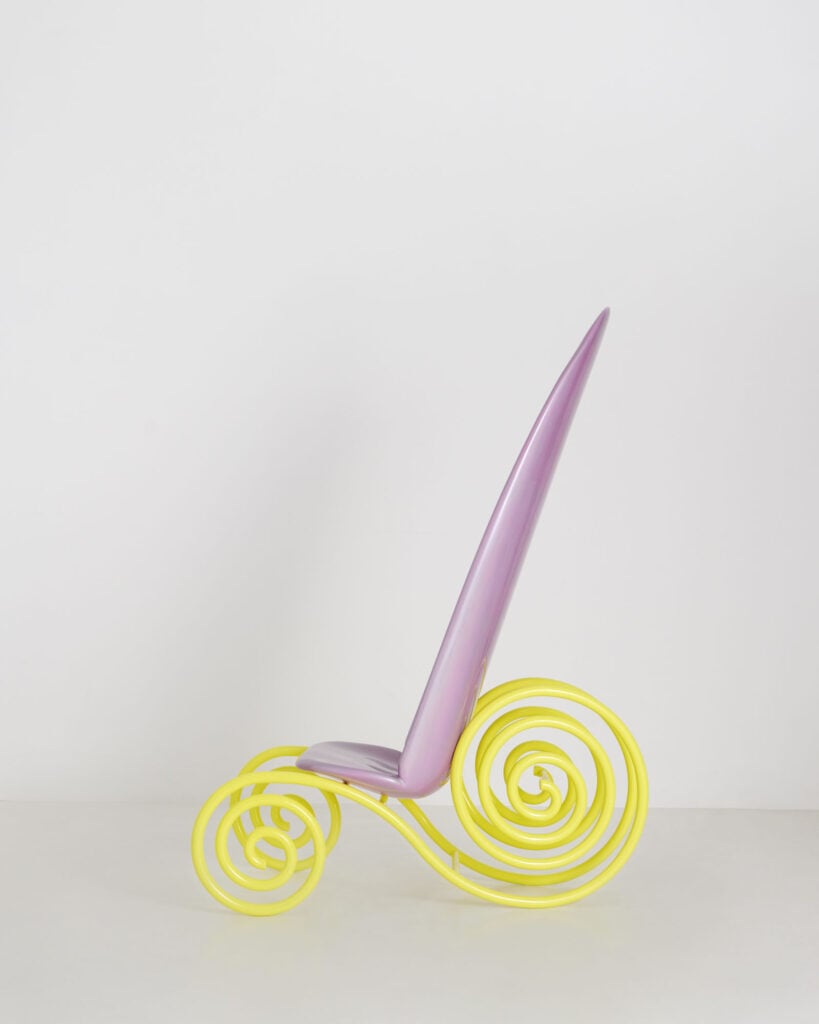 New Products take Bold Forms (and Stances)
Whether it be the reimplementation of a geometric Gio Ponti print originally developed for drapery as upholstery; Poltrona Frau's new Dezza Armchairs; deeply textured textile that evokes Ronan Bouroullec's highly sought after marker drawings; or Kvadrat's new outdoor Alle, Sone, and Tero lines—boldness is in.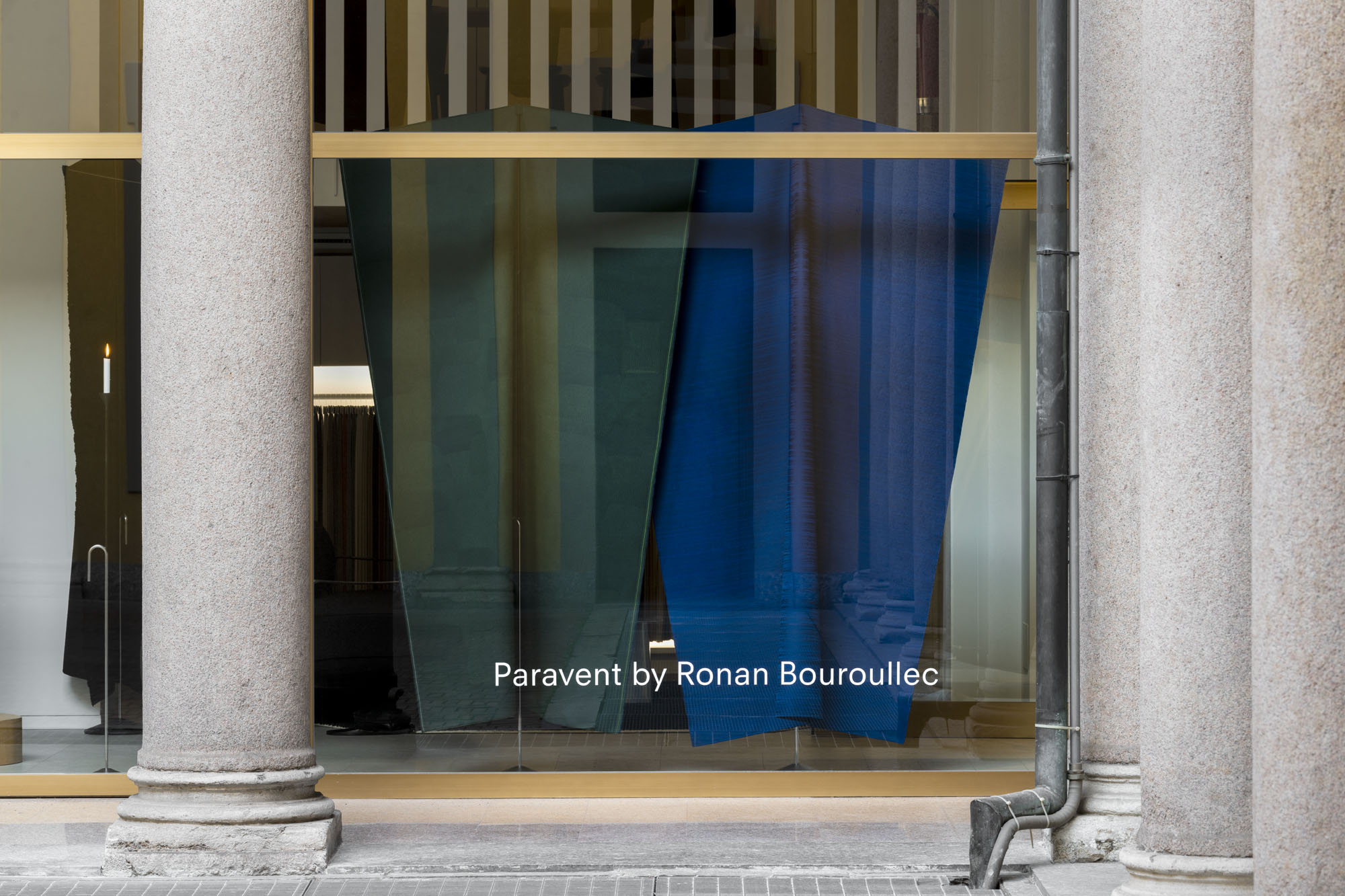 For Italian furniture producer Tacchini, New York–based designer Umberto Bellardi Ricci developed the new Trono stool and Mano lamps with unabashed simplicity and industrial refinement in mind; a radical move for the established brand. Hip carpet brand CC-Tapis released new iconographic and geometric concepts by Bethan Laura Wood and Objects of Common Interest. Design duo Formafantasma took the audacious step to emblazon their Telegram collection with the names of the craftspeople who produced the carpets; celebrating the makers who often get overlooked.
Natural Materials and Bioplastics on Display
At the core of everything exhibited during this year's Milan Design Week was a more considered appreciation for material and a return to more controlled processes. With the release of a series of all plywood chairs for Spanish brand Andreu World, seasoned French designer Philippe Starck called for a return to quality yet accessible materials and simple assembly that doesn't require anything more than tried and true joinery.
"For too long, design has fallen into the trap of being shaped by passing trends," he reflects. "It's become very petit bourgeois without any vision or sense of utopia. That means we are lucky, because we are very unlucky. We have an ecological disaster in front of us and we need to move fast to address it. I believe that young designers will return to the original principles of service, integrity, honesty, and accessibility and the discipline will become honorable again."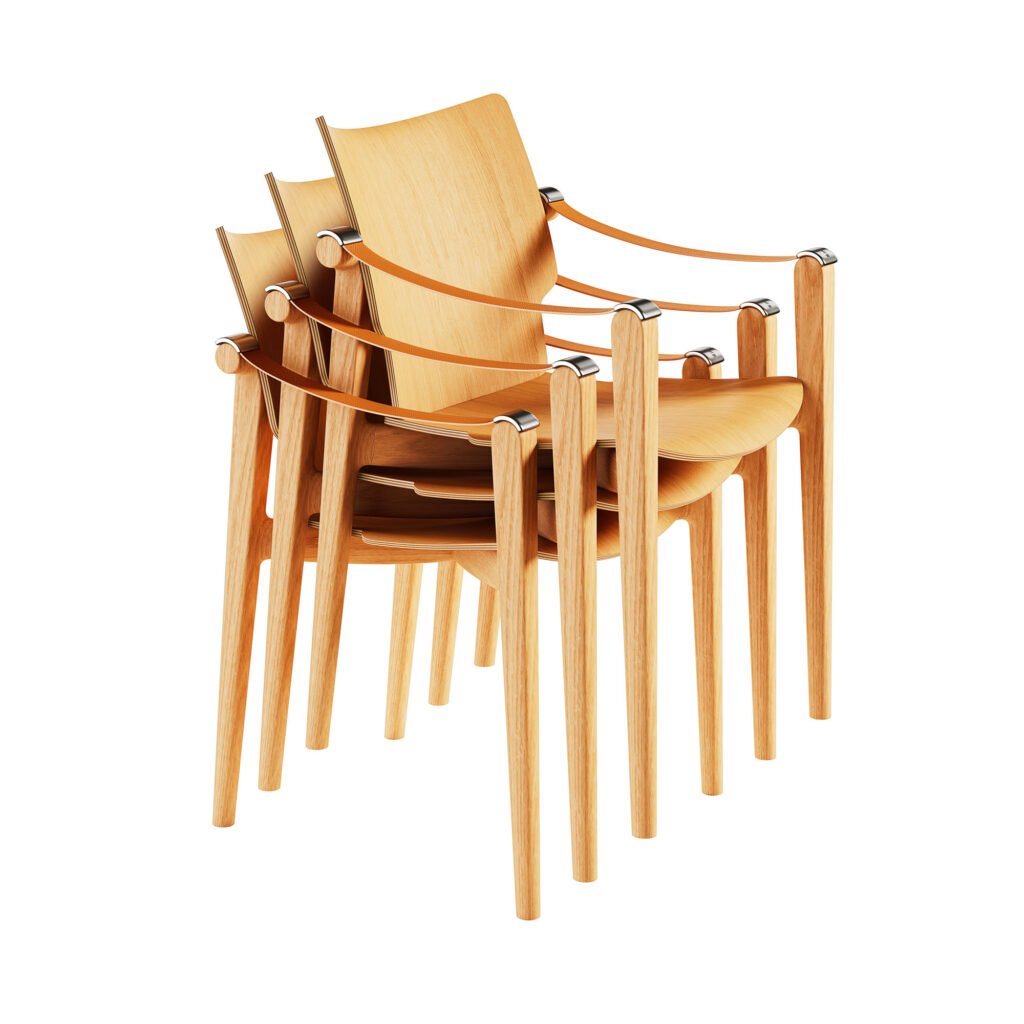 Taking the environmental conversation one step further was Alcova, which centered most of its multi-pronged programing on the question of materials in what was Milan Design's Week's second most visited destination. Aptly presented in derelict slaughterhouses overrun by nature and slated for demolition, the expansive showcase brought together a slew of research-based talents testing out new approaches to production. While Bratislava-based Crafting Plastics teamed up with DumoLab at the University of Pennsylvania to engineer SENSBIOM II—suspended mobiles formed out biopolymer latices that reflects solar rays—Denmark's Natural Materials Studio revealed how upcycled Brick powder could be harnessed in tensile fabric.
Initiative Atelier LUMA, a project developed as part of the larger LUMA Arles program, endeavors to harness the potential of naturally growing matter in south central France. The organization's showcase at Alcova demonstrated the applicable potential of seemingly mundane natural byproducts like rice straw and salt. The results include everything from decorative acoustic panels to furniture. It's clear that the framework of intense resourcefulness and meaningful innovation that Atelier LUMA has formulated could be implemented almost anywhere.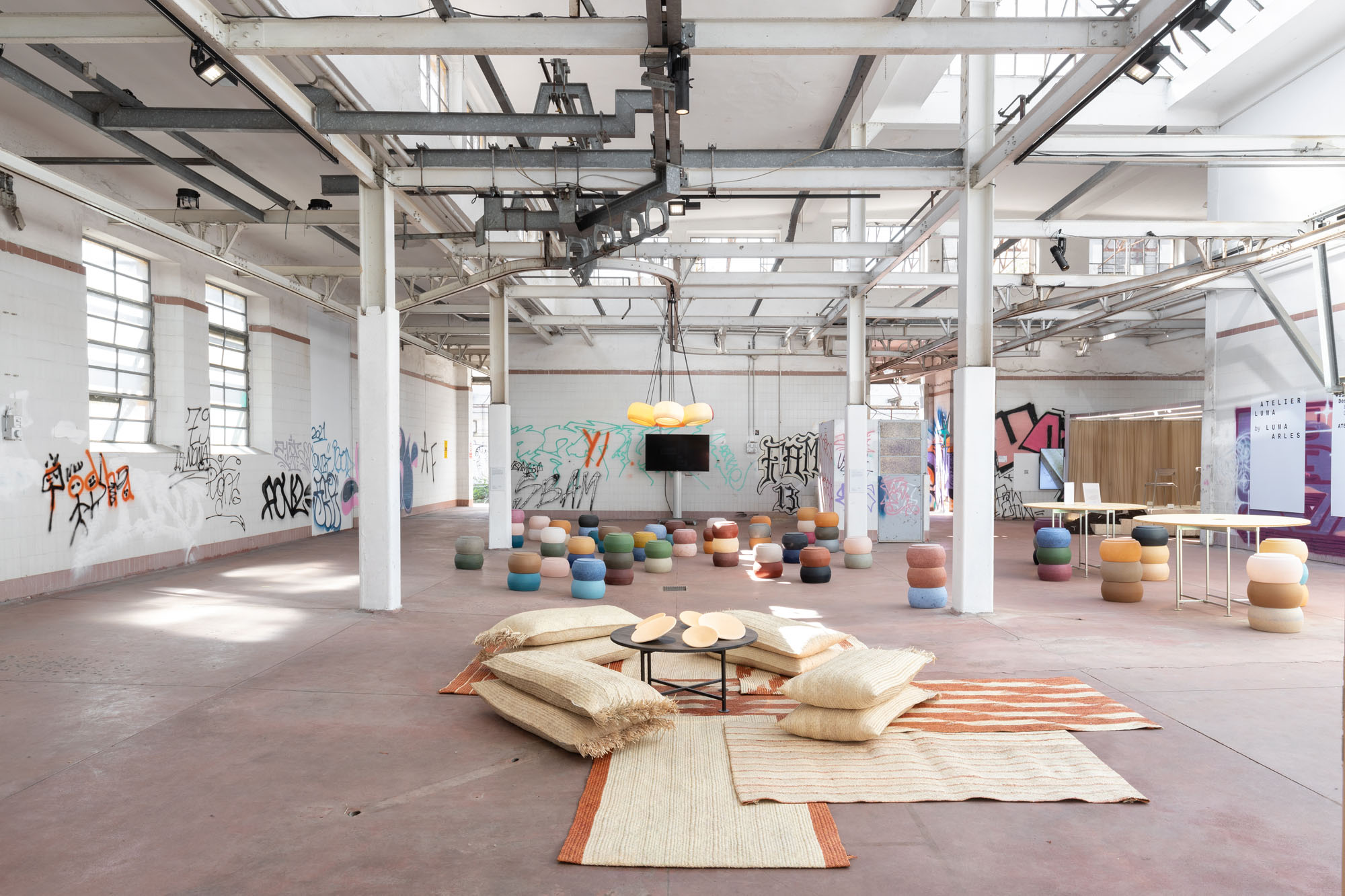 Design Moves Forward
Throughout Salone del Mobile and Milan Design Week, the zeitgeist of contextualized domesticity, experimentation, and a revamped focus on sustainability presented a design industry more aware of its responsibilities, but also its ability to channel self-expression and embody a refined understanding of aesthetic composition.
Would you like to comment on this article? Send your thoughts to: [email protected]