September 16, 2021
16 Products from Milan's Supersalone Reveal the Global Design Industry's Response to Our New World
The Show Transforms
The fair itself was significantly scaled down this year—filling about a quarter of the exhibition space of past shows—making it much more manageable and encouraging visitors to more vigorously explore the city's many showrooms. The number of fairgoers was reduced as well: about 60,000 people attended Supersalone compared with 380,000 in 2019.
To avoid further congestion, architect Andrea Caputo redesigned Supersalone's booth layouts, encouraging the free flow of people through long linear rows, with both floors and walls filled with gallery-like content. Cave-like, mid-row walkthroughs further aided with smooth movement. Salone's organizers also took steps to aggressively address another oversized contemporary challenge: climate change. All exhibits consisted of modular plywood walls that could be easily broken down and reused. A forest of greenery, meanwhile, welcomed visitors to the fairgrounds' East Gate and beyond.
Content Changes
Supersalone's offerings, too, responded to today's re-adjusted priorities, showcasing design tendencies that are not altogether new, but have accelerated dramatically since Salone's last edition. These include:
Color
Design has always met challenging times with bursts of color—an effective antidote to fear, anxiety, and general malaise. (Sound familiar?) At Supersalone, Fritz Hansen shared A Sense of Colour, a new palette of 16 colors and seven new bases for Arne Jacobsen's iconic Grand Prix, Ant, and Series 7 chairs. The energizing selection was curated by designer Carla Sozzani. Equally comfortable in home or office, color choices include Paradise Orange, Lavender Blue, Venetian Red, and Deep Clay.
Glas Italia's Dark Side of the Moon, by Piero Lissoni, is a bridge shaped table (available in high and low versions) showing off a kaleidoscopic spectrum of colored glass, in different widths and transparencies. The company's Crossing table by Patricia Urquiola features three-dimensional polychromic decoration, with weaving and overlapping lines and colors.
Light
Another mood enhancer, of course, is light, which can transform the familiar spaces that we're all now sick of looking at. Architects, and their unique spatial skills, were in high demand to create these kinds of metamorphoses. Italian star architect Mario Cucinella teamed with Artemide to produce Katà Métron, a linear system of modular elements that can be merged in 90- and 45-degree angles to create endless combinations and shapes. Cucinella also designed Flexia, a rotating pendant composed of flexible, origami-inspired wings clad in colorful, sound-absorbing fabric. Nemo's Linescape System, too, is made of modular components that can be fitted together in any combination and attached to both ceiling and wall. Its composition of continuous lines and edges blurs barriers between spot and overhead lighting and between light, architecture, and art.
Lodes' just-unveiled Croma floor lamp, by multi-disciplinary designer Luca Nichetto, combines color and light. Its slender frame is available in striking metallic ombre colors, fading from green to black and from bronze to nickel, it's also available in black and white. The light, widened at the bottom instead of the top, emits washes of light upward over walls and ceilings.
Outdoor
Given our current predicament (and until it gets cold), there's infinitely more interest in spending time outdoors these days, and it's a habit that brands and designers are betting will stick around long after COVID. Launched this year by Pedrali, the new Caementum line by Marco Merendi and Diego Vencato is a smart addition to any backyard. It features a light look and delicate geometry, but it's in fact made of solid, virtually weatherproof cement.
The list of new outdoor offerings at Supersalone was endless. Cassina's new Trampoline Sunbed by Patricia Urquiola features a unique and sleek oval shape and comes in the cutest of colors. Ethimo's Allaperto Veranda, by Matteo Thun & Antonio Rodriguez is a suspended armchair textured with natural rattan. Gibus Spa showcased a modular folding pergola system, Zenit, with a retractable roof and weather and light resistant PVC fabric. Tidelli's Amado Double Chaise, by Felipe Villela, is a sexy, powdered aluminum and nautical rope double seating option—well shaded, too—from Brazil.
Sustainability
Sustainability is not new at Salone, but designers continue to incorporate its tenets—recycled, low-impact, and bio-based materials, local production, and so on—in a more sophisticated fashion. A great example is Patricia Urquiola's Nuez Lounge Bio, for Andreu World. Created from a biodegradable plastic shell and covered in recyclable fabric, the pinched and folded creation's carbon footprint equals that of wood. Proclaimed as the world's first 100 percent sustainable lounge chair, it can be easily separated from its base when its life span ends.
Kartell's cylindrical Componibili containers were first designed by Anna Castelli Ferrieri in 1967. Now reissued, they're now made of Bio by Kartell, a bioplastic material that comes from agricultural waste, and is available in green, pink, dove gray, and yellow. (At recent Salones Kartell has revealed other eco gems like Philippe Starck's AI, made of recycled thermoplastic technopolymer, and his Smart Wood collection, taking raw materials like wood residue and even wood dust and transforming them it into elegant, gently curving furniture.)
Flexibility
As home and workplace merge, designers are creating collections that are effective in either environment. CUF Milano's Fusion line, by John Bennett and Sakura Adachi, changes in size and function thanks to an expandable modular system. One can easily add desks, storage, technology and even sofas and lounges. A fabric roof can even create a more intimate "hub" working situation.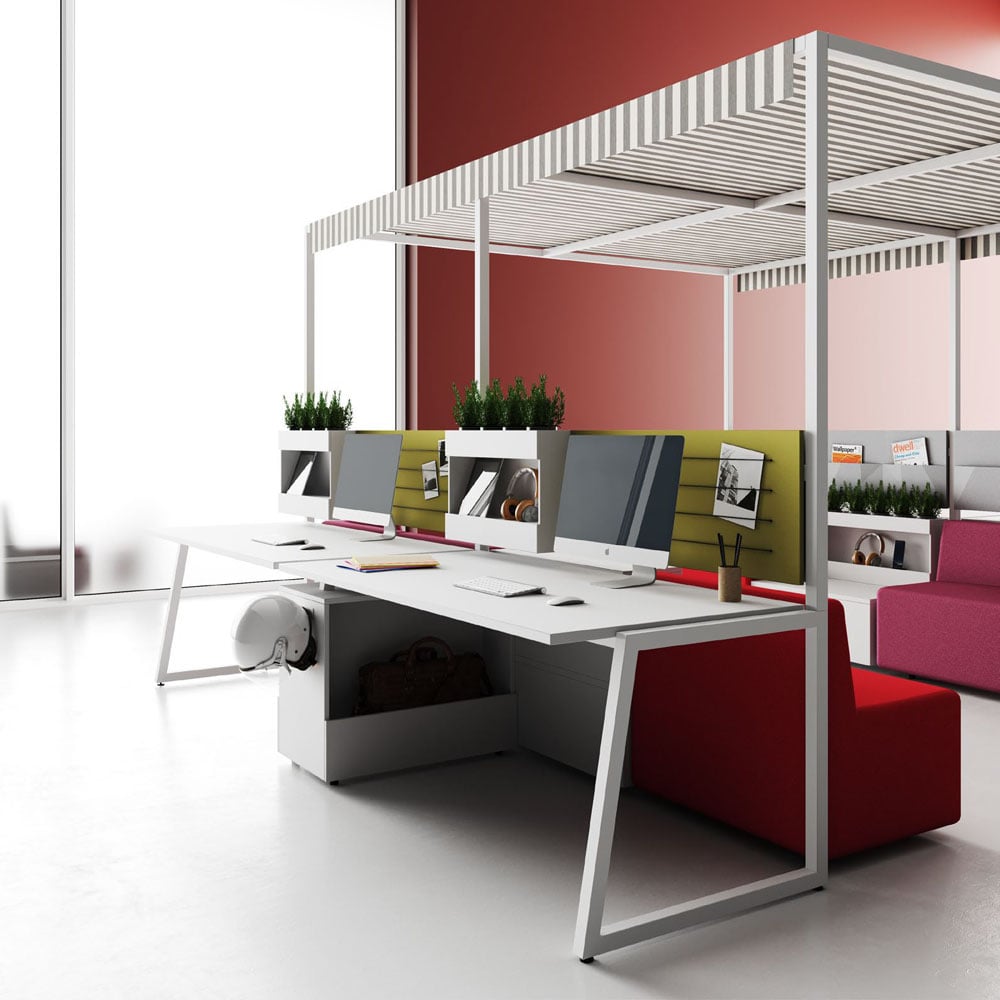 Female designers
While Salone is, overall, still sorely lacking in racial and ethnic diversity, women designers have been—slowly—moving front and center. For Fritz Hansen, young designers Ahm & Lund have created the Clam Pendant, a glowing, two-piece lamp—which can be easily opened and closed—inspired by natural shells, hiding light inside instead of a pearl.
On the other end of the age spectrum, Cassina has added 89-year-old designer Bodil Kjaer to its roster. Her re-issued High Back Chair (1955) is a striking, timelessly modern piece designed to compensate for a day spent in unnaturally tense positions at work.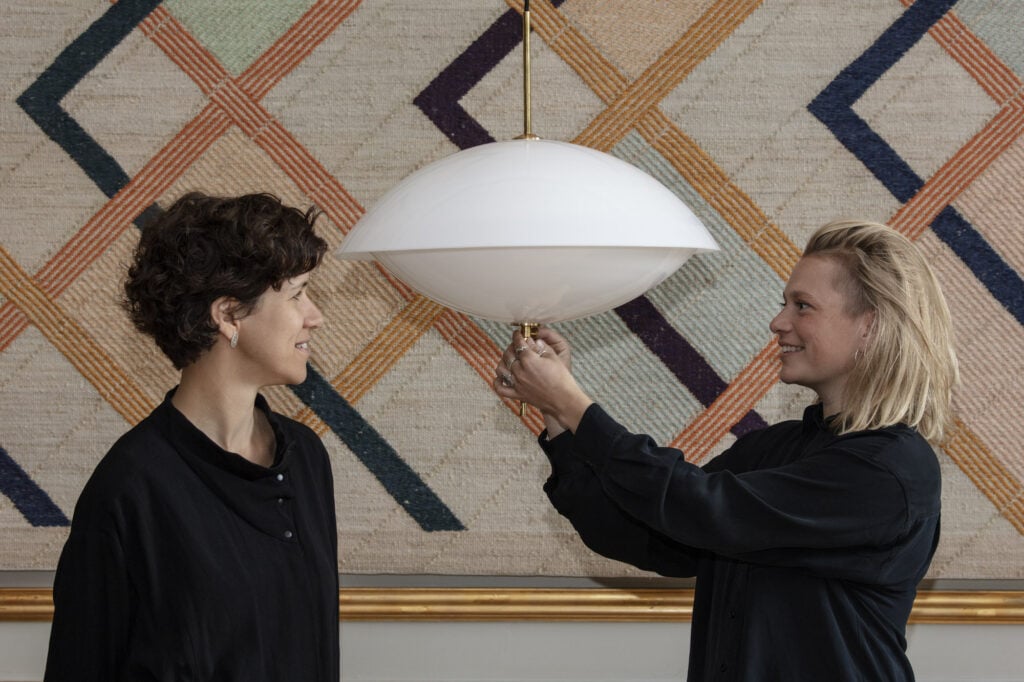 Would you like to comment on this article? Send your thoughts to: [email protected]