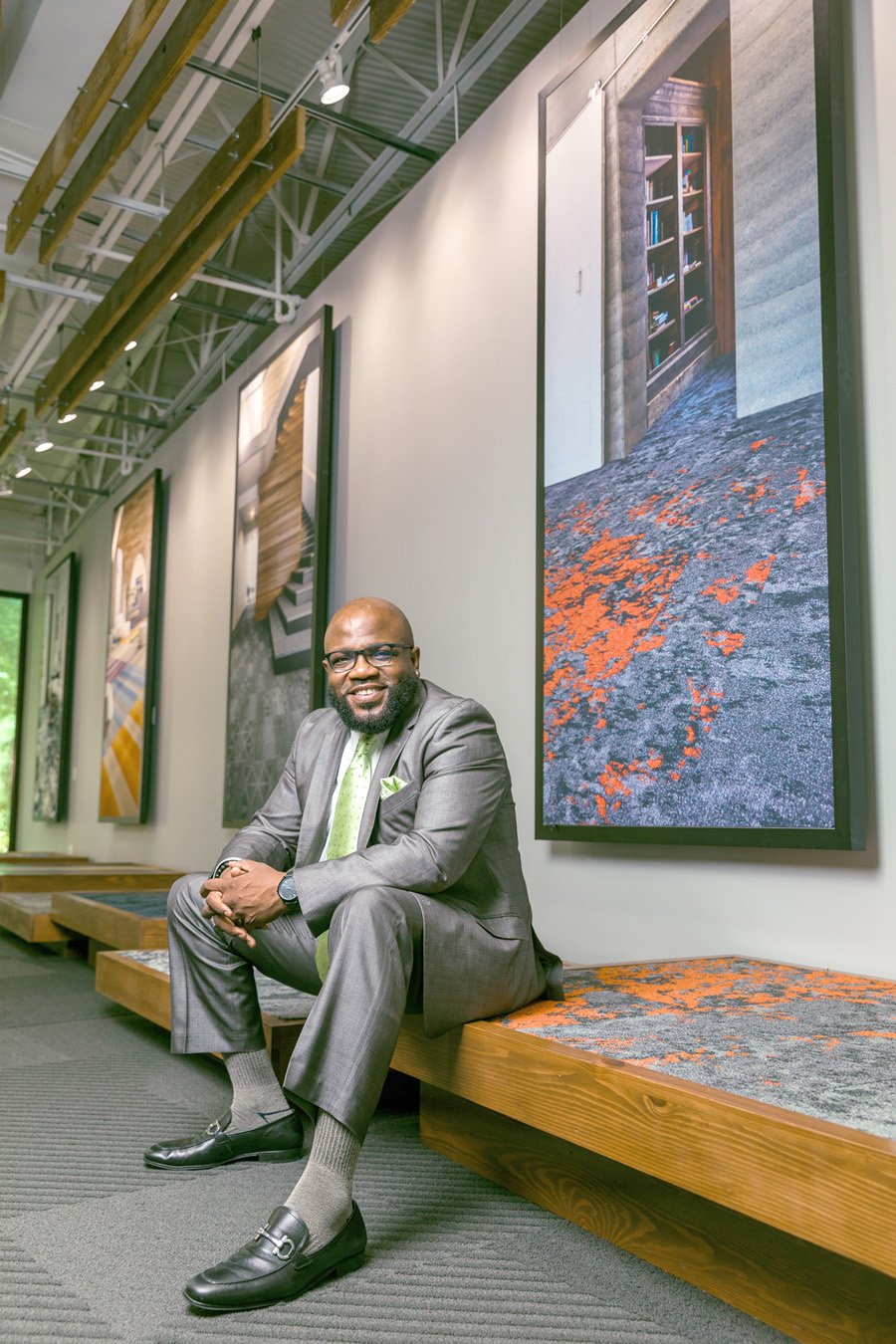 September 19, 2018
Take a Tour of Mohawk Group's Factory—and Its Sustainability-Minded Business Strategy
The commercial flooring manufacturer's pursuit of the stringent Living Product Challenge standards yields change at every level.
---
Nature offers us myriad shades of green to consider, from artichoke to fern to mint. For companies that want to be sustainable, there are just as many shades of green to explore. Mohawk Group, a $9.5 billion commercial-flooring company, has tried on lots of them.
"We've been through many phases in sustainability," says Jackie Dettmar, a 30-year Mohawk employee currently serving as vice president of design and product development. "Recycled content. Cradle to cradle. Reducing one's environmental footprint," she enumerates. "That was the bandwagon, and we jumped on. It wasn't wrong, but our decisions were driven by external factors. After a while, we decided we wanted something more holistic, something that felt like ours."
Mohawk's search for an original, all-encompassing sustainability strategy led it to the International Living Future Institute (ILFI), a nonprofit organization that works to bring environmental and social justice to all parts of the world. In 2006, ILFI created the Living Building Challenge—widely considered the world's most rigorous green-building standard. More recently, the organization launched several equally exhaustive companion projects. One of them, the Living Product Challenge, was of particular interest to Dettmar and her colleagues.
---
"We had already gone through an ILFI Living Building Challenge two years ago with our [Light Lab Design Center] in Dalton, Georgia," she explains. "It just made sense for us to start applying the same criteria to the way we make our products. I've made a lot of carpet in my career. If we are going to keep making more, there has to be a good reason why."
The Living Product Challenge differs from previous sustainable-product strategies in nature and scope. The seven certification criteria, or "Petals," require companies to examine the full life span and impact of their products—from sourcing to installation to disposal. Energy and water use during manufacturing must be reduced and offset. Companies also need to provide a workspace that is safe, well lit, and free of materials that might damage their employees' health; improve the communities surrounding their facilities; and, last but certainly not least, create products that both respect the natural world and emulate objects found in it. A product that meets at least three of the seven criteria gets a Petal certification.
"It's not about reducing your footprint, trying to do less harm in the world," says Dettmar. "It's about your handprint, leaving the world in better shape than when you found it. The Living Product Challenge is the only thing I've seen that requires you to have a net positive effect on the world."
Accepting the Living Product Challenge required some aggressive introspection at Mohawk. The hard look inward started at Mohawk's factory in Glasgow, Virginia, where colleagues from the product design, human resources, manufacturing, research and development, and sustainability departments brainstormed for weeks about water use; electricity; employee access to daylight; machinery; materials; and the importance of health and wellness.
The inquiry yielded a number of changes. One was a heathered yarn that reduces energy use and dye waste, using a process that enables three colors of nylon yarn to be extruded in a single filament rather than being dyed individually and then air-entangled. Mohawk also modified its tufting process, eliminating a manufacturing step.
---
The first product to emerge from Mohawk's new sustainability strategy was Lichen, a modular tile collection inspired by different species of lichens in nature. Designed in collaboration with Jason McLennan—the founder of the Living Product Challenge—and presented at NeoCon 2017, Lichen is the first flooring product in the world to achieve Living Product Challenge Petal certification. "Lichen was an amalgamation of all the things we'd been working on," says Royce Epstein, who joined Mohawk in 2015 as A&D design director. "We've always been an innovative company. But in the past we used innovation to drive performance. Now we're also using it to drive sustainability."
At this year's NeoCon, Mohawk presented five additional Living Product Challenge Petal–certified floor coverings. The offerings included Nutopia—a carpet-plank system that employs the new heathered yarn—and Pivot Point Red List Free ERT, an enhanced resilient PVC-free tile.
The Living Product Challenge also encourages manufacturers to improve living and working conditions in towns and cities far from their factories or major clients. As part of the certification for Pivot Point and Sunweave, Mohawk Group is partnering with Groundswell to install ten SmartFlower solar systems in community centers and at educational institutions with STEM programs by 2020.
Accentuating the positive also helps the company remain economically sustainable in a world where clients have increasingly high expectations and standards for builders and manufacturers. "Our consumers today were in school when the sustainability movement started," says George Bandy Jr., Mohawk's vice president of sustainability and commercial marketing. "They want products that foster health and wellness, not just for the end user but for the people in the factories, and the people in the towns where the factories are going. We're working toward a kind of symbiosis between customer and company."
You might also like, "Leather from Pineapple Leaves? New Sustainable Textiles Tap Unexpected Sources."