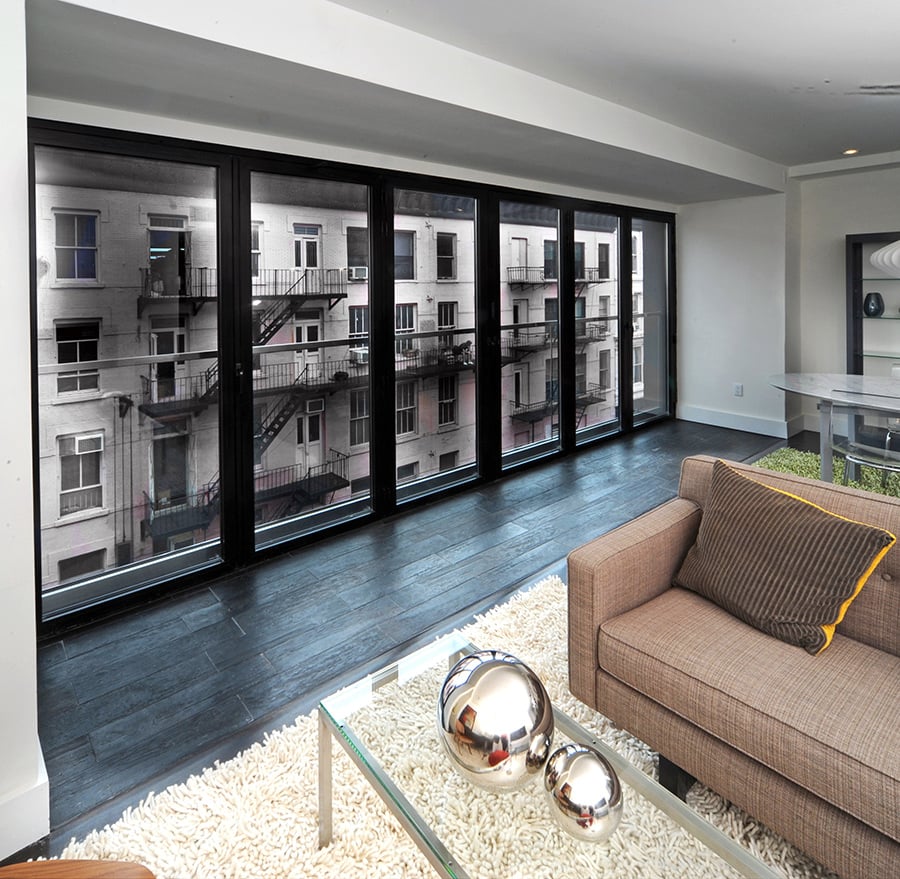 March 29, 2018
NanaWall Turned This Manhattan Apartment Into an Indoor/Outdoor Dwelling
Where open space is a hot commodity, NanaWall brings the outside in.
---
Outdoor living and terraces are coveted luxuries in the dense city of New York, so when G Ateliers converted an old tenement on Manhattan's Lower East Side into a mixed-use development, the firm strove to offer each residential unit a comparable amenity. "Space for enclosed balconies in New York City is limited, and we wanted to give the residents the experience of a balcony-like living room that they can open to the street," explains G Ateliers principal Orlando Garcia.
To start, the architects gutted and reconfigured the existing four-story structure, transforming it into a nine-floor building. The second to penthouse floors include a total of six floor-through luxury homes plus a duplex penthouse. Along the west elevation facing Orchard Street, a series of visually striking staggered frames jut out ten inches from the facade on each residential level, resembling stacked shadow boxes. This composition, however, is not just an intriguing element for the building's exterior. Fitted with glass Juliet balconies and a folding-door system, the frames afford occupants of each residence a kind of outdoor living.
G Ateliers specified NanaWall's SL70 folding system for this feature, in large part because it could withstand New York's four seasons, while maximizing sight lines with its minimal framing. The system spans and opens the entire 18-foot width of each residential "box," transforming the living space—just as the architects intended—into one large balcony. "It is a different way to relate to the exterior," says Garcia. Residents do have to embrace the proximity to their neighbors. "It is very nice to see the views on the upper floors or buildings across the street. In particular, the pink building across the street provides an almost surreal background to the living rooms."
Project: 60 Orchard Street
Location: New York City
Product: NanaWall SL70 Thermally Broken, Aluminum Framed Folding System
You may also enjoy "Omar Gandhi's Minimalist House in Nova Scotia Immerses Its Residents in a Serene Coastline."