June 23, 2016
Neocon's Best: The 2016 Winners of the #MetropolisLikes Awards
The winners of this year's #MetropolisLikes awards, hand-picked by the Metropolis editors themselves.
The custom designed #MetropolisLikes 2016 award, designed and fabricated by Zahner
Photo Courtesy Zahner
---
Each year, Metropolis editors select the top designs on display at NeoCon, the commercial interiors industry's biggest annual design festival. The winning designs, which all expertly meld aesthetics with functionality, were announced live via social media—and, this year, all #MetropolisLikes winners received custom-designed awards, fabricated by Zahner ShopFloor. See all 35 winners below.
#MetropolisLikes NeoCon 2016 Winners
Kim Colin, one of the designers of the Plex Lounge Seating collection by Herman Miller, asked at NeoCon, "Why would anyone aspire to complexity?" These chairs follow a simple, adaptive design and lend themselves to a variety of environments.
Creative director Dorothy Cosonas drew inspiration for this textile from an heirloom rug that belonged to her grandmother. The original rug was part of Cosonas's grandmother's dowry and was hand woven by Greek nuns in 1913.
A collaboration between visual artist Shantell Martin and Momentum's design team, the collection translates Martin's drawings, thoughts, and musings into textiles that enliven and excite corporate interiors.
These stools fill the need for comfortable, aesthetically pleasing bar, counter, and standard-height seating for informal and collaborative areas.
Named after the thick-textured painting technique made famous by Rembrandt, Van Gogh, and Pollock, Impasto is Bentley Mills' new tile and broadloom piece; it features the latest in pattern tufting technology and color technique.
This plastic shell chair offers ergonomic seating for the flexible spaces where people now meet and work. Built-in lumbar support and inherent flex promote healthy sitting and movement.
Named for its designer, architect Hadi Teherani, this tables features a curved metal-base bracket that continues onto the surface of the tabletop.
Designed by Primo Orpilla, this seating system, which provides visual and acoustical privacy, was the culmination of over a year of research and development.
A collaboration between Knoll and the Rockwell Group, a firm known for creating places where people want to be, the Rockwell Unscripted collection is rooted in innovations in hospitality, public space, and entertainment. The pieces can be configured in numerous scenarios to allow for the cultivation of community and creativity.
iQ's innovative, non-PVC formula provides dry-buffed surface restoration and durability, giving it a balance between aesthetics, flexibility, and strength.
Heavily inspired by fabric found in high fashion, the Open Archive collection is an experimentation in the mixing of textures. Different styled and sized planks can be mixed to create custom patterns.
​Parentesit, the decorative sound-absorbing wall panel from Arper, serves as both a Bluetooth speaker and an ambient LED light source. The new accompanying Parentesit App allows users to control light and sound with their smartphones.
This fabric features a bold 54" large-scale geometrically repetitive pattern. Designed for indoor and outdoor use, Solstice offers stain resistance and bleach cleanability for a wide range of applications.
Playing with two basic geometric forms, a dot and a square, the Dutch design duo of Scholten & Baijings created these exciting etched and printed patterns for glass application. Read the full story about Scholten & Baijing's design process for the Glass Gradients collection.
Emphasizing texture and tactile materials, the Extraordinary collection incorporates differently finished planks—some tufted, others threaded—to create a sensory experience underfoot.
This transparent curtain uses just textile to achieve heat and sound and glare control. The yarn for the curtain has been woven using metalized backing technology, allowing it to absorb and reflect light.
This minimalist desk complements a range of environments and applications, making it a versatile addition to the workplace or home office.
Designed for Koleksiyon by Koray Malhan, Oblivion is part partition and work pod, offering the modern office a functional and geometric centerpiece.
HBF Textiles teamed up with Amsterdam-based designer Christiane Müller for this series of tactile fabrics that blurs the line between work and home with artistic flair.
Hangout, designed by EOOS for Keilhauer, supports collaboration while respecting the needs of individual employees. The collection of benches, sofas, ottomans, stools, tables, and chairs accommodates numerous workplace scenarios at once.
​A Red Dot 2016 award winner, the QuickStand Lite is equipped with an innovative counterbalance mechanism for easy transition between sitting and standing. It also features an adjustable keyboard and monitor-arm platform that provides exceptional stability while typing.
Made with powder-coated aluminum, Illum offers a clean aesthetic to corporate spaces indoors or out.
Inspired by the Eameses' Powers of Ten, Magnify features a captivating interplay of geometries and organic motifs.
Mellow features an adjustable cord system that allows the user to change the shape and comfort of the sofa.
Comprising seating, tables, screens, easels, and semi-private enclosures, the Zones collection can create intimate collaborative settings or a place of private retreat.
The first collection from the newly rebranded Luum studio is specifically designed to work across a range of surfaces and bring cohesion to any space. Read more about Luum and Suzanne Tick, the company's driving force.
Conceived by Norwegian designer Lars Beller Fjetland, the Beller collection is ​made with cork and was inspired by techniques used in traditional shoe sole molding.
This luxurious, performance-based modular carpet reinterprets the intricate patterns and textures found in natural stone surfaces.
Inspired by the starry night sky above Death Valley, Time Lapse uses organic patterning and subtle coloring to mesmerizing effect.
Thoughtful details make this screen system incredibly functional for a variety of workplaces. Interlocking pieces create customizable private or public workspaces, complete with a range of surfaces on which to pin ideas, inspirational imagery, or reports.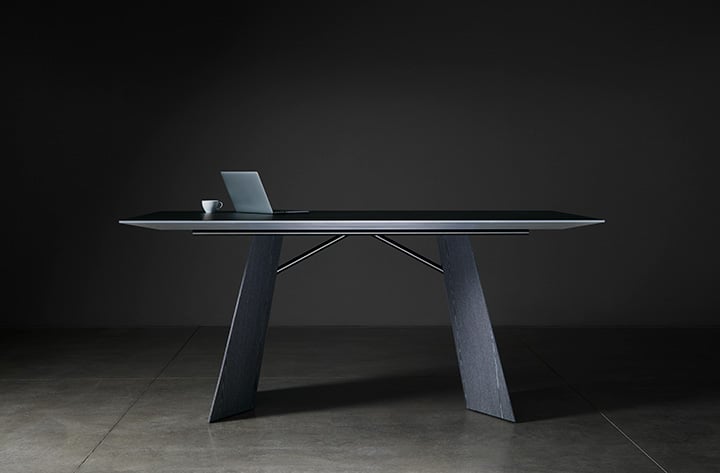 ​The Tryg table offers a unique and artful statement in the conference room. The angular form simultaneously suggests both minimalism and antiquity.
Designed by Mohawk Group in collaboration with Innocad's 13&9 Design, Moonscapes is a broadloom carpet that features beautifully abstracted patterns based on the landscape of the moon.
Constructed from sleek metal bases and unique tray-like tops, these occasional tables form a study in geometric shapes.
The Butler Table Leg uses five individual rods attached independently at the top plate, which then merge together to create a single leg structure. The conjoined bundle gives a unique clover-like footprint and provides a strong harmonious support system.
​The BuzziJungle is BuzziSpace's first-ever conceptual project. Emerging Belgian designer Jonas Van Put explores the concept of the social office through an unconventional use of vertical space, inspired by the vertical cross-section of a tropical rainforest.
The beauty of natural, gradual change influenced the latest introductions to the ever-evolving Contract Laminate Collection by Wilsonart. The 29 new designs and two new finishes evoke comfort and familiarity in a natural way.