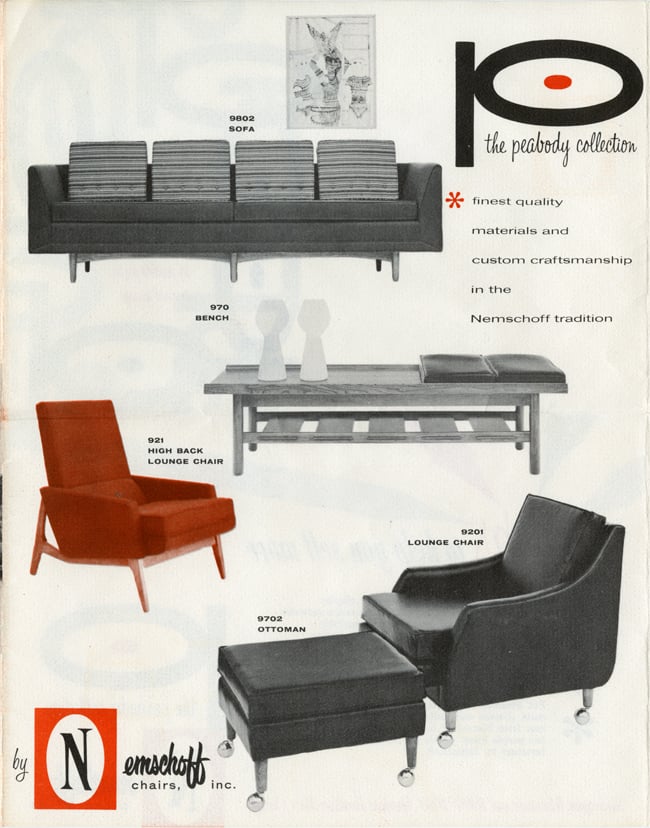 January 19, 2017
Peabody's 1950s Collection Re-Imagined For Today's Health Care Sector
When Nemschoff realized the need for comfortable, residential-style furniture in the health-care sector, it began looking into its archives for inspiration.
Images courtesy Nemschoff
"We think the Peabody collection will look just as up-to-date to the tastemakers of the next generation as it does to all of us this minute," designer Lawrence Peabody announced in a 1950s recording intended to help the sales force at the furniture manufacturer Nemschoff promote a new residential line he had designed for the company. And he turned out to be right. At NeoCon last June, Nemschoff, which is now a Herman Miller company specializing in health care, relaunched five pieces from Peabody's collection, adapting them to the needs of public areas in hospitals and clinics.
Nemschoff, founded in 1950 in Sheboygan, Wisconsin, teamed up early on with another local furniture maker, Richardson Brothers. "Leonard Nemschoff and the Richardsons wanted to push design in both of their businesses," says Peggy Sonnenburg, director of marketing and product management at the company. "We don't know the specifics of how they discovered Peabody, who was in the Boston area, but they brought him in."
Peabody isn't a familiar name today, but like his contemporary George Nelson at Herman Miller or, a few decades later, Ward Bennett at Geiger (also a Herman Miller company), he was a pioneer of American furniture. "These designers were fully entrusted by the people running a business to design the furniture, market it, and shape the messaging," says Amy Auscherman, an archivist at Herman Miller, who has been helping uncover this history.
About a year ago, when Nemschoff realized the need for comfortable, residential-style furniture in the health-care sector, it began looking into bringing back pieces from its early years. Scott Reynolds, Nemschoff's vice president of design facilitation, had been tending to the company's archive over the years—saving old catalogues and clippings and collecting vintage furniture from the Sheboygan area. Those efforts proved vital to updating some of the Peabody pieces for a new market segment. "We had to upgrade the materials and also methodologies of construction to ones that are more suited to today's manufacturing processes," Reynolds says.
In making those changes, it turned out, he wasn't straying very far from the spirit of Peabody's work. In 1957, Nemschoff entered the health-care market by studying the needs of the elderly, and Peabody designed a line of geriatric furniture. So there's plenty of fodder for future rereleases in the archive, Sonnenburg says: "We're discovering more and more. The timelessness of Peabody's approach aligns really well with where we want to go as a company."
Designer Lawrence Peabody collaborated closely with furniture manufacturer Nemschoff in creating his namesake collection in the 1950s.
The chair seen in the advertisement above was reissued as the Aspen armchair (below) last year.