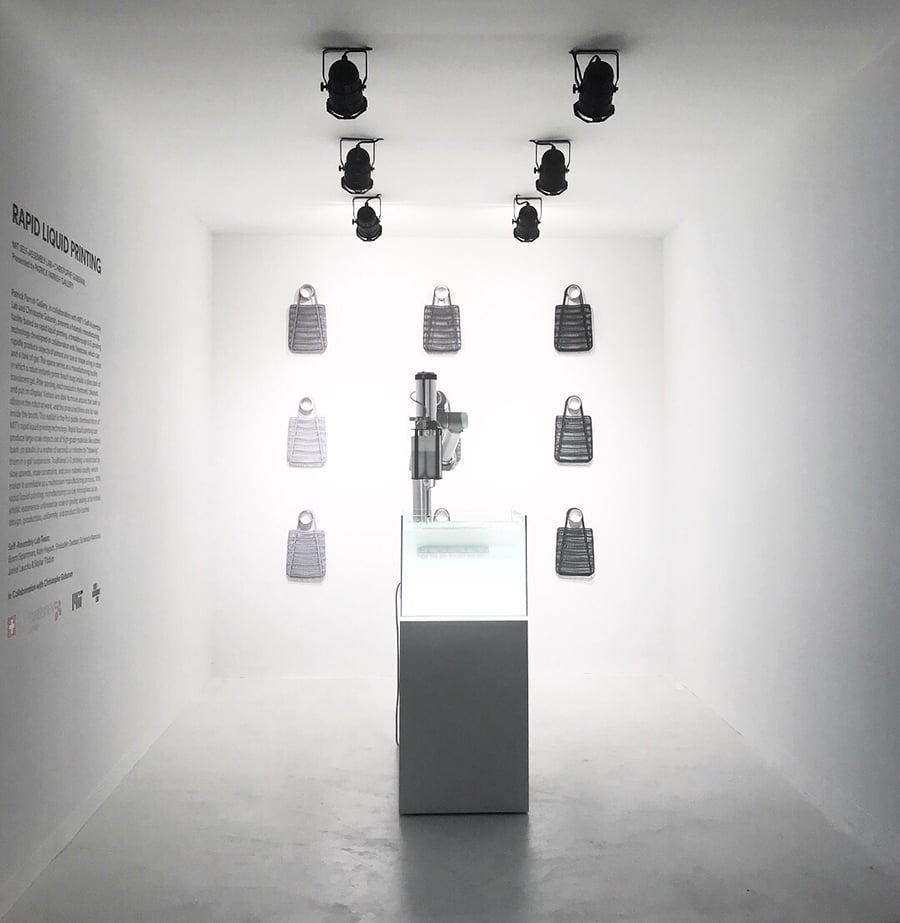 December 18, 2017
MIT's Self-Assembly Lab Showcases a New 3D Printing Process at Design Miami/ 2017
The new technique, dubbed Rapid Liquid Printing, has broad potential to make 3D printing cheaper, faster, and more versatile.
For its 2017 booth at the annual design fair Design Miami/, Patrick Parrish Gallery staged an eclectic display of objets, some more functional-looking than others. But amid minimalist bronze lights, handmade terracotta chairs, and iridescent metal benches was a machine-made anomaly: a hanging light. The design was among the first fruits of an innovative 3D printing process developed by MIT's Self-Assembly Lab.
The light, which was available for sale through the gallery, was the result of extensive collaborations that began more than a year ago. In 2016, the Lab and Swiss product designer Christophe Guberan, frequent collaborators, were approached by furniture manufacturer Steelcase about improving the 3D printing process to make it faster, cheaper, and more versatile. The team worked out an alternative technique, Rapid Liquid Printing, that created objects not in a vacuum but in a vat of gel, using a robot arm. The arm's nozzle dips down into the gel and draws freely therein, dispensing a liquid—foam, plastic, concrete, molten metal—that cures in place. The printed object requires no support structure, meaning the fast-moving nozzle has to do less work and poses no risk to solidified sections of the object.
The process had already been used to print a rigid polyurethane table by the time Self Assembly Lab cofounder Skylar Tibbits connected with Patrick Parrish Gallery at Design Miami/ 2016. The chance meeting set this year's collaboration in motion.
For the hanging light, the Lab worked with Guberan, Steelcase, and Brazilian artist and designer Marcelo Coelho. The design actually went through two iterations: An initial version used thin lines of flexible, soft silicone rubber to produce a more intricate "netting," while a second version incorporated thicker lines to create a denser, smoother appearance. Both iterations exploit the rubber's elasticity to stretch over a sole cylindrical luminaire. The light appears delicate, yet durable. "Instead of trying of making it look like other types of 3D printing," says Tibbits, "We're trying to go with the aesthetic of [Rapid Liquid Printing]. It almost has this frozen liquid look. Instead of hiding it, [we thought] 'let's use that as our calligraphy language.'"
The Lab and Guberan also organized a separate, smaller "curio" booth that gave fair attendees the chance to see a Rapid Liquid Printer in action. They even designed a second item, a beach bag, that was produced for the demonstration and sold onsite (price: $650—a bargain compared to the $12,500 lamp).
Rapid Liquid is a nascent technology with many unexplored potentials. Only the size of the gel vat limits the size of the printed object: Armed with a ten-foot-by-five-foot machine, the Lab has already printed an eight-foot hammock. Smaller nozzles could allow for a finer resolution of detail. Further development would also show financial benefits, Tibbits suggests. The expanded use of the Rapid Liquid Printing equipment (which is already cheaper than most traditional 3D printers) and bulk ordering of materials (also cheaper than most traditional 3D printing materials) would further lower prices. Factor in faster printing times, and the possibilities seem endless. "The more you make," adds Tibbits, "the cheaper and cheaper it gets."
You may also enjoy "MIT, Steelcase to 3D Print Custom Designs on Demand."