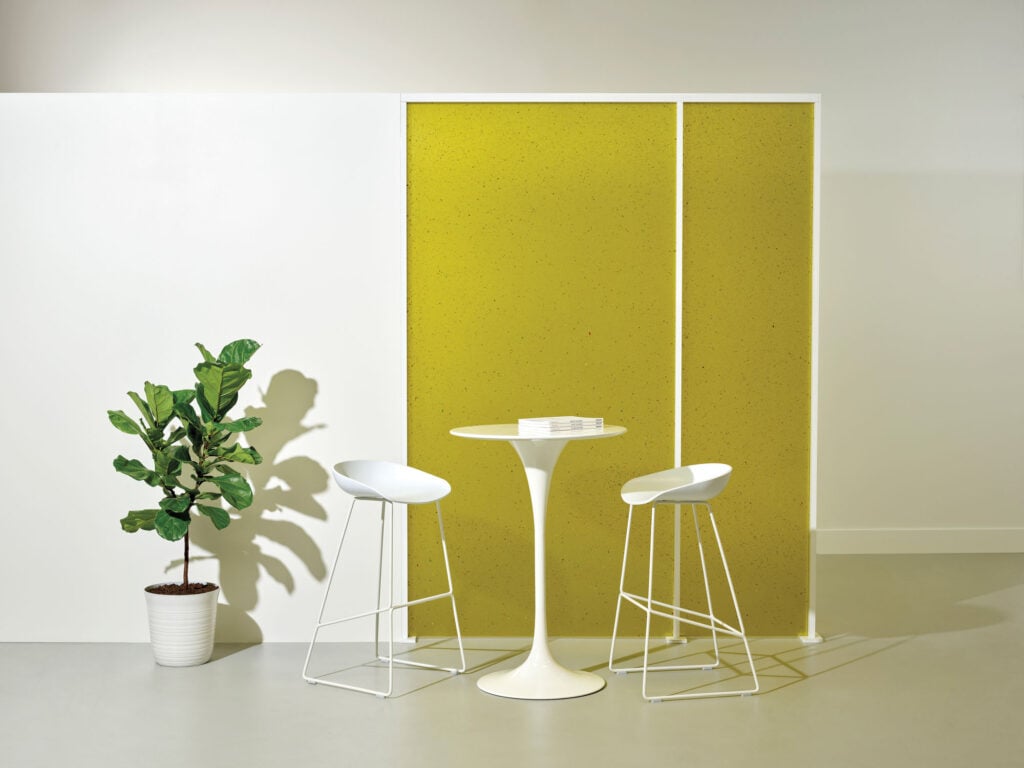 February 23, 2022
Three Companies Pushing the Boundaries of Recycled Plastic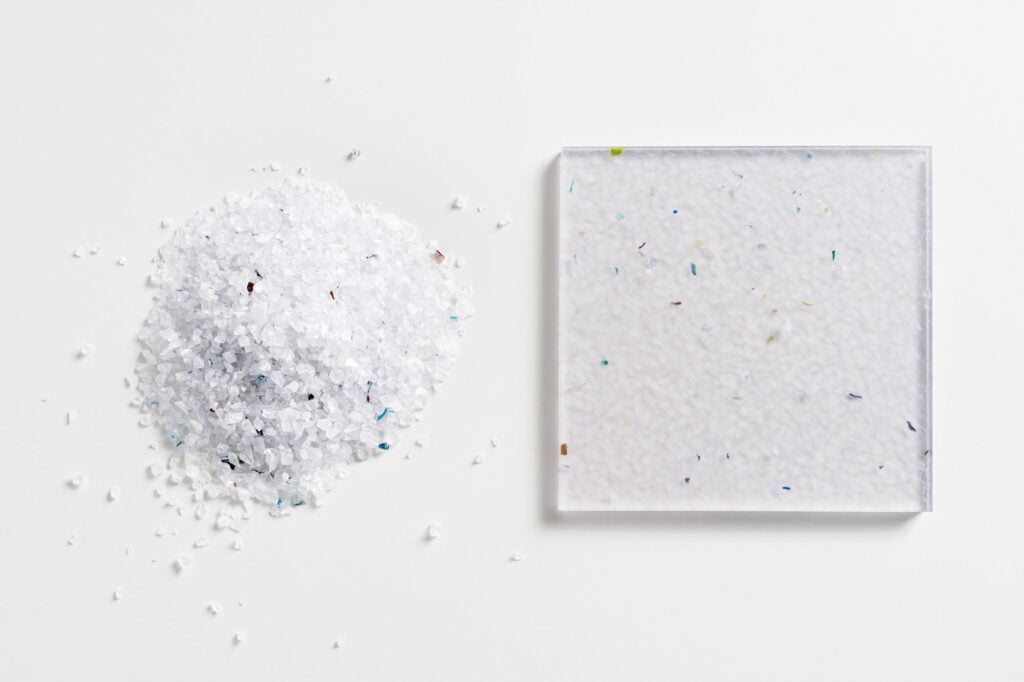 His view is shared by more-established brands. Bit, a category-defying stool/pedestal/ table-in-one by Normann Copenhagen and Allsteel, has a "pixelated surface design," owing to its recycled household and industrial plastic content. Skandiform and Charlotte von der Lancken's Tinnef table won three Best of NeoCon awards in November, including ones for innovation and sustainability thanks largely to its surface made of yogurt cups and water bottles. Patcraft's Spatial Palette, a modular carpeting system containing about 27 post-consumer recycled bottles in each of its tiles, won a Silver.
"We have an overload of plastic in our oceans and landfills, and as 21st-century humans, we even have plastic in our bodies. So, I think it's important to try to recycle plastic as much as possible," says regenerative design expert Laurence Carr, who is also CEO and creative director of her namesake firm and ambassador of the Sustainable Furnishings Council. 
As companies rethink the role of plastics, both progress and limitations are revealed. Postindustrial plastic is easier to trace than that of postconsumer streams in terms of additives and material safety, for instance. "Using recycled content from our own products or other well-understood sources such as food-grade PET provides safe, sustainable ingredients, which helps minimize landfill disposal," explains Shannon Cochran, Patcraft's vice president of marketing and design.
Securing a source that's clean enough to recycle has led companies to partner up with third-party organizations that specialize in processing plastics for reuse. There's a growing middle market in which a mix of for-profit companies and nongovernmental organizations (NGOs)—largely volunteer groups with a social mission—have sprung up to harvest and supply raw plastic waste.
Oceanworks is one organization that partners with manufacturers seeking recycled stock. U.K.-based company Smile Plastics was founded to manufacture the recycled plastic panels that other companies and designers use in their products; its mission is to make "the most beautiful circular plastics in the world."
Does this middleman sourcing clarify best practices or further muddy the recycling waters? "That role may be a part of the solution," says Carr. "I see it as a positive: People who take care of this part of the supply chain and try to find ways to use waste, transform it. Because that's what we want, a kind of new product."
Supernovas was founded on that exact viewpoint, developing all of its collections to use recovered plastic trash. "We do this every day by diverting postconsumer and postindustrial waste away from landfills to make our collections, and by physically removing it from shores and beaches, as we did with One Ocean Foundation in Sardinia last summer," says Rossi, adding "Then we figure out how to transform it into useful products."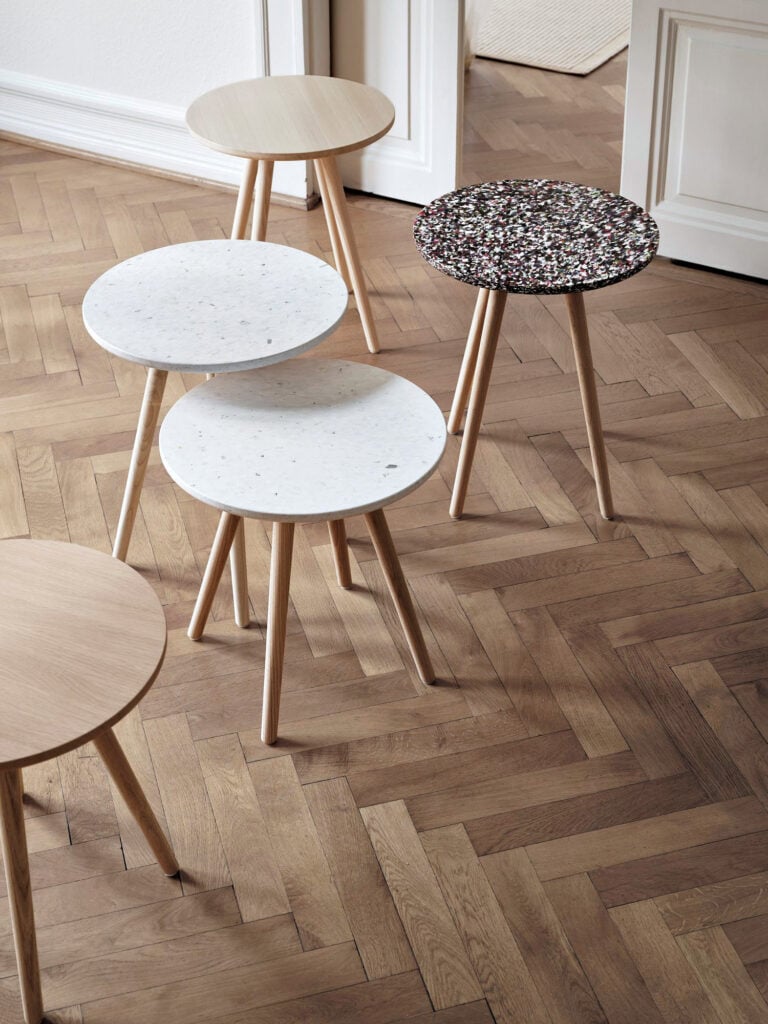 To be fair, all of this activity seems to be occurring while companies search for permanent replacements for synthetic plastics, so it could subside when production of virgin plastics ceases. A short-term goal is to accelerate a circular use of plastic already in play. For example, Skandiform purchases the recycled tops it uses for the Tinnef table from a third-party processor, instead of manufacturing them: "In striving to reduce fossil-based material, we need to [divert] the material we already have," says von der Lancken, whose Stockholm-based studio CVDLAB designed the table. "Not that we will be able to reduce all waste, but new products should be designed with materials that can be integrated into a circular supply chain."
Beyond that, the ideal next stage in addressing man-made plastics is to stop using them, and to transition to biobased alternatives. Having previously developed products with biomaterials scientists, von der Lancken says she can think of many natural sources, including cellulose and lignin, a plant-based class of organic polymers. "There are many sources of feedstock that can replace today's plastics," she says. For this purpose, as in other aspects of life, "diversity is good."