October 6, 2022
Rediscovering a Master of Brazilian Modernism
Tenreiro, the son of a cabinetmaker, was a consummately skilled artisan—no paper artist. Zesty Meyers, co-principal of R and Company, observed "Carlo Mollino was a designer. Mollino made drawings but he didn't carve the wood. Nakashima was an architect, but he did not make things with his hands. Gio Ponti is amazing—but Gio Ponti was an architect who was a designer. Tenreiro did it himself; he was a master wood carver. None of these other people, who may be better known, were capable of doing the work like he was."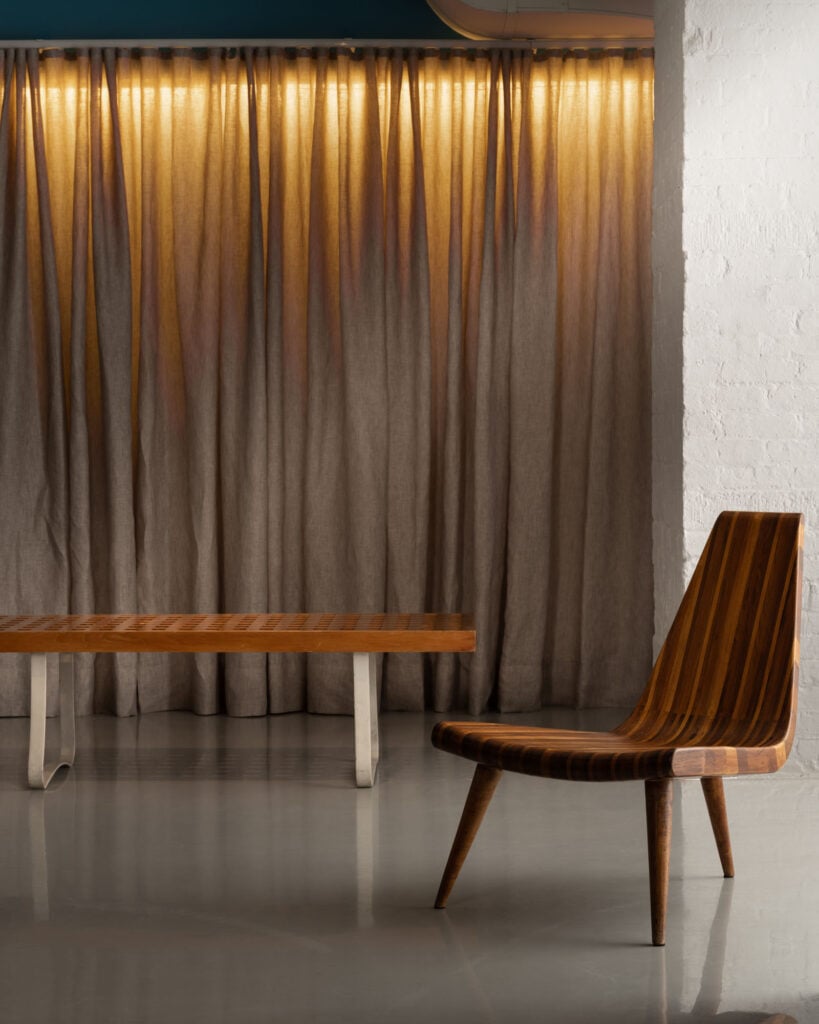 Tenreiro grasped the possibilities of wood implicitly, Meyers pointed out that Tenreiro designs will often veer precisely against structural expectations. "If you look at some of his chairs the legs taper when they get closer to the seat—the exact opposite of most any other chair—the leg should be fatter at the seam so it can take the compression." You can go off script when you know what you're doing.
Tenreiro was also drawing from a copse of Brazilian hardwoods that now doubles as an endangered species list; jacaranda and caviona most prominently. In his hands, these sturdy hardwoods are crafted to the limits of their capacity.
Some of Tenreiro's work is not as immediately eye-catching as those of his Tropicália Jetsons followers but all of it reveals wonders on examination. A black dining table features another top of under-painted glass, marginally set off of the ebonized imbuia wood edge. The under painted glass delivers color but also reflection, Meyers noted "Art deco solid colored glass pushes you away—he's sucking you in." Table legs are oval, chairs chamfered, all a gripping combination.
Meyers explained that he finds much of the collection impossible to photograph adequately; small details simply can't be captured, and many even "standard" types are individually varied.
For example, none of Tenreiro's iconic three-legged chairs are alike; they feature different wood combinations and other perceptible variations in carving. It was not made for sale but given to clients in return for another commission. Other pieces are entirely bespoke, such as a brilliant bar that features an under painted yellow top and hand-painted ceramic tiles by Regina Bolonha.
In recent years, though appreciation for Tenriero's mastery has grown, his furniture remains rare. Evan Snyderman, co-principal at R and Company, explained "You're not going to find Tenreiro at the flea markets and vintage shops—20 years ago you could."
History is partly to blame, Tenreiro remained his own master, never selling out to Herman Miller, Knoll, or the like, so there aren't vast product lines to draw upon. Export licenses from Brazil also haven't always made U.S. purchasing easy. As such, Tectonic Master is a unique opportunity to reacquaint oneself with the subtly mastery of one of Brazil's leading modernists and a consummate craftsman whose work rewards in-person viewing.
As Meyers put it, "With a designer from the past, you might look at his body of work and say, 'Oh, anyone can do that.' But the reality is that what you're seeing with Tenreiro takes incredible skill and vision and is extremely difficult to achieve. There are very few people who can think in these conceptual terms and then physically realize that vision themselves. Tenreiro is a rare talent that is deserving of far more recognition."
Would you like to comment on this article? Send your thoughts to: [email protected]