October 28, 2014
Rui Alves Brings a Craftsman's Eye to Contemporary Design
The Portuguese designer is also a consummate craftsman, building his own finely detailed but thoroughly modern furniture.
---
Nominated by Jerry Helling, president of Bernhardt Design
---
Alves examines a joining detail in one of his chairs, at his workshop-cum- studio in Paços de Ferreira, Portugal.
All images courtesy Ra-do
From his workshop in Paços de Ferreira, Portugal, designer Rui Alves develops furniture prototypes that he regularly presents at major design fairs in Europe. Paços de Ferreira has been Portugal's woodwork manufacturing center for decades. Alves, who comes from a family of skilled cabinetmakers in the area, decided to set up the Rui Alves Design Office there in 2001, combining his studio and workshop.
As a child, he found himself drawn to his grandfather's small carpentry shop. He would spend hours observing the detailed craft of making a piece of furniture, growing fascinated by the expertise involved. Continuing the family tradition, his father worked in a furniture factory, so Alves grew up having contact with both artisanal and industrial making. The 37-year-old designer says that being surrounded by tools and materials led to an enchantment with the world of furniture, making it natural for him to be drawn to industrial design.
The AA chair, shown at SaloneSatellite in Milan in 2012
Alves's pieces show respect for, and an acute knowledge about, the materials he works with, since he's thoroughly involved in the process from beginning to the end. He prefers to build what he calls "3-D sketches," to study the evolution of each piece. Every year, he presents a new collection that he designs and manufactures himself, as a way to promote his work and find companies who are willing to market his pieces.
These days his father, who is retired, works with him at the studio every day. "It's an interesting exchange of realities and generations," he says. "I learn from him and he from me. He's worked for sixty years, so wood has no secrets for him." For Alves, it's a pleasant feeling having things come full circle as one of his biggest sources of inspiration now works next to him. Currently, both of them are preparing prototypes of next year's collection to present at the IMM Cologne in January.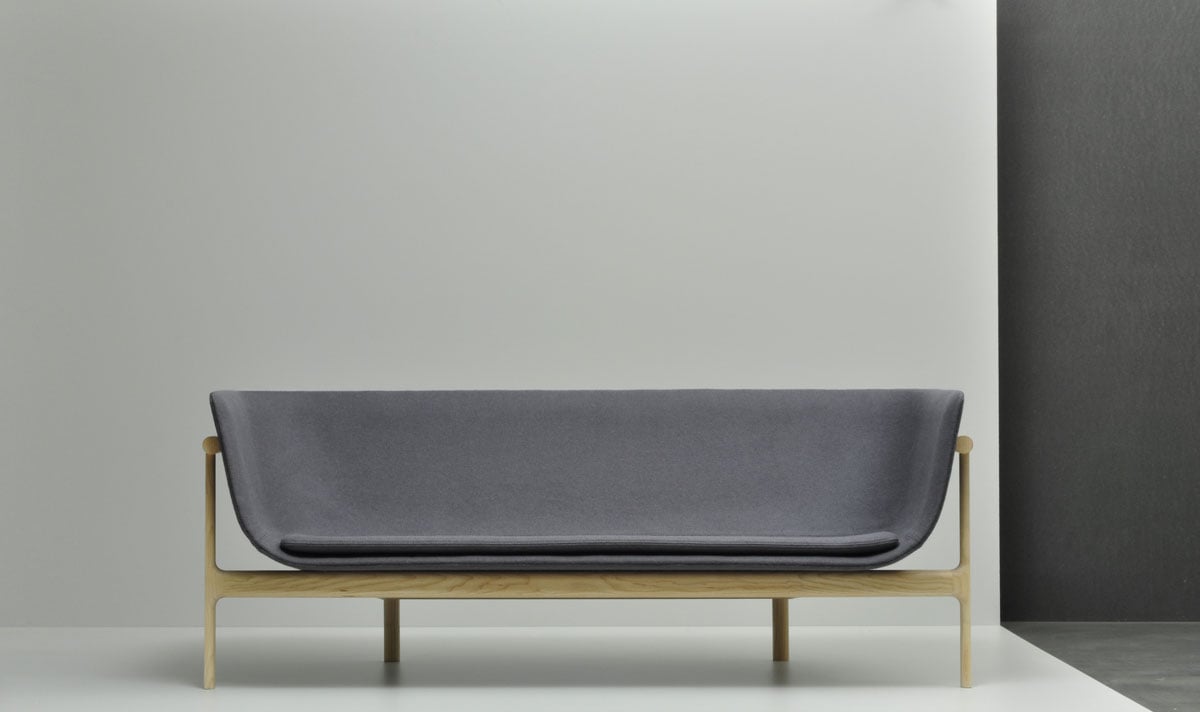 Alves's latest design, the Tailor Sofa, looks weightless thanks to the carefully articulated wooden frame that supports a foam shell covered in wool.
---
"Rui comes from a family of craftsmen, so he has a legitimate understanding of what it takes to actually make something, rather than just to conceive it and draw it. He has a keen eye for how to use natural materials in a modern way and is able to take forms that could be considered classical and make them relevant. I became acquainted with his work for the first time at SaloneSatellite 2012 in Milan. After speaking with him, I knew he was somebody we were going to see a lot more of in the future. He is definitely one of the young designers we would like to work with on a project." —Jerry Helling, president of Bernhardt Design