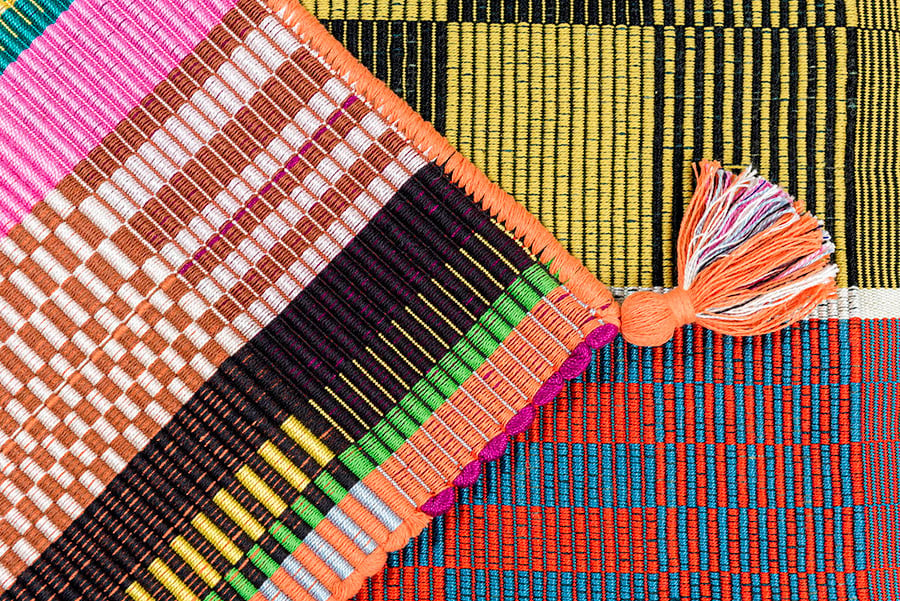 April 1, 2019
Sarah Wertzberger Melds Handweaving, Industrial Processes, and Painting in Her Textiles
A Rhode Island School of Design MFA graduate, Wertzberger relocated to Portland, Oregon for a job at Nike but subsequently started her own studio.
---
Playful and electric colors, intricate optical patterns, and a soft touch are just some of the elements that make Sarah Wertzberger's textiles so appealing to the senses. Her work is complex, existing at the intersections of handweaving, industrial processes, and painting. "Weaving is a sequential process, record keeper, organized chaos, soft yet structural, masculine and feminine, ephemeral, slow," she writes about one of her weavings in an Instagram post.
Wertzberger graduated with an MFA in textiles from Rhode Island School of Design. Upon landing a job as a material designer for Nike, she relocated to Portland, Oregon, where she has stayed (she has been teaching fibers at Oregon College of Art and Craft). "Portland has a lot of craft and design resources, and I feel part of a pretty vibrant community here," she says. Just this past October, the city launched Portland Textile Month with workshops, seminars, and tours of local maker studios.
Wertzberger's signature approach to textiles is apparent in her collection of handwoven blankets for a 2018 pop-up at the Hammer Museum in Los Angeles. Weaving merino wool and cotton, the patterns of the blankets feature design elements of Scottish plaids and of overshot weaving, a block structure popular in the 19th century. Plaids, she notes, can "represent a group of people but can also just be a celebration of straight lines of color intersecting."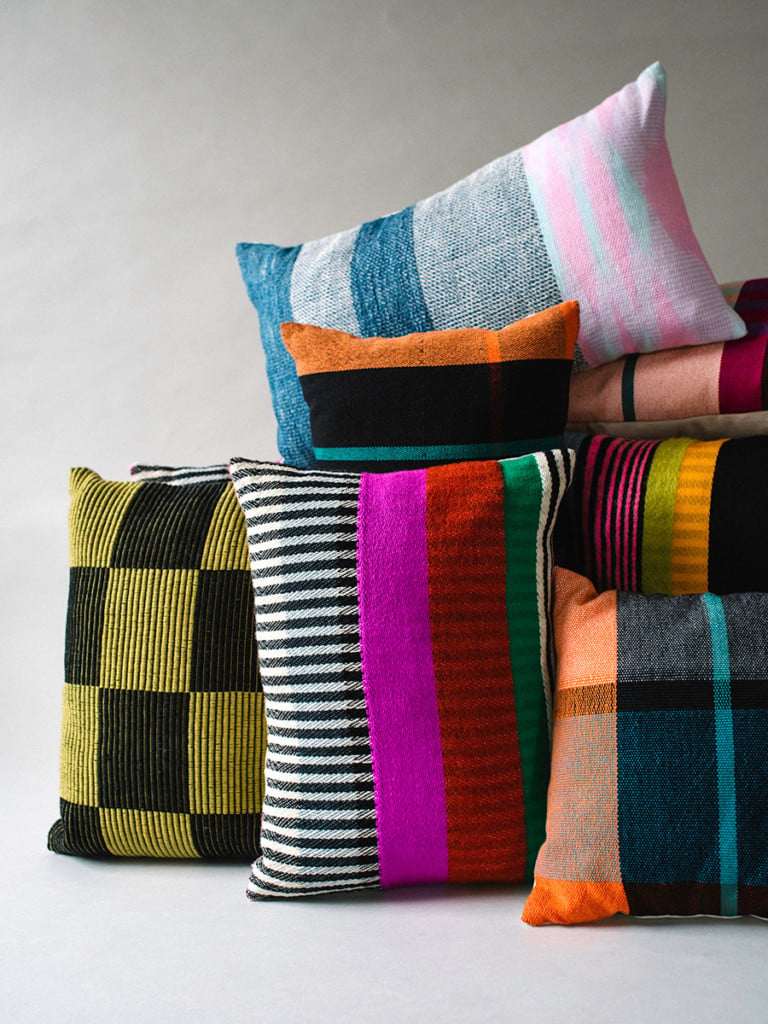 ---
Some of Wertzberger's other creations are more influenced by her background in painting, and hold their own as wall art. Meta Plaids is a series of graphic textiles that explore dynamic, paradoxical spaces influenced by enigmatic scenes one might find in a painting by de Chirico or a Japanese wood-block print. One piece depicts flattened vessel forms against a checkerboard of pink and blue that subtly vibrates alongside contrasting blocks of red and yellow. The series combines hand and digital weaving and reveals the artist's interest in merging traditional and contemporary practice.
Wertzberger hopes to continue working on small-batch collections and collaborations—without limiting herself to textiles. By following a process-oriented way of making and letting intuition, material, and color guide the end result, Wertzberger's work, regardless of medium, embraces spontaneity and improvisation, and at times reveals the record of the artist's experience while creating.
You may also enjoy "Diamond Schmitt Architects Adapts a Historic Train Station for the Canadian Senate."
Would you like to comment on this article? Send your thoughts to: [email protected]