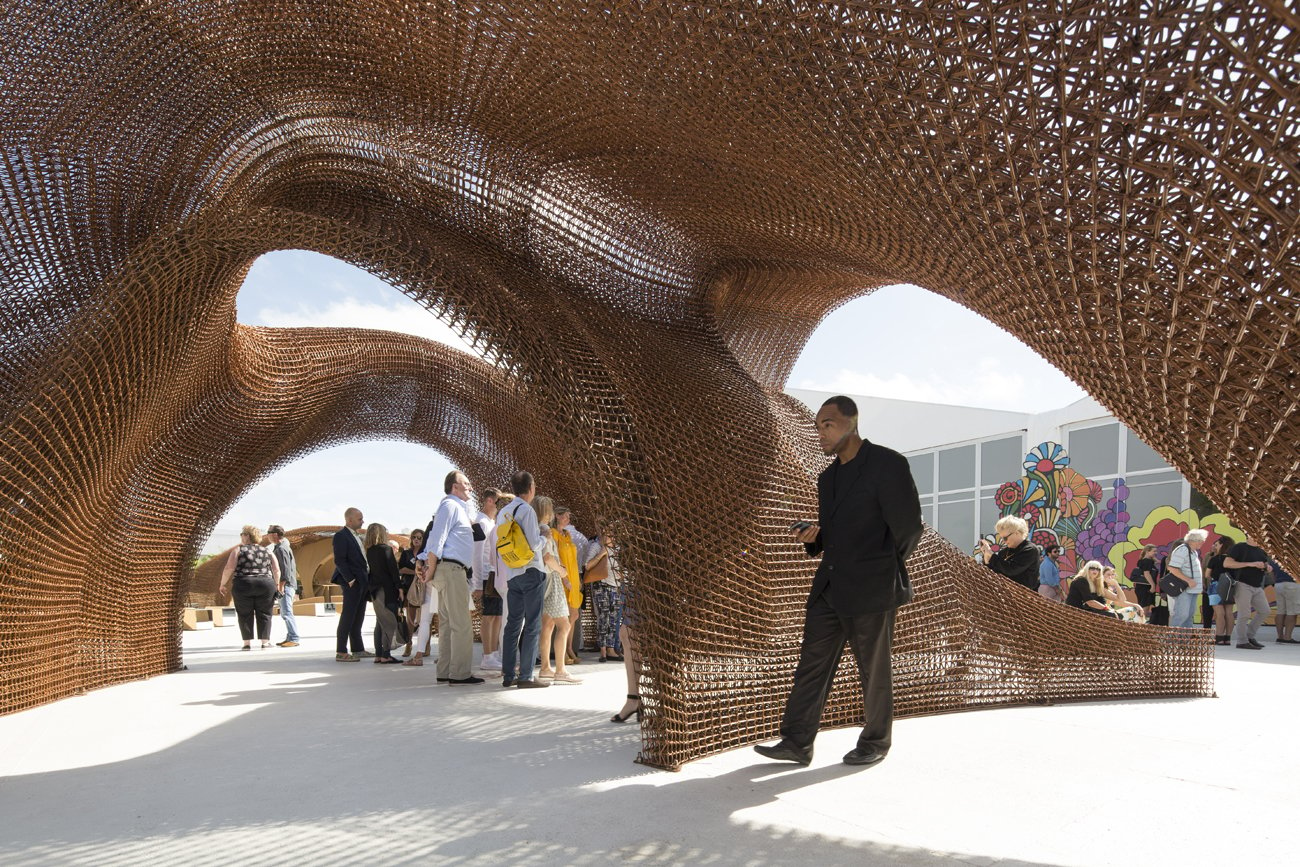 December 9, 2016
SHoP's Design Miami Installation Marks a Leap in 3D Printing
The firm's experimental pavilion surpassed more than a few benchmarks for the technology.
Photography courtesy Robin Hill
As the winners of Design Miami's Visionary Award this year, the architects at SHoP were charged with designing the public plaza installation that annually graces the entrance to the five-day fair (which concluded last week). The project, dubbed Flotsam & Jetsam, is a twofer, making it pretty difficult to describe. The pair of coiled, arching forms vaguely recall sea creatures, cave formations, or even Sesame Street characters, albeit with too many outstretched limbs.
Whatever the shape, the material is certain: a single thread of extruded carbon-fiber-reinforced ABS plastic that would, stretched out, measure 27 miles—"from here to Boca Raton," according to SHoP partner Rebecca Cailleauet. With only four months to complete the design, the firm hired Branch Technology to 3D print it using its Cellular Fabrication technique, which can extrude material in midair (as opposed to layering it). From September to November, up to three robotic arms wove the structural trellises that formed the framework of the two pavilions.
The resulting porous skin casts soft shadows on the ground, while its legs are elongated to create seating. Coated in a shimmery copper automotive paint, they bring to mind the rusted Cor-Ten facade of SHoP's similarly swoopy Barclays Center in Brooklyn. Once on site, the architects added a few touches, both structural (bolts that would keep Flotsam & Jetsam planted safely on the ground) and welcoming (mirrored pedestals that serve as tables, inflatable swans for extra seating).
They also installed a bar—indispensable for art- and design-fatigued visitors to Miami—inside one of the structures. Fabricated by Oak Ridge National Laboratory (ORNL), the bar represents another 3D-printed element and a world-record-breaking achievement. In printing the bar's countertop and curving banquettes out of a bamboo-based bioplastic, ORNL broke its own world record for largest 3D-printed object, which it held for producing a trim-and-drill tool used in the production of Boeing airplanes.
For all three partners involved, this is the largest-scale 3D-printing project they've ever undertaken, marking a giant leap for the technology's potential for real construction. Compared to traditional materials, however, the cost of the 3D printing was relatively high. "But you do need to weigh in certain factors" that add to its value, qualifies Caillauet, referring to the printing process's low energy requirements, its lack of waste, and the speed with which it was done.
Now that the fair has concluded, Flotsam & Jetsam are set for their second life in the Miami Design District, where they'll be reinstalled in the shopping center's Jungle Plaza next spring. There they will remain for the next two years—hopefully enough time for visitors to pin down a more fitting visual description.