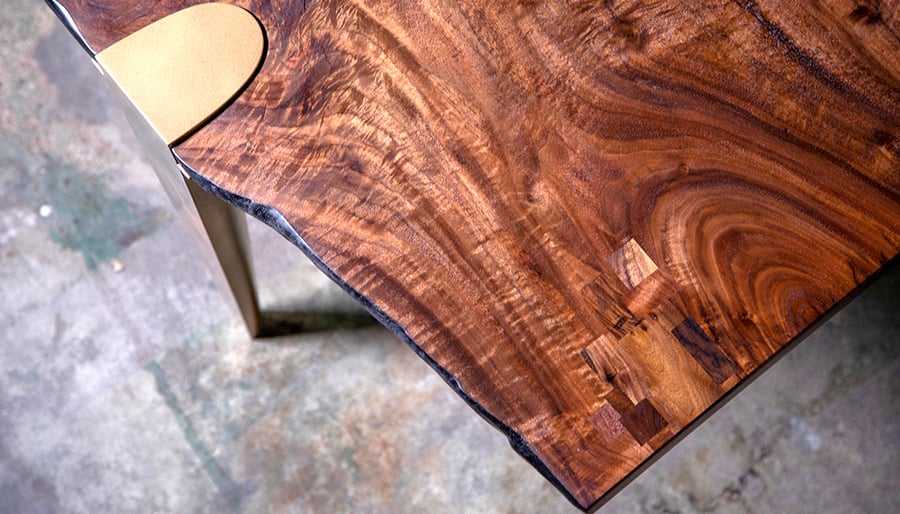 March 28, 2019
Furniture Studio SIOSI Crafts Unique Furniture Pieces in a Danish Modern Idiom
Based in Bloomington, Indiana, the studio has particularly found success with its organic, live-edge tables made with sustainably sourced domestic hardwoods.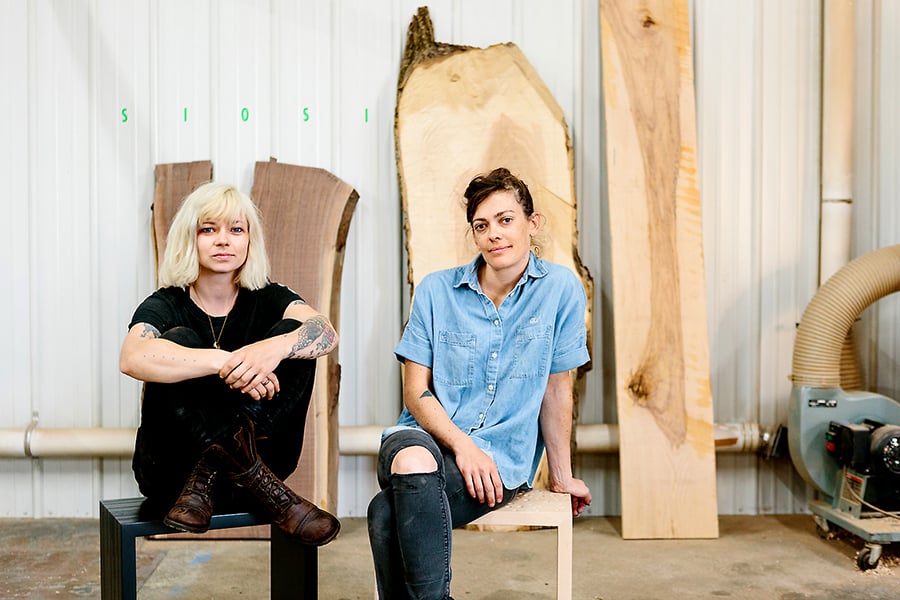 ---
Each piece of furniture from the studio SIOSI is as unique as the tree that supplied its wood. Produced in Bloomington, Indiana, SIOSI's pieces pair wooden slabs—each one marked with labyrinthine grain patterns and the scars from branches and burls—with elegant, handmade metal fittings, resulting in a contemporary rustic style that celebrates the natural features of the source material.
The creative partnership behind the studio is also a romantic one, which began when metalworker and artist Ivy Siosi and photographer Audi Culver met. For a couple of creatives, furniture seemed a way to make both art and a living. Culver, who was completing an MFA at the time, explains, "We made the frames for my thesis show together and we realized that we both could see that as a future—making stuff together."
And so the two set out to make furniture in a craft-focused Danish Modern idiom, finding success particularly with their organic, live-edge tables. For these pieces, the women transform a piece of lumber, sometimes as long as 11 feet and weighing several hundred pounds, into a tabletop that highlights the wood's grain and the tree's natural contours. "Now it's kind of all I want to do," says Culver. "I'm pretty obsessed with getting them just perfect." The pair prefers to work with sustainably sourced domestic hardwoods from a local supplier. For their slab tables—in the George Nakashima lineage—they often choose claro walnut, a species from Northern California with a particularly dramatic grain.
---
SIOSI's delicate, hand-chiseled inlay technique adds a touch of refinement to the raw look (and colossal size) of the wood. While the process begins as a way to mend any natural imperfections in the trunk, the mosaic of different grains becomes a work of art in itself. "They cover up these little ugly bits in the slab that may also have structural issues, so they start as something practical. Then we add more until we're happy with the overall composition of the piece," says Culver.
In addition to its large, live-edge tables, SIOSI offers more traditional furnishings, including sideboards, beds, side tables, and a butcher block–topped kitchen island. Virtually all of the work is made to order, and much of it is custom designed as well.
Siosi herself designs and fabricates fittings that complement the organic geometries of the studio's tables. "I treat metal a little bit more delicately than most," she says. "I don't like it when you've got this really rigid square thing matched with a very organic shape on top." Most recently, she has designed cast metal legs that bite into the sides of their slabs. The effect is elegant, functional, and most importantly for a table weighing hundreds of pounds, sturdy.
You may also enjoy "Rhode Island's O&G Studio Puts a Modern Twist on Traditional New England Craft."
Would you like to comment on this article? Send your thoughts to: [email protected]