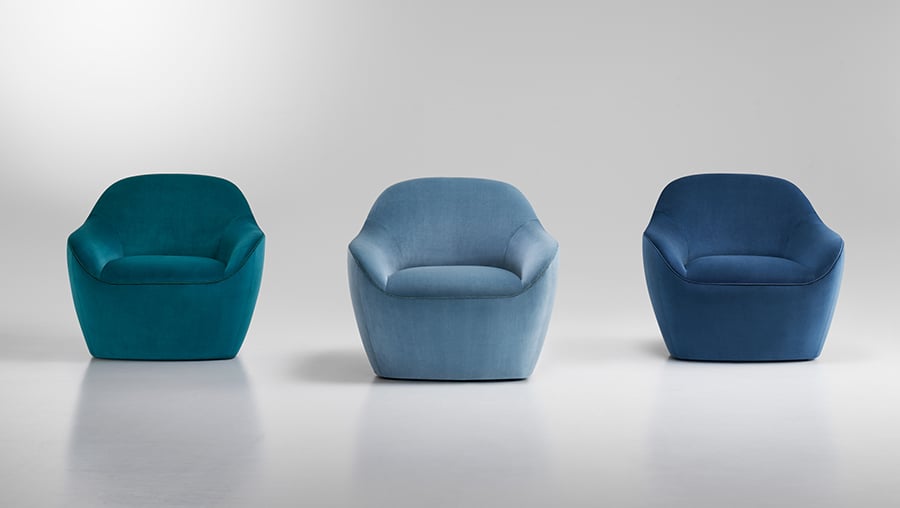 May 22, 2019
Terry Crews Debuts His Third Collection for Bernhardt Design at ICFF
The new Becca collection, which includes a sofa, settee, and club chair, prioritizes comfort, warmth, and simplicity.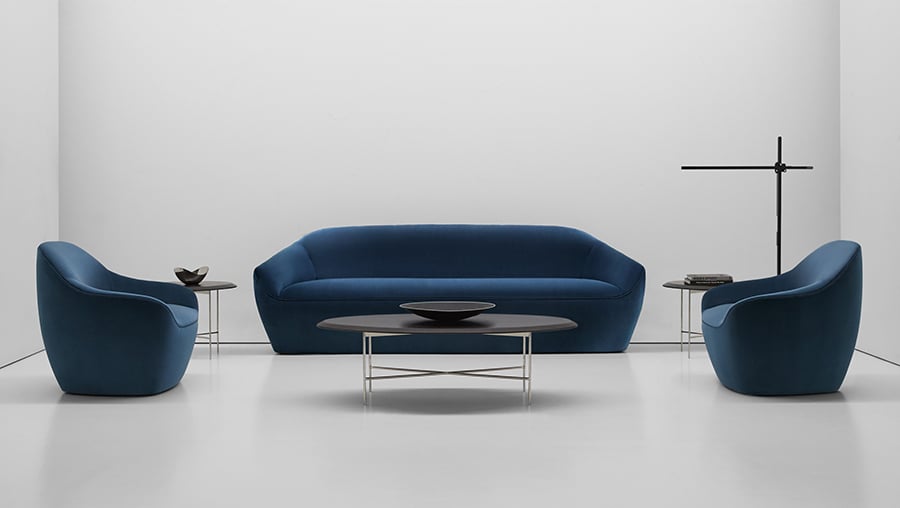 "If my furniture could talk, it would be laughing," says actor and designer Terry Crews. The former NFL player is standing on the showfloor of ICFF, where his third line of furniture for Bernhardt Design is making its debut.
With this latest round of pieces for the venerable Lenoir, North Carolina–based brand, Crews says that he's finding his voice as a designer and finding new opportunities to express himself. The line—dubbed Becca, after Crew's wife Rebecca King-Crews—consists of a sofa and armchairs, which can be upholstered with any Bernhardt Design leather or fabric. (The collection can also be custom upholstered at the buyer's request.)
Dispensing with the geometrical edges of Ibis, his previous collection that drew inspiration from the culture and fauna of the Nile River valley, Crews took a new approach. "With this collection," he explains, "I got in touch with my feminine side, I literally was thinking about [King-Crews], about what she likes, and about some of the complaints she had about modern furniture." Responding to her criticism that contemporary designs prioritize form over comfort, Crews designed Becca with relaxation in mind. "In my mind," he explains, "the furniture should feel like a warm hug. It's voluptuous, its sexy, its curvy, there are no hard lines to it, and it's very comfortable, which is a new thing for a lot of modern furniture."
It would be easy to mistake Crews for a celebrity johnny-come-lately to the design world and dismiss his collections as a cynical exercise in co-branding. While a dash of celebrity never hurt anyone (and might even help sell some couches), Crews chafes at the suggestion that he is anything other than a serious artist. "A mistake has been made in these disciplines," he says, referring to acting and design, "everything is either/or, and I have chosen to rid myself of those words. Everything is 'and.' I will do film, and television, and hosting, and furniture."
For a restless creative who likes his work to be accessible but engaging (see Brooklyn Nine-Nine and box-office flop turned cult classic Idiocracy), furniture offers an opportunity to make art that engages people on a physical and emotional level. "For me it's functional sculpture," he says. "I am that guy, when I see a beautiful sculpture, I want to touch it, when I see a beautiful painting, I want to rub my fingers across the brush strokes. When you sculpt a piece that everyone can actually use, that's the best of both worlds."
Becca is indeed tactile. Generous curves upholstered in buttery leather or rich velvet beckon a touch. An elegant cord that traces the ridge of the sloped arms and seat provide just enough contrast to draw glances and break up the volume.
Bernhardt Design has proven to be a good match for Crews. The brand's expertise allows him to take risks and come to the table with big ideas. A key partner for his three collaborations, with a fourth in the works, has been Jerry Helling, Bernhardt Design's creative director. It's Helling who brought Crews onboard and acts as a sort of editor when Crews's instinct is to over-deliver, says the actor and designer. Low-key was the aesthetic choice with a design like Becca, whose unique shape is plenty eye-catching, even without a lot of bells and whistles, and whose warm materials and welcoming shape might be just the right perch for watching a Terry Crews flick.
You may also enjoy "Announcing our Metropolis Likes NYCxDesign 2019 Winners!"
Would you like to comment on this article? Send your thoughts to: [email protected]