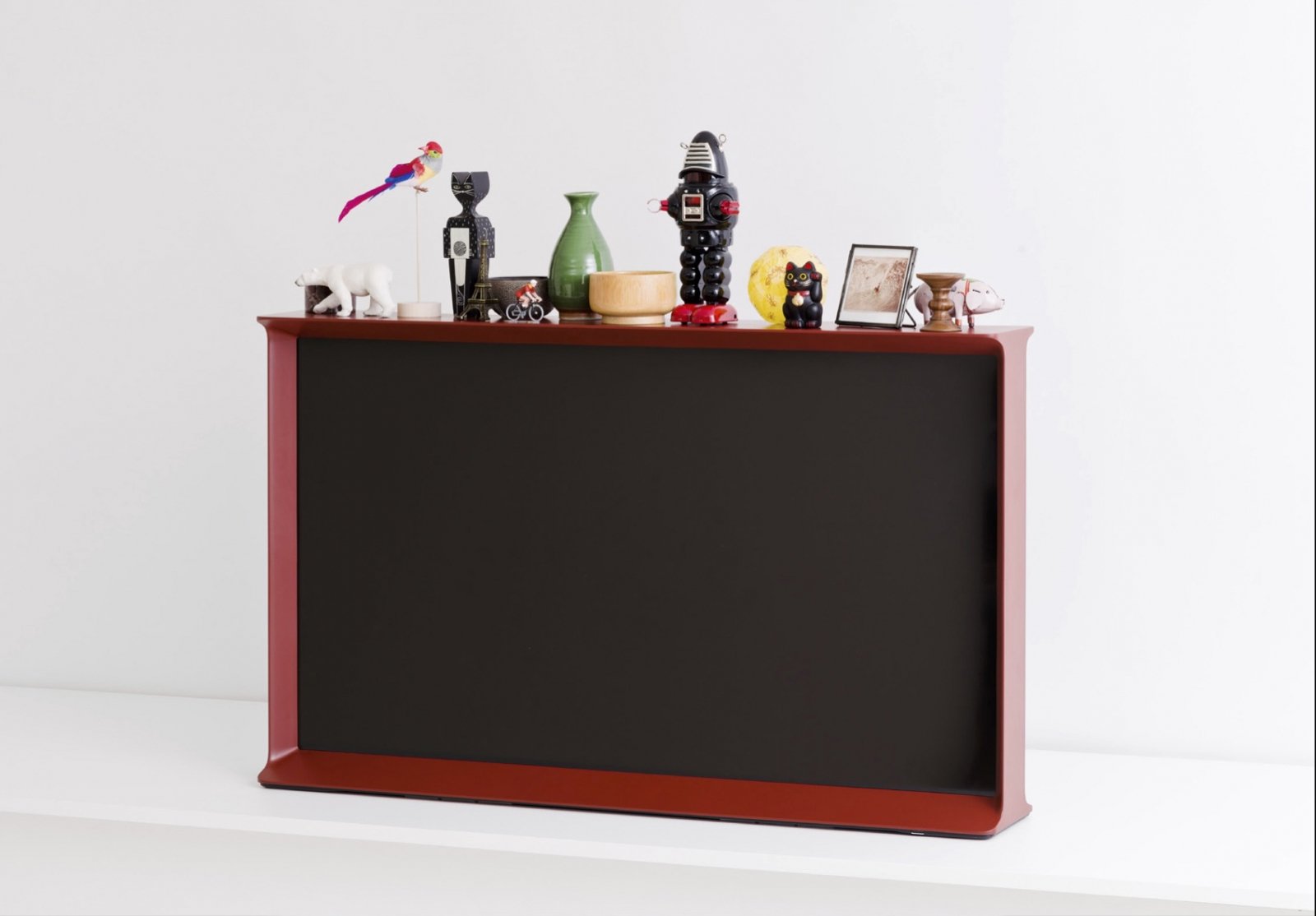 July 12, 2016
The Best of the 21st Century: Products
We asked leading practitioners to share their picks of the best products of the past 16 years. The following designs not only redefined conventional products but reshaped our lives.
Courtesy Samsung
​Samsung Serif TV​
(2015)
Ronan & Erwan Bouroullec
"Finally a TV for people who don't like TVs!" —Jasper Morrison, founder, Jasper Morrison Ltd. 
Courtesy Samsung
​Chair_One​
(2004)
Konstantin Grcic for Magis
"Its approach and formal language defined a new area of furniture design." —Sebastian Herkner, founder, Studio Sebastian Herkner
"This truly iconic seating is representative of the state-of-the-art computer-aided design and computer-aided manufacturing, or CAD/ CAM, a sculptural form from every vantage, a gentle basket to support the body, and finally, an eccentric and yet fully logical solution to the problem: what to put under your ass." —Theo Richardson, cofounder, Rich Brilliant Willing 
Courtesy Philips
​Philips AmbientLED A19​
(2011)
"This was the first practical consumer LED lightbulb, heralding the mass introduction of energy- and cost-saving LED technology into the home." —Alexander Williams, cofounder, Rich Brilliant Willing 
Courtesy Lumio
​Lumio
(2013)
Max Gunawan
"The Lumio book light garners gasps of awe when I show it to students. This product is a poetic merger of craft, technology, and intuitive interface." —Ellen Lupton, curator of contemporary design at Cooper Hewitt, Smithsonian Design Museum 
Courtesy Apple
​Apple iPhone
(2007)
Jonathan Ive
"For some this may appear as a cliché—a nomination that is lazy and obvious. But I am not daunted by this—there is no question in my mind that the iPhone's creation, its design inside, outside, and in between, has been executed with precision, empathy, and quality. It has transcended into people's lives and proven itself." —Sam Hecht, partner, Industrial Facility
"It forced the extinction of a way of life (the internet happens only when I'm sitting down, using a computer) and created another era (the internet can happen wherever I am, and whenever I want it). A new way of being, designed and made to be joyful yet practical. A huge achievement." —Jay Osgerby, partner, Barber & Osgerby 
"There were many iconic and great products in the last 15 years, but if you asked for the most 'important' work, I have to say 'iPhone' from my very personal point of view. It's not just an object, but it simply changed our life." —Nao Tamura, designer
"The significance of the iPhone is not just because of its beauty or technological prowess but its ability to be part of the everyday." —Lyndon Neri and Rossana Hu, founders, Neri&Hu 
Courtesy Apple
​Apple Unibody MacBook Pro
(2008)
Jonathan Ive
"The marketing video for the unibody MacBook Pro was such a groundbreaking explanation of the positives of manufacturing from solid stock. Having Sir Jony eloquently explain the reasoning behind the design was brilliant. My whole team watched it frame by frame."—Alex Rasmussen, president, Neal Feay Company 
Courtesy Apple
​Apple iPod (First Generation)
(2001)
Tony Fadell
"The first iPod truly integrated product experience in the 21st century. Not only is it an elegant and intuitive form, but the integration of iTunes, which allowed for the buying of music in a new way, and
such a strong campaign integrating '1,000 songs in your pocket' set the bar for future Apple launches, which in turn set the bar for an entire industry." —Joe Doucet, president, Joe Doucet x Partners 
Courtesy Vitra
​Alcove Highback Sofa
(2006)
Ronan & Erwan Bouroullec for Vitra
"By intuiting flexibility and privacy within a closed environment, the introduction of Alcove by Ronan & Erwan Bouroullec for Vitra in 2006 truly captured the most essential needs of the open office as the movement was in its infancy."—Brad Ascalon, founder, Brad Ascalon Studio NYC 
Courtesy Moritz Waldemeyer/Ingo Maurer and Team
​My New Flame
(2012)
Moritz Waldemeyer for Ingo Maurer
"The Ingo Maurer lamp is beautiful because of mixing poesy and technology. Not functional, but you must have it to be happy, and [it] makes you smile as a contemporary, beautiful, ready-made good for the brain." —Philippe Nigro, designer
Courtesy Matteo Cibic
​The General
(2015)
Matteo Cibic for Scarlet Splendour
"I love the General, it is a great piece of work! Timeless and very modern at the same time." —Dorothée Meilichzon, founder, CHZON 
Courtesy THINX
​THINX
(2013)
Miki and Radha Agrawal, and Antonia Dunbar
"Although there are many products that have begun to address the social, cultural, economic, and environmental issues of our time, it is rare to find product design at the intersection of all these issues. I believe period-proof underwear by Thinx is one of those designs. It may not solve the impending water crisis or eliminate the vast wastelands we have created, but it gets at the heart of the issues. How do we as designers change consumer habits for the better? How do we do it with style and intelligence? How do we design for the other half of the population? The technology to take on the challenges of the next decade is within our reach, and the role of designers will be to change people's minds." —Jaime Salm, cofounder, MIO
Courtesy Nike
​Nike Mercurial Superfly
(2014)
Denis Dekovic
"Nike is doing the most important and visionary work in product design today, and they've been doing so for many years. My choice of one product would be their men's soccer cleats. It all started in 2014 with the Nike Magista, but the newest Nike Mercurial Superfly iseven more incredible. These shoes are an impressive example of technology, performance, and beauty coming together in one product." —Konstantin Grcic, founder, Konstantin Grcic Industrial Design 
Courtesy Nike
​Nike Free Flyknit
(2012)
Rob Williams, Roberto Zavala, and Alvaro Henz
"This material redefined a category, opened up a completely new market opportunity, solved and improved specific footwear limitations, and crossed over from 'technical' into fashion."—Todd Bracher, founder, Todd Bracher Studio 
Courtesy Boyan Slat
The Ocean Cleanup Array
(2013)
Boyan Slat
"The Ocean Cleanup Array still has to prove it will actually work, but we think addressing major issues such as cleaning up the ocean's trash through design thinking is an admirable [goal]. The world needs more big ideas from industrial designers." —Torbjørn Anderssen and Espen Voll, founders, Anderssen & Voll 
Courtesy Tesla
Tesla Model S Sedan
(2008)
Franz von Holzhausen
"Beautiful, sleek, modern, and correct for the environment." —Dorothy Cosonas, creative director, KnollTextiles
"It continues to excel and surprise in every category: performance, innovation, technology, styling, and it's electric." —Josh Morenstein and Nick Cronan, founders, Branch 
Courtesy Maharam
Repeat
(2002)
Hella Jongerius for Maharam
"She found an endless pattern in the fabric, which does not repeat itself. This was unique for that period in time. But the most important part of this design is that Hella was able to find a partner who could, and wanted to, produce this in mass production."—Stefan Scholten and Carole Baijings, founders, Scholten & Baijings 
Courtesy Nervous System
Kinematics Dress
(2013)
Jessica Rosenkrantz and Jesse Louis-Rosenberg, Nervous System
"The dress represents an entirely new approach in apparel design in a flexible, customizable, 3D-printed garment." —Matilda McQuaid, deputy curatorial director, Cooper Hewitt, Smithsonian Design Museum