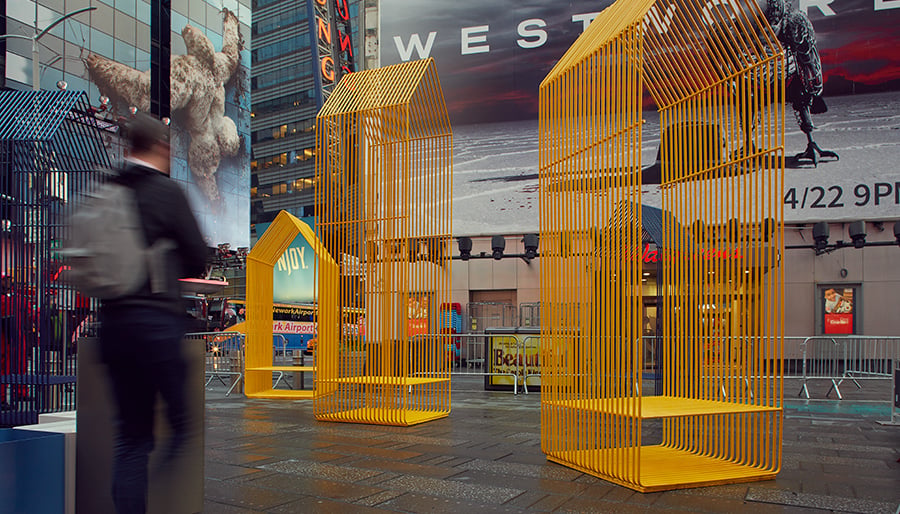 May 11, 2018
Seating and Signage Prototypes Designed for Public Spaces Debut at Times Square
The five prototypes—by designers Brad Ascalon, Joe Doucet, Louis Lim, DYAD, and Hive Public Space—are part of an initiative launched by the not-for-profit Times Square Alliance.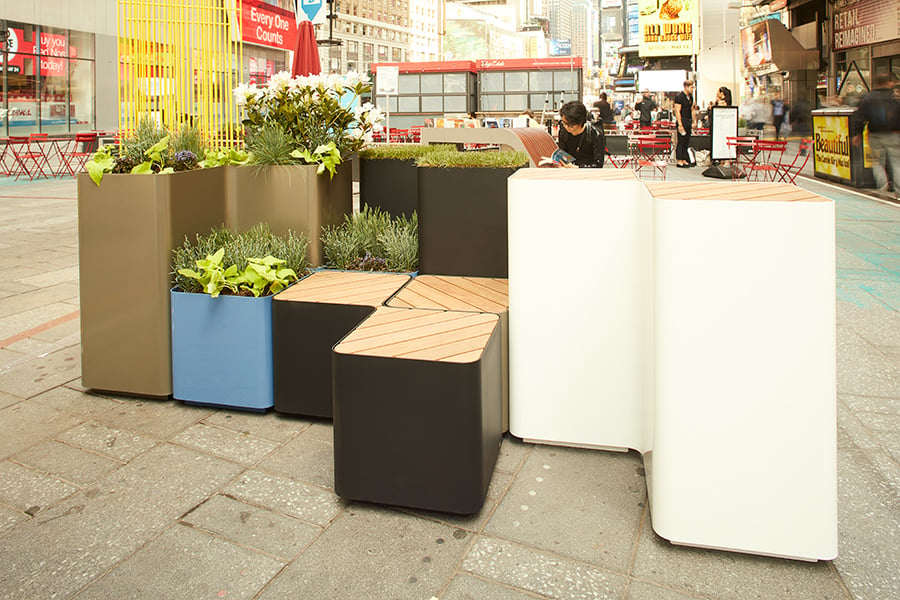 ---
Times Square has always been a roiling sea of humanity, though thanks to its recent pedestrianization, it's also become a far safer (and tolerable) public space. Now its caretaker—the Times Square Alliance—wants to use the famous plaza as a testing ground for public seating prototypes. The initiative, Times Square Design Lab (TSqDL), is debuting today as part of NYCxDesign's official kick-off.
The five designs, which are located at 42nd Street and Broadway, are all by New York–based designers. For example, Brad Ascalon's "Island Collection" features a series of interlocking, powder-coated steel and  seats and planters. Ascalon says the design aims help break up Times Square's chaotic bustle spaces, carving out sheltered areas for sitting and relaxing. To make that divide clear, some of the seats (which are topped with ipe wood) and planters rise to waist-height. Ascalon also tells Metropolis that the Island Collection's easily-accessed vegetation introduces "a way to relate in a human way to [Times Square]." Ascalon collaborated with Landscape Forms to help create the prototype; the furniture manufacturer is now developing the Island Collection into a product.
While the gray and blue Island Collection easily blends into Times Square, the towering prototypes by Joe Doucet are hard to miss. Doucet tells Metropolis that Times Square is "such a transient space, [so I] wanted to create something inviting, something that gave you a sense you were in your own space without being enclosed." Consequently, the Brooklyn-based designer used enormous house-like forms whose steel bars offer seating as well as a semi-enclosed private space for visitors. Dubbed "The Village," the prototypes reach 14 feet into the air at their tallest. Doucet says he opted for a taxi cab–yellow for its quintessential New York–ness and its ability to cut through the visual clutter of Times Square; the navy blue acts as a counterpoint.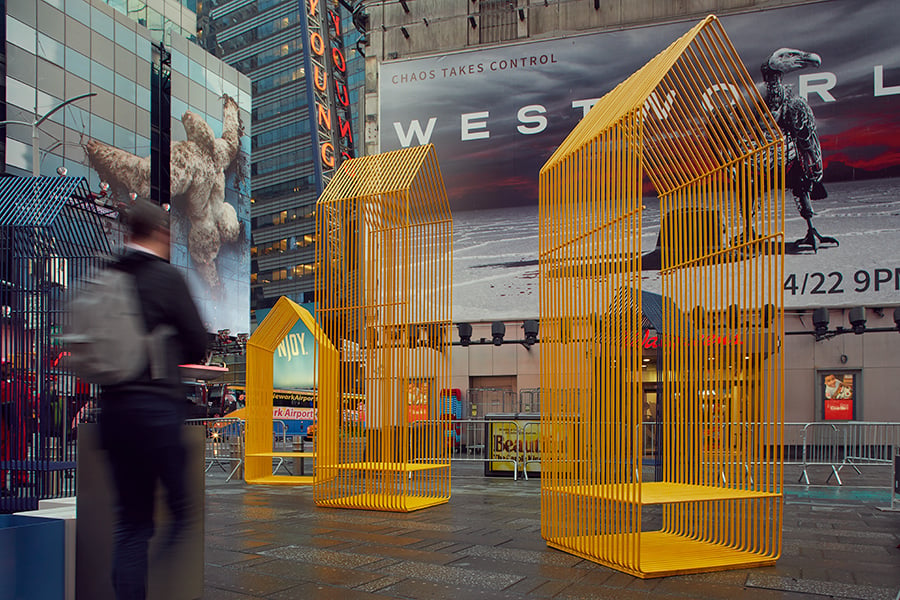 ---
Other designs at the TSqDL include Hive Public Space's "Title Wave," a curving bench-cum-bookcase, DYAD's "Re: Post" poster holder, and Louis Lim's tear-shaped "'Drop Sign." The prototypes will be on view through May 23rd, which is also the conclusion of NYCxDesign.
Elsewhere at Times Square, the Design Pavilion (a separate entity from the Times Square Alliance and its TSqDL) is being held within a large inflatable structure designed by U.K.-based Inflate. The Pavilion, which will host a series of design-themed events, is accompanied by a series of installations spread throughout Times Square from 42nd to 47th Streets between Broadway and 7th Ave. To learn more about what's happening at Times Square for NYCxDesign, visit this article. For everything else NYCxDesign—including a link to download the official Metropolis-produced NYCxDesign guide—click here.
You may also enjoy "The Cooper Hewitt Announces National Design Award Recipients."