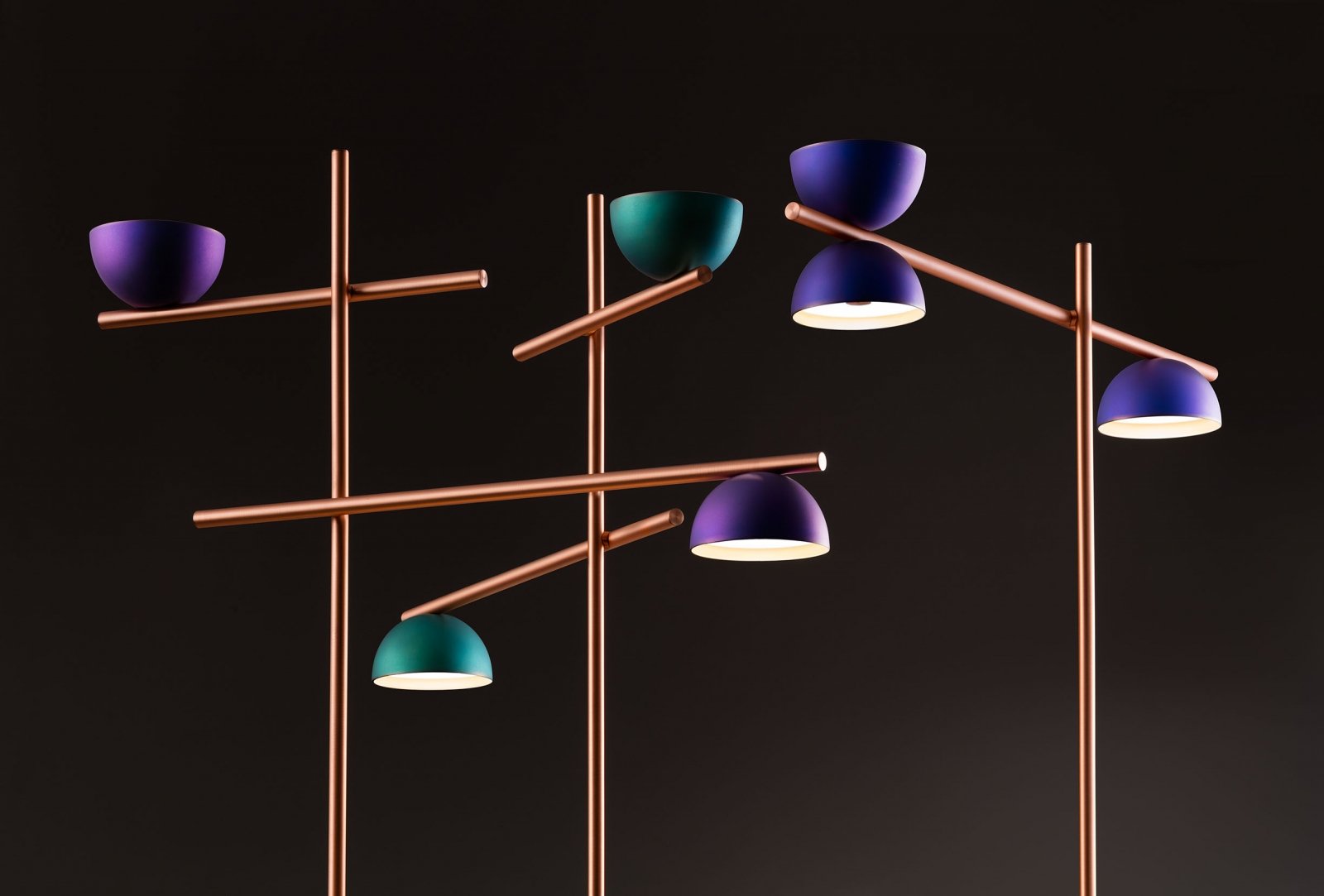 October 4, 2016
Underwater Electrolysis Gives These Minimal Lamps Their Color
Claudia Moreira Salles's latest collection is a departure for the Brazilian designer, in terms of both form and materiality.

Courtesy Eliseu Cavalcante
All of Brazilian designer Claudia Moreira Salles's designs usually happen through a deep engagement with material. But for her most recent project, a collection of light fixtures, it was a space that jump-started the design process.
Invited to do a special, limited-edition product series for a high-end art gallery in Rio de Janeiro, Salles surveyed the space and felt it was the perfect opportunity to flex her creative muscles. "I was going to design furniture pieces, but the scale of the gallery rooms asked for something smaller. And being that one of the rooms did not have any natural source of light, it made it for a great opportunity to develop a lighting project," Salles says.
She began thinking about materials that would be special enough to justify the idea of a "limited edition" concept. Salles had recently seen some jewelry made of niobium (a type of soft, ductile alloy metal, used mostly in technical and industrial applications) and was intrigued by its design possibilities. Through her research she learned about the material's properties, including its unique reaction to underwater electrolysis—it changes colors."The color comes from the accumulation of successive crystalline layers caused by the electrical charge," she explains. That quality, combined with its slight iridescence, made the material remarkably effective when combined with light. Salles chose a palette of blue, green and purple to go with the reclaimed wood base and the copper structure.
The aesthetic of the resultant Fine Tuning collection reflects Salles's own interpretation of Modernism. Simple, clean lines and bold geometries play off the richness of the materials she selects, be it the veined, lively texture of wood or the smooth subtle shimmer of niobium. The composition is rational, but the materiality lends a poetic, humanizing touch.
The Fine Tuning pieces are part of Salles's current exhibit of the same name at the Espasso showroom in New York. She will be the sole Brazilian designer represented at the exhibit Design by Women: Pathways of Creativity, curated by Marianne Russell and opening early next year at the MDC Museum of Art & Design in Miami.
Fine Tuning is currently open at the Espasso showroom in New York through October 9.
All product photography courtesy Andrés Otero