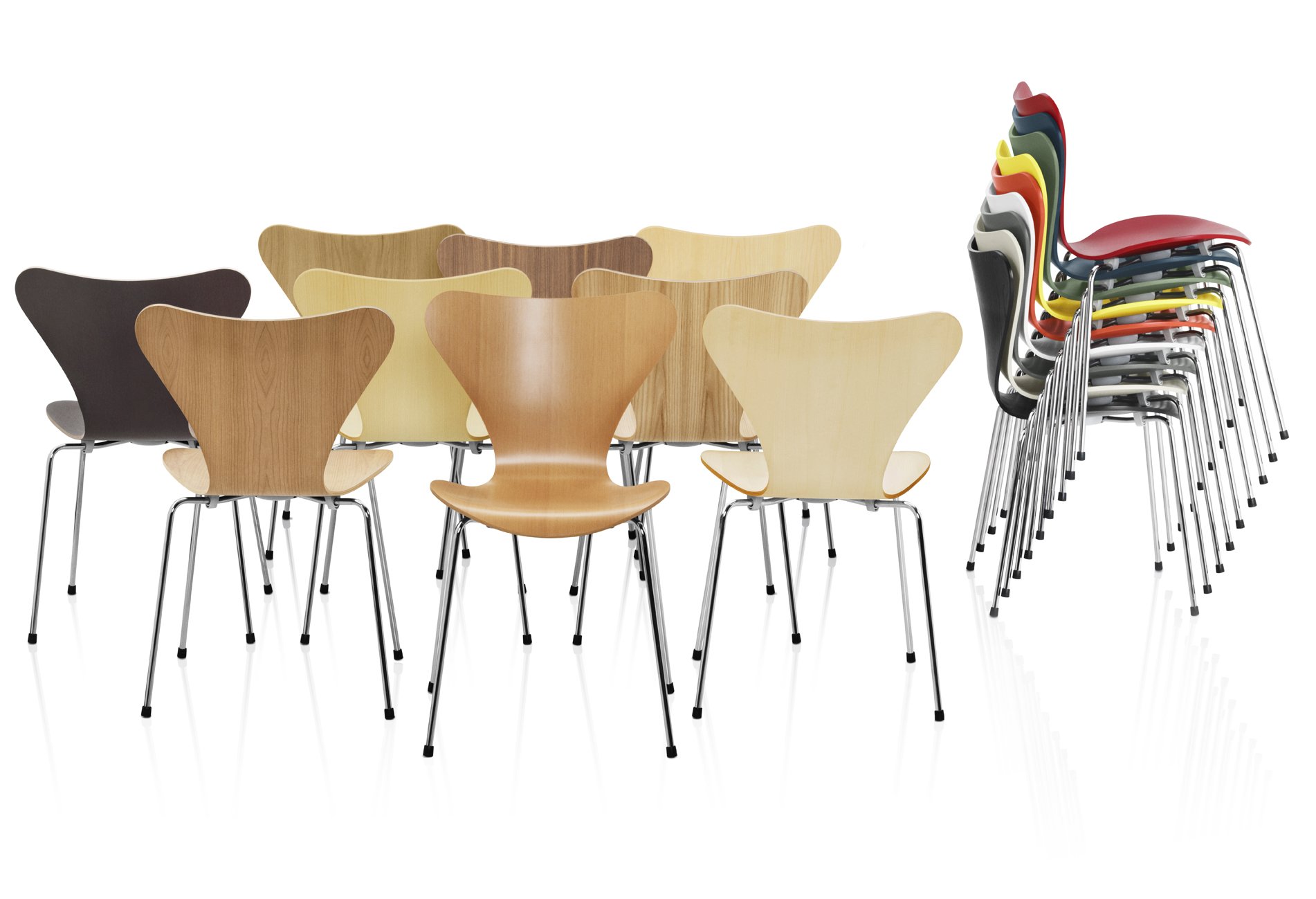 June 23, 2013
What Makes a Design "Authentic"? We Ask Fritz Hansen
Fritz Hansen's U.S. representative makes the case for buying original design
When the new advocacy group of 11 manufacturers came on the scene and called itself Be Original USA, it was clear that the anti-knock-off movement had been re-energized in North America. So I decided to reach out a member of the group, David Obel Rosenkvist, vice president of sales, North America, for Fritz Hansen.
The Danish furniture company was founded in 1872 by a carpenter named Fritz Hansen; it became known in the 20th century for producing the work of such talents as  Arne Jacobsen, Hans Wegner, and Piet Hein. With this strong track record of employing innovative thinkers to design its much-loved furniture, what does Fritz Hansen's current North American representative have to say about original design, its importance in the marketplace, in our lives, and for those who create iconic pieces? I asked David Rosenkvist to talk about what it takes to produce original work, the benefits of such work to the public, and his hopes for a future when the U.S. finally values great design, as we once valued innovation.
Susan S. Szenasy: Your company is a member manufacturer of the Be Original advocacy group, recently formed to promote the importance of authenticity in design. Can you explain to me how you and Fritz Hansen, the Danish firm you represent in the U.S., define design authenticity? 
David Obel Rosenkvist: What defines a design authentic is about the process that goes before and during the creation of that design. Authentic design will always have to be based on a unique idea and a concept. That idea will most often be inspired by the zeitgeist of when it's created, and what came before. But it has to be a creative and creating processes that lead to new and unique results. That is what design is all about and what differentiates creation from imitation.
SSS: If you had to choose a user group (architects, interior designers, manufacturers, students, or the public) to convince, first and foremost, to support authenticity in design, which group would that be? And, in your view, why is this group key to supporting design excellence? 
DOR: Architects and designers are a key target group to advocate for authenticity. Many in the A&D community are already true believers in the cause, to a large extent. The same goes for students. Both groups are educated and have knowledge about the importance of authenticity. So I believe that designers and architects are the most important group to convince is the public. Consumers deserve to know the difference between authentic design and a knockoff, and the importance of making the right choices.
Legislation also plays a key role. Why is it, for instance, the arts get legislative protection? Think of authors, musicians, and fashion designers. And why is it that in our business designers are not entitled to have their creations protected?
SSS: Products that proudly claim the originality of their design, tend to be more expensive than the run of the mill product in the same category. Can you explain the high price tag of "good design"?
DOR: This is not always the case. I believe that authentic design does not necessarily have to be expensive. It is, again, the idea, the process, and the uniqueness of a product that are important. But is true that many original designs are more expensive than the knockoffs. There are several reasons for this. First and foremost, the original designs have a purpose other than making money. They are about bringing the right design, in the right quality, to the market. They care about how the original idea and concept lives after it leaves the hands of the creators.
These designs should last, and last beautifully, maybe even become more and more beautiful over the years. Therefore the quality of the material and the craftsmanship associated with original pieces are higher than you get in knockoffs.
With each sale, manufacturers of original designs pay royalties to the designers. That's how designers make their living. And finally, there's an investment in a long process by the creator as well as the manufacturer. Research and development are part of creating original designs. Beyond that, there's investment in the marketing, communication, and distribution; all of these essential steps are stolen by the pirate and knockoff companies that try to live off what others have created and built.
SSS: I own several high-design lamps–innovative and beautiful and expensive–that have had a very short life. Now they are lovely sculptures that I have no room for. This kind of experience with the designs we love and admire makes it hard to advocate for high design. How would you convince those of disappointed by product performance to embrace Be Original's manifesto?  
DOR: I think you should rightly expect high quality for a premium price. To me, good design is characterized by not only being beautiful in form but also function. A lamp that has no light after a few years is clearly not a good design. And consumers should rightly ask for and expect better service and warranty for a premium product. But remember, this has to do with premium. Design does not have to be premium to be original and authentic. And you, as a consumer of such a product, have the right to go to the manufacturer for return or replacement. That kind of service should go hand in hand with the quality.
SSS: The design community including high-end manufacturers, have been talking about protection against knockoffs for decades now with little success, I might add. What leads you to believe that this is the moment when the market is ready to receive the message that authentic designs are better than copies? 
DOR: We believe in the consumer. We believe that when people understand the difference between creation versus imitation, they will, in most cases, make the right choices. We have seen other businesses succeed with this message. We have seen other markets and countries changing their legislations to give designers equal rights.
We believe that there is no alternative. The U.S. cannot and should not turn into a nation of knockoffs and imitators. This is a country with a long and proud history of innovation, creation, and manufacturing.
We believe, of course, that people will understand when they are allowed into the full story; as for your question of Why now? Because the 11 founding members of Be Original are committed to making and selling authentic products; and the response to our activities has been positive from the outset. We see tremendous interest in this movement.  We are committed to continuing to educate, inform and with help from you, the media, influence people on the value of authentic design. And we hope that one day, legislators will also become supporters. It's time.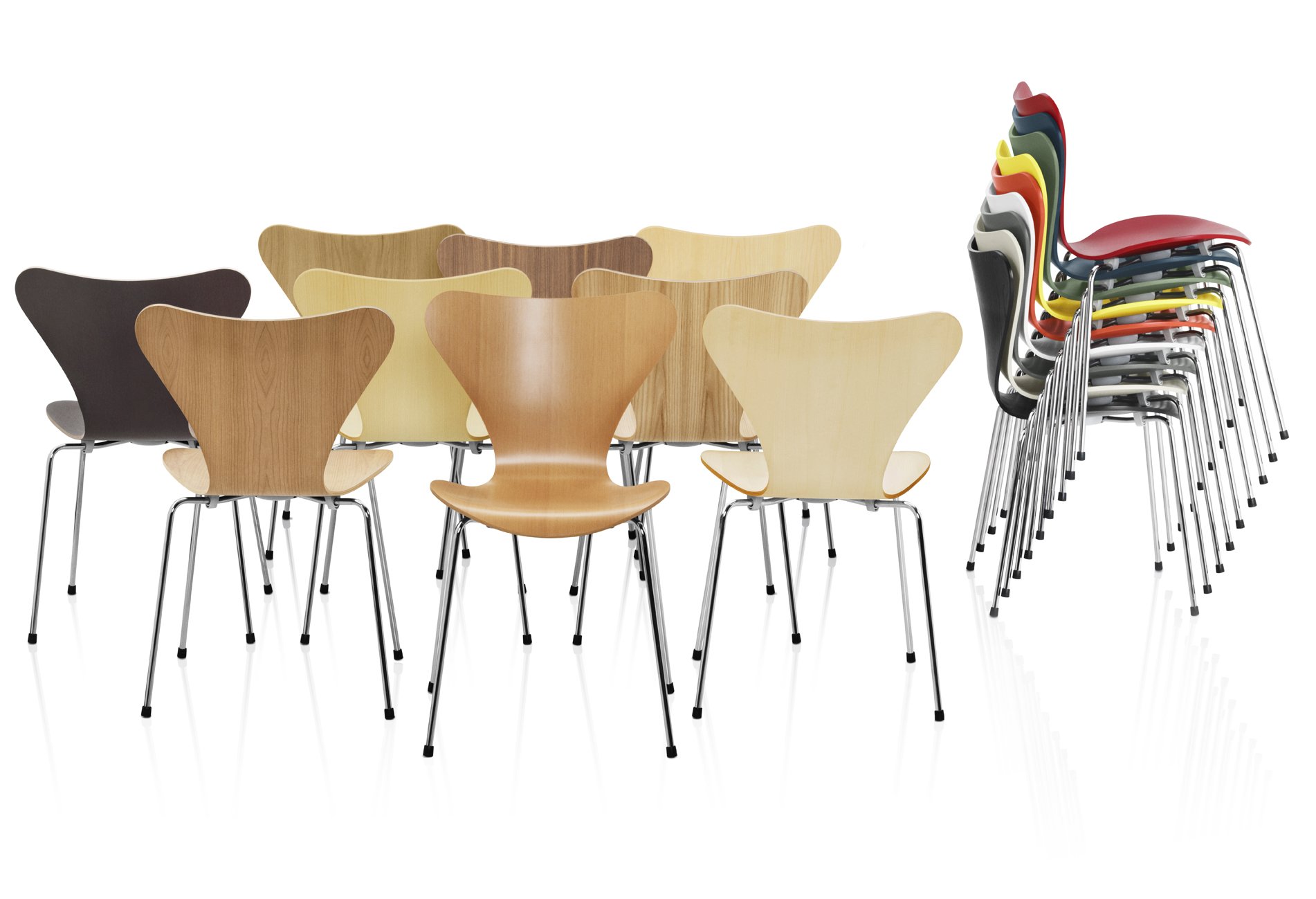 Arne Jacobsen's 1955 Series 7™ is by far the most sold chair in the history of Fritz Hansen and perhaps in furniture history. The pressure molded veneer chair is a further development of the company's classic Ant™ chair. The four-legged stackable chair can be seen as the culmination of the use of the lamination technique, perfected during the 1920 and 1930s by Søren C. Hansen, the grandson of the founder, Fritz Hansen. 6 million Series 7 chairs have been produced.
Arne Jacobsen designed the Egg™ for the lobby and reception areas in the Royal Hotel, in Copenhagen. The commission to design every element of the hotel as well as the furniture was Jacobsen's grand opportunity to put his theories of integrated design and architecture into practice. The Egg is one of the triumphs of Jacobsen's total design – a sculptural contrast to the building's almost exclusively vertical and horizontal surfaces. The Egg sprang from a new technique, which Jacobsen was the first to use; a strong foam inner shell underneath the upholstery. Like a sculptor, Jacobsen strove to find the shell's perfect shape in clay at home in his own garage. Because of its unique shape, the Egg guarantees a bit of privacy in public spaces. More than a quarter million Egg chairs have been produced.