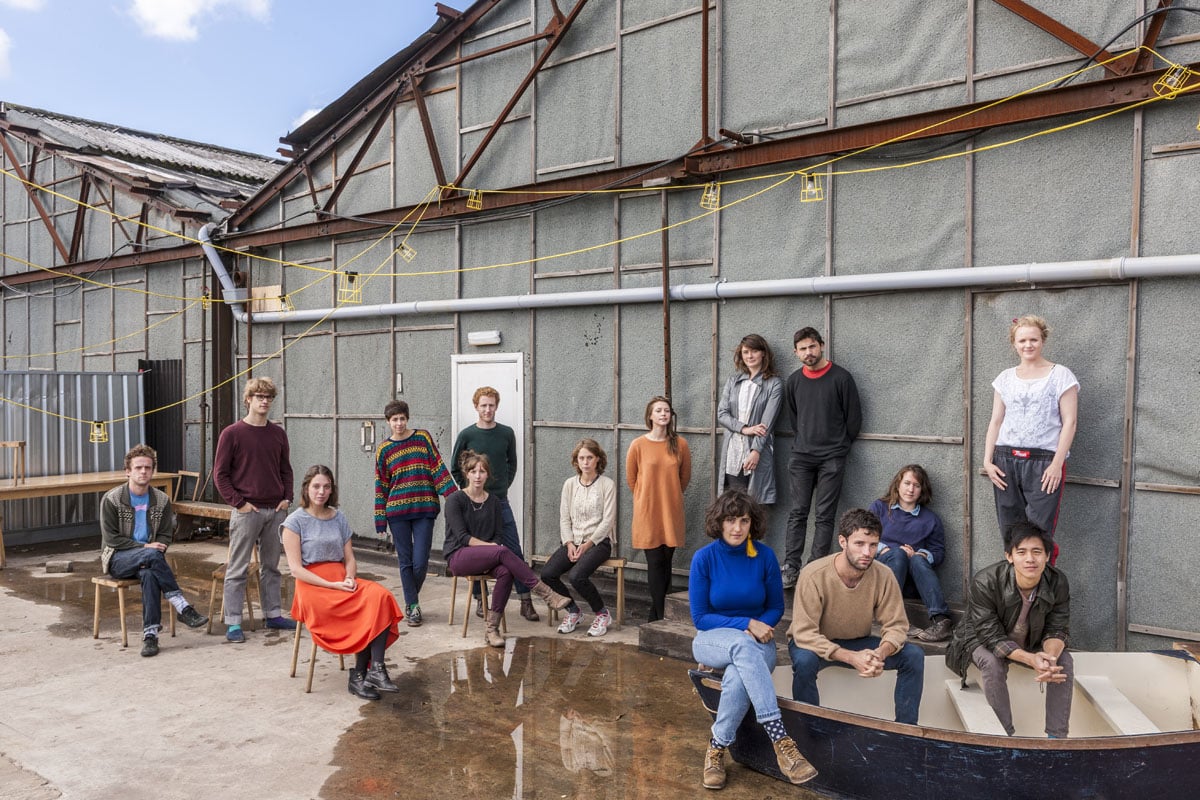 October 27, 2015
Assemble Studio Creates Architecture That is Ad Hoc, Handmade, and Community-Driven
The London collective creates architecture that is ad hoc, handmade, and community-driven.
---
Nominated by Justin McGuirk
---
Members of Assemble Studio.
Courtesy Gareth Gardener
The London of the past 15 years has been an immense, sprawling, multicultural metropolis, home to some of the world's most expensive real estate, and also to serious economic disparities. Assemble Studio offers an alternative vision for London, and for the 21st-century city in general. The group of young designers—numbering between 14 and 20 members, depending on when you're asking—has been working to create an open, flexible, participatory, and exciting city, based on architectural projects that are ad hoc, handmade, built by volunteers, and fundamentally of their respective, very urban sites.
Assemble was founded five years ago as a loose collective of former architecture school classmates and friends from other disciplines. In the beginning, the work was the result of shared interests but with few trappings of an architecture practice—no full-time employees or phasing, and extremely small budgets. For its first project, the collective spent two weeks on site as a completely volunteer construction team. Mathew Leung, a member from the start, recalls, "The only thing that tied us together was an itch to do something more involved and exciting than our day jobs."
As the scale and complexity of the firm's projects have grown—it recently won its most official commission, Goldsmiths Art Gallery—the team has had to innovate in order to preserve the open and at-will studio culture. "Evolution to stay the same," as Leung calls it, keeps everyone working on a freelance basis, allowing some to teach and others to work toward a PhD. Members choose which projects they are interested in working on, and there are various incentive systems in place to reward consistent involvement. They also gather for regular group crits in order to leverage their diverse opinions and talents. For Leung, there are two major components to this process: collective decision making and making by hand.
"It's the people who are using a project that make it a success."
This handmade aspect of their work is perhaps most visible in the Yardhouse, the central gathering space for Assemble's office, with its multicolored, hand-cast concrete shingle facade. The studio space also serves as a model for new ways of working. Assemble occupies a small part of the 4,500-square-foot communal working space Sugarhouse Studios, which its members designed and built. A local technical school runs the space's fabrication shop, while a whiteboard in the corner lets everyone know which members are currently active and working on designs.
The studio's early projects—often open-ended, often temporary—captured attention due to their uncanny ability to deliver enormous urban transformation with a few simple gestures. Folly for a Flyover was an events and arts venue inserted beneath a highway overpass, with its pitched roof poking above the lanes of traffic. It illustrates how Assemble excels at squeezing quality public space out of the anemic gaps of the contemporary city.
Another theme has been playgrounds—more specifically adventure playgrounds, where children are free to climb and build confidence by conquering obstacles like fallen branches and rope ladders. The studio recently took this interest all the way into the Royal Institute of British Architects' galleries, in collaboration with artist Simon Terrill, with a foam-constructed Brutalist playground resembling the city's old concrete ones.
Now, however, Assemble is tackling urban issues on a larger scale. It worked with Granby Four Streets Community Land Trust and Steinbeck Studios to study a section of Toxteth, Liverpool, 80 to 90 percent of which was abandoned following riots in 1981. The collective came up with ideas to encourage renewed habitation for the derelict houses in the neighborhood, including gardens planted in the shells of ruined homes.
Assemble then started working with residents to begin rehabilitating a row of abandoned houses on Cairns Street, within the study area. To cut costs, its members implemented what they semi-ironically call the "enrichment program," in which they craft missing hardware such as doorknobs. They are also training neighbors in the skills necessary to continue refurbishing housing in the area, hoping to perpetuate a self-sustaining project of urban rehabilitation.
This type of community involvement has become a signature of Assemble's projects. "We've never sat down at any point and written a manifesto," Leung says, "but it's a recognition of the fact that it's the people who are using a project that make it a success."
See the rest of this year's new talents here.
The Brutalist Playground installation comprised foam reconstructions of the concrete playgrounds—most now demolished—that used to sit at the base of London's Brutalist housing developments.
Courtesy Tristan Fewings/Getty Images for RIBA
Part of the Granby Four Streets initiative, which earned Assemble a nomination for the Turner Prize, was to convert a derelict home into a greenhouse.
Courtesy Assemble
Conceived with the Chichester's Youth Theatre, the Theatre on the Fly was built as a temporary venue for plays.
The Cineroleum converted an old gas station into a pop-up cinema.
A disused motorway undercroft in Hackney Wick, East London, became an arts venue for the Folly for a Flyover project. Over nine weeks, 40,000 people visited the space to perform, eat, and enjoy talks, workshops, and theater shows.
Courtesy David Vintiner
---
"Assemble Studio is the poster group for a generation of young architects and designers increasingly drawn to the idea of working collectively. It has maintained an ethos of community engagement and a commitment to social projects, and has none of the utopianism of the 1960s and '70s collectives. Its members are not dreamers or manifesto writers; they are doers. They roll up their sleeves and build. And they work with and for local communities, not in spite of them. They are a necessary antidote to London's addiction to building luxury apartments that no one will live in." —Justin McGuirk, chief curator of the Design Museum