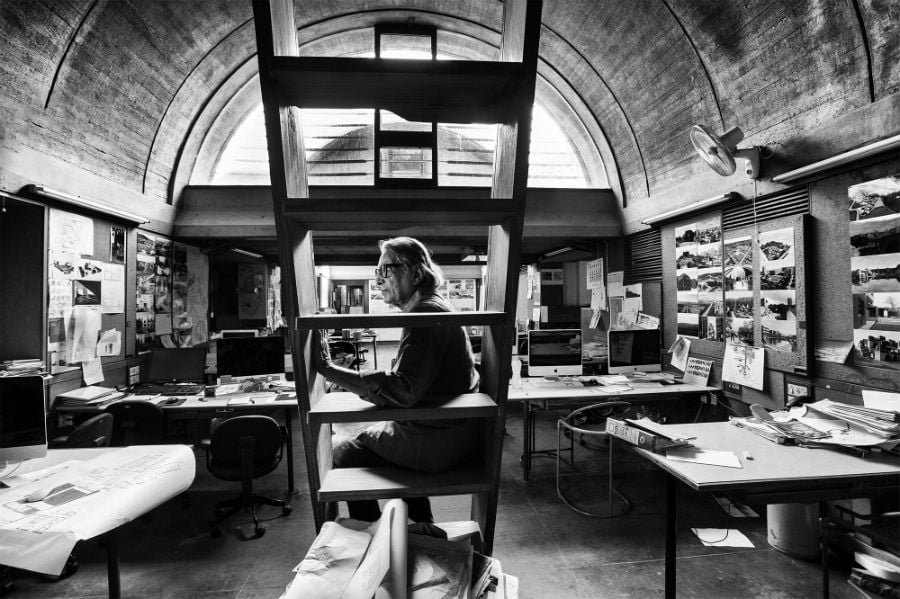 March 7, 2018
Exclusive Video: Renowned Indian Architect B.V. Doshi is 2018 Pritzker Prize Winner
The celebrated Indian architect Balkrishna V. Doshi discusses key influences over his 70-year career, especially the figure of Le Corbusier.
B. V. Doshi Awarded the 2018 Pritzker Architecture Prize from Metropolis Magazine on Vimeo.
---
This morning, celebrated Indian architect Balkrishna V. Doshi was named the recipient of the 2018 Pritzker Architecture Prize. Doshi, an architect, teacher, and planner, was heavily influenced early in his career by Modernist masters including Louis Khan and Le Corbusier, under whom he worked and studied in the 1950s. He went on to create work for all of India's social strata that was at once functional and lyrical.
"There was no distinction between object and living, they both merged," Doshi recounts in the above video. 
"Corbusier looked at a building as a living being and he thought that buildings and architecture and environment and life all go together as one entity," he says. "This I think was my greatest gift from him."
Doshi's work includes the Aranya Low Cost Housing (1989) in Indore, India, a labyrinthine complex of dwellings that accommodates more than 80,000 residents. Throughout his architecture, Doshi incorporates places to gather and places to commune with nature, from Bangalore's Indian Institute of Management (1992) to the Madhya Pradesh Electricity Board in Jabalpur (1979).  It is no coincidence that he calls his studio in Ahmedabad, Sangath, which means "moving together."
Speaking of Doshi, the Pritzker committee noted in a release, "His work in architecture to affect humanity is deeply personal, responsive, and meaningful."
Doshi is the 45th recipient of the Pritzker Architecture Prize, which is celebrating its 40th anniversary this year. The architect will receive his prize—a $100,000 purse and a symbolic gold medallion—at a ceremony to be held at Toronto's Aga Khan Museum this May.
You may also enjoy "Kenneth Frampton Isn't Done Changing Architecture."