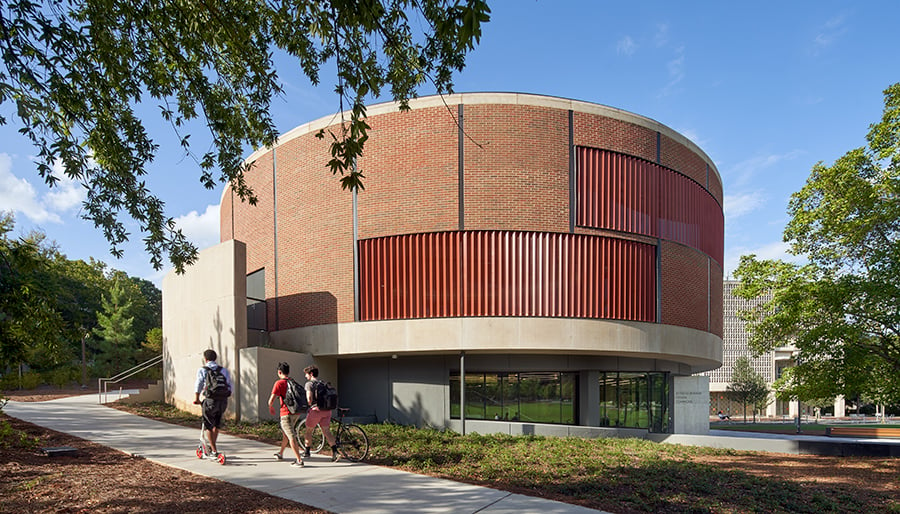 March 18, 2019
For the Atlanta-Based Firm BLDGS, No Building Is Beyond Rescuing
While Atlanta is a developer-driven architecture market, BLDGS has managed to carve out a niche, building close ties with the city's nonprofits and organizations.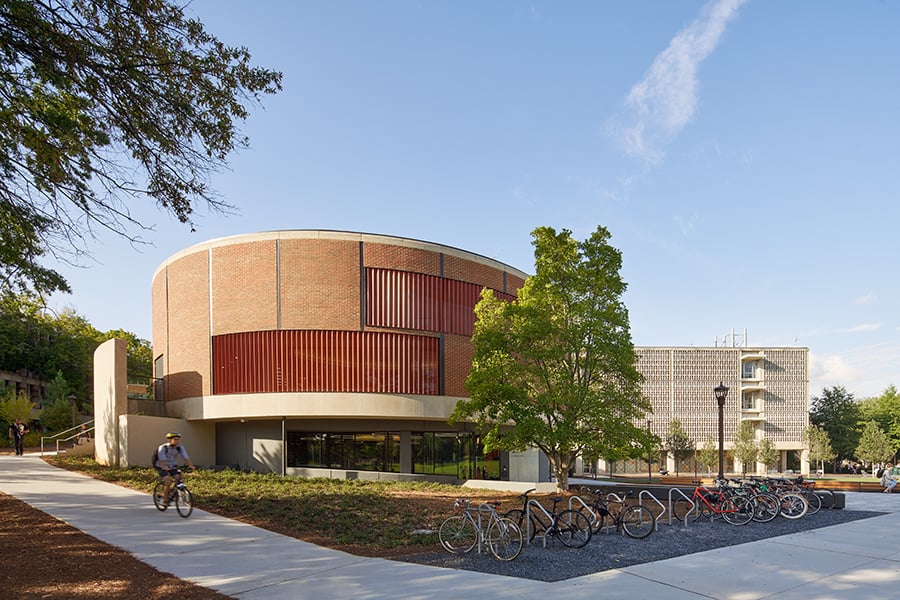 ---
Atlanta's west side is strewn with recycling centers, warehouses, shipping companies, abandoned rail lines, and other markers of light industry. It's a grimy setting but one that architects Brian Bell and David Yocum felt ineluctably drawn to; there, inside a former auto-parts shop in 2006, they founded BLDGS. A comically inadequate title card above the buzzer announces the firm's presence.
"It's a bit of a Batcave," Yocum says, noting the inscrutable exterior. (The next-door maker hub keeps the outpost from being too exact a set piece for The Outsiders.) Embracing anonymity is a running theme in BLDGS's work, and the studio often finds itself working from the inside out, be it an art gallery tucked into a 19th-century carriage house or a café slotted into an old museum-ticket stand.
This insistence on interiority may have been inspired by Bell and Yocum's earliest impressions of Atlanta, gathered in the late 1990s after they arrived from the Harvard Graduate School of Design to work for the firm of their professor Mack Scogin, who employed them for a decade. In the run-up to the 1996 Olympic Games, says Bell, the city had been given a "Potemkin village treatment," in which quick fixes and flashy facades concealed sites of decay and rot, but also potential. "We drove around and saw a lot of real opportunity, like this building," Yocum adds, noting the studio's oxidizing metal canopy.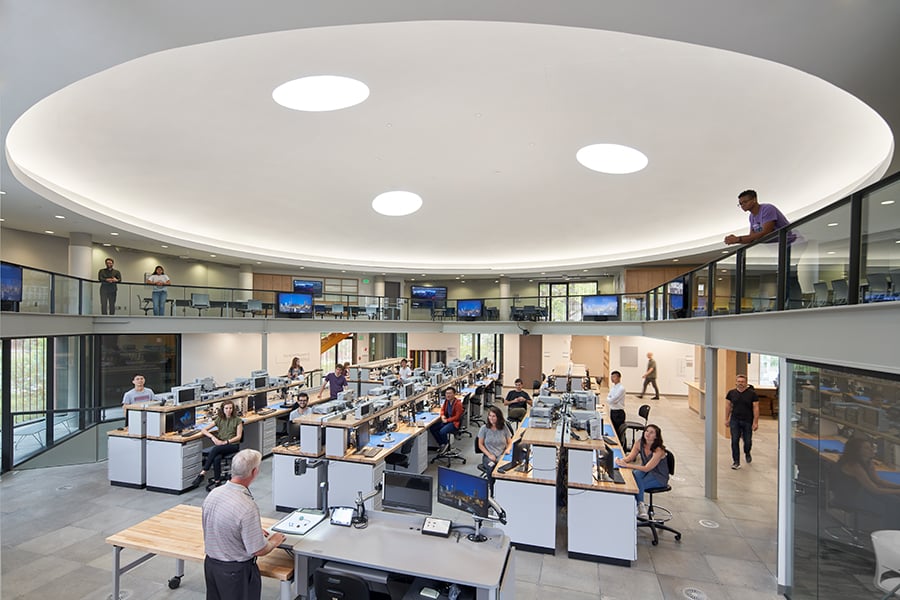 ---
More than anything else, Bell and Yocum's practice has been defined by clever but modest adaptive-reuse projects—ones whose starting points often land the pair in unexpected venues. Wrestling with these places of neglect is what they enjoy most, says Bell: "You've got to challenge them. You've got to bring in a new sense of order."
That, and in the case of the Or Hadash synagogue in Sandy Springs, Georgia, a sense of religiosity—a tall task considering that the 24,000-square-foot complex began as an auto-body shop. The materials required for this spiritual conversion were surprisingly modest. A new steel canopy doesn't offer shelter so much as mark out the forecourt as a place of gathering, one sectioned off from the parking lot by concrete-block walls. Metal panels form the sanctuary's dropped ceiling, its creases and folds concealing ductwork while also acoustically tuning the space. (The ceiling's crinkled shape was conceived as a tent, a reference to the Exodus story.) But on the whole, drywall does much of the work in helping the synagogue transcend the site's origins. Even six years after the congregation moved in, Rabbi Mario Karpuj marvels at the transformation: "It was impossible to imagine that you could transform [it]. When we started our capital campaign, we didn't want to bring anybody to see the place!"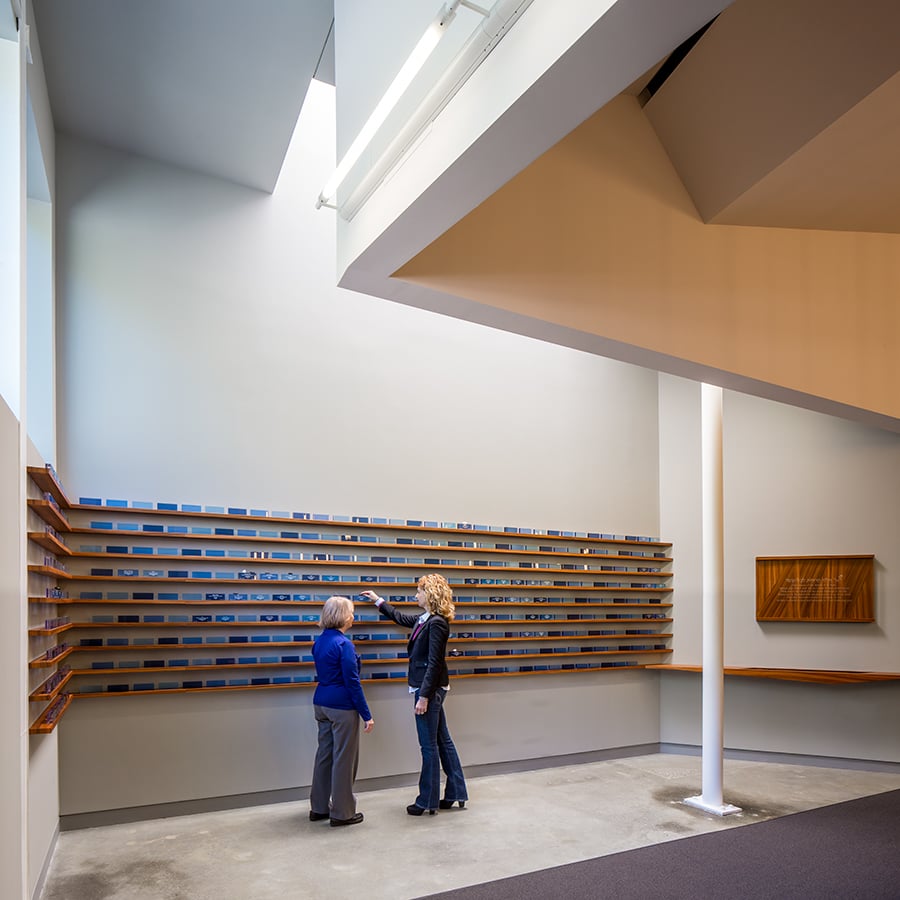 ---
The ethos of BLDGS lies in this "critical reframing of what's there," Yocum explains. These architectural "givens" are often unspectacular and, indeed, marginal, as with a former box office pavilion BLDGS upgraded into a coffee shop for downtown Atlanta's Woodruff Arts Center, which contains the High Museum of Art. Mirrored ceilings and alcoves seem to expand the café's minuscule footprint, the widest point of which spans just seven feet.
Bell and Yocum are comfortable working in tight spots. Atlanta is a developer-driven architecture market, yet they have managed to carve out their own niche, building close ties with the city's nonprofits and organizations like the Woodruff. Both Bell and Yocum teach at nearby Georgia Tech, and the school has become their largest institutional client. Their latest project for the campus, the Van Leer Interdisciplinary Design Commons, inserts a maker hub into an existing auditorium annex, a simple-enough idea that was quite difficult to pull off, says Bell, alluding to the building's tricky cylindrical massing and lack of windows. In an ingenious move, the architects vertically arrayed the new teaching spaces, labs, and fabrication shops and linked them through catwalks, while pushing spillover spaces to the perimeter and repurposing them as break rooms. Apertures cut into the brick envelope let in daylight and carefully orchestrate sight lines across the building. But for all the odd programmatic geometry, no space feels superfluous or left over.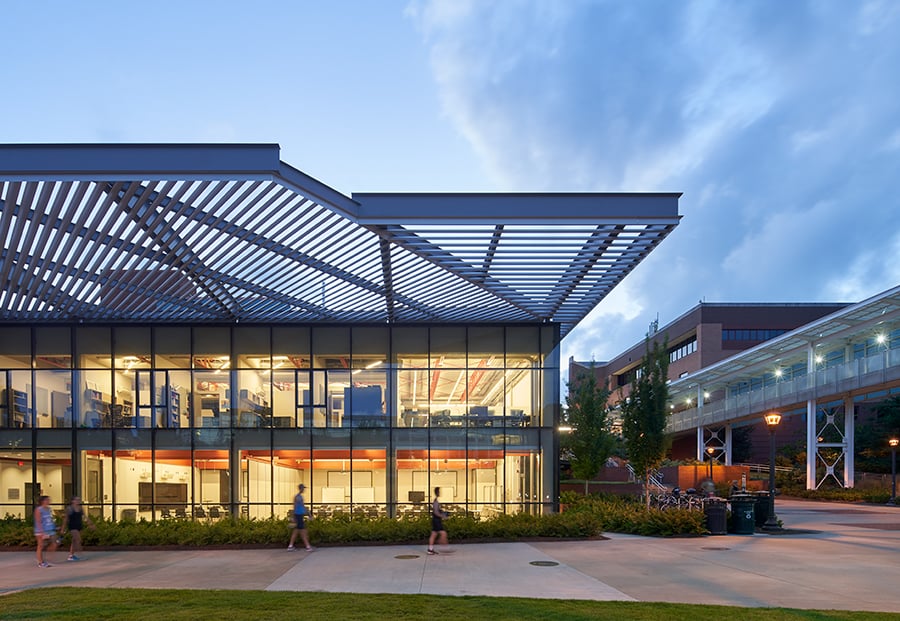 ---
For their first building on campus, the duo peeled back layers instead of adding them. At the Caddell Building, home to Tech's School of Building Construction, Bell and Yocum undid a clumsy 1990s conversion, tearing out classroom partitions, dropped ceilings, and double-loaded corridors to reveal the original 1950s steel frame. In the process, they restored its graceful trusses and used the strength of the structure (and its ten-inch-thick retaining walls) to support a spectacular cantilevered, louvered canopy extending 28 feet past the facade.
To Howard Wertheimer, Tech's resident architect, BLDGS has single-handedly raised the quality of building on campus. "I would think they have a lot of pressure to be successful," he says about Yocum and Bell, whose students can visit—and critique—the works firsthand.
Without discounting the influence of Atlanta's shifting urbanism on their practice, Yocum and Bell are anxious to take on larger, ground-up projects elsewhere. (Apart from a few single-family homes in the city's suburbs, their practice remains interior-focused.) BLDGS's approach of lacing the prosaic with a bit of poetry is portable, Yocum says. "The model could have easily happened in any other city that had similar circumstances" to Atlanta, he explains, referring to the injurious effects of 20th-century planning. In gleaning opportunities from these circumstances, BLDGS has forged robust, even pragmatic strategies of adaptive reuse. Many cities could use its help.
You may also enjoy "Despite Its Oft-Copied Look, the Sea Ranch Still Provides Rich Architectural and Social Lessons for Today."
Would you like to comment on this article? Send your thoughts to: [email protected]