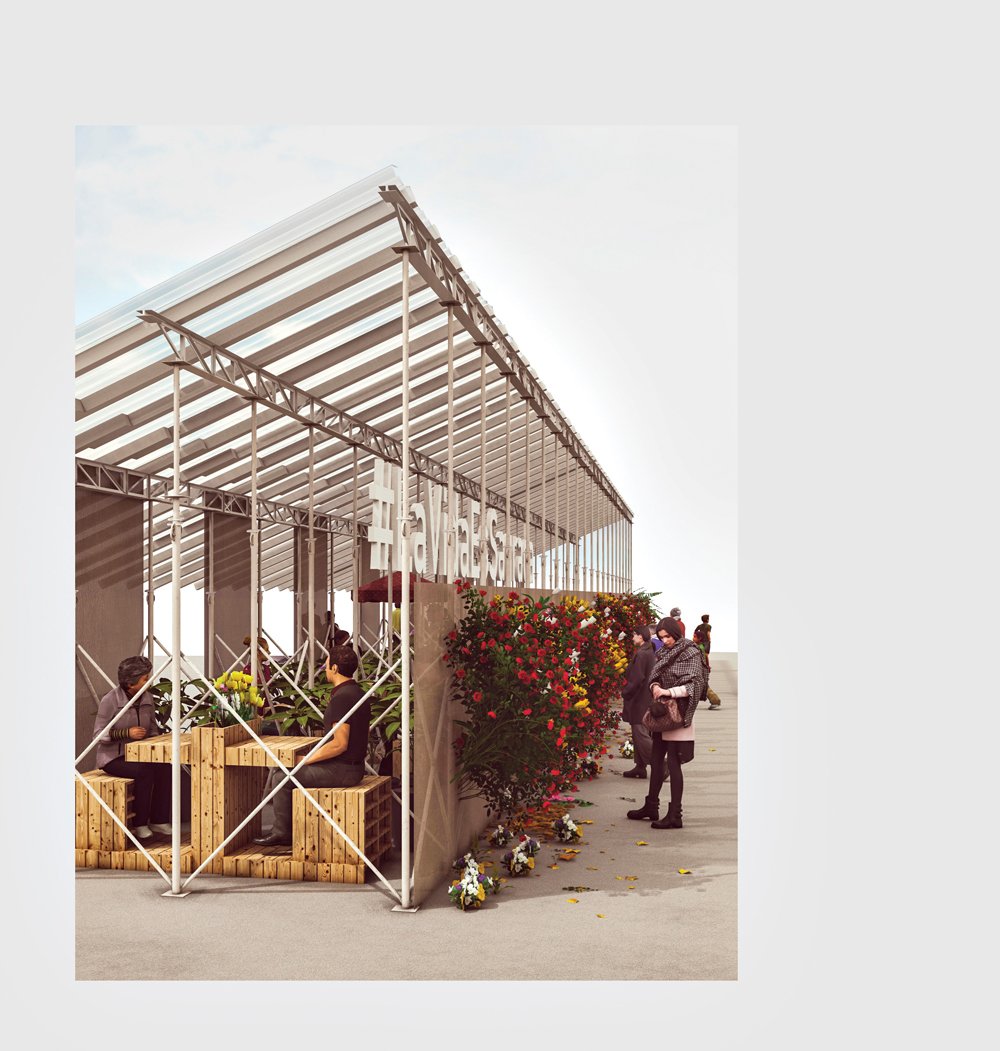 August 12, 2021
Colab-19's Provisional Projects Make a Mark on Bogotá, Colombia
Born of the pandemic, the firm is deploying its kit-of-parts methods to grapple with political, social, and medical instability.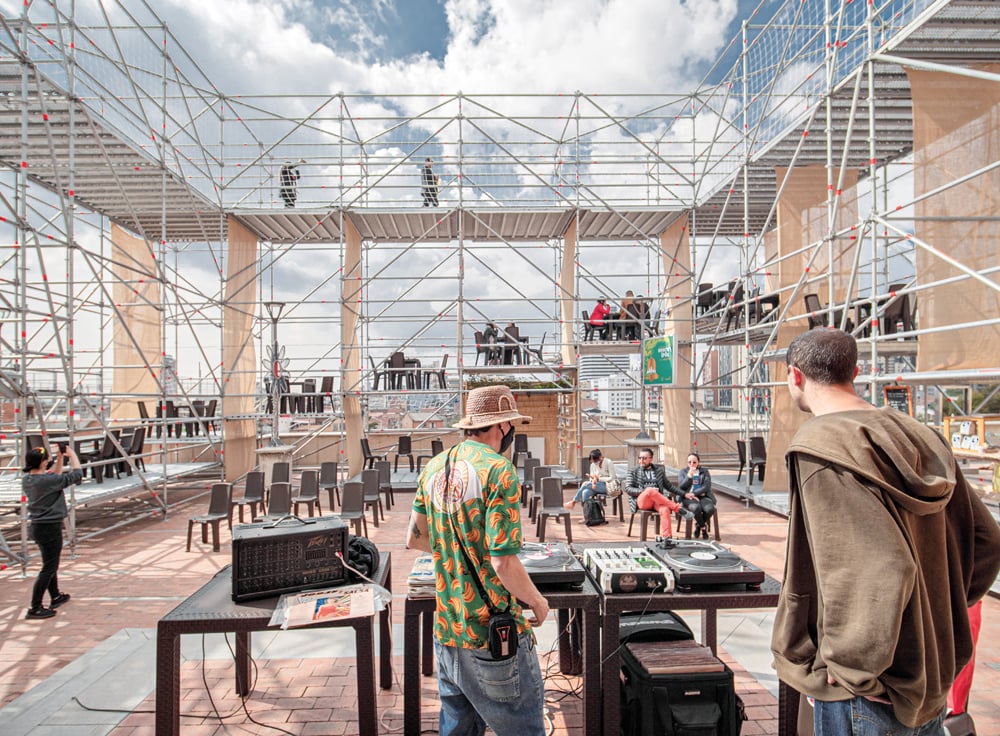 As enclosed rooms became risky catalysts for contagion over the past year, public space took on a renewed importance. The need for novel open spaces that satisfied essential social and civic functions while acknowledging a new health reality became an irresistible challenge for many young designers.
Two of them, 26-year-old architect Alejandro Saldarriaga and urban designer German Bahamon, 31, went a step further, seizing on the health crisis as the ideal moment to start a practice named Colab-19 that winks to collaboration, laboratory, their home country of Colombia, and the curious numeric appendage of the virus that upended the world.
Officially founded in October 2020 as a virtual studio (Bahamon, who lives in London, and Bogotá-based Saldarriaga have never met in person), Colab-19 quickly made a mark in the Colombian capital with temporary urban interventions. One of the firm's first projects was La Concordia, launched in December 2020, an airy U-shaped amphitheater-like extension to a market hall containing flexible spaces for the retail and restaurants normally housed inside.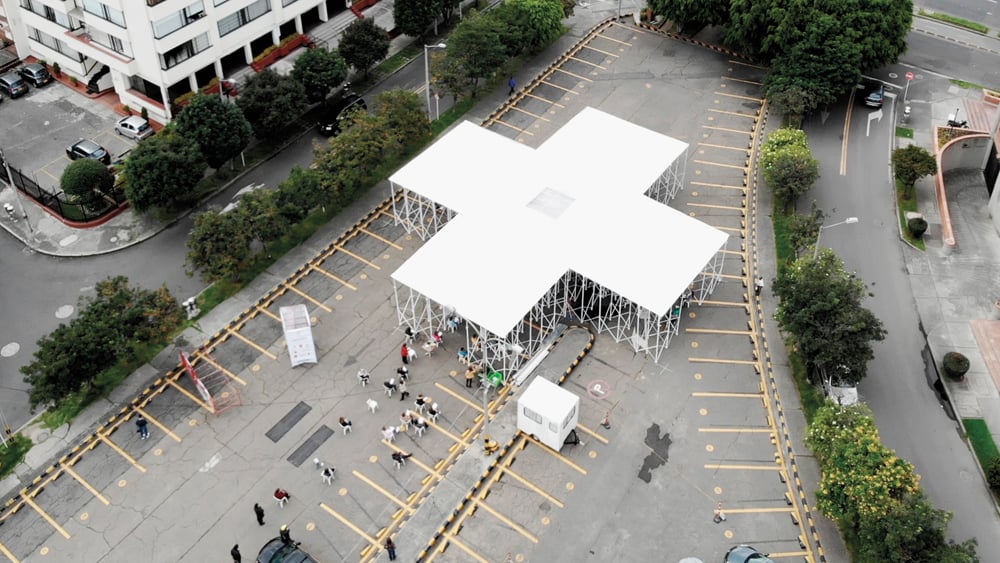 Saldarriaga and Bahamon decided to use exposed scaffolding—donated by a manufacturer— because it is easy to source, assemble, and reuse. To balance the metal's cold materiality, the duo also used the natural, native fiber jute for the structure's walls.
La Concordia established Colab-19's signature: versatile, ephemeral structures whose readily accessible materials can be quickly put together and taken apart for use in future projects.
For this year's Easter, Colab-19 designed a temporary open-air chapel for a safer mass. With efficiency and safety as design parameters, Colab-19 employed a basic formwork system to build the makeshift temple in a parking lot. The result was the studio's most photogenic project to date: The Greek-cross floor plan and forest of columns, evocative of traditional cathedral architecture, created a memorable albeit fleeting landmark in Bogotá. Alhambra's Cross—named after the church on the adjacent block it stood in for—was built, used by hundreds of parishioners, and then uninstalled in less than a week.
Just as Colab-19 had decided to expand its mission to create rapid-response solutions for any situation, it was presented with a new upheaval. Since the end of April, antigovernment protests have roiled Colombian cities, as anger over a tax reform proposal has boiled over into broader discontent about inequality, vaccine scarcity, and police violence. Dozens of protesters have been killed in violent clashes with police forces.
Saldarriaga and Bahamon responded to the turmoil with a planned intervention they hope will improve the fraught dynamics between citizens and authorities. A concrete framework shed containing food and refreshment stands, the project will be located next to a police station and feature a wall of flowers, aimed at engaging passersby and questioning the need for violence.
It's Colab-19's least convincing proposition, and not just because of the presumption that aggrieved protesters should behave differently in the face of an aggressive state response. The expectation that stability can be achieved through flowers—a banal representation of peace—and for-purchase sandwiches (even if made by Michelin-starred chefs, as Bahamon and Saldarriaga point out) seems naive.
For now, the project has been postponed owing to a third wave of infections in Colombia. If and when it does get built, it will advance the studio's astute investigation of how inexpensive, ad hoc structures have the power to reframe the way we interact, gather, and use public space in unstable times.
You may also enjoy "The Transformation of Silo City Signals a New Future For Buffalo"
Would you like to comment on this article? Send your thoughts to: [email protected]
---
Register here for Metropolis's Think Tank Thursdays and hear what leading firms across North America are thinking and working on today.