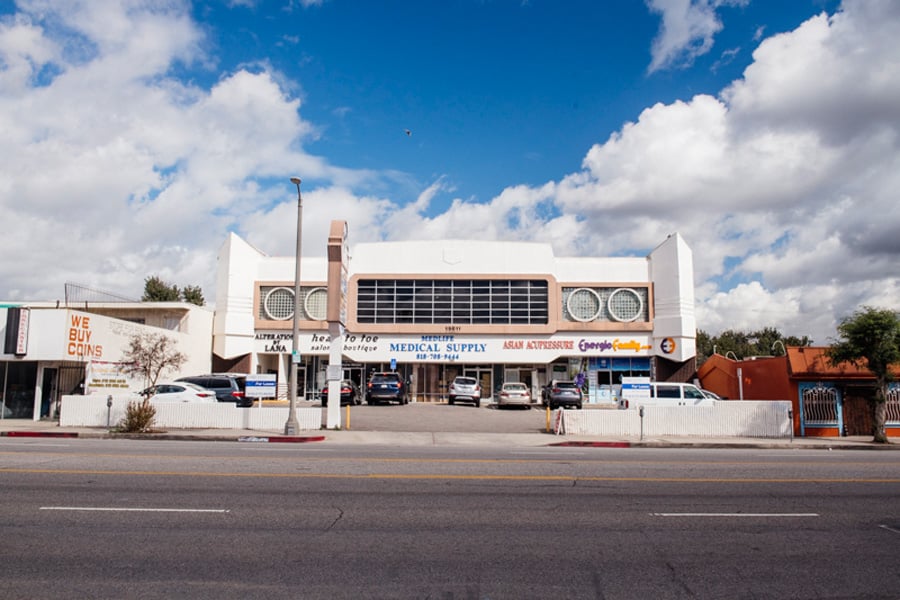 June 4, 2018
Surveying L.A. Pomo: Matlin & Dvoretzky
In this series of articles, Metropolis celebrates the diverse, innovative Postmodern architecture coming out of La La Land between 1975 and the early 1990s.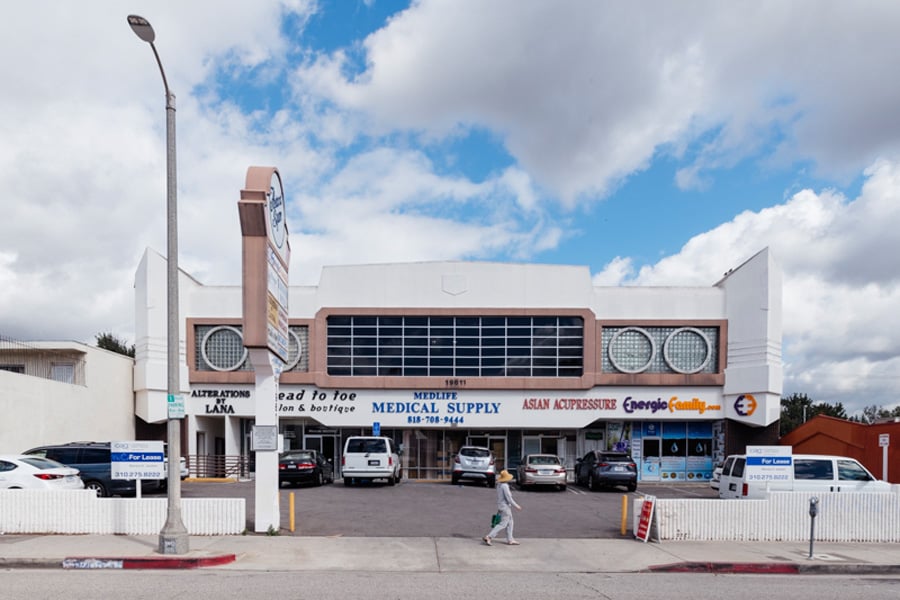 In this series from our May issue, we revisit the under appreciated architectural experimentation that characterized urban development in Los Angeles from the 1970s to the early 1990s, and discover a variety of individualistic, unconventional, and radical styles—some of which occasionally even approached "fun." Stay tuned to our homepage as we add more entries!
---
A singular sight on Ventura Boulevard, the Fleetwood Center in Tarzana, California, never functioned as a Cadillac dealership, but you couldn't tell by looking. Angular corner turrets resemble a Caddy fender, circular neon tubing makes up the headlights, central windows limn a radiator grille, and first-floor masonry walls are painted tire-black.
At the building's 1987 opening, on a relatively unexplored stretch of the boulevard, the local community had mixed opinions about the head turner. Architect Lee Oakes, then at Matlin and Dvoretzky, had simply wanted the building to stand out, and he continues to defend the design, referring to its deliberate, careful proportions: "I didn't want to do the typical cookie- cutter response, and spent some time thinking about the proportions of the facade and what could be done to make it more interesting."
Oakes remembers walking on Ocean Avenue and passing a vintage Cadillac when the idea for the building came to him. "Ventura Boulevard, California car culture, Cadillac, pink—it all seemed to fall into place."
Before the Pepto pink stucco had even dried on the facade, Oakes was approached by publications such as the National Enquirer and Big Beautiful Woman seeking coverage. The big Caddy made him something of a star.
The pink has since been white- washed, and the building has begun to show its age. Although it appeared when Pomo was still a lively (but waning) current in architectural culture—and even resonates with Stanley Tigerman's 1986 garage in Chicago, which resembles the front end of a Rolls-Royce—the project doesn't belong to the movement, says Oakes. Nor did the design draw consciously from L.A.'s famed roadside (or "programmatic") architecture, he adds. "The thought never occurred. It just made sense."
You might also like, "Surveying L.A. Pomo: Grinstein/Daniels Architects."