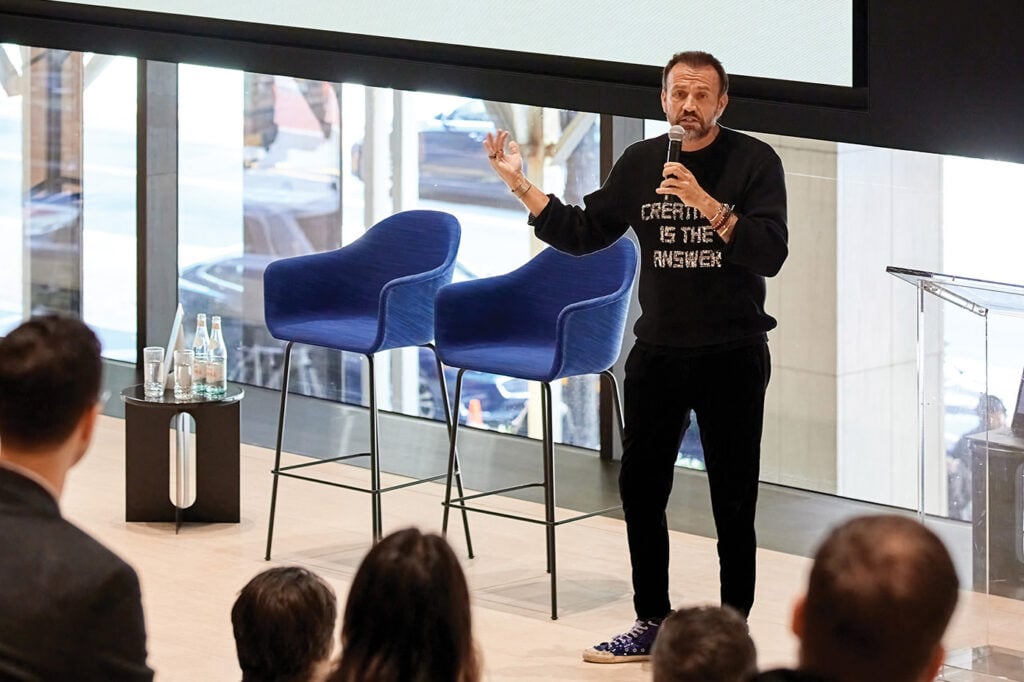 December 6, 2022
For Mauro Porcini, Design Is All About Love
Five leaders in design, health, data, climate, and community showed the way forward during Design Optimism, you can watch the full sessions on DesignTV.
---
"How often do you hear companies talk about productivity in terms of investing in kindness?" This is just one of many questions Mauro Porcini, chief design officer of PepsiCo, asked during his keynote presentation that launched a day of deep conversation at Metropolis's inaugural Design Optimism event on October 21 in New York.
Highlighting insights from his new book, The Human Side of Innovation: The Power of People in Love with People (Berrett-Koehler Publishers, 2022), Porcini put optimism at the heart of his human-centered design philosophy. He discussed key differences between invention and innovation, the radical act of dreaming, the evils of arrogance in the design community, and the all-importance of cultivating curiosity while remaining "a student of life."
"The more you learn, the more you realize we know nothing," Porcini said. "We are dust in the universe, and once you realize that, you can see anything as an opportunity to learn." Not only does curiosity seed knowledge, but it feeds an appreciation for diversity, he noted: "The gift of curious people is they can dialogue with 'perspective one' and 'perspective two' and come up with 'perspective three.'" That third perspective just might be where the innovation lies.
When he opened the floor to questions, one stood out: "How do you remain humble when proposing such radical ideas?" Porcini's answer? "What we need to invest in is happiness. Designing happiness for yourself but also for the people you are creating for—the people you love," Porcini concluded. "Love synthesizes it all."
---
Stream Mauro Porcini's Design Optimism presentation and others on DesignTV.
Design Optimism was presented by Tarkett, Teknion, and Ultrafabrics, in partnership with Universal Fibers.
---
Would you like to comment on this article? Send your thoughts to: [email protected]