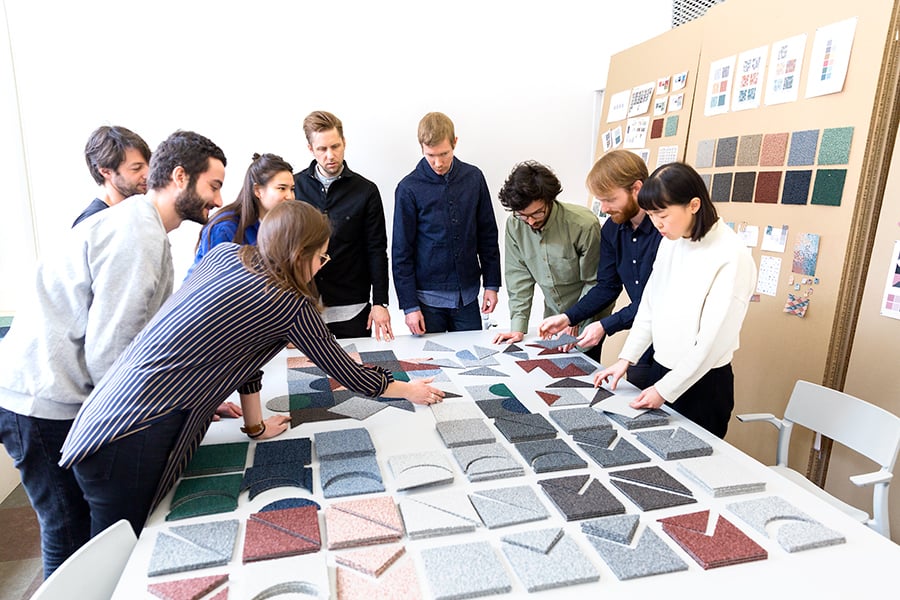 June 12, 2018
How Form Us With Love Takes an Inclusive and Passion-Driven Approach to Design
"Form Us With Love" is both the name and mantra for this multidisciplinary design studio founded in 2005 by Jonas Pettersson and John Löfgren.
---
They weren't aware of it at the time, but when Jonas Pettersson and John Löfgren founded their multidisciplinary design studio in 2005, their name for it, Form Us With Love, would become their mantra. The founders see "Form Us With Love" as a promise to their clients, as well as to themselves. "We should always do the things we are passionate about," says Pettersson, the firm's CEO.
Today, Form Us With Love (FUWL) has a dozen employees and an office in Stockholm, nearly five hours northeast of Linnéuniversitetet in Kalmar, where the cofounders met as students in the school's design program. A studio of 12 may be large for a design team, they say, but it's on the small side for a company—and that's intentional. (Löfgren lovingly refers to the studio as a "big, dysfunctional family.") It's a size that allows Form Us With Love to be nimble, yet productive.
And productive it has been, collaborating with brands ranging from Cappellini—for which FUWL bent steel mesh into a poetic, gradational floor lamp in 2012—to IKEA, for which the studio conceived sustainable kitchen cabinets and an injection-molded chair this past year. Other manufacturing partners have included the likes of Muuto, Hightower, and Hem. Form Us With Love has also lent a curatorial eye to exhibitions, such as a show on champagne at the Spritmuseum in Stockholm, plus a number of retail interiors. (For the Pen Store in Stockholm, the group collapsed warehouse and retail programs and used an all-white interior to let the pens' bright colors make a statement.) "We are a curious bunch here," professes Löfgren, FUWL's creative director.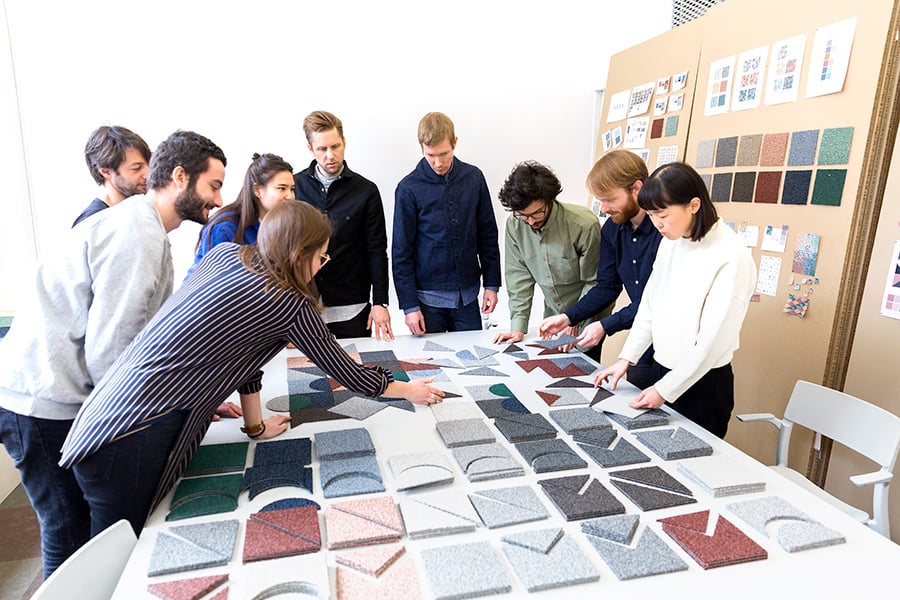 ---
This year at NeoCon, Form Us With Love launches its first collection with Shaw Contract. Called Inside Shapes, the line of carpet tiles uses modules to facilitate wayfinding and zone delineation in the workplace.
"It was an opportunity to treat the 24-inch-square carpet tile in a way it hadn't been treated before," states Allon Libermann, an FUWL project manager and the studio's operations manager. "Instead of trying to imitate a roll of continuous flooring, we treated the tiles like objects."
Form Us With Love's ability to work with different scales of clients, from up-and-coming businesses to contract giants like Shaw, is one of the studio's strengths, says Löfgren. "You can work with a major corporation next door, but then two weeks later, you work with an entrepreneur who maybe doesn't have the financial means but has the drive and the ambition to do something," he explains. "We learn so much from both of them. And to be able to jump back and forth like this is really something we're fortunate to be doing."
You may also enjoy "Spanish Designers Are Embracing a Handcrafted, Rustic Sensibility."