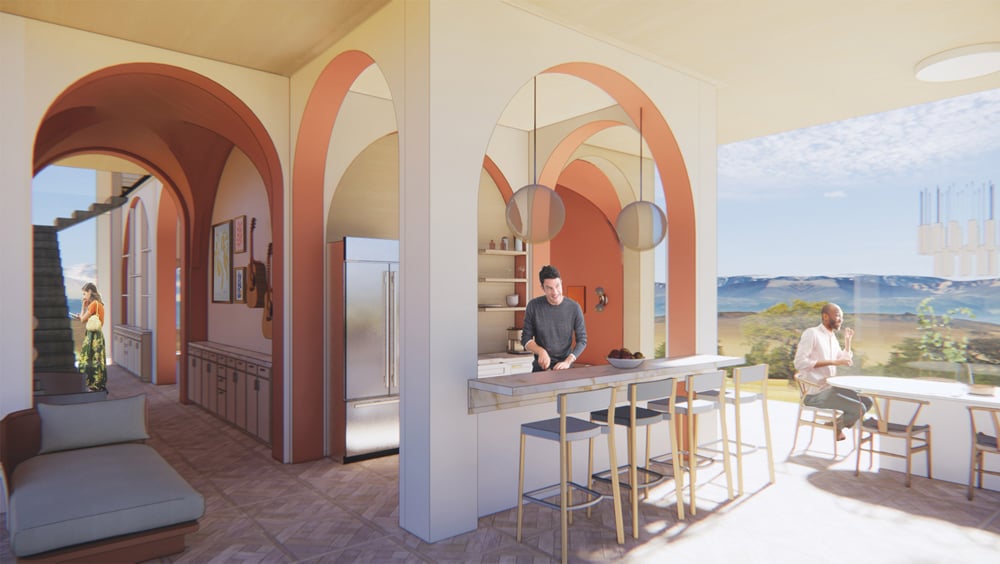 May 3, 2021
Future100: A New Generation of Designers Is Rethinking Elder Care Environments
Students envision senior living solutions that better support autonomy, physical wellbeing and mental health.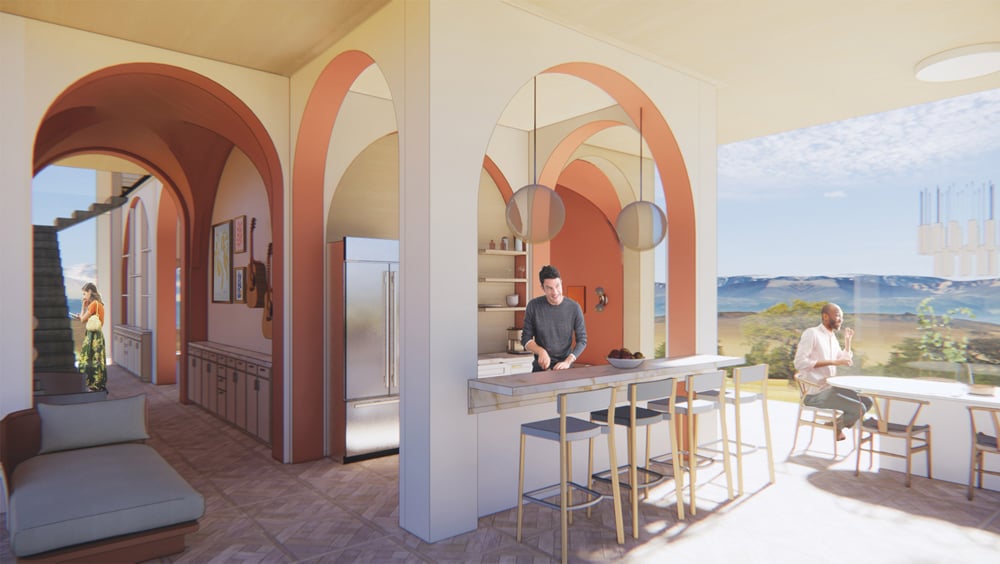 They call it the "silver tsunami": After millennials, baby boomers make up the largest age group in the United States, and by 2030, all of them will be over 65. Planning for this aging population will be a defining aspect of the next decade, which makes it a particularly urgent issue for current design students. As they enter the workforce, Gen Z designers will play a critical role in shaping senior care.
It comes as welcome news, then, that students in the Future100 are thinking outside the box for how we might better serve an aging population. One example lies in a scheme conceived by Angélica Lebrón, an undergraduate interior design student at Iowa State University. Lebrón's proposal resolves two design challenges at once: senior housing and adaptive reuse. Her senior care center occupies an abandoned mall and offers accommodations for elders at different levels of autonomy. Independent cottages are constructed just outside the mall; outdoor-accessible apartments, memory care, and rehab units are incorporated into the building. At-risk patients reside on the first level, where they can be easily transported by medical staff in an emergency.
Another theme addressed by Future100 designers is the connection between physical well-being, mental health, and the built environment. Julia Schettler, another Iowa State student, foregrounds the natural world in her design for a hospice, with landscape views and natural light offering solace to end-of-life patients. Kalie Brettmann, who is pursuing a master's in environmental design at Texas Tech University, also believes in the therapeutic powers of design. Brettmann's concept for a senior living center carves out space for pets, gardening, socialization, and physical activity—all tools for fending off loneliness and depression in residents.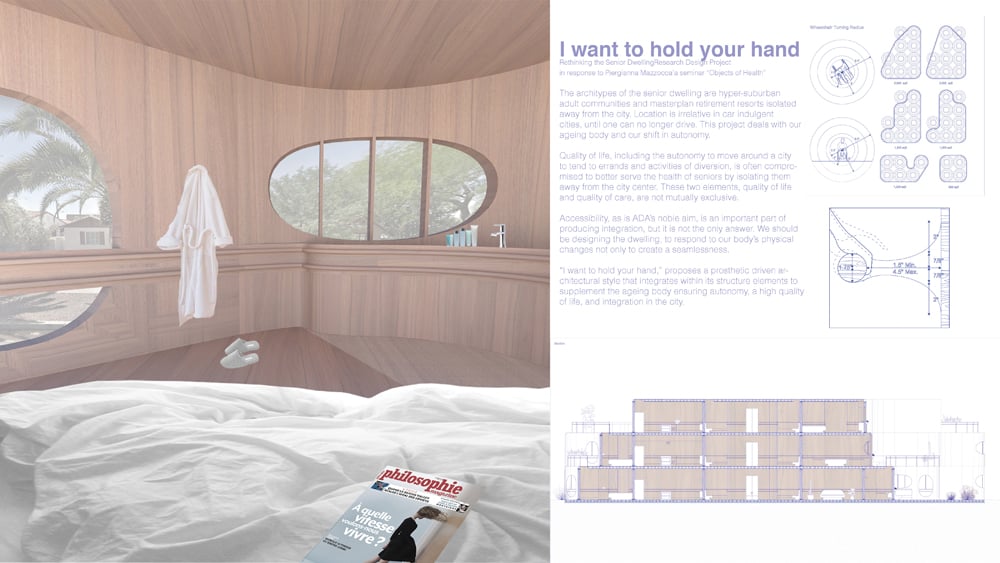 Rather than looking only at seniors, Rice University student Belle Carroll considers how buildings might better serve people of all ages and abilities. In her scheme, she proposes using architectural "prosthetics" to support occupants. "This idea of prosthetics for the interior of a home, similar to the prosthetics of the body, would enable us to live, work, and play independently of caretakers," she explains. Carroll suggests integrating a handrail—an object used by everyone, not just the elderly—into the entirety of the structure, including all walls and furniture. She also uses the turning radius of a wheelchair as the module for the architecture, creating a fluid, accessible, and visually striking residence.
As 2030 approaches, innovation and empathy won't just be nice-to-haves: They'll be central to solving some of our most pressing societal needs. In their projects, these six students demonstrate both.
---
Visit metropolismag.com/future100 to see more groundbreaking student work.
---
KALIE BRETTMANN
Texas Tech University
Graduate Environmental Design
NOMINATOR: Erin Hamilton, Professor
Brettmann puts forward spaces that address human needs with research-based awareness. Her concept for a senior living center considers occupants' mental and physical health, with a focus on community.
BELLE CARROLL
Rice University
Undergraduate Architecture
NOMINATOR: Nonya Grenader, Professor in Practice
Carroll challenges traditional archetypes with concepts that emphasize flexibility and inclusivity. Her senior dwelling project demonstrates that quality of life and quality of care are not mutually exclusive.
PAUL CHAROWSKY
Kwantlen Polytechnic University
Undergraduate Interior Design
NOMINATOR: Paola Gavilanez, Faculty of Interior Design
Charowsky provides unconventional design, injecting personality with unexpected details. His concept for a hallway in a dementia care home connects the building with streetlike "stops" or doorways, a nod to the Vancouver metro system.
ANGÉLICA LEBRÓN
Iowa State University
Undergraduate Interior Design
NOMINATOR: Julie Irish, Assistant Professor
Sustainability is at the heart of Lebrón's approach. Her design for a retirement facility prioritizes the health of building occupants while emphasizing green building practices.
JULIA SCHETTLER
Iowa State University
Graduate Interior Design
NOMINATOR: Jae Hwa Lee, Assistant Professor
Schettler believes the built environment can have a powerful effect on an individual's life. She brings this perspective to her design for a hospice that uplifts patients by connecting them with nature.
JUYONG SONG
Savannah College of Art and Design
Graduate Interior Design
NOMINATOR: Challie Schafer, Professor
Song creates spaces that reflect occupants' values. Through an expressive annual ring structure, the senior residence featured in her portfolio embodies revival.
---
You may also enjoy "Future100: Students Investigate Sacred Space"
Would you like to comment on this article? Send your thoughts to: [email protected]
---
Register here for Metropolis's Think Tank Thursdays and hear what leading firms across North America are thinking and working on today.