June 15, 2018
How Designer Grace Eun Creates Workplaces for Google, Valve, and Microsoft
The senior associate at Clive Wilkinson Architects is a rising star in interior design.
---
Ask Grace Eun what she has learned in her three years as an associate at Clive Wilkinson Architects (CWA), and she'll say, "Program first." As long as clients are confident that the program for a new workplace meets their objectives, Eun explains, "bringing in conceptual things is easy." So she puts a lot of effort into that phase of a project, clarifying the purpose of every space. "I try to memorize all the programs by heart," she says. "For Google's headquarters, we have 1.1 million square feet, but if the clients ask me where some little room is and what its size is, I can remember."
It's this kind of focus on detail that has driven Eun through her decade-long career in interior design, first at NBBJ and now at CWA. A rising star in the field, Eun is often asked to speak on topics related to workplace design, especially on sustainability. She has been an adjunct professor at IE University in Spain and is a member of the Engagement Advisory Council of the American Society of Interior Designers, for which she chaired two programs: the Leadership Experience in 2017 and Scale, the national student summit, in 2018. In addition to Google's headquarters, where CWA is collaborating with Bjarke Ingels Group and landscape firm OLIN, Eun has lent her hand to a number of high-profile workplaces, including Microsoft's headquarters in Redmond, Washington, and the offices of a gaming company in nearby Bellevue.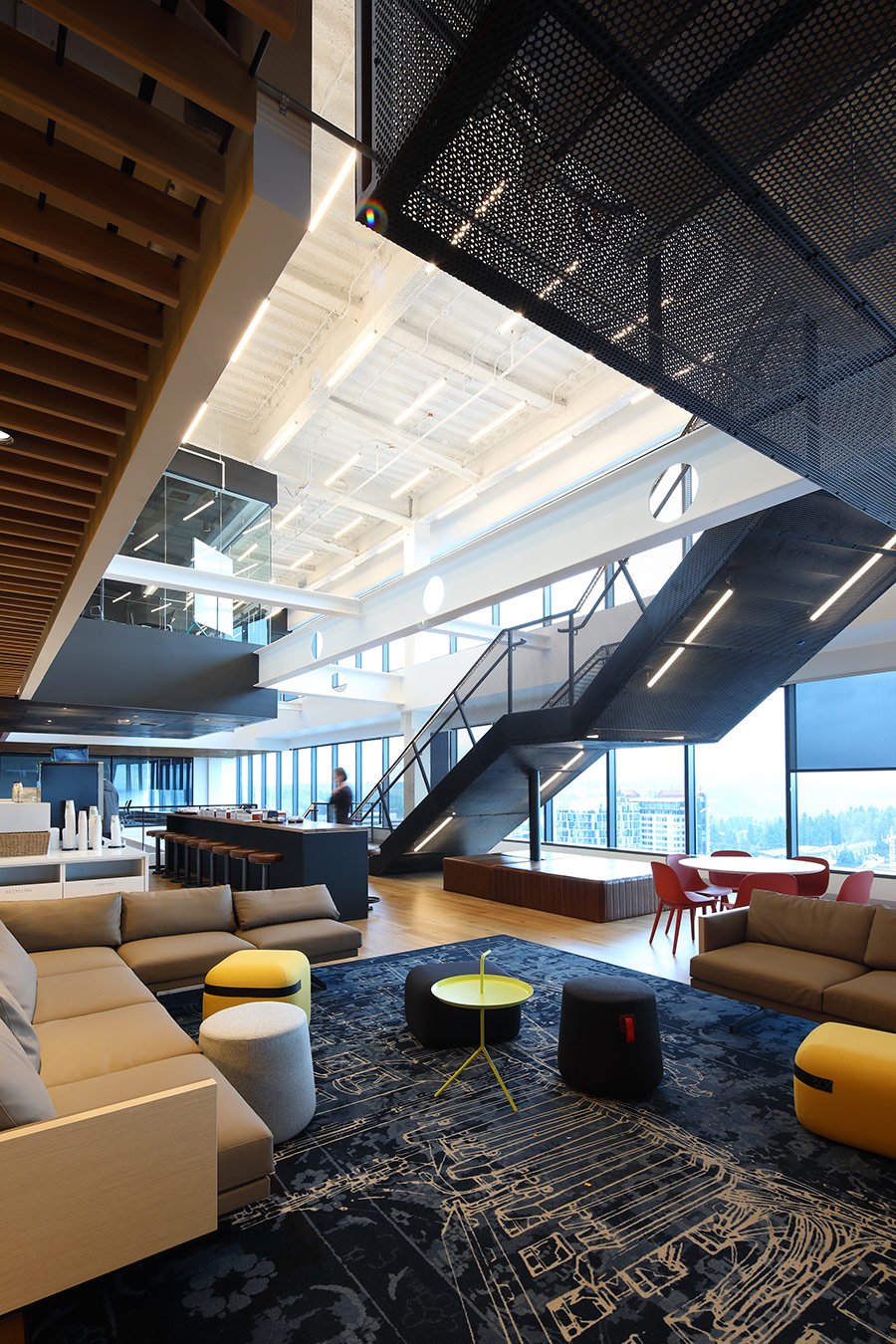 ---
In her career, as in her design process, Eun puts purposefulness first. Her advocacy for sustainability, for instance, derives from her childhood experiences in South Korea. "I didn't come from money; I couldn't pay for my bus ride to school, so I had to walk more than an hour," she recalls. "Saving was a big thing for me, and I think it kind of developed my sense of sustainability." Her frugality merged with environmental consciousness years later, when she worked on a competition entry for the Bullitt Foundation. The vetting process for that super-sustainable building—eventually designed by the Miller Hull Partnership—led her to question the things interior designers do every day. "We specify finishes and materials, but there is no transparency. How can we actually get to that point?"
Eun doesn't confuse purpose with single-mindedness, however. Living in three countries—South Korea, the United States, and France, where she pursued a master's degree—has taught her to remain adaptable and open to inspiration and learning from unexpected places. An encounter with Philippe Starck in Paris, for instance, convinced Eun of the value of keeping design discourse accessible, while a month spent designing a restroom while working at NBBJ taught her the importance of arcane information. So even as she designs workplaces, Eun has her eye on other sectors, including health care and hospitality. "I want to try different project types," she says. "I guess that is going to take me to the next level."
You may also enjoy "