April 13, 2022
Portland's Holst Architecture is a Firm About Its People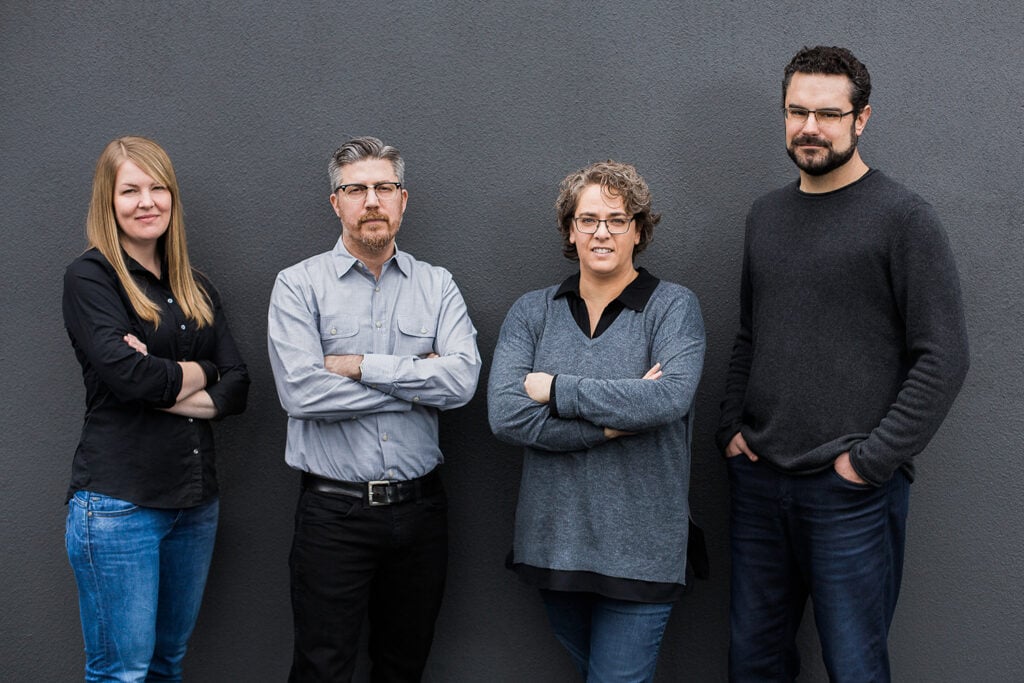 While Holst is celebrating its 30th anniversary this year, the four partners have also reached another milestone: the fifth anniversary of buying the business from their bosses, leading the firm to become half-women-owned for the first time in its history. Yet it's not so much who's in charge, Holst's owners insist, but about the nurturing culture they aim to cultivate.
"To have just one or two people design something is almost like the easy way out," says partner Kim Wilson. "We want to really build people as much as buildings, where it's not just 'the best idea wins', but 'how do we create the best thing together?'"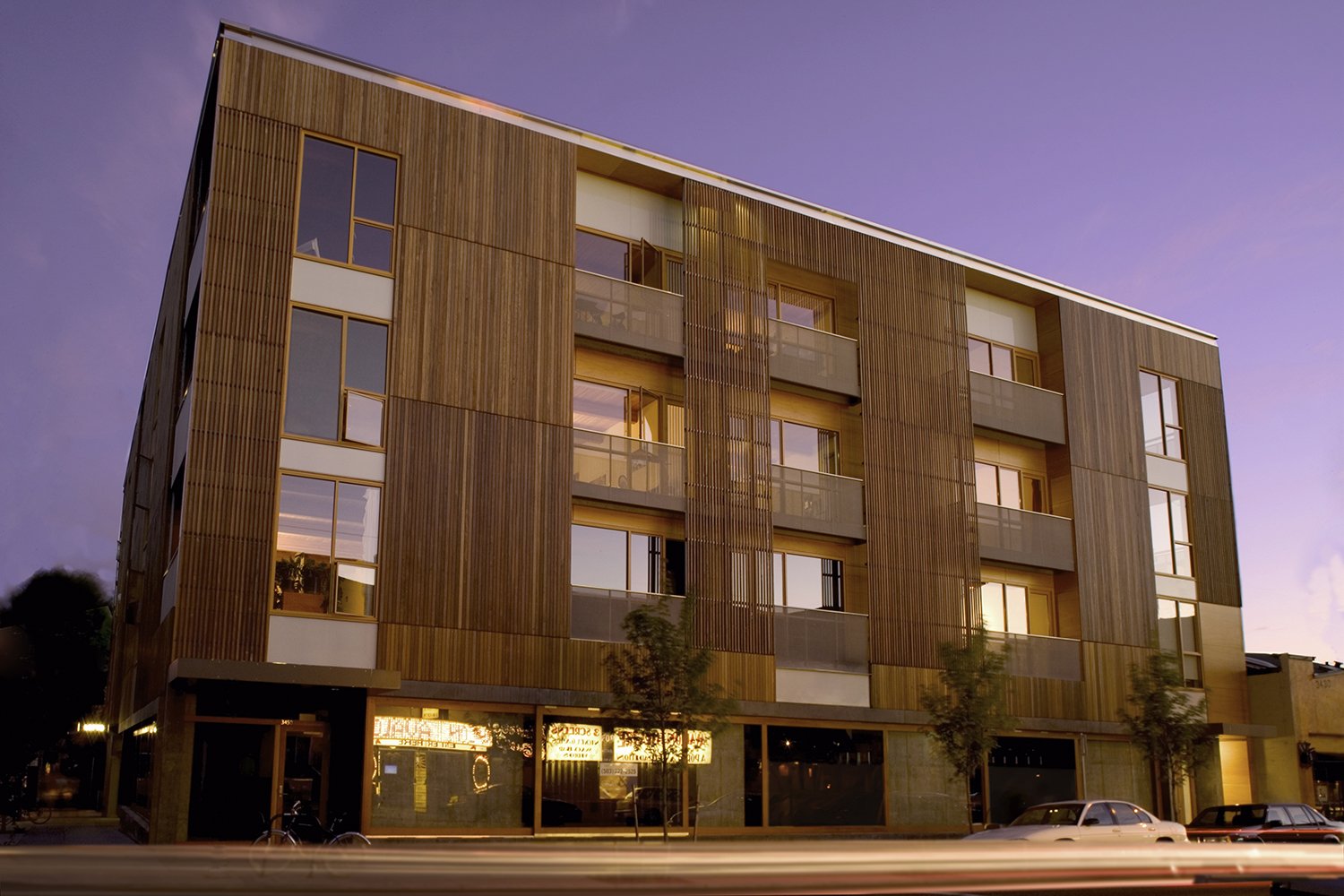 Early Days: Renos and Condos
Founded in 1992 by John Holmes and Jeff Stuhr, Holst Architecture became Portland's it-firm by the late 1990s. Working in former industrial neighborhoods like the Pearl District and the Central Eastside, its renovations of old warehouses (for an art college, an environmental nonprofit, and a local ballet) seemed to epitomize an era of urban reclamation.
"I think it took ten years for the first ground-up Holst project to happen," says partner Kevin Valk, who joined the firm in 1996 as its second hire. "It wasn't very glamorous––this little three-story bank building on an off-ramp across from a Taco Bell." But in 2004 Belmont Street Lofts, an award-winning condo, helped Holst reinvent itself as a pioneering high-density residential designer, experimenting with then-uncommon cladding materials like Brazilian ipé hardwood and weathered steel, as well as asymmetrical window patterning. "Belmont changed what was possible for us," Valk adds.
For a time during the 2000s, Holst seemed to be everywhere in Portland's burgeoning Pearl District, be it the half-block 937 luxury condominiums (2007) or the headquarters for industrial design firm Ziba (2009). But by then the bubble was bursting. After the Great Recession, the firm switched gears, deliberately taking on more community-driven work.
Community and Collaboration
The Bud Clark Commons (2011), a combination treatment center and homeless housing project in Portland's Old Town, represented perhaps Holst's biggest sea-change: building the staff to tackle more complex projects.
"Early on, everybody had their hands in everything, but projects could still be centric to one or two designers," says Wilson. "Bud Clark was the moment where we had to work together as a team. And we had to create levels of leadership." Bud Clark was included in the American Institute of Architect's COTE Top Ten Green Projects list, as well as 13 other awards for its interiors, landscape design, social impact, and more. A succession of commissions followed. One North (2015), a curvy, Gaudi-inspired commercial building, is 50 percent more energy-efficient than code, while providing a public neighborhood courtyard. 72 Foster (2019) was the first affordable housing in Portland tailored to intergenerational families. And Argyle Gardens (2020) reinvented single-room-occupancy affordable housing as a series of light-filled small pavilions.
In 2017, Holst's founders retired early, but passed on the firm onto four employees: Otte, Wilson, Valk, and Renee Strand. And as managing director and quality control manager, Strand and Wilson run the firm.
Valk credits the firm's founders for mentoring the current quartet. "John and Jeff gave us the freedom to grow the way we needed to," he says. Now they're trying to pay it forward, which also serves the firm. "We knew we were doing great work, but how do you make people want to stay? How do you make them feel respected and listened to and heard, and allow them to grow too?"
Going Public
Today Holst is entering another new chapter. Projects like Oregon State University's new Arts and Education Complex, as well as a new city hall in the small Willamette Valley wine-country town of Carlton, denote a pivot toward public buildings. The theater complex at Oregon State is particularly innovative, eschewing traditional front and back-of-house divisions to weave performance and learning spaces throughout the building.
Five years after buying out their bosses, the quartet is getting more comfortable, which is perhaps especially meaningful for Kim Wilson. "I'm a gay woman. It took me a long time to be able to say 'my wife' in a meeting when I'm surrounded by a bunch of old contractors," she says. As any woman in a male-dominated profession, "You have to work extra hard to build trust and credibility," she adds. "I always took that as a badge of honor. But I also recognize it's not fair for young architects to have to deal with that."
New projects like The Nick Fish represent what Wilson calls "the Holst way," she explains. "The Holst way has to always get informed and refined by new staff we bring in. You've got to make young architects feel like they're part of something."
As it happens, that's a recipe for successful architecture. Otte credits Valk, for example, with the idea for The Nick Fish's design approach, even though Valk hadn't been directly involved with the project. "I came to Kevin and I was like, 'I don't know how to arrange the site,'" Otte remembers. "It was Kevin who said, 'Why don't you put the height on the park and keep it short on the street, like all the other buildings?' It was this light-bulb moment, like, 'That's it!' The community voted overwhelmingly for this scheme. It's also the one that gives the most back to the community."
Would you like to comment on this article? Send your thoughts to: [email protected]