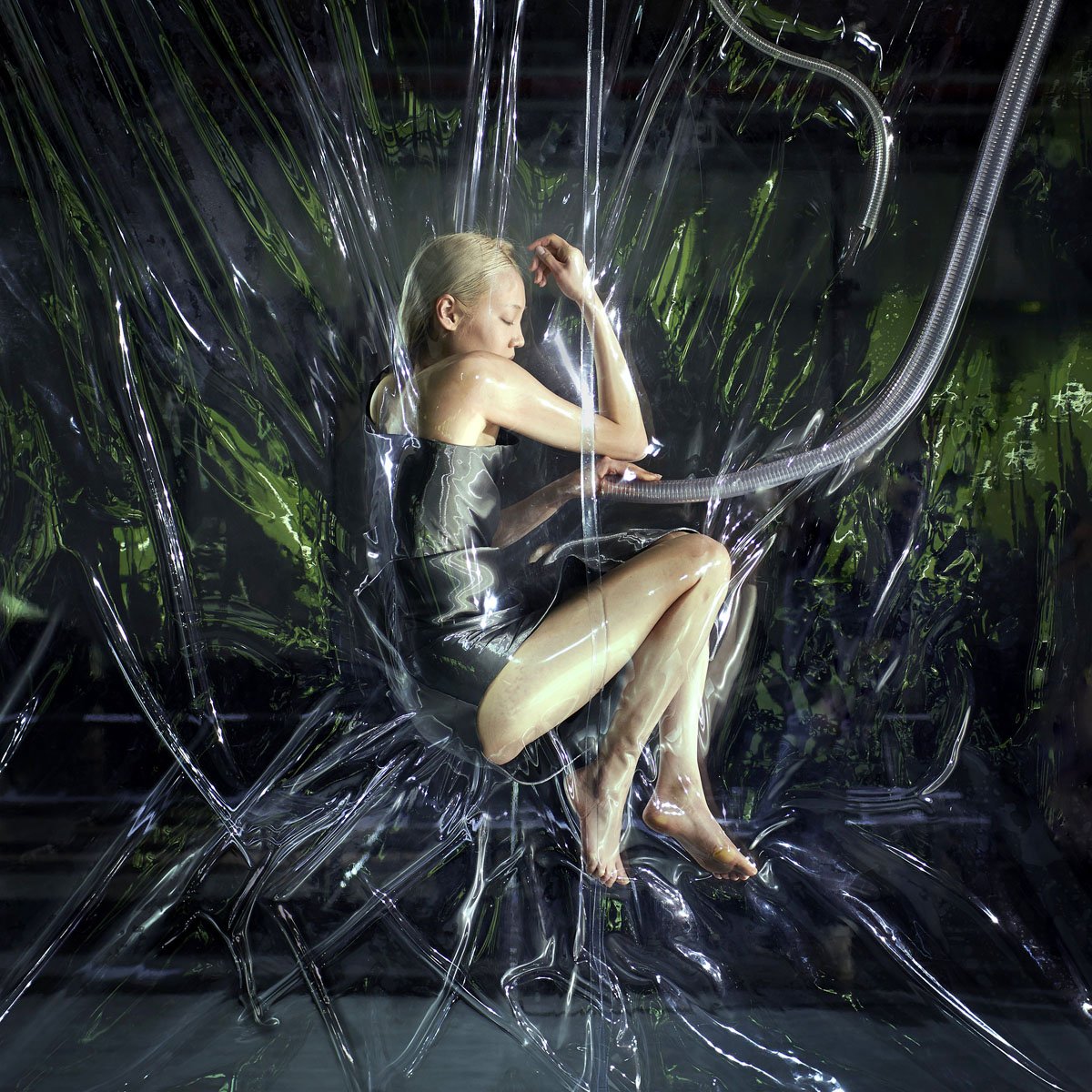 October 28, 2014
Iris van Herpen Is Making the Fashion of the Future
By exploring a wide range of avant-garde technologies, including bio-printing and touch-sensitive audio waves, the Dutch designer is pushing the boundaries of fashion.
---
Nominated by Brooke Hodge, deputy director of the Cooper-Hewitt, National Design Museum
---
For the Biopiracy collection, Van Herpen partnered with artist Lawrence Malstaf, who specializes in the interaction between biology and the physical. At Paris Fashion Week, where the collection was shown, models were encased in plastic sheeting to give the impression of embryonic suspended animation.
Courtesy Robert Clarke for National Geographic
Most fashion designers would consider themselves innovative; Iris van Herpen takes fashion into the future. Combining craftsmanship with digital technology, she creates an entirely new way to experience clothing. Most notably, the Dutch designer was one of the first to present 3-D-printed dresses in both static and flexible forms on the runway, in a collaboration with the Belgian company Materialise. Since then, her evolution has continued. Her Voltage collection explored the interaction between clothing and electricity. She used Scanning Electron Microscope technology for her Micro collection. And she is known not just for using unique materials, but also for creating her own.
The 30-year-old Van Herpen, who interned with Alexander McQueen and Claudy Jongstra before starting her own label in 2007, became an important player at a young age in the world of haute couture with her futuristic sculptural designs. But it was when she began exploring the combination of craft and technology with 3-D printing that she truly established herself as someone who shouldn't be ignored.
"The first moment where I combined new technology together with handwork was some years ago for my Crystallization collection," Van Herpen says. "I 3-D printed a garment for the first time because I wanted ultimate control and more freedom."
While Biopiracy includes several couture pieces, the majority of the collection is ready-to-wear. The "liquid fabric" dresses are polyester with a silk finish.
Courtesy Iris van Herpen
With this search for freedom comes a process that is difficult to define. As she describes it, Van Herpen often finds herself navigating a labyrinth rather than designing in a straight, linear fashion—exploring ideas with both her head and hands. "It depends who I collaborate with, and what other projects I'm working on," she says. "Sometimes it starts with a material, sometimes with a person, sometimes with experiments, and sometimes simply with an idea. The making for me is as important as the end result."
Unsurprisingly, considering Van Herpen's merging of disciplines, these collaborations run the gamut. She has worked with artists from a variety of backgrounds, including musicians Beyoncé and Lady Gaga, choreographers and dancers Benjamin Millepied and Nanine Linning, filmmaker Zach Gold, jewelry designer Heaven Tanudiredja, and a multitude of architects—Philip Beesley, Rem Koolhaas, and Julie Koerner to name just a few.
Her latest collection, Embossed Sounds, is an exploration of another technology—clothes that generate sound when touched. Doing so activates audio waves that cloak the wearer, stimulating a combination of senses. Van Herpen likens the project to an orchestra of human touch—garments that are electronic instruments that one can feel and play. By touching the clothes, models "sculpt" music live for their audience in what becomes an intimate performance.
It seems that Van Herpen will never stop exploring new technologies and how they might affect society as a whole. "Research in technologies like 3-D printing and bio-printing has resulted in new production methods and new materials," she says. "That can lead to more environmentally friendly production and animal-friendly materials. It's still in the development stage, but I find it very promising."
But while she embraces the future of design, Van Herpen has not forgotten the importance of traditional work. "I often have ideas that I cannot turn into reality," she says. "The more I expand my skills—in both technology and craft—the more ideas I can realize."
---
"Van Herpen has been showing her work since 2007, but to a rather limited audience. Her projects are very conceptual—think of a mash- up between Rei Kawakubo and Hussein Chalayan with a healthy dose of Alexander McQueen thrown in for good measure—but what is most interesting to me is her process. She's the antithesis of the commercial designer and her way of working is very architectural. Given my interest in intersections between fashion and architecture, I think she's one to watch who seems to truly be bringing the two together." —Brooke Hodge, deputy director of the Cooper-Hewitt, National Design Museum