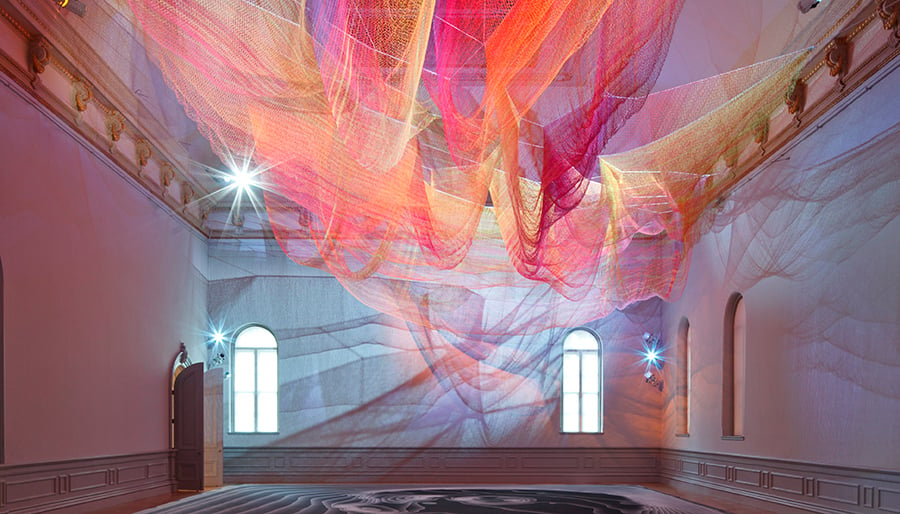 April 19, 2019
To Realize Her Art's Vibrant Hues, Janet Echelman Often Collaborates with Lighting Engineers at Arup
The partnership between the artist and the firm goes back more than a decade. Together, they aim to predict the behavior of light in relation to materials, weather, humidity, existing daylighting, and other factors.
---
Waxing transcendental on the abstract sublime in the color-field paintings of Mark Rothko, the critic Robert Rosenblum once wrote that the artist's canvases seem to "conceal a total, remote presence that we can only intuit and never fully grasp."
On the western side of Philadelphia's City Hall, a similar thing could be said of the public art piece by sculptor Janet Echelman, who has conjured up her own take on the sublime. Pulse renders Echelman's ethereal sculptural work in suspended netting into a kinetic cloud of mist rising from fountain-dotted Dilworth Park. Referencing Pulse's lights, which reflect the movement of trains under the plaza, Echelman calls the work "a living X-ray of the city's circulatory system."
---
Commissioned in 2009 within a larger activation of the city's central plaza (construction of which wrapped in 2011), and opened last fall, Pulse is the fruit of a close collaboration between Echelman and a team of engineers from Arup. To achieve the quality of color that the group had in mind—"the Rothko effect," Brian Stacy, Arup's global lighting leader, calls it—Echelman and the firm devised a lighting system that illuminates the water mist from multiple angles, which adds depth and layers of color. On top of that, they had to account for variable outdoor conditions of daylighting, humidity, and wind.
In the decade between Pulse's conception and launch, Arup and Echelman collaborated on a number of other installations, both indoors and out. Among these was the artist's 2015 work for Washington, D.C.'s Renwick Gallery, 1.8 Renwick, a suspended expanse of polyethylene and polyester lit by LEDs. To dial in the piece's pulsing, jellyfishlike quality, Arup enlisted a 3D model to investigate not only "light on the piece but also the light that goes through the piece," Stacy recalls.
Arup relies heavily on this intensive digital and physical modeling to predict the behavior of color. But even with top-of-the-line equipment, Stacy says, "you can only get it so accurate on screen." As with many works of art—Rothko's among them—Echelman's true colors are best experienced in person.
You may also enjoy "Google Used Sensors to Connect Neurology and Aesthetics at Milan Design Week."
Would you like to comment on this article? Send your thoughts to: [email protected]