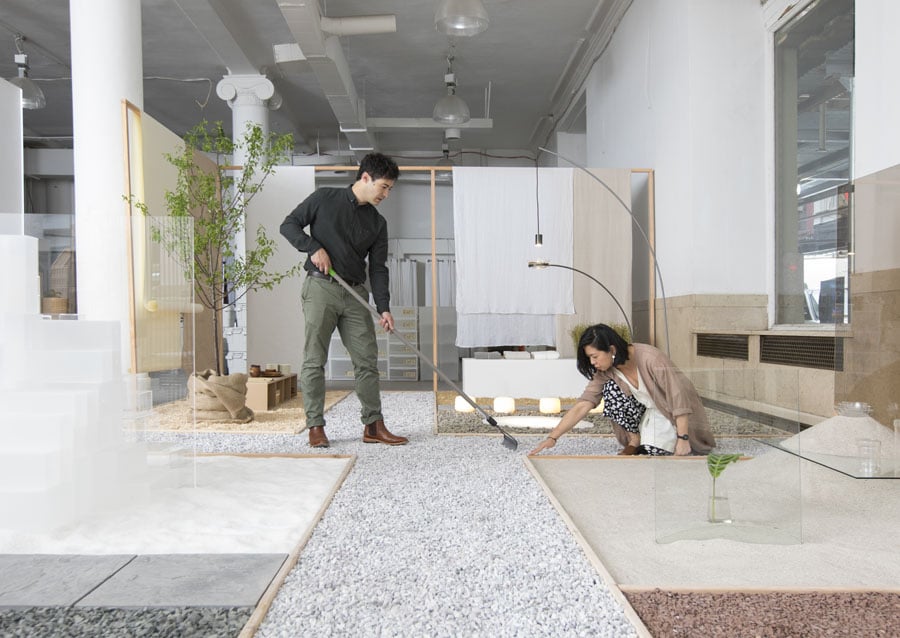 November 25, 2020
Ladies & Gentlemen on the Mystery and Magic of Light and Materiality
The Brooklyn-based studio's design philosophy and process are informed by empathy and intuition.
Sometimes it's the smallest objects that say the most about the studios who make them. At least that's the case for Brooklyn-based Ladies & Gentlemen Studio with the release of Lightscape this fall. Through careful attention to materiality, elemental forms, and the human experience, the seemingly simple candle holder embodies the young lighting studio's multi-faceted practice.
Founders Jean Lee and Dylan Davis first met while studying industrial design at the University of Washington in 2005. "Design came first. But in that process, we became a couple. There has just been this overall synergy between us," remembers Davis. The two formed Ladies & Gentlemen Studio in 2010 in Seattle but as they started to form connections with creatives in New York, they eventually decided to move their studio to Red Hook, Brooklyn in 2015.
Over the past ten years, the studio has developed lighting, home goods, and furniture for a rich roster of clients including Herman Miller, The Future Perfect, Design Within Reach, and DIMS, to name a few. But they've also embedded themselves in collaborative projects whether it is developing experiences such as the ongoing research workshop Furnishing Utopia or field trips for their design network.
Everything Ladies & Gentlemen creates, including the small candle holder, is designed to evoke wonderment, curiosity, and presence. "We see the potential for our objects to celebrate a ritual or make someone look twice at something," Davis says. "In the case of the candle holder, [that means] to take stock of what's wonderful and intrinsic about a flame, and how it interacts with the space around you." Inspired by László Moholy-Nagy's Light Space Modulator (1930), the object features an intersecting composition of perforated and polished metal that elevates the flame while subtly obscuring it. The result is a dynamic interplay of light and shadow.
Lee and Davis's process is based on discovery and their products encourage active engagement from the user even once it leaves their studio. For example, the modular SHAPE UP chandelier for Roll & Hill is composed of a series of abstracted lampshade forms connected via various cords, allowing users to suspend and compose the forms "indefinitely" depending on the space's design and function. "As designers, we believe in being facilitators—not dictators. There should be a dialogue," Davis states.
But in order to evoke curiosity in the user, the designers have to get curious themselves. This is achieved through intimate, hands-on inquiries into materials and how they impact the human experience. During our video chat, the couple excitedly pulls down prototypes and material samples from shelves behind them. One shelf is filled entirely with objects found on Rockaway beach—bits of glass, shells, small pieces of metal. "All of these things sometimes sit on the shelves for years before they become anything, but we regularly pull things from here and use them like building blocks." Lee says it's this experimental and intuitive prototyping that helps the designers see "how [the object] actually operates and how it will affect us emotionally."
A recent lighting collection, Kazimir, showcases L&G's ongoing investigation into geometric abstraction and the "complexity and layering" of materials. Inspired by Russian avant-garde artist Kazimir Malevich, the collection includes pendant and sconce versions that are manufactured by Roll & Hill. Each piece is composed of three textured and dichroic glass forms that create a range of optical effects depending on the position of the viewer.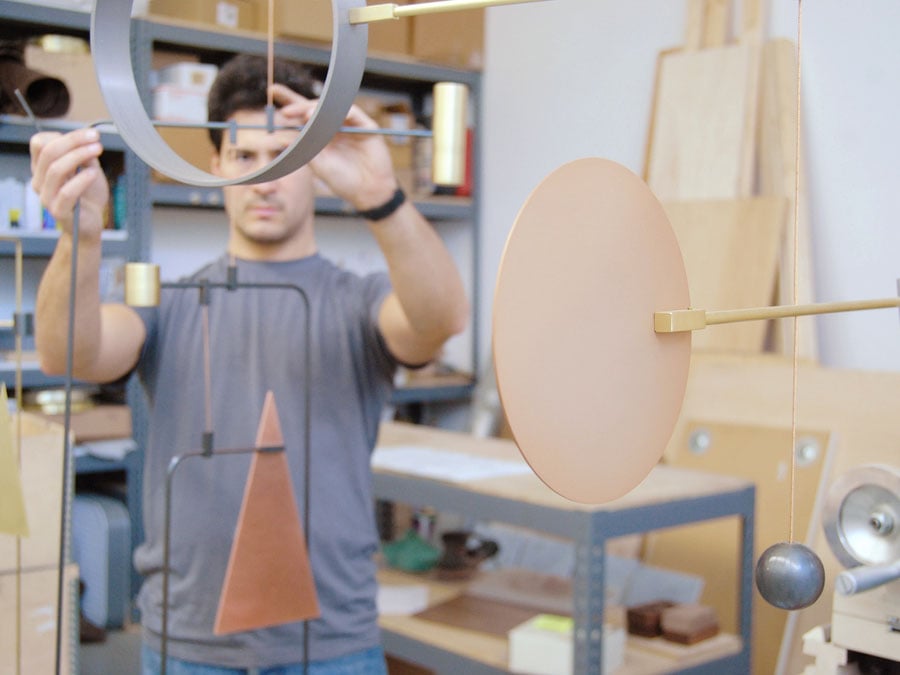 "So often, decorative lighting designers are just making sculptures around light. We're really interested in how we can be more embedded in the light as a material itself," Davis says. Throughout humanity, light—its presence, its absence, or its creation—comes equipped with multitudes of symbolic meanings across cultures. Each exploration into light's vast array of qualities, whether natural or artificial, helps the studio better understand how it can create "engaging spatial experiences" no matter its form.
When it comes to selecting materials, Lee says, "we try to find ways to express its essence in order to strip away a lot of the perceptions—value, market, industry, and cultural perceptions. Whether it's something of value, every material has a lot of magic to it." And magic begins with setting intentions. For L&G this is to develop honest, meaningful relationships with the objects they create. They call this "human-object harmony"—a relationship that emerges when there is harmony between function and emotion, physical properties and meaning. The studio cites an ongoing interest in Elementalism, a somewhat esoteric term that connotes active communication between humans and the elements.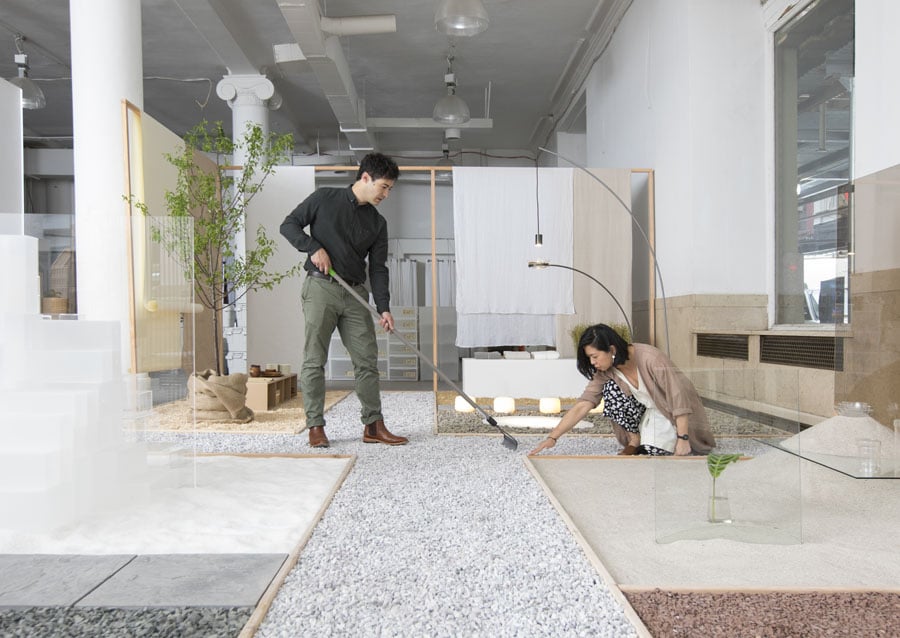 This sentiment is echoed in an essay called "Thoughts on New Materialism," which the studio wrote in conjunction with a talk they gave earlier this year for the new lecture series People and Places, developed by fellow Brooklyn designers Office of Tangible Space. At once a love letter to sand and a reflection on the origin, beauty, and symbolism of the material, the essay explicates the studio's practice in exploring the "mystery and mysticism" of materials.
In 2018, their poetic reflections on materiality were on view during New York Design Week in an installation for MUJI, which juxtaposed a selection of the Japanese company's products with the raw materials used to make them. The intervention led visitors through a garden via stone paths, encouraging them to discover firsthand the inherent beauty in all materials, even the ones that make up mundane products such as a notebook or a desk broom.
Seen in this context, the humble candle holder is more than just a great holiday gift, but a result of the studio's extensive studies into finding purpose and meaning within the lighting domain. It is ultimately a testament to the interconnectedness between people and objects and the impact of light on the human psyche. Lee concludes, "Our intention is to focus on how we celebrate the elemental quality of light as a symbol of so many different aspects of humanity."
You may also enjoy "Andre Fu's Hotel the Mitsui Celebrates the History and Refinement of Kyoto"
Would you like to comment on this article? Send your thoughts to: [email protected]
---
Register here for Metropolis's Think Tank Thursdays and hear what leading firms across North America are thinking and working on today.