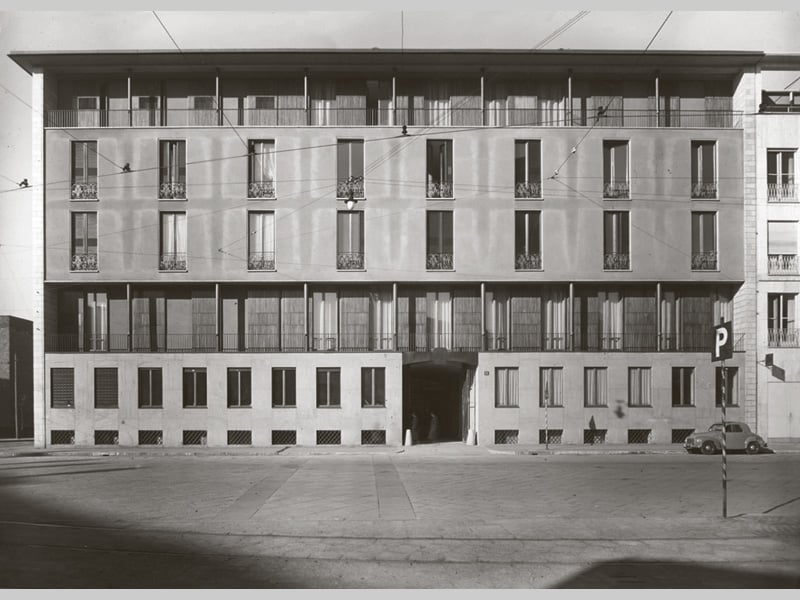 November 14, 2016
Luigi Caccia Dominioni, Master of Italian Modern Design, Dies at 102
Caccia Dominioni greatly influenced industrial design of the 20th century.
Luigi Caccia Dominioni
---
Modern architect and designer Luigi Caccia Dominioni died yesterday at the age of 102, just a few weeks shy of his 103rd birthday. He was the last member of a group of Milanese architects, planners and designers—including Gio Ponti and Ignazio Gardella—that founded Italian Modern design and enormously influenced the industry throughout the 20th century.
According to Brian Kish, a dealer and expert in Italian 20th-century design based in Manhattan, Caccia Dominioni was central to modern design's progress: "His design aesthetic was sober, yet adventurous and challenging. It was charged with recurring enigmas unlike any other work of architecture in the second half of the 20th century. To my mind, he continued the path of Adolf Loos into unexpected territories."
Casa Caccia Dominioni, Milan (1947-49)
Courtesy Archivio Storico Milano
---
Caccia Dominioni, who graduated from Milan's Polytechnic School, envisioned design, urban planning, and architecture as one intertwined discipline that aimed to improve people's quality of life.
In 1947 along with Gardella and Corrado Corradi Dell'Acqua he founded Azucena, an artisanal manufacturing company that produced lamps, armchairs, handles, and design objects that experimented with new materials and forms. It's impossible to name all the objects that Caccia Dominioni designed, but among the many masterpieces are the Porcino table lamp (1967), the Monachella floor lamp (1957), the Battibus chair (1959), and the San Babila door handle (1968), produced for Olivari.
Among his architectural works, some residential buildings stand out for their elegance and detail, particularly the residential complex at San Felice, Segrate (1967-75) that he designed with Vico Magistretti, his home in Piazza Sant'Ambrogio, Milan (1947-50), and the residential tower in Via Massena, Milan (1959-63).
Whether he was working on a public square, a small apartment, or a floor lamp, every project had a strong architectural and urban component. As Caccia Dominioni affirmed, "my entrances, my stairs, and also my furniture are all urban planning projects."
Residential unit Via 
Massena

, Milan (1959-63)
Courtesy 
Davide

 Bonando