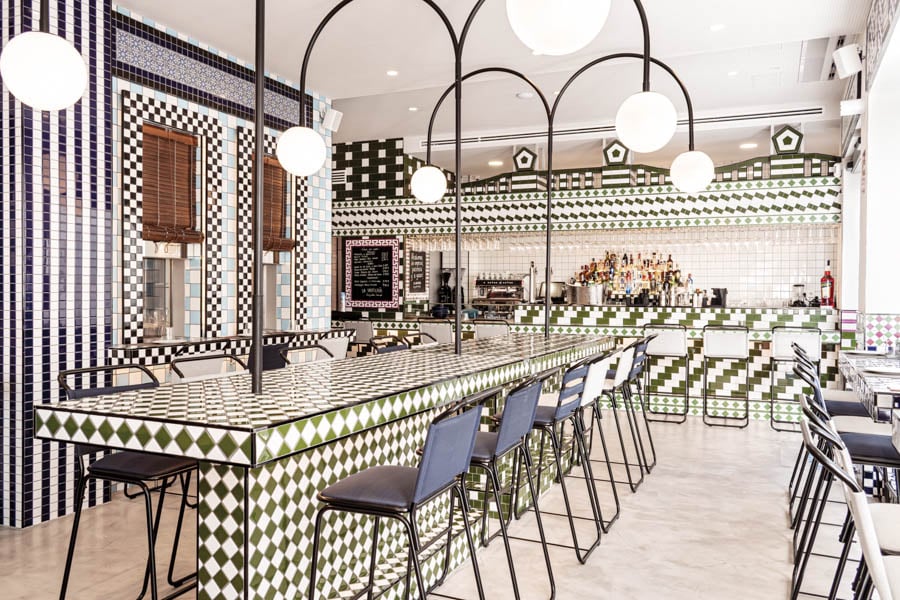 December 16, 2020
From Experimental Products to Immersive Interiors, Masquespacio Hones a Nonconformist Approach
Despite far-reaching influences, the Valencia, Spain–based creative consultancy is grounded by local materials and collaborators.
---
With rising costs of tuition and housing, it's not uncommon for a design student to pick up shifts at a local bar on weekends. But few who do so will meet a customer who becomes a partner in life and business, as was the case with designers Ana Milena Hernández and Christophe Penasse. The couple has since founded Valencia, Spain–based creative consultancy Masquespacio.
Having started with small residential commissions, they dreamed of gaining more artistic liberty. In 2011 they shifted their focus to graphic design for commercial spaces, and nine years later, the studio has made a name for itself through a playful, prismatic, and somewhat psychedelic style of interiors and products that blends a strong graphic language with material exploration.
---
Masquespacio creates universes. Each project responds to the history and needs of the client but also transports the user into new worlds. Take, for example, a recent installation for manufacturer Roca Tile at the Spanish trade show Casa Décor. Using the brand's new collections as the sole construction material, "A Look to the Future from the Past" was a dreamlike environment outfitted in high-gloss porcelain that mimicked the look of cobalt and ocher marble. A nod to Greco-Roman architecture, the exhibition explored the possibilities of porcelain as a renewable alternative to stone.
The installation is just one example of the studio's ongoing investigation into the histories, technologies, and symbolism of tile. "I'm a big fan of tile because it opens up possibilities to develop custom designs for each concept," says Hernández. Ceramic in particular not only allows for endless options in color and texture but also is affordable, durable, and in Spain, plentiful. "But," Penasse adds, "we rarely rely solely on a tile that is already designed."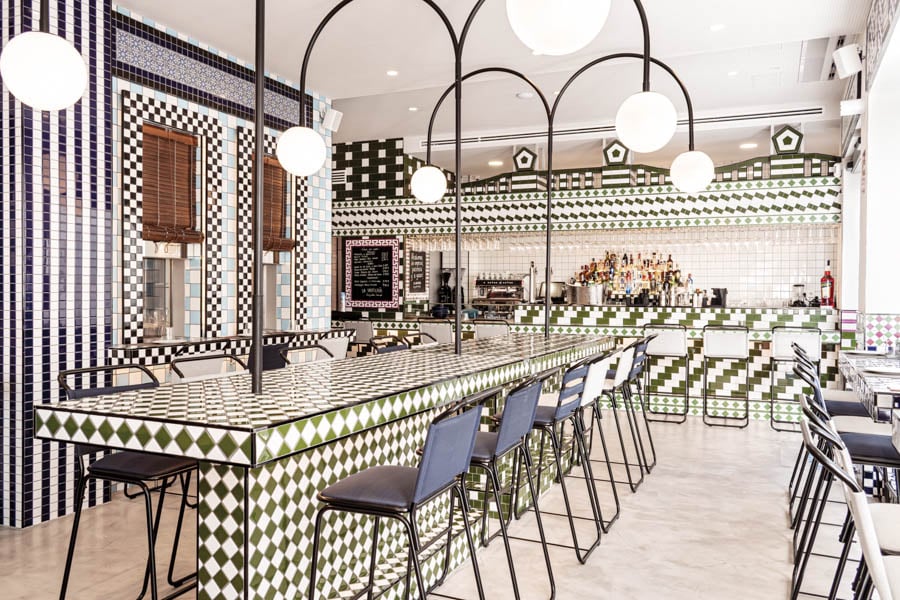 ---
Instead the designers mix products available on the market with their own handmade pieces to create a unique identity for each space. An attention to craft permeates all aspects of their projects, from flooring and furniture to lighting and signage; one example can be observed at La Sastrería, a restaurant for chef Sergio Giraldo, which was completed this August. Located in Valencia's seaside neighborhood of Cabanyal-Canyamelar, the restaurant has an interior informed by the fare as well as local culture. "We wanted to submerge the whole restaurant, as if you are in the middle of the sea. It's pure fantasy, like Sergio's dishes," Hernández explains. A wavelike mirror placed above the bar reflects the blue tile on the ceiling, seemingly immersing diners underwater.
In spite of the pandemic, in April Hernández and Penasse launched a brand for handmade furniture and accessories called Mas Creations. The duo sees it as a way to try out new things without adhering to the commercial expectations of Masquespacio. But it's about more than simply scaling down their established practice. Mas Creations is about engaging in the spirit of rebellion, reveling in nonconformity, and creating and expressing personal joy. "While we've been working on creating this graphic design language, we want to evolve more as artists," Penasse explains. "It's an experiment for us. If tomorrow we wake up and want to design a cup, then we design a cup."
---
The small-batch designs—from chairs to flowerpots—incorporate the studio's inclination toward lush velvets, bold geometries, and metallic finishes. Describing the Too Much rocking chair, Hernández says, "It is supposed to be a representation of my personality—its contrasts, its energy. I want it to make the user smile."
Between buying and designing their own home, integrating production in-house, and landing an interior project in the United States, the two have a lot to look forward to. "We are now in a crisis, but we started in a crisis," Penasse states optimistically. "We have so much energy to continue and we're not going to let this moment get us down."
You may also enjoy "Colorful Windows and Broad Balconies Define Casa Celestina"
Would you like to comment on this article? Send your thoughts to: [email protected]
---
Register here for Metropolis's Think Tank Thursdays and hear what leading firms across North America are thinking and working on today.