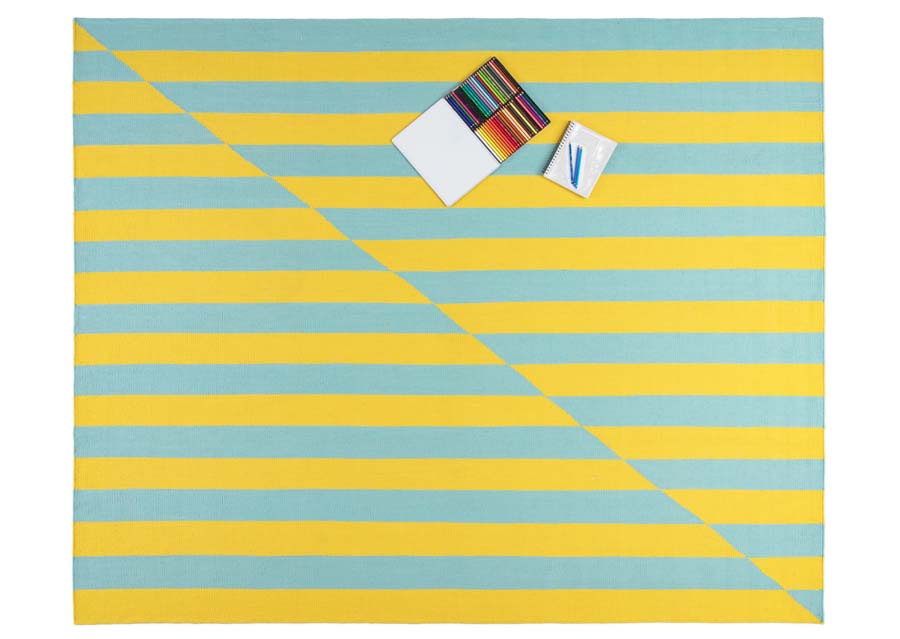 February 15, 2018
10 Mexican Designers You Should Know from Mexico's Largest Art and Design Fair
These Mexican designers, who unveiled new collections at Zona Maco last week, play with tradition to make cutting edge, contemporary works.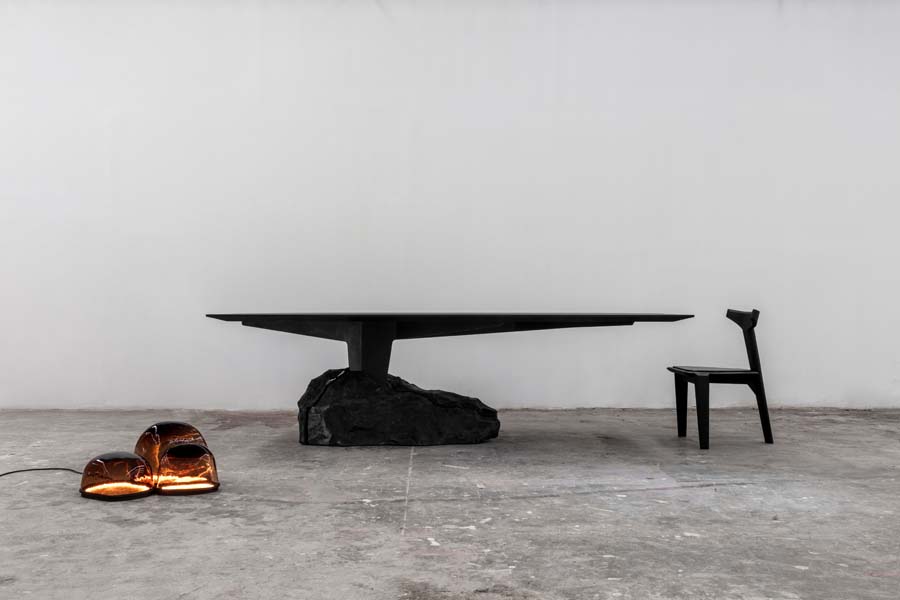 There is no question that the art and design scene in Mexico is growing in a major way. Last week, more than 60,000 collectors, gallerists, designers, and artists flooded into Mexico City for the 15th edition of Zona Maco, Latin America's largest contemporary art fair.
An increasingly prominent part of this festival is its rapidly-growing contingent of Mexican makers and designers. All demonstrate a respect for local materials and craft techniques, with a fresh, contemporary spin. Below are some of Metropolis's standout exhibitors—from furniture finished in burnt wood to flashy funeral urns.  
And with Mexico City designated the 2018 World Design Capital, there is doubtlessly much more to come.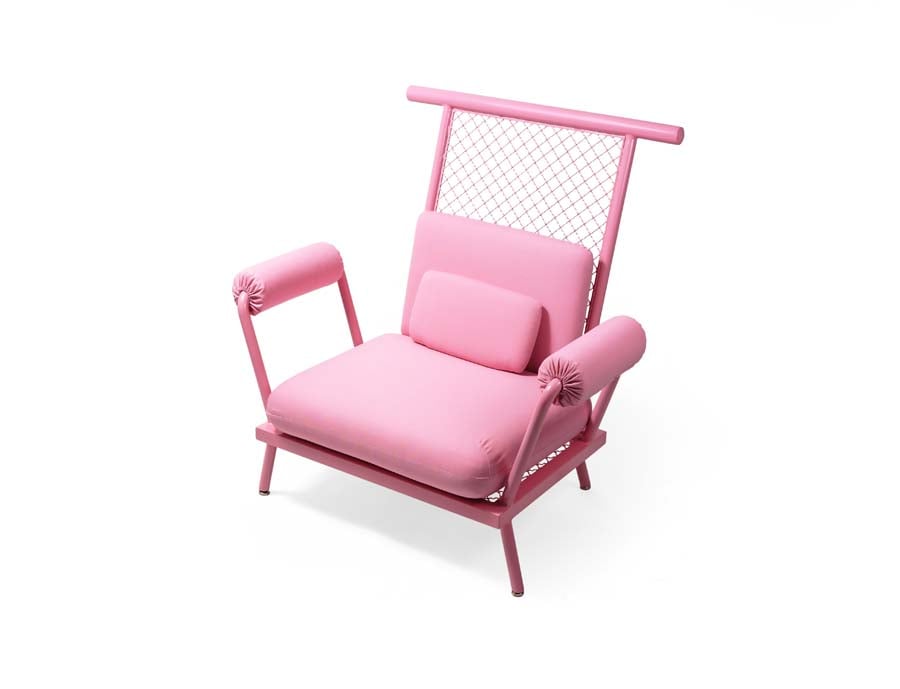 Design gallery Casa Gutiérrez Nájera occupies a candy-striped storefront in Querétaro, Mexico. Its curatorial approach at Zona Maco was just as playful. Their latest exhibition—themed "White, Pink, and Barro"—is a series of limited-edition series of objects and furniture which ranged from a miniature ceramic architectural model of Frida Kahlo and Diego Rivera's twin studios, to a delightfully puffy, Pepto-pink armchair. All told, according to the gallery, the collection, "demonstrates both the perfection of the machine and the detailed hand of man."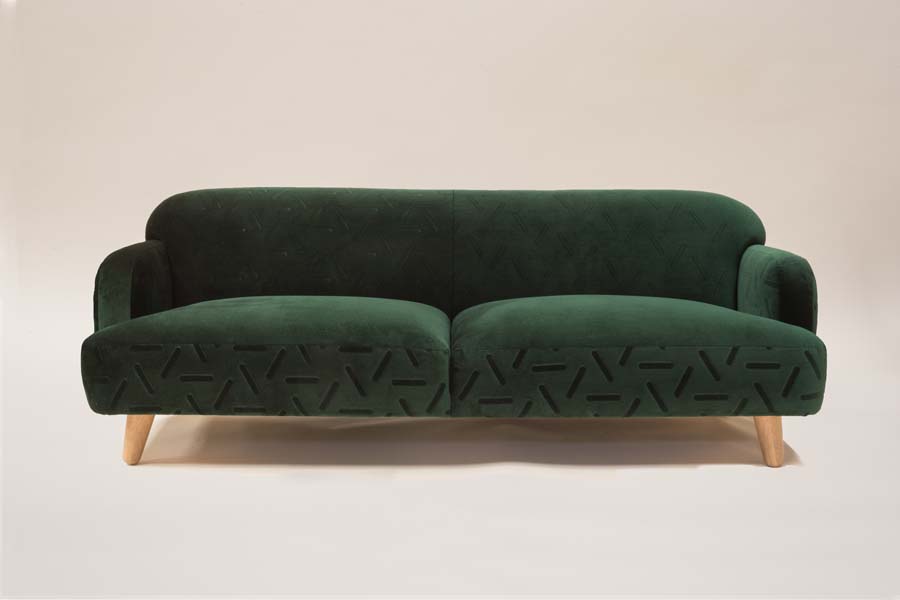 MOOL

Mool, a young Mexico City–based design studio, creates furnishings and accessories that are equal parts fun (gigantic teddy bears, for instance) and old Hollywood glamour. For its debut at Zona Maco this year, Mool has unveiled an emerald-green velvet sofa, playfully printed with a Memphis-inspired pattern within the pile. Just like the brand's namesake Chacmool, the term for Mesoamerica's ancient and iconic reclining figures, these furnishings are both timeless and meant to be seen.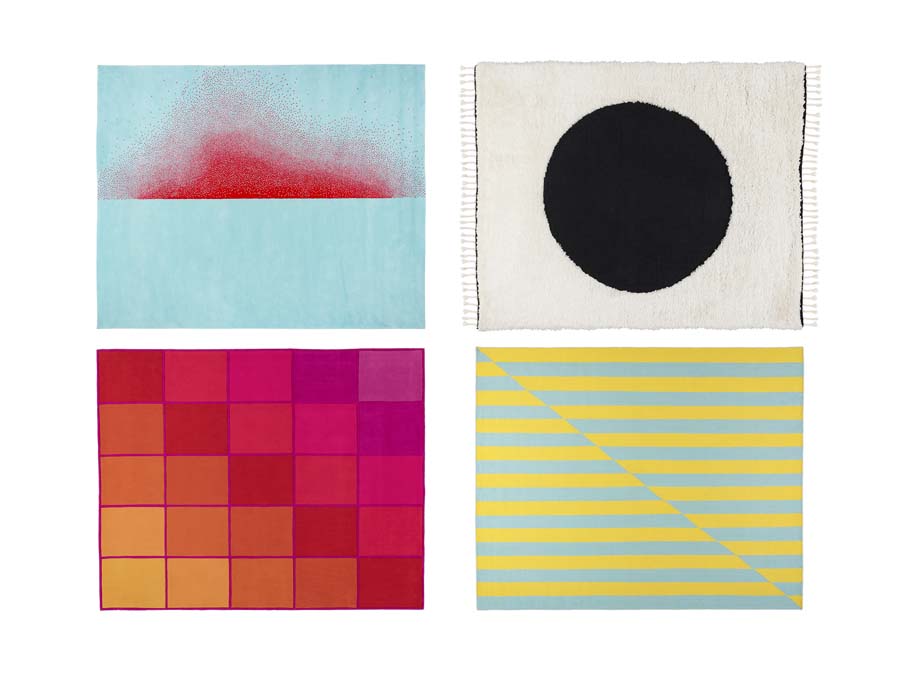 Much of the work at Zona Maco is inevitably concerned with making a design statement. Odabashian, one of the oldest rug manufacturers in the Americas, was also concerned with making a political statement. The company (first founded in Mexico City, now based in Miami), tapped designer Joe Doucet to design their latest collection. The resulting series was created in reaction to President Donald Trump's announcement that he would ban transgender people from serving in the military. "I decided that instead of protesting [transgender people's] discrimination, it might be better to celebrate their bravery." The result is Transcendence, a series of four exuberant wool rugs, produced in hopes that people will "use our skills to stand up for what's right." Better still, a portion of the proceeds will go to the ACLU.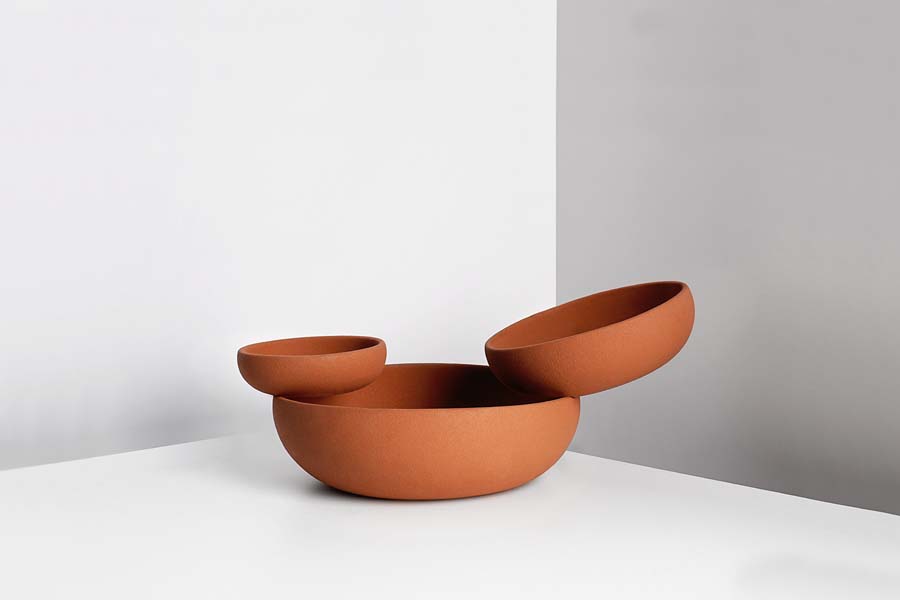 Mexico City–based interior, furniture, and industrial designer Joel Escalona has unveiled a clever-yet-elegant series of sculptural bowls at Zona Maco. Called Balance, each object consists of three stacked bowls which seem to teeter precariously on each other, as if frozen in time. The surreal collection is grounded in reality by using traditional Mexican materials such as obsidian, lava stone, and pewter. 
Ezequiel Farca + Cristina Grappin
Mexico City–based architects duo Ezequiel Farca and Cristina Grappin have made a name for themselves with their meticulously detailed residences and their luxury hospitality venues. As part of the studio's research, the pair also intentionally sought after new ways to engage local artisans and centuries-old Mexican craft techniques. At Zona Maco last week, they unveiled a new series of furnishings and accessories, all deeply informed by artisanal practices and materials.  One part of the collection—a shou-sugi-ban charred-wood daybed, a concrete architectural screen system, and a sculptural side table made from local recinto volcanic stone—plays with solidity and rusticity. The second facet of the collection meanwhile, a series of gem-like handcrafted resin objects,  plays with color, lightness and transparency.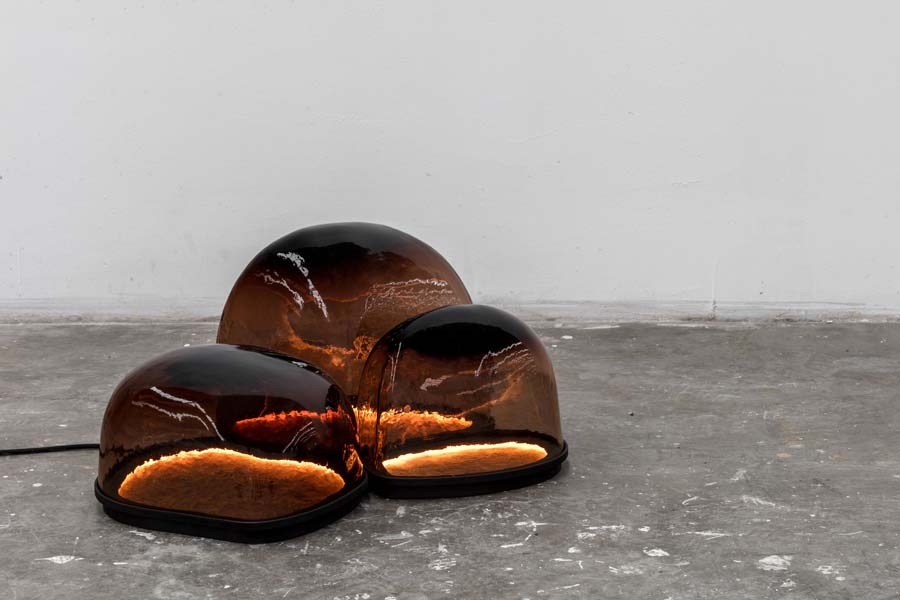 Mexico's geography is defined by mountains and volcanoes. Mexico City–based design studio Ewe (also affiliated with Héctor Esrawe, below) relied heavily on fire for its most recent collection, Alquimia, with a material palate defined by melted glass, charred wood, and forged steel. Most intriguing is its Magma Light, created from 11 hand-carved volcanic stone molds into which glass was poured. The effect is like molten globules of lava.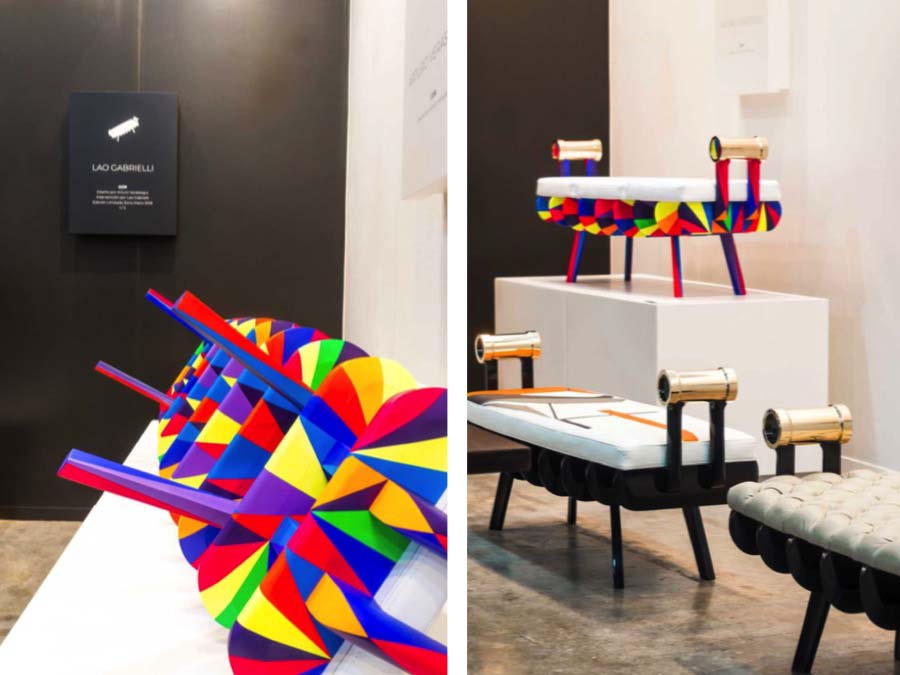 Mexico City–based furniture company Breuer Estudio invited Argentinian designer Lao Gabrielli to rethink the label's signature leather bench by designer Arturo Verastegui. Gabrielli, who currently lives in Mexico City, covered the bench in Day-Glo colors and patterns for an exuberant limited-edition collaboration.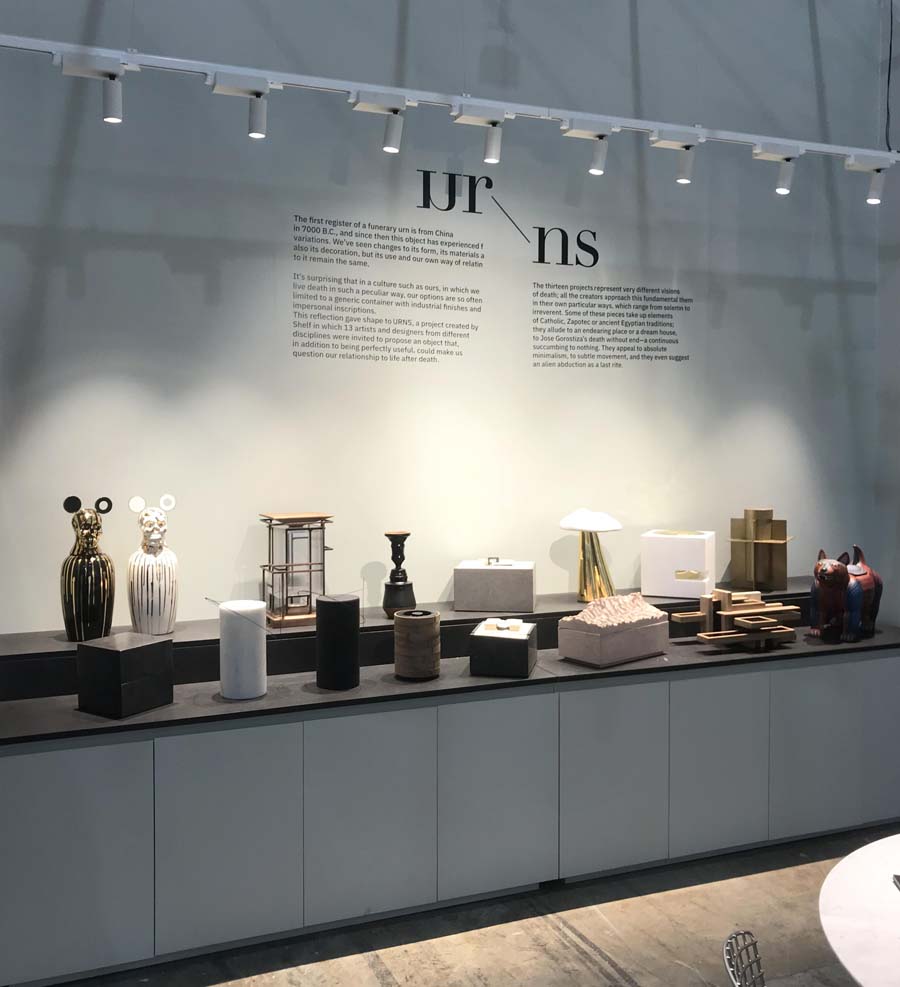 Unlike its other North American counterparts, Mexico has a more carefree—even humorous—relationship with death. Yet, observed Mexican designer Ricardo Casas of Shelf, "it's surprising that in a culture such as ours…our options are so often limited to a generic container with industrial finishes and impersonal inscriptions." To celebrate different attitudes toward the afterlife, Casas has teamed up with 13 international artists and designers to create a series of open-and limited-edition urns. This darkly brilliant series, called ur/ns, aims to free typical funerary objects from their boring mass-produced counterparts. And joyless these are not: ur/ns ranges from a canopic jar with Mickey Mouse ears, to a Zapotec-inspired Xoloitzcuintli dog, to an urn modeled after Frank Lloyd Wright's Fallingwater. Dare we say they are to die for?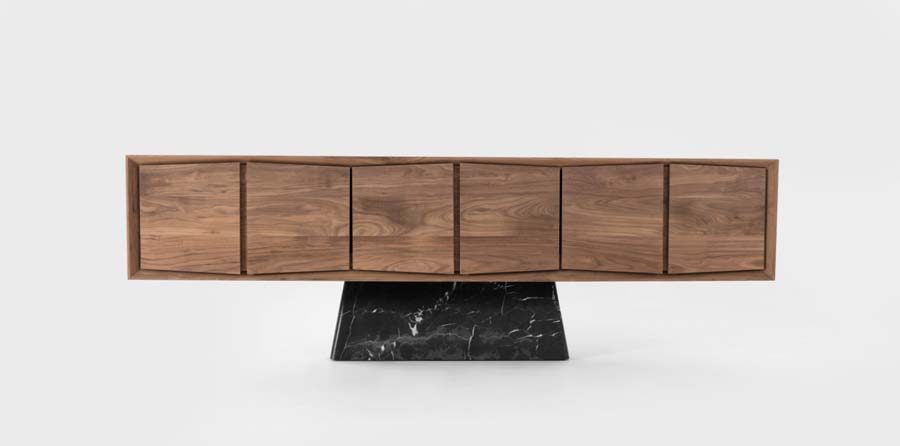 Designer Héctor Esrawe presented Dolmen at Zona Maco, a bold new collection wrought in a sensuous palate of rich walnut and glimmering black marble. The furnishings consist of a dining table and chairs, but the standout is Esrawe's trinchador—credenza. With its balanced with a solid marble base and gravity-defying geometric cabinetry, it isn't your grandma's buffet table.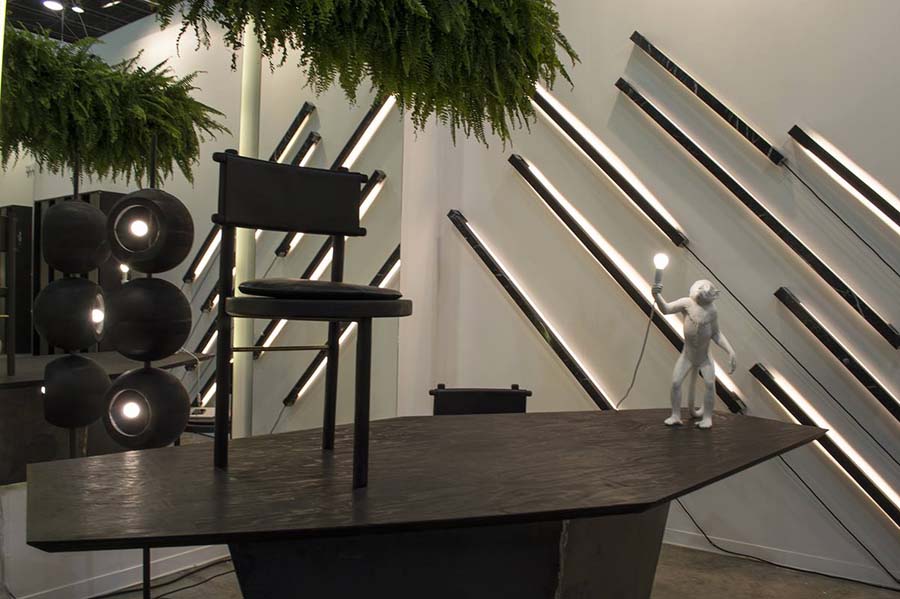 Just in time for its 15-year anniversary, notable Mexico City–based interior and furniture design office, Studio Roca, has released a new collection which celebrates traditional craft techniques as much as it showcases cutting-edge design. The new items, which included seating, a shelving unit, and a table, are all made from materials such as burnt wood, marble, and steel. The most intriguing addition was a new tubular wall lamps, all made from black Monterrey marble.
You might also like "Frida Escobedo Adapts Mexican Building Techniques to London for 2018 Serpentine Pavilion."