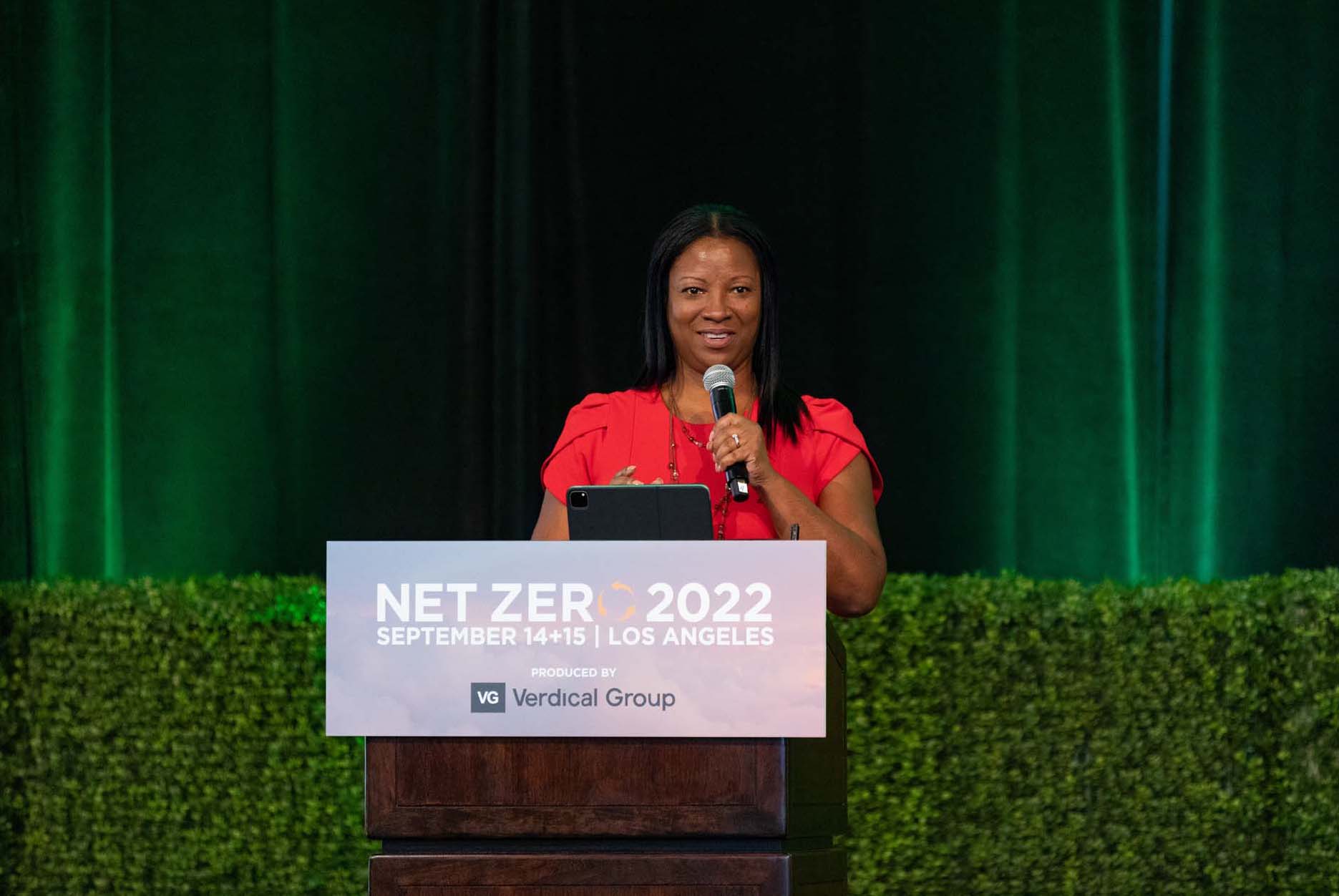 October 7, 2022
Net Zero 2022 Makes the Case for Expanding the Green Movement
Woods laid out the case for marketing initiatives, creative information dissemination, strong narratives, and in-person persuasion. "We want to change the way we tell our story," she said. "The average person needs a stronger 'why'. We need to find a way to connect with them." Williams pointed out that only 3 percent of global philanthropy is now directed toward climate issues, and outlined how groups like hers can help would-be givers navigate giving and receive certification to acknowledge their efforts. "It's about creating positive urgency to make a difference," she said. "What is the impact they want to drive? We can help zero in on what impact they want to create."
Education sessions, led by over 100 presenters, touched on every facet of sustainability, including carbon sequester technologies, net zero products, zero emission retrofits, utility reforms, and pressing issues of equity and resilience. A new initiative at the show was moving beyond the built environment, touching on carbon-intensive industries like agriculture, tech, transportation, fashion, health and wellness, trash disposal, and food. In the tech realm, Meta's sustainability program manager, Amruta Sudhalkar discussed her company's efforts to mitigate the embodied carbon impact of its data center construction program via procurement of sustainable construction equipment.  
"So much of the time we're talking in an echo chamber," noted conference founder and Verdical Group CEO Drew Shula. "Construction and real estate make up forty percent of carbon emissions, but there's still another sixty percent out there." He added: "I would love for our conference to go beyond 1 or 2,000 people to go to 20 or 30,000 people. How can we broaden the conversation? How can we talk to more industries? How can we get more people to think about sustainability?"
In handing out its annual "Trailblazer," awards for industry leaders, organizations, and projects, the conference showcased an impressive variety of climate-related innovation. Winners included Lindsay Baker, CEO of the Living Building Institute, Peter Dering, founder of Peak Design's Climate Neutral, a non-profit that enlists private businesses to achieve net-zero carbon emissions through a simplified, four-step process; and USGBC L.A.'s Net Zero Accelerator, a seven-month program that pilots, guides, and promotes building technology innovation.
The conference has been working to minimize its own impact, decreasing, for instance, its food waste by almost 90 percent and its food packaging by more than 30 percent since 2019. The conference also works with companies to limit the number of printed deliverables and "goodies" wrapped in plastic. Other sustainable initiatives include minimizing electricity use and purchasing carbon offsets to get the show to Net Zero.
"We try to do everything we can," says Shula. "Everybody is trying to get to Zero Carbon. There are no borders in the atmosphere. It impacts everybody."
Would you like to comment on this article? Send your thoughts to: [email protected]