October 4, 2017
New Talent 2017: Float Studio's Fresh Approach to Office Design for Start-Ups
Adeptly avoiding the clichés of office design for start-ups, Float Studio instead creates spaces that capture each company's founding essence—all on a tight budget.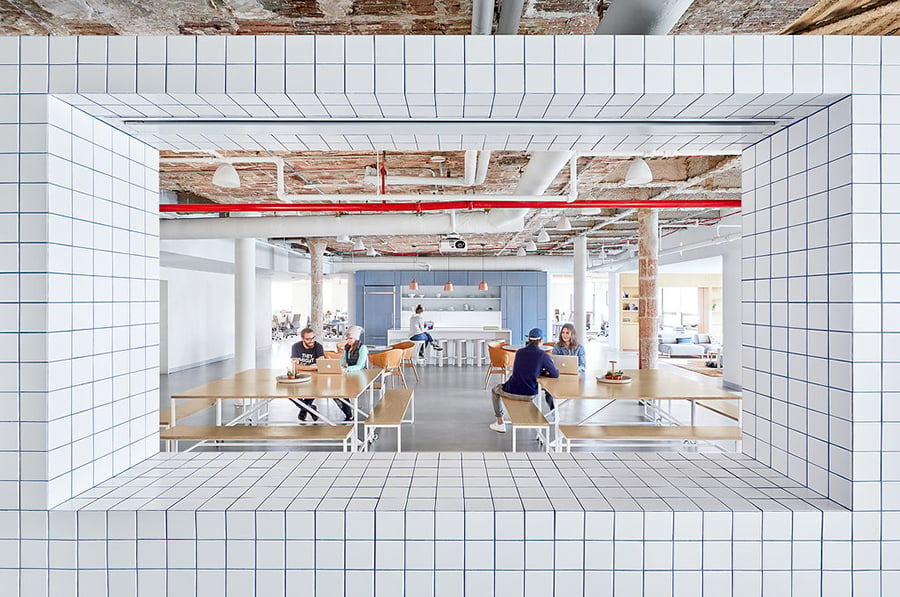 Even though they work at diverse scales, the five emerging practices that we have selected this year as Metropolis's New Talent 2017 share some fundamental characteristics. They are all open to influences from other places and professions, engage with new technologies and materials, and collaborate with others at the cutting edge of their field. Whether they're creating architectural installations in London, lighting designs in Vancouver, start-up offices in New York, a hospital in Zambia, or Shaker-inspired objects in Oregon, these practitioners have what it takes to move architecture and design forward.
---
For a young practice, New York–based Float Studio has built a substantial reputation for being a kind of design sage for start-ups. Emerging companies rely on designers Brad Sherman and Nina Etnier's acuity for creating workspaces befitting their brand and their budget.
Sherman's education in start-up culture came by way of a short stint manning the front desk at a busy coworking space in Manhattan. "The people I met at General Assembly were aging out of the typical coworking model," recalls Sherman, who has a master's degree in sustainable architecture. "They were growing substantially and looking for spaces of their own but were very scared by the prospect of spending a ton of money on it. I realized that there was a need for architects of start-up spaces in the design world."
Before Float, Etnier was steeped in the world of high-end residential and commercial design. With a degree in visual media and marketing and a graduate diploma in interior spatial design, she possesses a broad skill set that's well suited for the types of design challenges Float tackles.
Float's initial foray into office design started with the recipe-sharing platform Food52. Sherman and Etnier took on the commission knowing the limitations of budding start-ups: tight time lines, very low budgets, small spaces, and rapid growth. With resourcefulness and creative furniture repurposing, they built and furnished Food52's 3,200-square-foot first office, which included a test kitchen and lounge. The result pleased Food52's founders Amanda Hesser and Merrill Stubbs so much that they've become repeat clients, asking Float to design their next, 6,500-square-foot New York City headquarters in 2015, as well as another space currently in the works.
"Float designs without ego," says Hesser. "They adapt to your needs—in fact, they often think of your needs before you realize you have them. So often you go into a 'cool' office and you can feel the design work in an almost oppressive way. When people come to our office, they always remark on how it feels like they've walked into our website."
Now a team of seven, Float has brought its thoughtful, "design on a dime" sensibility to other clients. For Broadway ticket reseller TodayTix, the studio designed an aptly playful space with pendant lampshades made out of fedoras and velvet curtains in meeting nooks. For Tane Digital Video, the designers maximized a 2,000-square-foot space with glass partitions, and even inserted a subtle nod to the firm's logo in the custom metalwork.
Float has also become a master of the open-plan layout common among start-ups. To address the lack of privacy and concentration-zapping noise levels, the designers have created inventive solutions like using table lamps, custom partitions, or houseplants as desk dividers for clients such as Margaux, Sakara Life, and Glossier. For mattress start-up Casper, they installed employee napping pods that double as room dividers.
Sherman and Etnier explain that designing a space to evoke a start-up's brand is essential—and it's not just slapping a big logo on the wall. "A huge part of what we do is storytelling," says Sherman. Etnier adds that they stay away from literal interpretations of branding such as slavishly following a company's color palette, which may work well on its print and web materials but not on office walls.
"By the time a project ends, we feel like an auxiliary arm of the company," says Etnier. "It's very satisfying to see the space working for these people that you've been kind of working alongside for however many months, and that's just very rewarding."
As much as they love working with daring start-ups, Sherman and Etnier say that they're eager to tackle a big corporate office, too. "Those larger-scale projects have really generous budgets, so I think we know that if we were able to get our hands on one of them, we could really do something special," says Etnier. "We're scrappy to our core." Nodding, Sherman adds, "It's not that difficult to make somebody's life just a little bit better."
You can find all our New Talent 2017 profiles here!