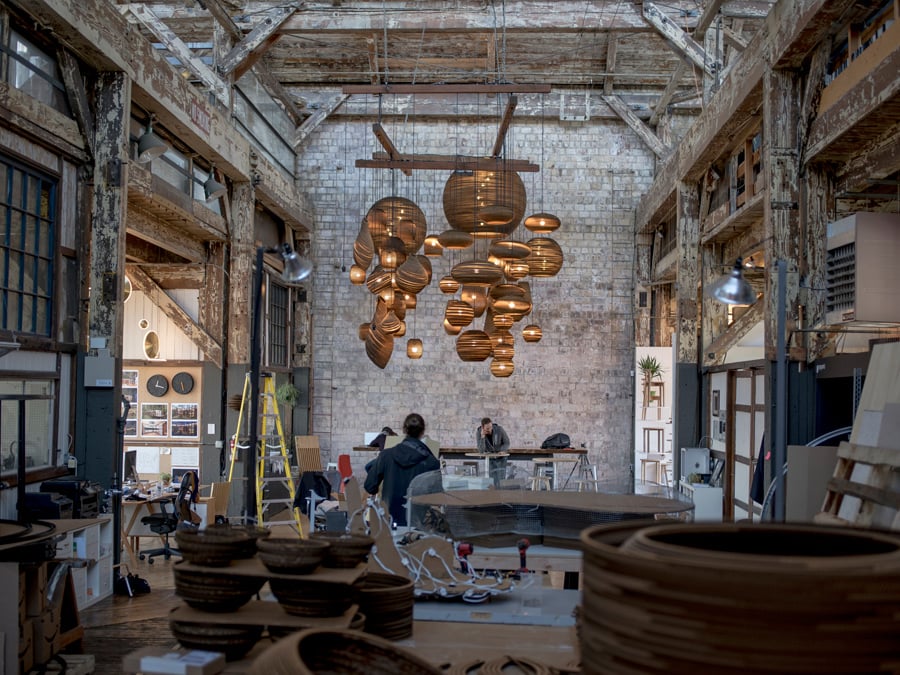 March 30, 2018
Pacific Northwest Design: The Handcrafted, Pragmatic Approach of Seattle's Graypants
They might not sell trousers, but this design duo exalts everyday objects and the spirit of collaboration.
---
For its March 2018 issue, Metropolis Magazine explored the three great North American design regions: The Pacific Northwest, North Carolina, and Minnesota. We looked at each area's deep historic connections to architecture and design, as well as the contemporary practices thriving there today. Stay tuned to our homepage as March issue articles such as this one go online; you can also find the latest updates here.
---
From a distance, the glowing, honeycomb- like layers that constitute a Scraplight trick the eye. The flagship pendant light made by Seattle-based design firm Graypants boasts a clean, geometric form and refined aesthetic that mask its humble origins. The lights were the unexpected outcome of a 2007 sustainable design competition, in which Graypants's cofounders, Seth Grizzle and Jonathan Junker, were presenting chairs made from salvaged cardboard. Fearing the scale of the exhibition space would overwhelm the products, the designers crafted hanging lights from the chairs' scraps as an impromptu solution. In the end, the Scraplights were the showstopper. "People paid more attention to the lights than the furniture, and so we decided to do something with that," explains Grizzle. Reconfiguring their practice around the desires of ordinary people reflects the heart of Graypants's handcrafted approach: one focused on humans and their interactions with the designed world.
Following the success of the Scraplights, the Kent State graduates—who had been working for Seattle architecture firms by day and crafting their own products by night—decided to turn their after-hours projects into a career and to move operations from the bathroom of their shared apartment to a proper design studio.
Finding a name that reflected the creative spontaneity behind their work proved difficult, and Junker and Grizzle were resistant to using their last names as so many other firms do. "We knew we wanted to create something together. We never wanted it to be So-and- So Lighting or So-and-So Architecture, because we were driven by the idea that we could do anything," Junker says. When a friend suggested "Graypants" because the duo owned "the same damn pair of pants," they found it fitting. "We don't make pants," Junker laughs. "But we make pretty much everything else."
---
As Graypants expanded its commercial, office, and residential portfolio, Grizzle and Junker pursued relationships with like-minded designers around Seattle. While preparing for ICFF NYC in 2008, they approached Seattle furniture maker Darin Montgomery, who went on to found Fin. The relationship evolved into the formal collaboration Urbancase, beginning with a project to rethink office workstations. "We're trying to find that in-between market that isn't going to need 500 desks. It might be a design or architecture firm of closer to 30 or 50 people who want something a little more unique, something handmade, something that's solid wood," Montgomery explains. "We wanted to create something a little more personalized that clients are going to feel connected with."
The partnership behind Urbancase took a physical form when Graypants moved to their current shared studio space in Seattle's SoDo neighborhood in 2011 and Montgomery joined them in 2014. Built within the bones of a sprawling historic warehouse, the open, light- filled space is warmed by the thick timber of the Urbancase workstations, and its ceilings are brought down to human scale by glowing clusters of Graypants's lighting pendants. Cohabiting a space facilitates a nimbleness that mirrors both Graypants's and Fin's working styles. "Having the Fin shop here allows for fluid prototyping and a hands-on experience," Grizzle says. "We can quickly discuss ideas, walk [through] another door, and immediately have a little piece sketched out." As a result, they are able to work with clients face-to-face in ways that support their unique, often fully customized designs, while still keeping up with the rapid-fire pace of a world increasingly reliant on virtual interactions.
This human-centered approach resonates in the present moment, as Graypants and Urbancase have much on the horizon. Building workstations for the Seattle Academy of Arts and Sciences, releasing the celestial-inspired Chrona series of LED lights, and creating furniture for Airbnb's San Francisco headquarters are keeping the studio busy. Less expected is their more modest ambition: opening a coffee shop inside the workspace. As Grizzle explains, "I think it's a nice way for people to interact with design and to see it in a personal way, versus going to a store to look at things. We'd rather they'd just come hang out with us." That sentiment has manifested itself by way of a public tenth-anniversary party, with tips being donated to a local nonprofit that supports public art initiatives for and by youth. Celebrating the firms' beginnings this way illustrates a central motivation behind their work: ensuring a bright future not only for their work but for the people and communities around them.
You might also like, "Pacific Northwest Design: How Abundant Natural Beauty And Rich Cultural Exchange Shaped a Region."