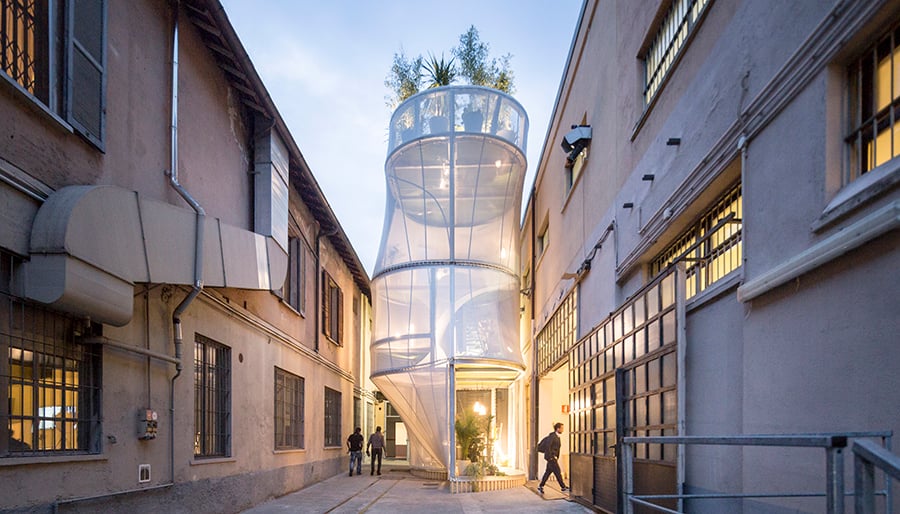 May 21, 2019
The Refreshingly Simple and Deceptively Complex Architecture of SO-IL
SO-IL's buildings skew modern and clean-lined, but they revel in playful material conceits that leave no two projects looking quite of a type.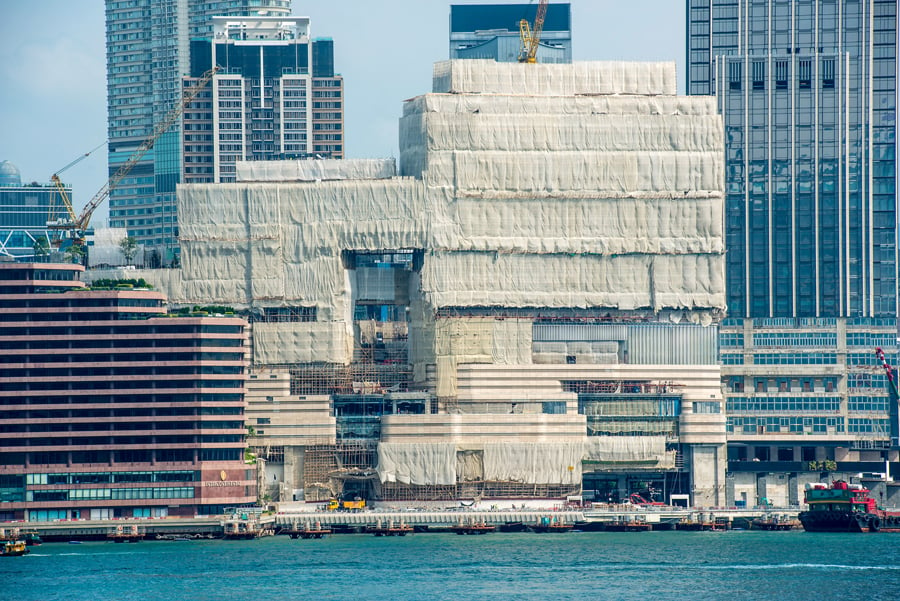 ---
There comes a time in an architect's career when he or she crosses the boundary separating "emerging" and established. The line is blurry and seemingly arbitrary—because, really, what does emerging mean, anyway?
Founded in 2008 by Florian Idenburg and Jing Liu, SO-IL (standing for Solid Objectives + the founders' initials) has won major competitions, has designed landmark cultural institutions, and is working on more than one large-scale master plan for new city districts. Yet the descriptor persists. "I think we can 'emerge' until we're 60," Idenburg jokes.
SO-IL's buildings skew modern and clean-lined, but they revel in playful material conceits that leave no two projects looking quite of a type. The style isn't instantly recognizable, but all of the studio's projects evoke feelings of openness and simplicity that the architects have cultivated from the beginning. "In an era where everything is so much about form making, they've resisted that," says Forth Bagley, a principal at Kohn Pedersen Fox (KPF), where Liu used to work. "It's very hard to edit things down to their essence when the cultural zeitgeist is so much about excess."
Idenburg grew up in the Netherlands and obtained an architecture degree from Delft University of Technology. "The Netherlands is the most rational place to study architecture," he says.
"Hyperrational." Liu left her native China to attend college at Tulane School of Architecture in New Orleans. The two met as young architects in Japan while working for SANAA, where they picked up on the firm's fondness for lightness and unexpected shapes and materials.
After going their separate ways, Idenburg and Liu both ended up in New York City, where they reunited and started their own practice. From the outset, they approached their work with a curator's mindset, investing in projects that allowed them to explore experimental, future-oriented ideas, and work with clients willing to take chances. "We don't take on projects that are just about adding square footage to the built environment," Liu says. "We're very attracted to projects with a public component and to clients who want to think about the future."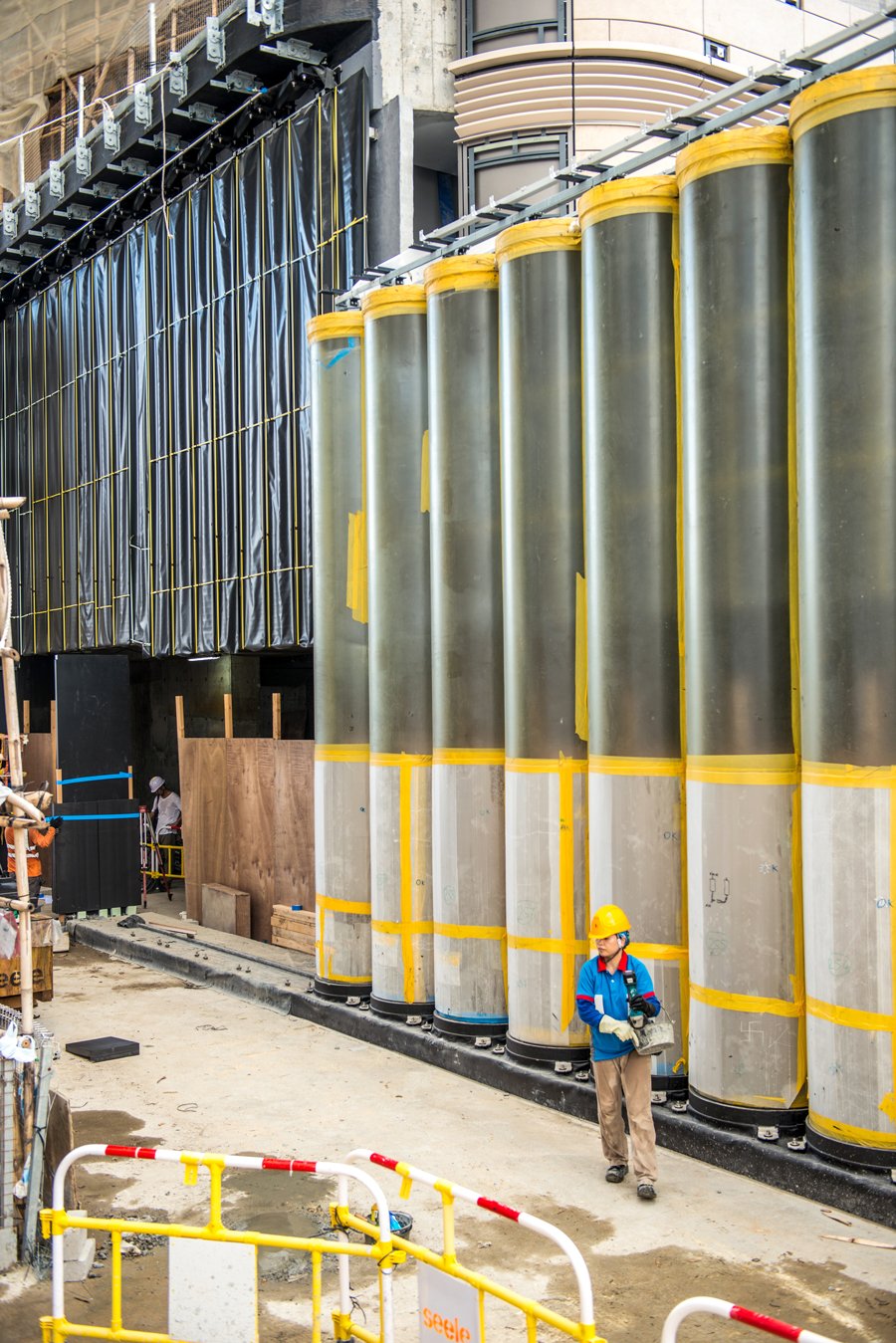 ---
In 2016, SO-IL finished work on the University of California, Davis's Jan Shrem and Maria Manetti Shrem Museum of Art, an airy white box of a building it designed with the multi-city firm Bohlin Cywinski Jackson (BCJ). For the museum's most striking feature, a sweeping striated canopy, SO-IL and BCJ were inspired by the rolling agricultural fields in California's Central Valley, whose seeded crop lines run at asymmetrical angles. "What's interesting about Florian and Jing is that they look for something that's a little harder to find," says Karl A. Backus, a principal in BCJ's San Francisco office who worked on the Shrem. "It's a cultural or intellectual motivation behind the context that they're working in."
The Shrem is different in form from, but similar in concept to, the Kukje Gallery in Seoul (2012), for which SO-IL covered building volumes in a mesh of over 500,000 handmade chain-mail loops. Both projects embrace translucence in the form of a canopy and an enclosure, and trade interior sprawl for public space in the form of plazas. SO-IL's current project, the Chow Tai Fook (CTF) Museum in Hong Kong, doesn't have the luxury of either, but it still echoes the studio's predilection for textured, gossamer building envelopes.
The art space at CTF is sandwiched vertically between a terra-cotta mall and a hotel development designed by KPF. The slim volume cuts a distinct silhouette in the massive complex, its convex glass envelope like a delicate layer of bubble wrap. "It's simple, it's elegant, and it isn't ostentatious," says KPF's Bagley, who headed up the project. "Jing and Florian take simple materials and make them complex."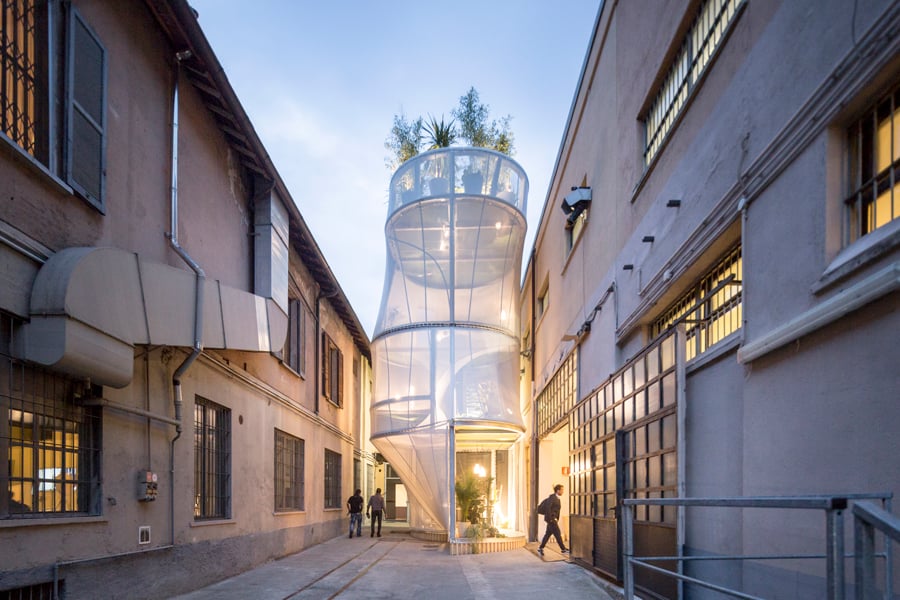 ---
Though its effect is direct, the translucent facade was painfully worked out over eight months. Each of its 475 custom-made 30-foot-tall glass tubes had to be tested to ensure that curves were tight enough and structurally sound. The Kukje Gallery's chain mesh involved a close collaboration with artisans in China over a two-month period. "We think about craft a lot, but not in the vernacular, traditional way," Liu says. "I think craft in general is having a dialogue with the material you work with."
As the scale of architecture increases, it's harder to maintain that adherence to craft. That's a truth SO-IL understands both on the level of a building and in the way the two run their office. They're an upstart shop that's no longer an up-start. They're not corporate, but no longer scrappy. Earlier this year, SO-IL's third partner, Ilias Papageorgiou, left to start his own practice, adding to the studio's feeling of being in flux. Existing in a transitional time, Liu and Idenburg explain, is challenging, but it's also an opportunity for growth (if not emergence). "For us, it's really now about how we can maintain this super experimental energy," Idenburg says. "I think we're doing quite well in that."
You may also enjoy "How Two Getty Initiatives Are Saving Global Modernist Heritage."
Would you like to comment on this article? Send your thoughts to: [email protected]