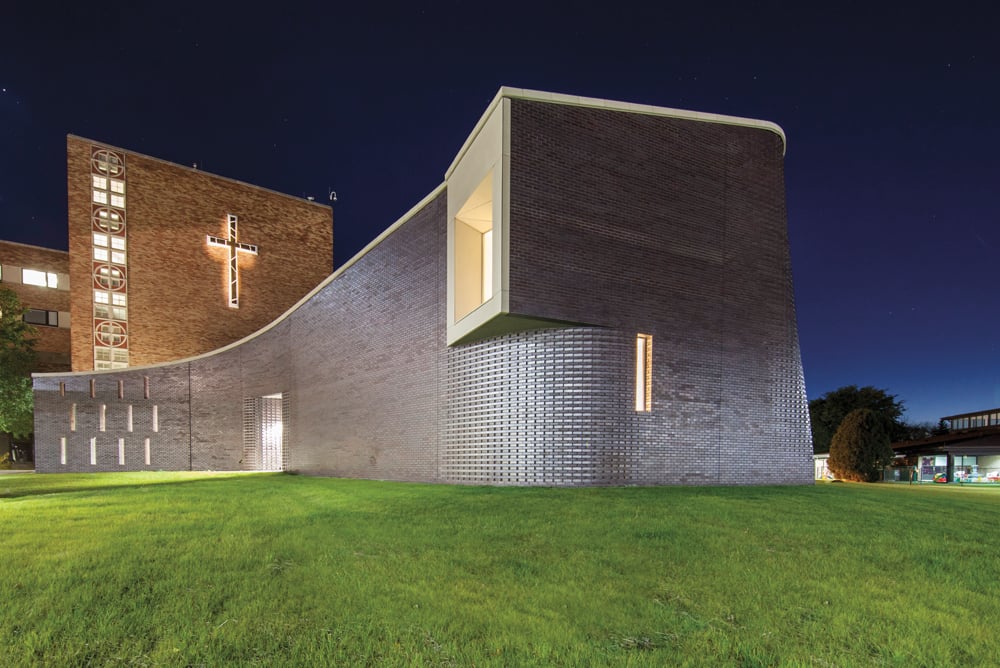 June 24, 2021
PLY+ Takes a Style-Meets-Science Approach to Projects Ranging From Animal Shelters to Art Museums
Three projects by the Ann Arbor, Michigan–based firm, demonstrate their work's local focus and broad resonance.
When architecture firm PLY+ began designing a new home for the Michigan Animal Rescue League in Pontiac, Michigan, understanding how the space would affect animals and their stress levels was a key element of the process. It's about not just how the space looks but how the design provides the highest quality of life to rescues. The firm's approach involved partnerships with board members and shelter employees, which led it to pay careful attention to light, freedom of movement, and noise levels. Cats, it turns out, recover better from surgery when they can't hear dogs.
"We have a lot of collaborators," says Jen Maigret, principal and cofounder at PLY+. "I think it's this kind of close communication that allows the project to benefit from our own strengths as designers."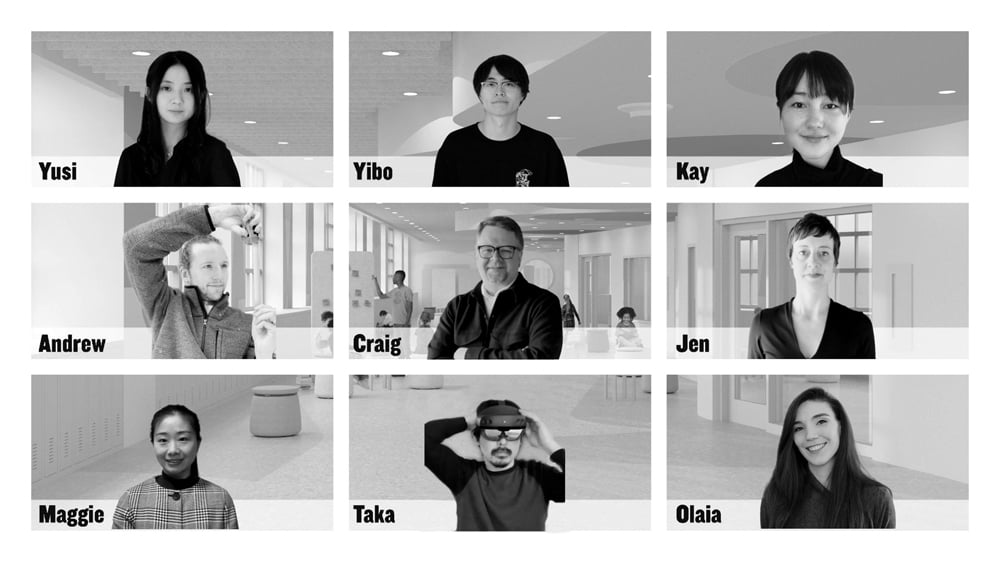 This marriage of innovative design, functionality, and community is a hallmark of the Ann Arbor firm. Founded as PLY by University of Michigan, Taubman College of Architecture and Urban Planning professor Craig Borum in 1999, the firm was reinvented as PLY+ in 2016 when Borum partnered with fellow Taubman College architecture professor Jen Maigret. PLY+ is small but thrives on collaboration. Coupled with the firm's out-of-the-box approach to materials and research, its cohesive ethos has earned high praise from, among others, The Architectural League of New York, which recognized the firm with its 2021 Emerging Voices Award.
The word "ply," meaning to "bend, bow, or handle," encapsulates this ethos, as well as the firm's ability to seamlessly blend into and draw out the best features of its midwestern environment while never passing up exciting and unconventional possibilities.
The firm's transformation of the St. Mary Mercy Hospital Chapel is emblematic of that approach. Located in Livonia, Michigan, the hospital was founded and opened in 1959 by the Felician Sisters to serve the health-care needs of the local community. While the hospital is primarily Catholic, its chapel is designed to incorporate other faiths with three spiritual spaces: the main Catholic Chapel, the Muslim Prayer Space, and a nondenominational reflection space.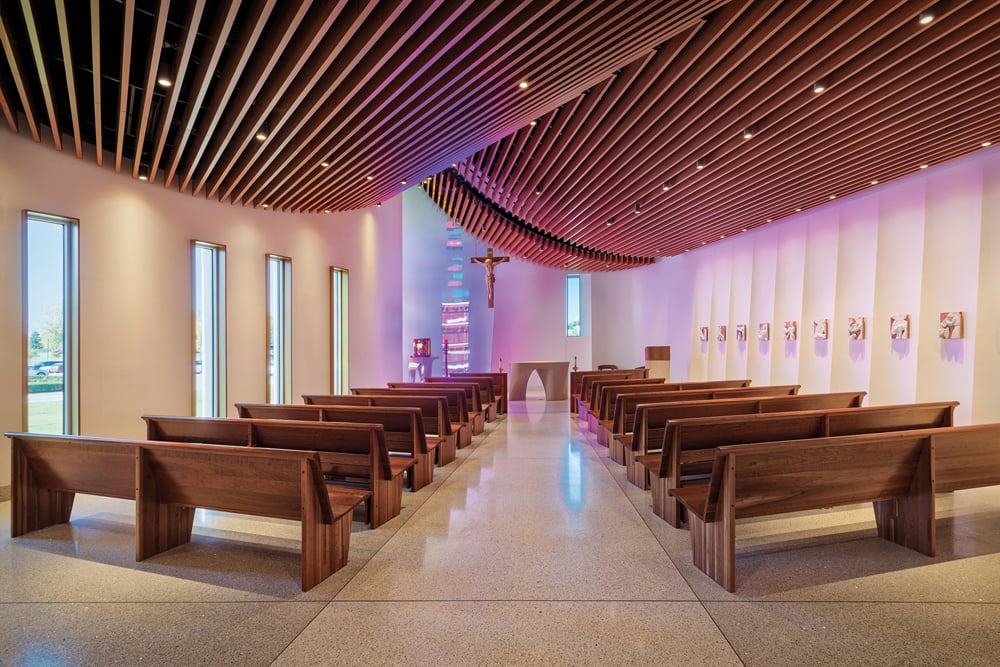 The PLY+ team used custom carved stone for the altar and other liturgical elements, while patterned brickwork rounds out the building's distinct curved shape. The choice of dichroic glass for a window near the altar grew out of Maigret's academic materials research. This multilayered glass was first developed by NASA for use in the space industry and appealed to Maigret for its multicolored reflective properties that change based on the angle at which light passes through.
"We were looking at the new formulas for glass, filtering certain wavelengths of light but letting others through, both for the aesthetic effects but also for environmental performance in terms of heat build and heat gain," says Maigret. The array of colors produced by dichroic glass became a contemporary expression of the stained-glass window, an essential element of chapels.
The project won the team several awards, including an M-Award for Excellence in Masonry Design, in which the jury commented on the ingenious detailing "for its ability to engage masonry with light and express forms that are not commonly seen in masonry construction."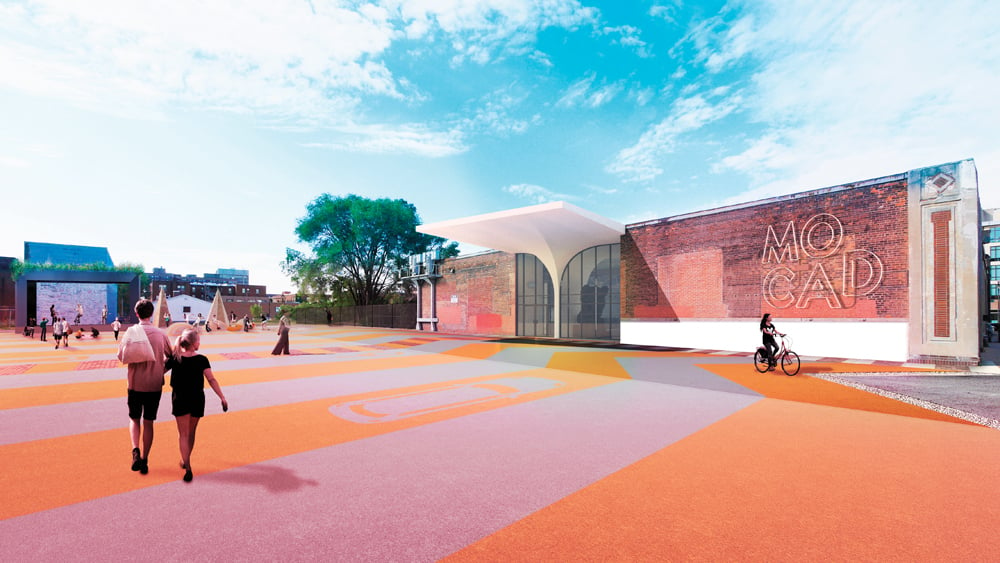 One of PLY+'s newest projects is a renovation of the Museum of Contemporary Art Detroit located in the heart of the city's Cultural Center, which was established in 2006. "We're thrilled that it's an existing building, but it was also in a pretty dire state of disrepair," Borum says.
The scope of the project includes badly needed upgrades like climate control, which will expand the range of exhibits the museum is able to offer. The architects are also opening up two of the building's facades. One side will provide an updated entrance and a better connection to the street; the other will open onto a redeveloped public venue for outdoor events. The project's location in an Albert Kahn–designed auto showroom is a nod to the old Detroit, while moves like employing low-impact development for stormwater management instead of impermeable asphalt show PLY+ is looking to the future.
In a city where past and present are sometimes at odds, the team is adamant about approaching the project through inclusion instead of erasure. "The work we're doing layers new qualities onto the grittiness of its architecture," explains Borum.
Though associated with names like Mies van der Rohe and Frank Lloyd Wright, midwestern architecture is frequently overlooked by a design establishment with coastal biases. PLY+ is aware of the context it works within, operating in a region where icons made their mark but where contemporary practice often goes ignored. But this is a welcome paradox for a firm masterfully balancing the needs of its local environment with the desire to experiment and push forward.
Borum says, "There is a culture here that we can build upon and tap into, and extending that legacy is our hope."
You may also enjoy "An Icon of Brutalist Architecture Gets a Second Life as a Hotel"
Would you like to comment on this article? Send your thoughts to: [email protected]
---
Register here for Metropolis's Think Tank Thursdays and hear what leading firms across North America are thinking and working on today.