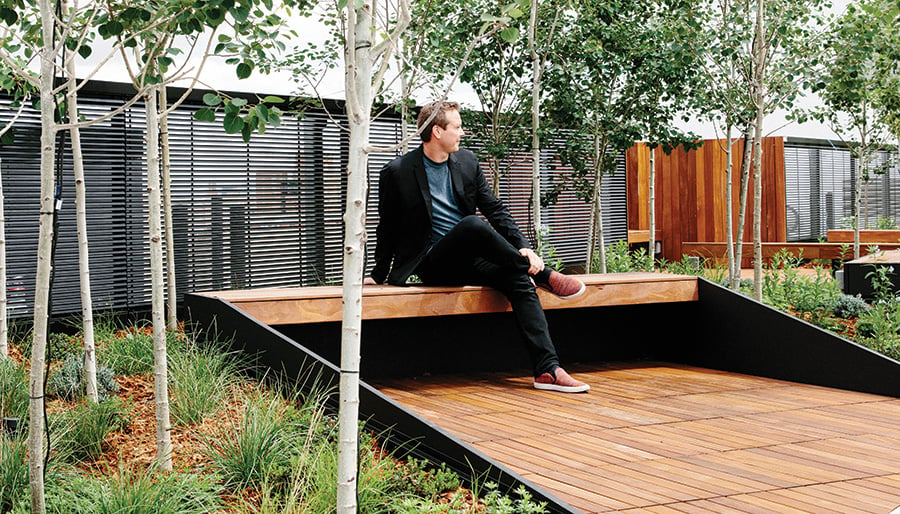 July 9, 2018
New Talent 2018: Architect Thomas Kosbau Is Helping Create the Next Generation of Green Urban Tech
Just as he's wrapped his largest and greenest project to date, Thomas Kosbau's brand of idealistic architecture is growing up.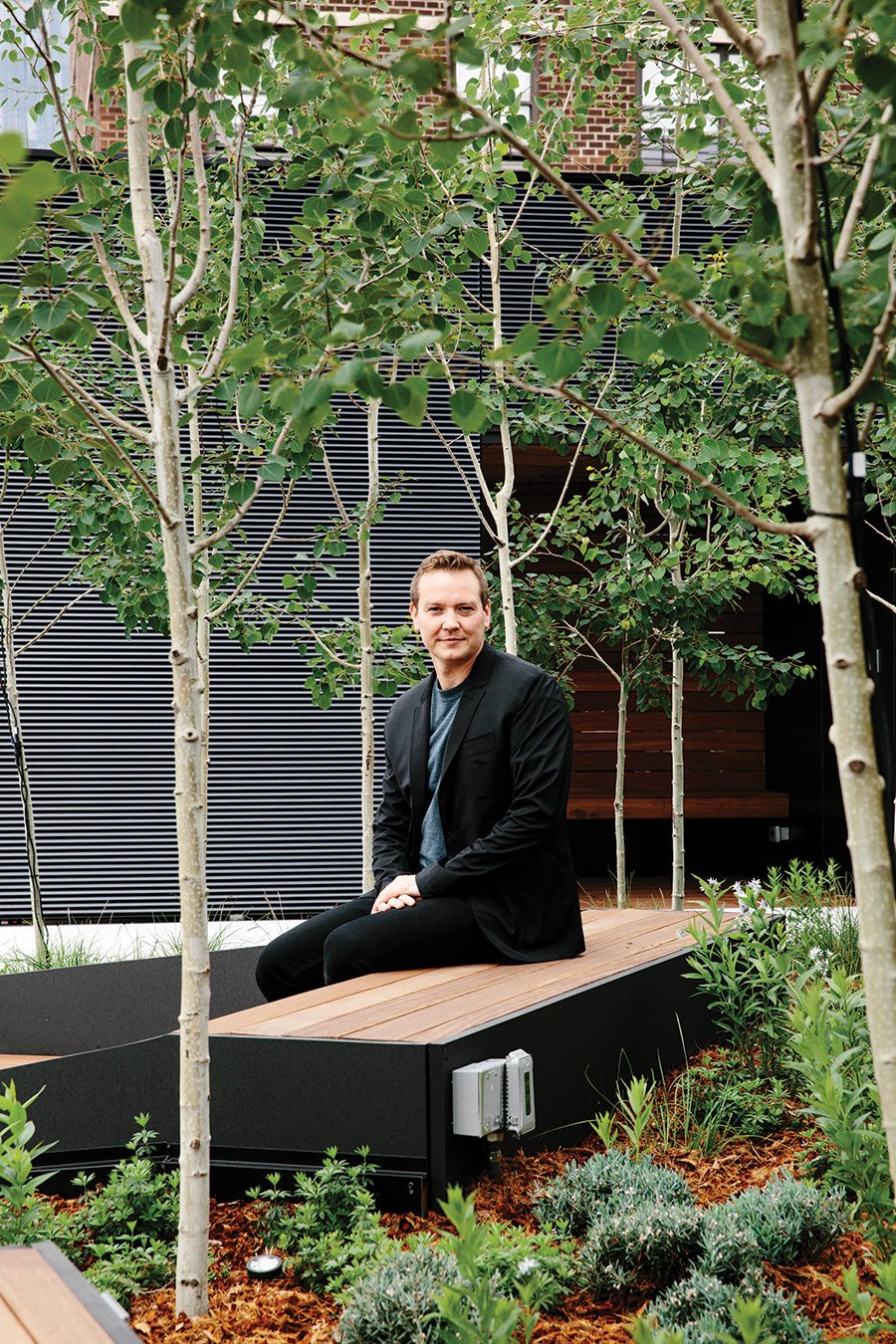 ---
Our annual New Talent survey spotlights practices across the design spectrum. These architects and designers look to multiple branches of activity for inspiration, from urban agriculture and grassroots organizing to branding and identity. Stay tuned throughout July as we feature these New Talents on our homepage!
---
It's an early May morning, and Thomas Kosbau is wandering around the rooftop of 275 South Street, a '70s-era residential high-rise on Manhattan's Lower East Side, when he stops dead in his tracks. "I see a couple things on my punch list," he says, bending down to inspect an exit sign near the base of a wall. Above the sign a barely perceptible electrical wire dangles like a smile.
Kosbau, the boyish founder of the architecture studio ORE, pulls out his phone and snaps a photo of the wire for future reference. A minute later, the phone is back out, this time capturing a metal panel on the side of a staircase that had been cut just a few centimeters short. "I think all architects suffer from a mental condition where we focus on details," he says, his eyes darting to find other last-minute fixes.
"Y'all just have good eyesight," laughs Marco King, 275 South's super, who is showing Kosbau around the almost-finished roof.
To be fair, these problematic bits are easy for Kosbau to spot. He and his small team of designers spent the past two years fretting over the details of the building's rooftop, which was just about to open to tenants. When the developer L+M bought the 50/50 building (it contains an equal number of affordable and market-rate units) four years ago, the roof was an unfinished mess of poured concrete and ventilation systems. Today, it's an urban oasis filled with quaking aspen trees and benches made of sustainably harvested wood that look out onto the East River and the Brooklyn and Manhattan Bridges.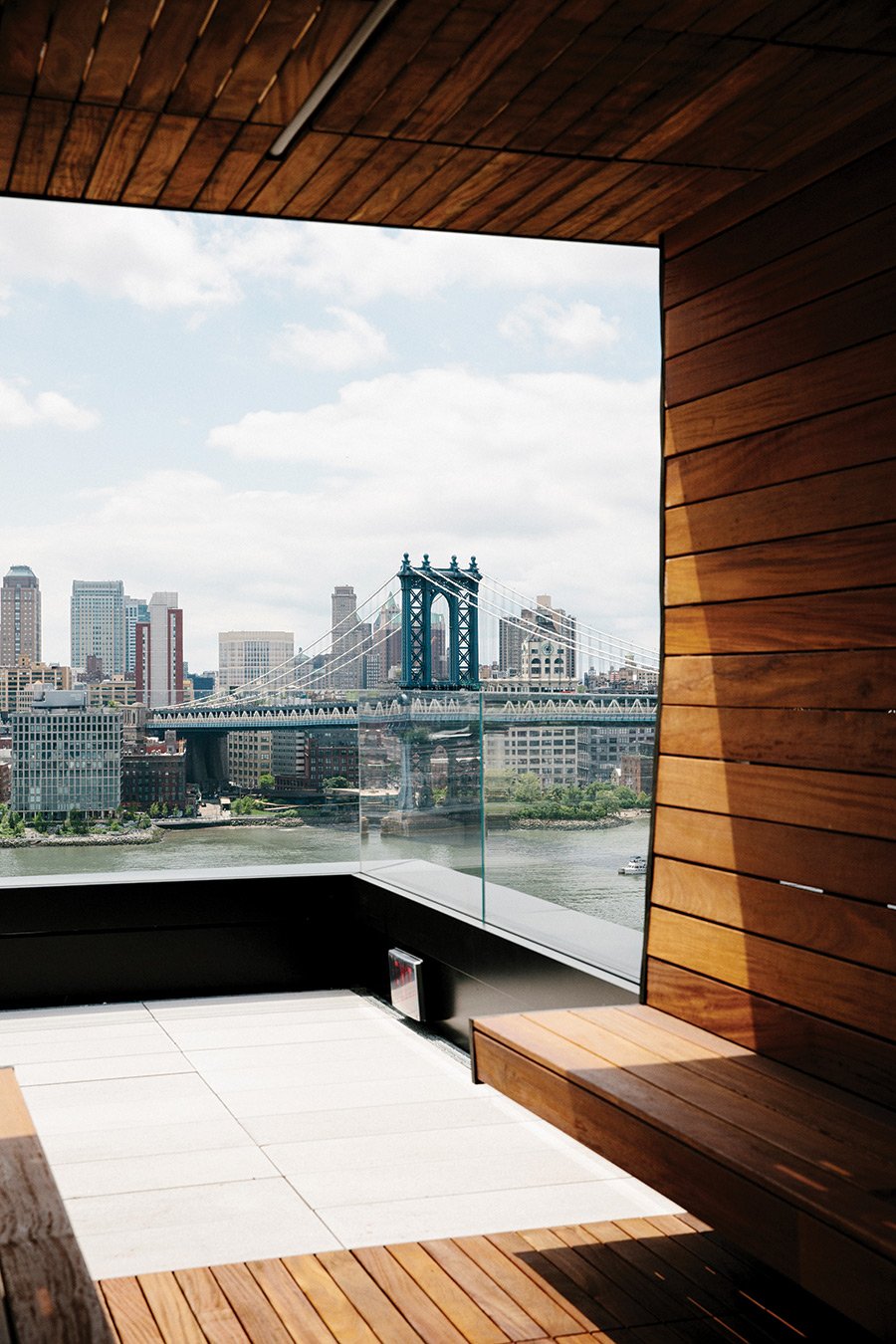 ---
ORE was leading a larger renovation of the building that included revamping the lobby, gym, and community room, as well as adding strips of angular lighting under each of the 260 balconies to create a glowing effect on the facade. The project represents the kind of work Kosbau would like his five-person firm to do more of in the future—affordable, impactful, and focused on sustainability. It's only now, eight years into running his own studio, that, Kosbau says, ORE has the agency to make that happen. "We're at a point now where we can say no, and that's a huge luxury," he explains. "We can focus on projects that we feel are on brand."
For years, that's meant urban farming projects for community kitchens, incubators, and makerspaces. ORE's work has always straddled the line between structural and landscape design, which puts the studio in the unusual position to approach a job from a holistic point of view. "In New York City, you probably spend more of your time inside than outside, so having a building that represents what you believe in is equally as important as improving the outside world," says Marcel Van Ooyen, president and CEO of the urban farming nonprofit GrowNYC, which gave ORE one of its first commissions. That early work for GrowNYC led to more ambitious plant-centric design projects like the Tom Colicchio–owned Riverpark Farm and Square Roots, a hydroponic farm built in shipping containers. "A lot of people thought I was a landscape architect early on," Kosbau says as he strolls by a small garden of native plants he selected for 275 South's roof.
---
What interests Kosbau about ORE's urban agriculture projects isn't the plants themselves—it's the merging of biological systems with the man-made. "The easier path for me was always the science path," he admits. Before Kosbau knew he wanted to be an architect, he studied chemistry at the University of Oregon. One day while visiting The Netherlands as a college student, he happened onto an exhibition showcasing the work of Kisho Kurokawa, the Japanese Metabolist architect known for his biologically-inspired designs. "I walked in and there were double-helix models rising over the ocean," he recalled. "That was when I was like, 'If this is architecture, I want in.'"
In the years since, Kosbau has approached his practice with a researcher's mind-set. Half of his work is dedicated to futuristic projects like Hydral, an algae-filled panel that can be attached to buildings to produce clean energy. And through his side company Trilemma, he's exploring how technology can solve the growing crises around food, water, and energy.
Despite Kosbau's techno-utopian leanings, ORE's design work is rooted in a refreshing sense of modesty, both in its dedication to using sustainable and local materials and in the projects the studio chooses to take on. ORE is currently working with GrowNYC to design a biodigester fueled by food waste for a food distribution hub in the Bronx. At the opposite end of the spectrum, the studio just finished a 7,500-square-foot house in Southampton, New York, that's designed to be a multigenerational home. In both cases, Kosbau says, his role as an architect wasn't to make a grandiose artistic statement—it was to solve the specific design problems the buildings presented. "There are enough problems in the world," he says. "I don't need to make more."
As Kosbau looks out over the grid of Lower Manhattan from 275 South's rooftop, he explains that even a project like this one, with its impressive views and luxurious amenities, begins with a pragmatic mind-set. "You lay out the conditions and look at it as a big picture," he says. What isn't visible are the 36 inches of steel ORE added to the rooftop to support the hordes of people who will soon be on it. Nor are the three feet of soil packed beneath the surface that allow the mini forest of trees and plants to take root. Again, it comes down to the details—this time the practical ones—that make the vision of an idealist like Kosbau a reality.
You may also enjoy "New Queens Park Restores Wetlands That Double as Resiliency Infrastructure."