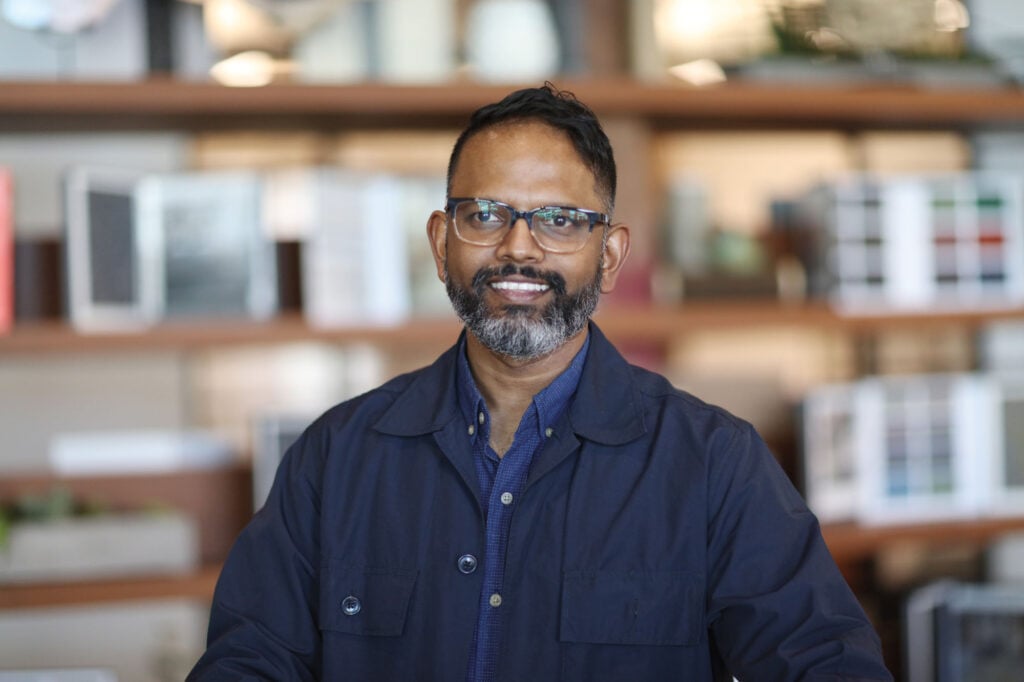 November 16, 2021
At Mannington Mills, Roby Isaac Invigorates Product Design with Fine Art
KB: Walk me through that process at Mannington.
RI: We reached out to Gabriel Dawe because I was a fan of his, and because multiple times, in design reviews, others would have images from his installations on their mood boards.
So, we reached out to him, and first he said, 'What's a Mannington?' Second, he said he saw a lot of neutrals on our website, and told me, 'I don't know if you know, but I work with a lot of color.'
I said, 'That's why we're reaching out to you.' We started with sketches, then we moved into prototyping. And when you're building carpet, you have to have a yarn 'thread-up,' which refers to the specific placement of yarns on a machine. So Gabriel said, 'Hey, do you mind if I take a stab at that?' Right off the bat, it was exactly what we needed.
Larry Bell's collaboration was different. Gabriel said we should reach out to Larry, and then he traveled with us to Larry's studio in New Mexico. Then we started working on pattern development. We flew out a couple times to see him, showed him samples and prototypes, and he gave the blessing.
KB: Were you breaking new ground in contract flooring with these partnerships?
RI: Other places were doing it. But I felt like a lot of places, competitors or otherwise, would create these product stories and—this is going to sound awful—but I felt like it was a little bit over exaggerated. So, I thought, 'How do we make it genuine?' And I asked our design team to start with an experience. It's when you're in a moment, a space. Something that might evoke an emotion. Don't force it. Let it happen, and if it does let's talk about it and see if there's something we can take from it.
Would you like to comment on this article? Send your thoughts to: [email protected]