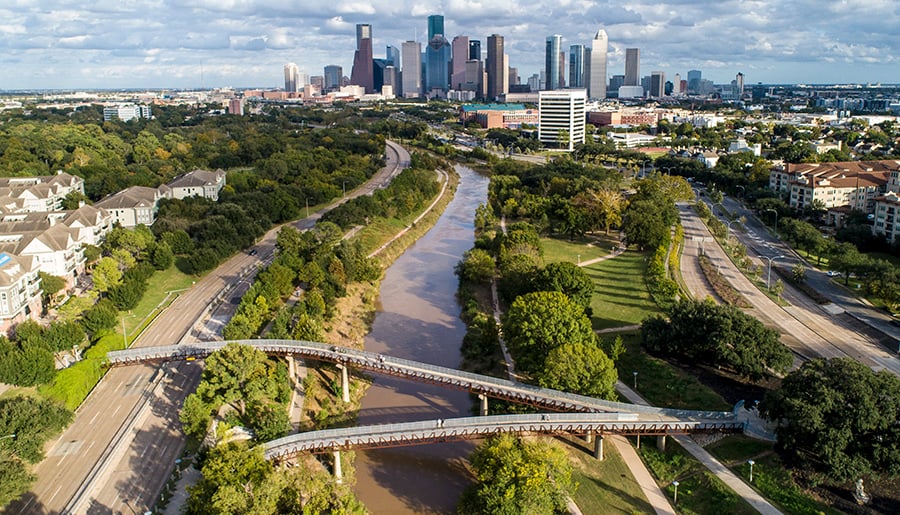 August 9, 2019
RBA Director Anne-Marie Lubenau on the Power of Design to Transform Communities
The biennial Rudy Bruner Award for Urban Excellence (RBA), which recently named its Silver and Gold winners, showcases exceptional urban projects in cities large and small.
---
This past spring, extreme flooding hit the Midwest hard—very hard. "As a Mississippi River mayor, I can say this event has been a long, hard fight for us, and we likely have many more months," said Greenville, Mississippi Mayor Errick Simmons in June, as reported by Scientific American. "Our flooding has been over 100 days. We have an increasingly severe homelessness situation. […] Hopes have been completely destroyed."
Flooding—and climate change at large—is just one of the myriad threats facing American communities both large and small. Sociopolitical inequality, flagging growth in small towns, and public health (to name a few) all pose a challenge.
Recently, the Rudy Bruner Award for Urban Excellence (RBA) highlighted five exemplary projects that collectively address many of these ills. To mitigate flooding, for instance, the Buffalo Bayou project created resilient infrastructure that also serves as an economy-boosting recreational amenity and community hub. But the winners also explore themes and approaches such as adaptive reuse, community-driven design, public art, and streetscape design.
Metropolis spoke with RBA director Anne-Marie Lubenau about big takeaways from this year's awards, trends in urbanism, and more.
Vicky Su: While all of this year's finalists represent unique approaches to urbanism, why did Crosstown Concourse take home gold? What about that project resonated with the jury?
Anne-Marie Lubenau: They really appreciated the fact that, as the project refers to itself, it's beyond mixed use; it has a very strong social equity focus. The types of tenants within the building include a public high school, a YMCA, housing, a nonprofit arts organization, and a nonprofit organization that delivers health care to working people who are uninsured or underinsured. [The jury] felt that this mix or curation of tenants made it particularly energetic and diverse.
---
The Buffalo Bayou project reflects a different but equally important topic in design: resiliency. How can resilient infrastructure become an asset to good urbanism?
Resiliency really has multiple dimensions: environmental, economic, and social. Resilient places recover and bounce back, just like Buffalo Bayou was able to quickly recover from Hurricane Harvey. Environmental resilience and infrastructure are critical issues in cities today and need to be addressed at multiple scales.
What was valuable about Buffalo Bayou is that infrastructure can serve multiple purposes: managing stormwater, promoting economic development, enhancing the city's identity, and supporting multimodal transportation. It's also a recreational amenity and connects the community. All of these things contribute to the city's resiliency.
Another project that stood out was the Sulphur Springs Downtown redesign. Many small towns are similarly facing financial hardship as wealth concentrates in major cities and their hinterlands. What's the power of design to help small towns like Sulphur Springs?
What occurred in Sulphur Springs was recognizing that quality of place matters when it comes to attracting people and investment. We heard several times during our site visit that people who lived elsewhere chose to live in Sulphur Springs because of the investment in creating an environment for people on a small scale. A pedestrian-friendly environment—the sidewalk, the landscaping—encouraged and invited people to spend time downtown.
---
The Parisite Skatepark project used community engagement and a design-build studio to involve local skateboarders in the design process. Tell me about the skateboarding community and the site of the park. 
Parisite Skatepark really illustrates how we can make spaces [with] undiscovered places in our cities [while] also using community design to engage people who don't typically have a voice—in this case, skateboarders and youth in the city. Parisite was done in collaboration with the Small Center at Tulane University, which is a community design center. Often, these design centers are the first introduction for a lot of people like the skateboarders to urban design and the design profession.
It's easy for people to take the way things are for granted and not realize that we have choices in the design of our environment. This case of community design also helped the constituency…access that kind of formal system of design and development.
What about this community engagement process can be challenging?
It takes time. Often, it's a process of helping people understand the process of design. Community design requires time to get to know people—to meet them [and] spend time drawing upon their expertise of place.
It is less of a transaction…But it often pays dividends in the end because through the process of community design, we create educated consumers. At the end of that process, there are a group of people who understand more about design and place making, and hopefully will think of the world differently as they move on.
What arguments can urban designers use to convince others—say, city government—of the value of the community-focused approach seen at Parisite Skatepark?
Particularly at a time when equity and diversity are of interest, community design is a way of engaging populations that, for one reason or another, don't always have a voice. The argument to be made is that community design is a way of engaging people and [making them] advocates for the role of public investment in their communities.
---
There is a great deal of interest in the transformative impact of public art in communities right now. What lessons can be drawn from Beyond Walls for other communities?
What appealed to the selection committee was [how] public art can be a simple and low cost approach with a big impact. There's a value to what the selection committee referred to as bootstrappy—inexpensive, simple, quickly implemented projects.
There's a lot of discussion right now about the implications of its success. What happens when a project that involves public art draws more people and investments? What does that mean for diversity and inclusion in the community? It's an ongoing point of discussion for the project.
There are places across America that are struggling to draw investment, [and] public art could be valuable as a catalyst. The challenge is how we think about the systems, policies, and processes that should be in place to ensure the attention that's attracted benefits the whole community.
The Rudy Bruner Award has long valued good urban design practices, like engaging the community in the planning process and creating contextual designs. But how has the RBA's definition of "urban excellence" evolved since its first award in 1987? 
I think the Rudy Bruner Award is as much about provoking a conversation and questions about urban excellence as it is about answers. Through putting out the call for entries every two years and putting together new selection committees, we see what questions the projects provoke.
It's also enabled us to see the evolution of issues affecting cities. One of the things we've observed since the first RBA is the renewed interest in and reinvestment in cities, which is really exciting. But, on the other hand, I think one of the issues that has emerged more recently are the unintended consequences of success—the growing concerns about socioeconomic disparity, affordability, gentrification, displacement, and equity.
In regard to newer issues like climate change and resilience, what happens with deteriorated and outmoded infrastructure? Over the 30+ years of the RBA, we've seen ebbs and flows of government financing. One of the observations from the last round in 2017 was the value of investing in urban infrastructure. In that case, all our projects had some level of investment from the federal government. This round, actually, only one of our medalists was led by a public entity.
How do you see urban development changing in future iterations of the award?
I would imagine it will continue to evolve as our cities evolve, but […] we've always seen the value of leadership and vision in these projects. Often, sustainable places are the products of a collaboration among multiple people and entities. They're places that engage community—not only in the design and development, but [they're] also the places that people actively use and come to love.
You may also enjoy "Meet the Designers Behind The Wing, the Coworking Company Creating Spaces For and By Women."
Would you like to comment on this article? Send your thoughts to: [email protected]