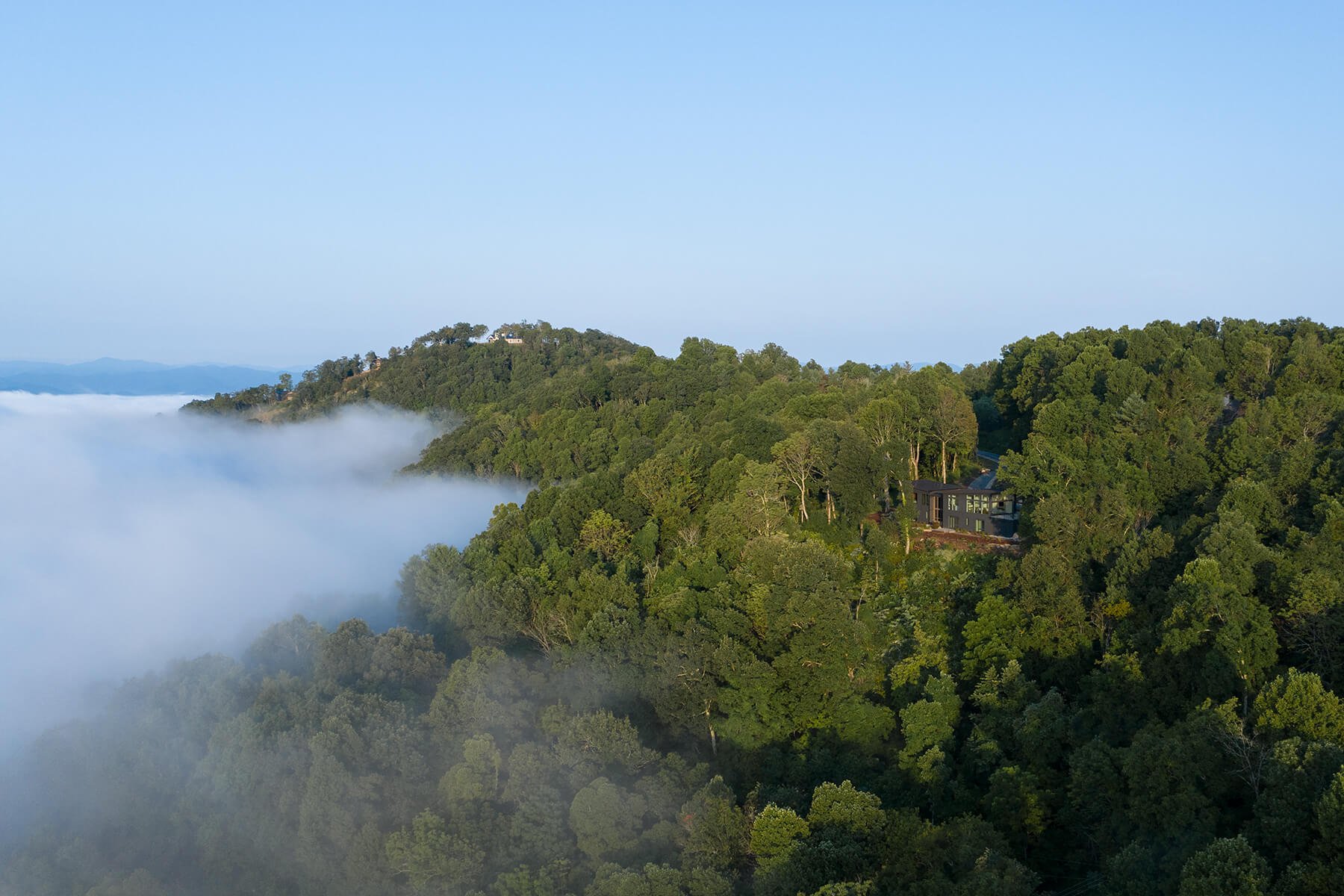 July 8, 2021
For Asheville, North Carolina–based Samsel Architects, Sustainability Is an Ongoing Process
From downtown adaptive reuse projects to ultra-green mountain homes, the 35-year-old firm prioritizes stewardship and civic responsibility as guiding values.
---
When you're an architect living in a place like Asheville, North Carolina, an urban respite nestled in the Blue Ridge Mountains, it's hard to ignore the environmental impact of every project. Longstanding local firm Samsel Architects operates under the understanding that each of its buildings is part of the region's greater ecosystem and that they have a responsibility to leave a positive impact on it. "Architecture doesn't stop at the walls and our responsibility doesn't either. It's about healing the land in and around our projects," says owner and principal Duncan McPherson.
Founded in 1985 by Jim Samsel, the firm made early commitments to historic preservation, energy conservation, and sustainable building performance. Since 2010, McPherson and co-owner and principal Nathan Bryant have been carrying on those commitments. "We were both drawn to the firm for those reasons—it was a bit ahead of the curve in terms of mainstream sustainability efforts," Bryant explains.
---
"There's a lot of potential for greenwashing in the industry, so I was drawn to the firm for really walking the talk," adds McPherson, who is also a cofounder of the local Green Built Alliance and former chair of Asheville City Council's Sustainable Advisory Committee and AIA-Asheville's Committee on the Environment. The firm now operates as a neutral energy company, thanks to internal workplace initiatives (from composting to equipment management) and a 24-kilowatt photovoltaic array on the roof of its historic downtown office.
Bryant notes that aesthetics are often lost in the discourse surrounding sustainability. "We can create machines that are energy efficient, but if they're not beautiful, people will not want to preserve them and that [potential] 100- to 200-year lifespan is lost," McPherson says. In other words, rather than simply following trends, a sense of timelessness is key for a project's lifespan. "For us, it's not always about shiny, new construction or high technology architecture but potential reuse opportunities."
---
A recent example is a renovation commission from Asheville's Center for Craft, a national nonprofit dedicated to advancing the field of craft through research and grant-making. Samsel breathed new life into the Center's four-story brick headquarters (built in 1912) while maintaining its historic certification. In doing so, the firm helped design the new National Craft Innovation Hub, which includes coworking, event, and gallery space in addition to a new coffee bar and catering kitchen that welcomes in artists, researchers, and Asheville's greater creative community.
Outside of downtown, the firm has completed numerous green residences throughout the city's mountains and the state. "How we build in the mountains is really important," Bryant says, highlighting the unique challenges of building in a mountainous region: conforming to ridge-top laws, controlling sediment erosion, managing storm water run-off. "No matter the scale of project, you cannot impose your will onto the topography, you have to work with it."
---
Take the Windy Gap Residence: The low-profile home sits gracefully on Asheville's Town Mountain ridge, its gray palette almost disappearing on foggy days, while offering the clients dramatic views through glass expanses (once the fog passes). Unassuming from the street, a spacious lower level provides the house with flexible space that can evolve over time and be used as guest bedrooms, an art studio, or home office. The solar-ready butterfly roof was designed with the ability to take the home to net zero.
For McPherson and Bryant, a net-zero residence isn't just an aspiration, but already an accomplishment. In 2014, the firm designed the Craven Gap Residence, which is the city's—and state's—first home to earn a Living Building Challenge Zero Energy Certification from the International Living Future Institute. Notably, the home has the smallest photovoltaic array of any Zero Energy Certified project, proving that larger arrays don't always mean greater energy efficiency.
Despite over 20 years of sustainable practice, McPherson humbly acknowledges that there is always more to learn. "We certainly haven't figured it out. It is an unobtainable goal if we're honest with ourselves—sustainability is always something we're going to reach for," he says. "We will never arrive and that's not the point, the point is to always be striving."
You may also enjoy "Three Adaptive Reuse Projects in North Carolina Reinvent Historic Mills"
Would you like to comment on this article? Send your thoughts to: [email protected]
---
Register here for Metropolis's Think Tank Thursdays and hear what leading firms across North America are thinking and working on today.