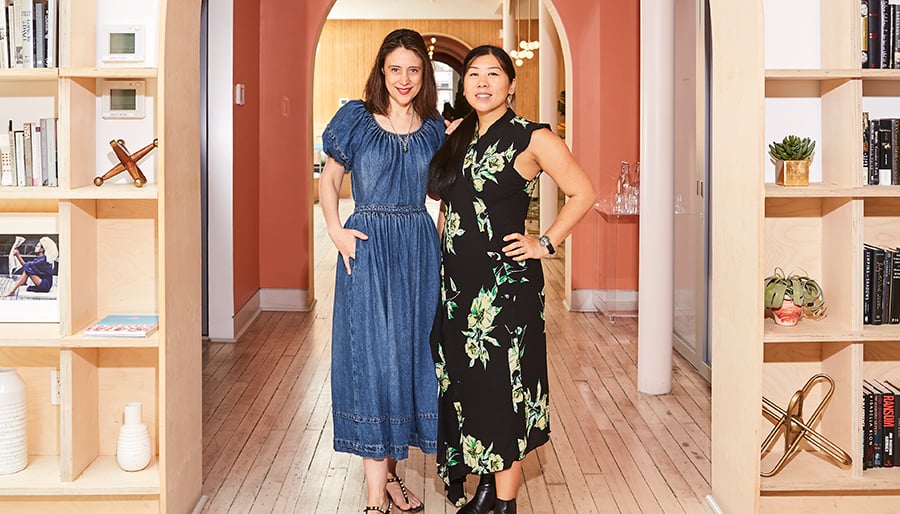 August 7, 2019
Meet the Designers Behind The Wing, the Coworking Company Creating Spaces For and By Women
Working together, architect Alda Ly and designer Chiara de Rege have shaped an instantly recognizable interior identity for The Wing.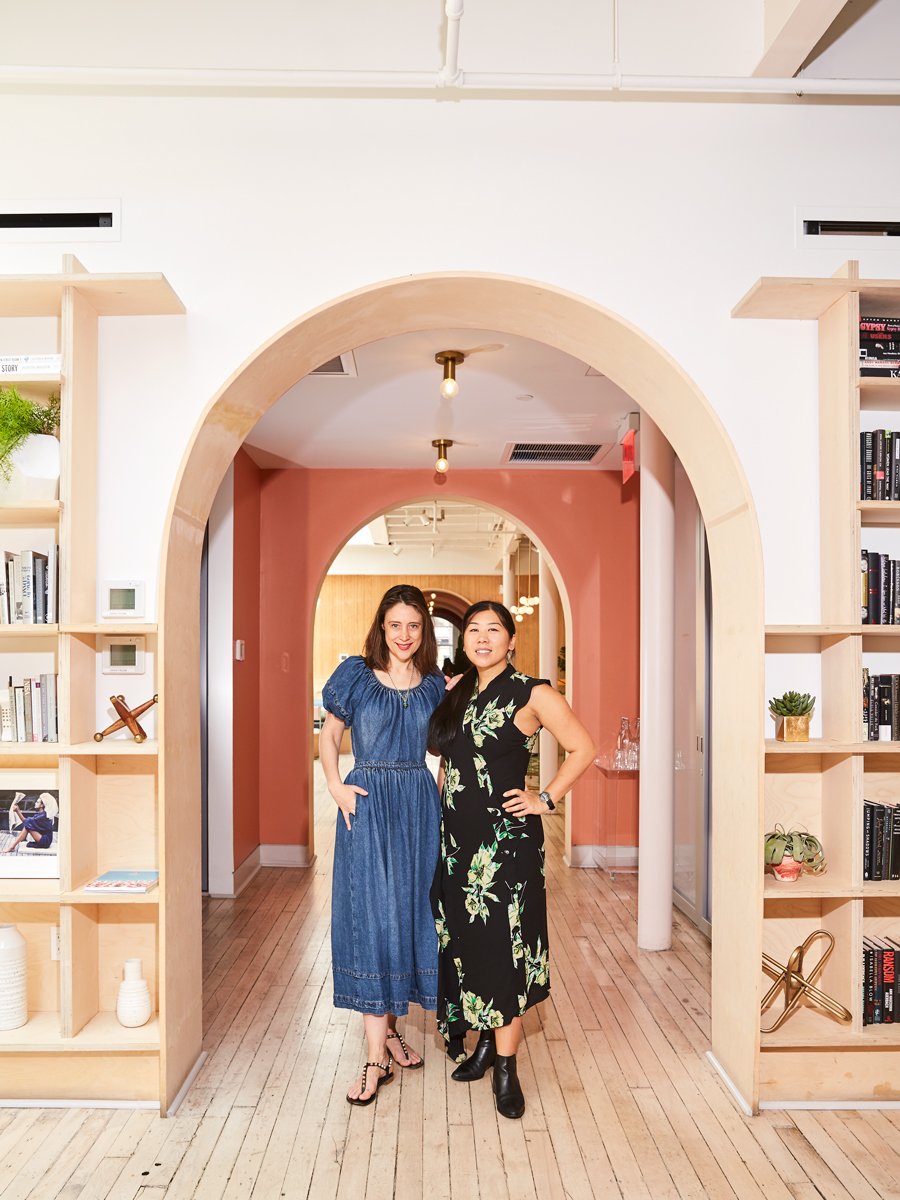 ---
Women are indispensable members of the design community, yet their contributions are still often taken for granted. This week on Metropolismag.com, we highlight women who are doing innovative and probing work in the fields of architecture, design, and urban planning.
After coffee at The Wing in Brooklyn's Dumbo neighborhood, Alda Ly puts on a pink baseball hat with the phrase "Casual Business Woman" stitched on the front. "I wear this when I start to write proposals and people are like, 'Oh, don't talk to her,'" the architect jokes.
The hat is classic Wing merch: at once sincere feminist propaganda and a send-up of bro swag, like the fleece logo vests ordered in bulk by Wall Street boys' clubs. The Dumbo location of the women-only coworking and community space—founded in 2016 and emboldened in its gender-oriented mission in the era of #MeToo—is Ly's office-away-from-the-office, where she holds meetings and bumps into friends. She also designed it.
In fact, it's one of six she's had a hand in so far in the franchise. Others can be found in Washington, D.C., San Francisco, and Los Angeles, or even across the East River, in Manhattan's Soho and Flatiron neighborhoods. But Ly, the sole principal of Alda Ly Architecture & Design, has been involved with The Wing since its launch in 2016: She led the project team at Leong Leong for the company's first outpost. Shortly after its completion, Ly established her own practice, and The Wing's founders, Audrey Gelman and Lauren Kassan, tapped her to lead an expansion to new locations. "They wanted a female architecture team because it fit the profile of supporting female business owners and entrepreneurs," she says. "It was a really good first big client for us."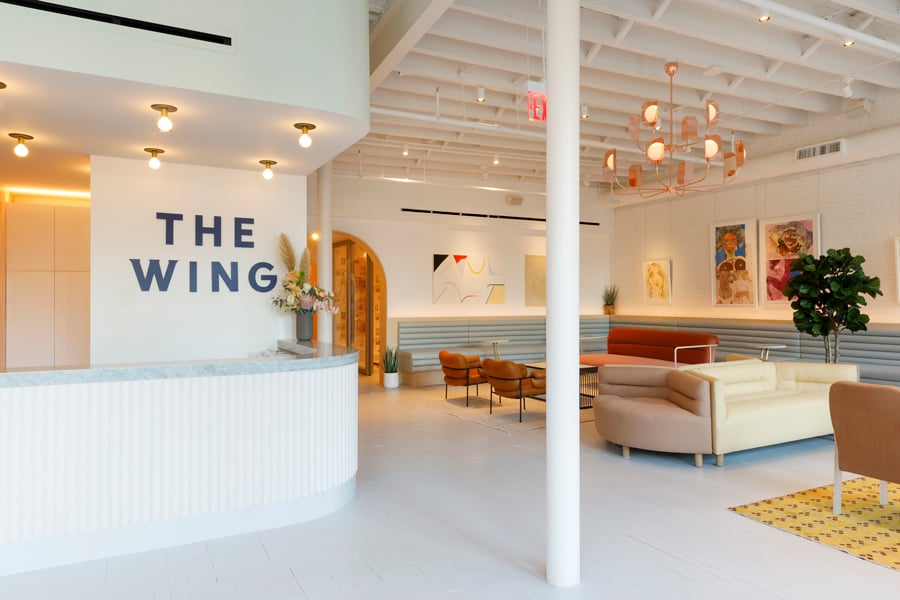 ---
Along with Ly, Gelman and Kassan also hired designer Chiara de Rege, who has run her own interiors firm since 2010. Together, Ly and de Rege have shaped an instantly recognizable interior identity for the women-focused business. While each location is unique in the contours and details of the space it occupies, there are a few recurring themes: curved, plush lounge furniture in jewel or pastel shades (often custom and from female designers, such as Carly Jo Morgan and Cristina Celestino); pale wood tables you might find in a Scandinavian coffee shop; bookshelves arranged by color; touches of terrazzo, marble, and custom wallpaper; and arched doorways.
This look came about, de Rege says, through a melding of the founders' own styles. Early on, while planning the Flatiron space, Gelman advocated midcentury Modern and Memphis; Kassan wanted something eclectic and bohemian. De Rege mixed those vocabularies with a warm contemporary aesthetic, while Ly helped them take advantage of the loftlike, 3,000-square-foot space. "[Ly] had such a vision," de Rege remembers. "I'm listening to the decorative cues, and she was focused on how one moves through the space." Where they overlapped: their taste in tile and funky grout color, a love of terrazzo, and how to avoid Sheetrock on a tight budget.
In each location, the designers have worked to incorporate unexpected details, and this is often where their partnership shines. An emerald velvet sunken conversation pit in Dumbo, for instance, was de Rege's dream; Ly made it work, incorporating it into the architectural drawings and maximizing the area around it for café tables and chairs. But as Ly gives a tour of the space, she focuses just as much on the invisible moves she made to turn what was once a cavernous restaurant into a warm, welcoming club: bringing data lines down, improving circulation, and strategizing about lighting.
---
At The Wing, where environment is inseparable from mission and programming, the designers' partnership takes on greater significance. In many cases, Ly and de Rege have been instrumental in helping conceive the brand's core amenities, which include showers and lockers, a café called The Perch, and on-site child care. Podcast recording studios (which de Rege fashioned after L.A. screening rooms that she had designed) sit adjacent to nursing and pumping rooms. "My mission was like, 'Let's create a great living room—a place someone is going to want to hang out and be inspired by the furniture and finishes while also wanting to get work done,'" de Rege tells Metropolis. "You should be able to refresh and reboot, and experience great programming, like [at Manhattan's] 92nd Street Y." The 2016 presidential election—and the feminist discourse surrounding it—underlined the need for a women-focused space, she adds. Fran Lebowitz, Hillary Clinton, New York senator Kirsten Gillibrand, and Gloria Steinem have all presented at The Wing's salonlike gatherings.
If the workplace design revolution of the aughts and early teens brought Ping-Pong tables, bleacher stairs, and napping pods, Ly and de Rege may be helping to normalize a more organic, adult, and humanistic evolution of office life, softening the hard edges in workplaces and retail spaces. Ly says a lot of her clients tell her, "I didn't know we could do something like this." The Wing is expanding rapidly thanks to its popularity (and an infusion of $75 million raised in a Series C funding round this past December). As it does, it's taking its interior design in-house and working with CallisonRTKL on architecture. Ly and de Rege eased the transition by consulting with The Wing during the handoff.
For Ly, the women-focused and -run Wing projects helped set a precedent that has shaped her own relatively new firm. Businesses such as Rent the Runway and Bulletin have sought her out—most of them female-founded and -managed companies looking to create their first physical spaces. "Not only is my entire team female, but virtually every collaborator we work with, from general contractors and expediters to lighting designers, is female-owned and -led as well," says Ly. "This is unique in our industry, and brands are coming to us because they're realizing that their architects and builders are part of their story."
You may also enjoy "Upali Nanda Blends Science and Design to Connect Wellness to the Built Environment."
Would you like to comment on this article? Send your thoughts to: [email protected]