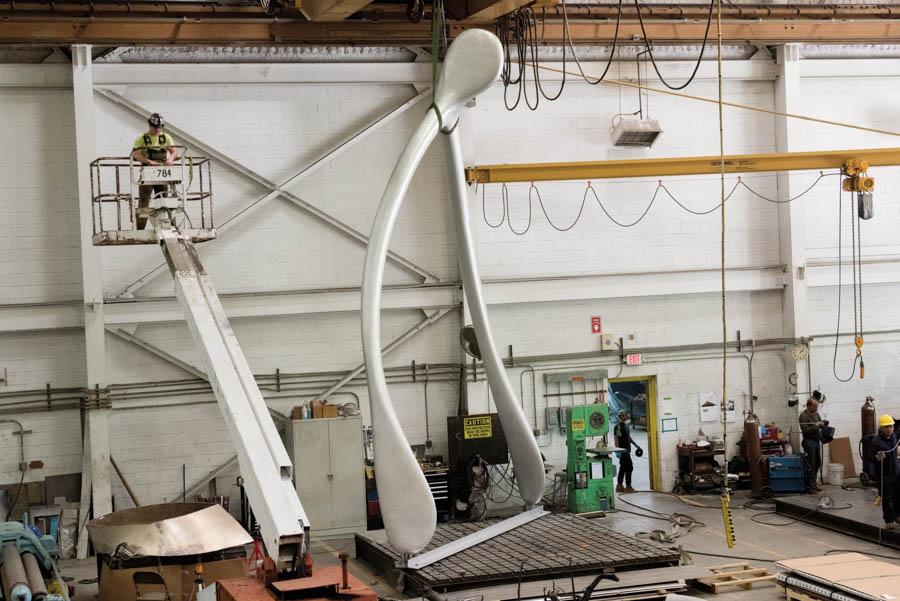 March 25, 2020
From a Tucked-Away New York Town, This Facility Brings Large-Scale Art to Life
UAP is making an unmissable mark on public space in American cities, fabricating outdoor art and installations from a buzzy foundry upstate.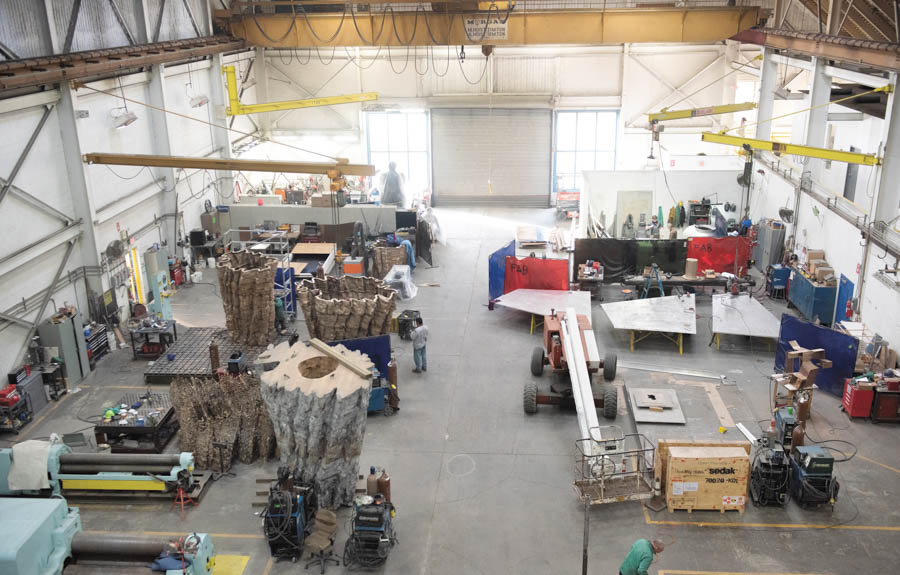 In 1540, the Italian metallurgist Vannoccio Biringuccio published Concerning Pyrotechnics , an opus that codified techniques of smelting and metalworking, invented in the Middle East thousands of years before Christ, into systems still recognizable to 21st-century artisans. Heirs to Biringuccio's genius are hard at work one wintry Friday morning at the Polich Tallix (PTX) fine art foundry in Rock Tavern, New York, a short drive from trendy art destination Beacon. The foundry has been newly acquired, if largely left unchanged, by the Australian company UAP, or Urban Art Projects.
These artisans, 80 or so on this January day, are variously casting Ursula von Rydingsvard's beguiling stacks of cedar beams into glowing bronze, scaling Nicole Eisenman's wry sculptures into the monumental, repatinating bulbous bronze pieces by Fernando Botero, and carefully readying a massive aluminum sculpture by Joel Shapiro for a voyage.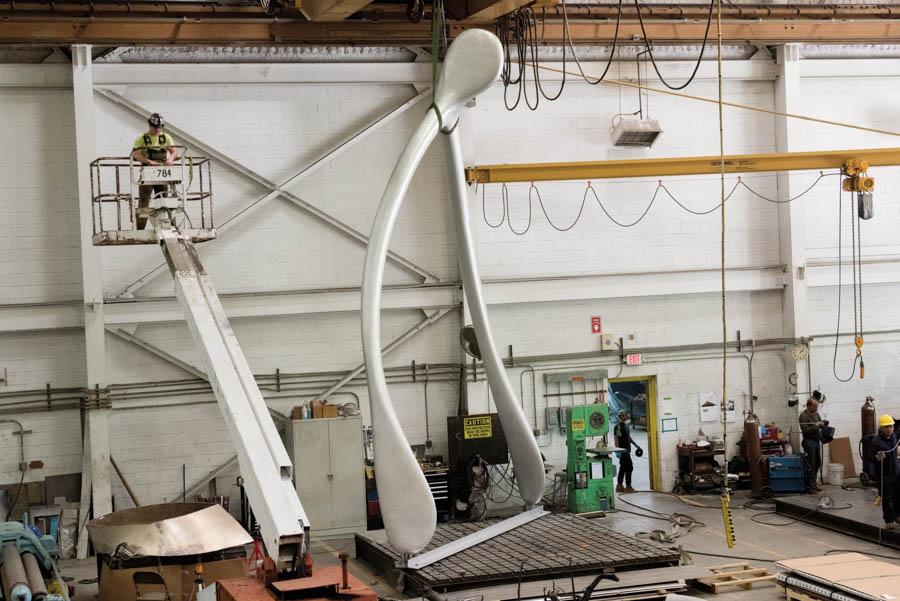 And those are just the publishable projects. A great deal more must remain off the record, though evidence of them fills the 80,000-square-foot, hangarlike space. In many cases, UAP's involvement remains unacknowledged at the client's request. In a sense, the foundry is as much an alloy as the molten metal it utilizes: Its combination of lost wax- and sand-casting facilities and digital printing capabilities marries ancient and cutting-edge techniques. Its output is both unsigned and unmissable, if you know what to look for. Jeff Koons's Rabbit, for example, achieved its astonishing reflectivity thanks to PTX craftspeople (though its wild $91 million auction price was largely due to Koons's star power).
Another charismatic personality launched PTX back in 1969, when an expert metallurgist named Dick Polich quit his job at an aerospace manufacturer after the company received an order for parts for 50,000 gas masks. He shifted gears, opening his own foundry in the hippie environs of upstate New York, joining his name to a derivative of the word metallic with a space-age suffix: Polich Tallix.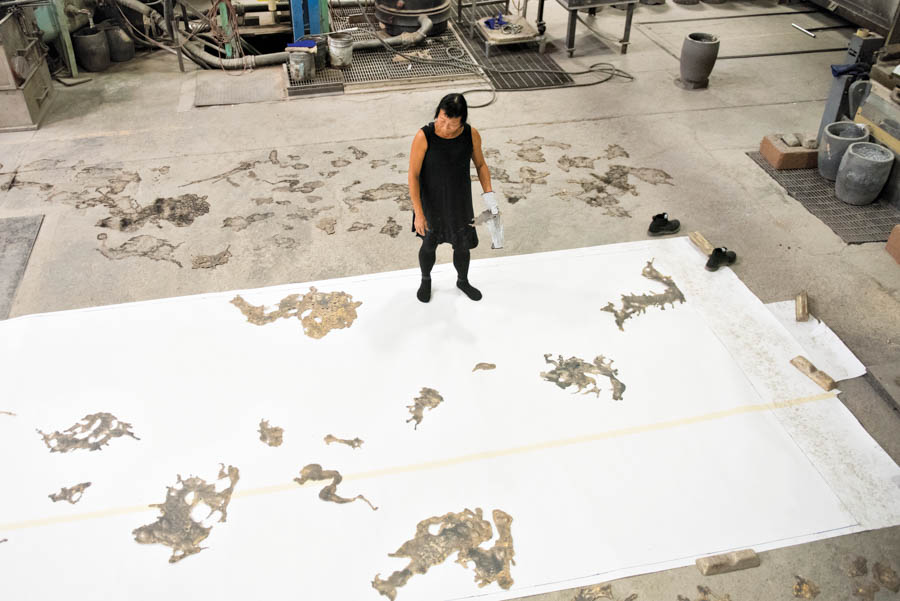 By 1976, Polich and his team had persuaded Roy Lichtenstein to re-create his still-life paintings in bronze, resulting in the landmark work Lamp on Table. They also embarked on a long collaboration with artist Nancy Graves in which she pushed the limits of the foundry itself, casting fruits, kraft paper, plants, and rope, whose flammable nature required innovative venting. While these Soho-style experiments unfolded, PTX looked uptown, too, fabricating architectural elements for the Metropolitan Museum of Art such as a Roman falcon and an Egyptian cat. "As technologically advanced as we get," Polich told the New York Times in 1983, "a guy from 300 B.C. could still walk through here and know exactly what was going on. I like that."
By the mid-1980s, PTX had figured out not just how to engineer, for example, Lichtenstein's 25-foot-high Brushstrokes but also how to transport and install it at Port Columbus International Airport in Ohio. It had also proved to a very resistant Isamu Noguchi that it could sand-cast in bronze his 1945 Strange Bird (to the Sunflower) without losing the aura of his own direct carvings, and had helped then–commodities broker Jeff Koons cast tchotchkes of any size and move them wherever a buyer desired. PTX, then, was premodern in its reliance on primordial fire and wax, modern in its attention to the delights of the hand, and postmodern in its logistical savvy and willingness to complicate authorship. It was artist and artisan, assistant and supervisor, building a portfolio of skills including engineering, project management, and fluency in the vagaries of packing and shipping. This portfolio became increasingly valuable as the 21st century dawned, when developers and municipalities began looking to large-scale public art as a way to distinguish their mixed-use urban compounds and revitalized downtowns. Seen within this economic and spatial context, the development of PTX has mirrored that of public art in American cities, where a synergy between financial and real estate considerations on the one hand and attention to craft and public engagement on the other has taken root.
A few years ago, brothers Daniel and Matthew Tobin were looking to expand the studio and workshop they had founded as Urban Artists in Brisbane, Australia, in 1993. After decades with one location in Shanghai and a small wood studio in Long Island City, New York, they were ready to scale up in size and scope. "We didn't think we'd find a huge foundry for sale, with a global reputation," says Daniel. It turned out that Polich was ready to retire and was looking for potential buyers. "It was almost too good to be true," Tobin recalls. In April 2019, UAP acquired Polich Tallix, introducing the foundry to clients including Ai Weiwei, with whom UAP had fabricated (and helped fund) 2018's Good Fences Make Good Neighbors, and Gehry Partners, for which it had sculpted a crumpled stainless-steel staircase for the University of Technology Sydney.
In less than a year, UAP has almost doubled PTX's output while increasing its staff, bucking the trend of upstate New York's declining manufacturing sector (though the replicability of a UAP model across other waning industrial bases is tenuous). Longtime collaborators seem reinvigorated. "We're into long-term relationships," Tobin says, before breaking a bit of news with a grin: Claes Oldenburg is returning not only to large-scale work but to PTX. And overseas artists like Australian-born Lindy Lee are overjoyed. "Although I've been working with bronze for nearly a decade at the UAP Brisbane foundry," she says, "the experience at PTX was an eye opener. Watching Rosemary Rednour, the master patina maker, breathe such subtlety into bronze and watching the colors bloom under her hand generates so many creative possibilities."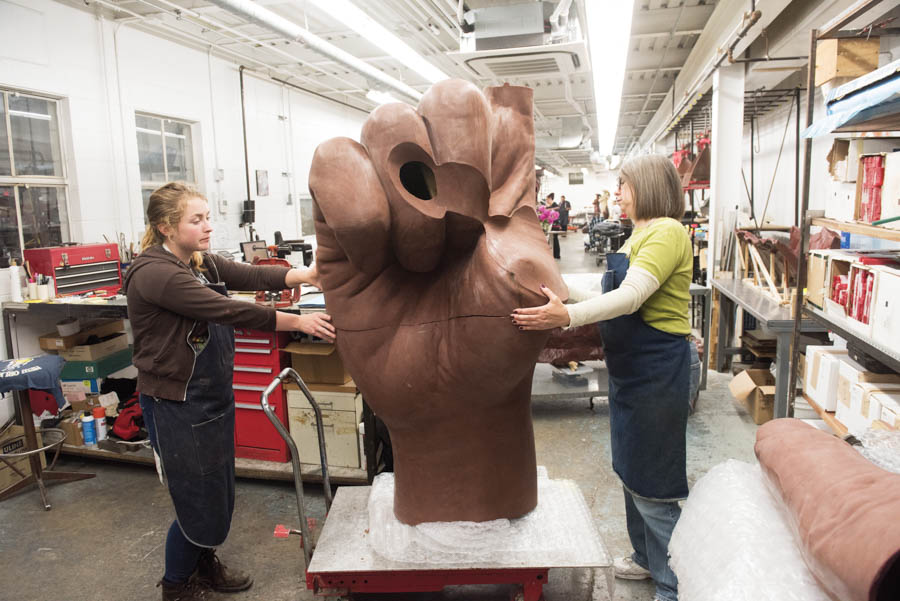 As might the arrival in Rock Tavern of a robotics lab, not unlike the one UAP currently operates in Australia, which Tobin says has increased human staff, not replaced it: "It's just another tool. Artists want the human touch, and architects might design on computer and exploit advances in digital technology, but they're desperate for people like us to still give them the handmade."
That composite of the digital and analog is evident in the uniquely spiky dining pods UAP produced for Zaha Hadid Architects' Morpheus Hotel in Macau, but even clearer in the collaboration between UAP and Xenobia Bailey for the Martin Luther King Jr. Memorial Library in Washington, D.C. "She's crocheting and hand-knitting patterns," says Tobin, "and we're translating these designs into a larger scale, helping to make the jump from something ephemeral into something durable." It's a little bit of alchemy worthy of Biringuccio himself.
You may also enjoy "American Archetypes Are a Calling Card at the Catskills' Urban Cowboy Lodge."
Would you like to comment on this article? Send your thoughts to: [email protected]