August 13, 2019
Vishaan Chakrabarti on His New Deanship at UC Berkeley's College of Environmental Design
Metropolis caught up with the architect and planner, discussing his current projects, America's political climate, and more.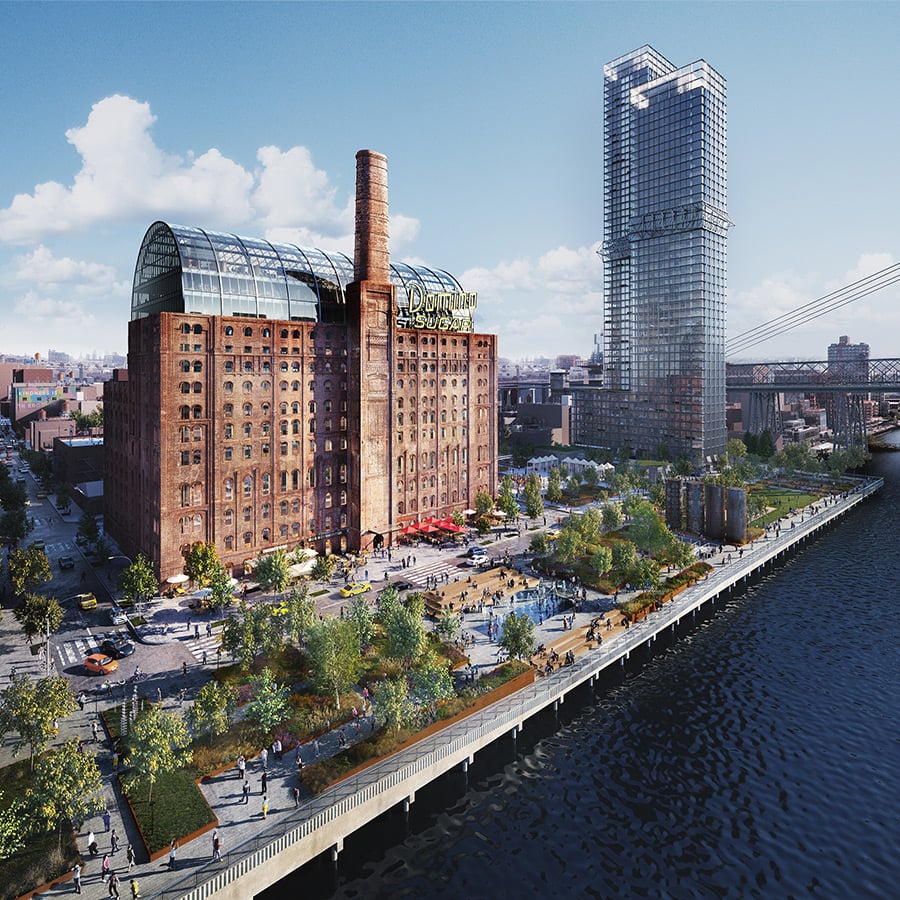 ---
Vishaan Chakrabarti has spent his career straddling the worlds of architecture and urban planning while simultaneously moving between roles in city government, design practice, corporate real estate development, and academia. From 2002 to 2005, he directed the Manhattan office of New York's Department of City Planning. Starting in 2009, he began teaching at Columbia University's GSAPP, where he founded the Center for Urban Real Estate (CURE), an initiative that sought to address the social and economic challenges associated with rapid global urbanization. Chakrabarti founded his own studio, the Practice for Architecture and Urbanism (PAU) in 2015, but not before spending three years as a principal at New York–based SHoP Architects.
Chakrabarti tells Metropolis that he's part of a new generation of architects and firms—with peers including Tatiano Bilbao, Alejandro Aravena, and Jeanne Gang—whose practices strive to collaborate closely with project stakeholders, whether that's a local community or a widespread collection of stakeholders. PAU's current projects range from the adaptive reuse of Brooklyn's Domino Sugar Refinery, to the planning of Queens's Sunnyside Yard, to the design of an office and high school in Brooklyn's Gowanus neighborhood.
Now Chakrabarti is heading west to assume the deanship of UC Berkeley's College of Environmental Design (CED) and to open PAU's second office, which will be located in the Bay Area. Metropolis recently spoke with Chakrabarti about his goals for the CED, his immigrant roots, and how we can design cities in a way that—as he puts it—doesn't look like crap.
Metropolis: It was recently announced that you'll be assuming the deanship of UC Berkeley's College of Environmental Design in 2020. What was exciting about this opportunity and what do you hope to accomplish as dean?
Vishaan Chakrabarti: The College of Environmental Design was founded by a practitioner dean in 1959, William Wurster, and his wife Catherine Bauer in a fashion that was way ahead of its time. They talked about the environment, climate change, and the need for interdisciplinary pedagogy bringing together architecture, city planning, and landscape design. They were talking about things in the '50s that most major schools of architecture weren't even talking about in the '90s.
The idea of the "practitioner-dean" works best when there's a reciprocity between what the school represents and what the practice represents in the world. Both the CED and PAU share twin pillars of design excellence and social impact. People are looking for large-scale structural change to the way our economy works, to how we deal with our ecology, to the way in which we bring social equity. At the same time, the idea of practice, especially as an architect or city planner or landscape architect, is not about impatience. So one of the things I'm interested in is, how can a school like CED help reconcile the tension between these ideas of the patience of practice and the impatience of social impact?
In a recent talk at the Pritzker Forum on Global Cities you made the case for a more "humane cosmopolis," challenging architects and planners to avoid the "creeping sameness" of many new urban developments. Can you elaborate? What's at stake when we talk about the "humane cosmopolis"?
This, for me, dates back to my 2013 book A Country of Cities, which was a call to arms to re-urbanize the United States because the government had actively subsidized sprawl throughout the 20th century.
While I was touring for the book, people would respond with this one vexing challenge: [my] premise makes sense, but most of the urban growth we see is crap. It's this horrible and homogenous stuff, not just architecturally but socially. [That's] why I formed PAU—to address this question and urbanize in a way that would be culturally sensitive, community- and climate-centered, and informed by construction methods responsive to that context. That is what will create a cosmopolis.
Moreover, cities are a hotbed for people of all different walks of life, socioeconomic classes, races, genders, mindsets, to come together and have social friction, eyeball to eyeball. To me, this is fundamental given today's political climate. The way people are treating each other is a consequence of the geographic segregation that's happened. We need to physically bring people together in this world so that when a politician puts out a race-baiting tweet, people in cities have the opportunity to be face to face with someone who looks different or is dressed differently.
---
You're a leading American urbanist but also an immigrant; you were born in India and grew up in Arizona and Boston. Given the heated political climate around immigration, does your work feel more political now? Do you feel that part of your identity is shaping your work? 
All architecture is political. A luxury condo is political. You can't mistake a social agenda with the need for design excellence—those two things have to come together. There used to be an idea that if you cared about politics and society and you were a humanist, then you couldn't be a good designer. That was a trope of the '90s.
You asked about me being an immigrant—one thing that's happened to me personally is not just looking at the work of famous Indian architects like Balkrishna Doshi and Charles Correa, but also figures like I.M. Pei and Minoru Yamasaki, who lived and practiced in America.
A lot of us, even today, have had to find these more circuitous paths into architecture. I used to work for a large corporate firm and…they told me that design partners were WASPs, managing partners were Jewish, and I was neither—so there wasn't really a place for me in the partnership. That happened in 2005. I'm sure I.M. Pei had these battles. With Yamasaki, I have a suspicion that he was [using] architecture, including the World Trade Center, to work through some of these identity questions of what it means to be an Asian in America—of believing in modernity at one level and then understanding classical traditions that come out of the Western canon.
If you come to our studio, my 25-person team looks like the U.N. Security Council—there's just about every color. We're a broad group of designers and that is expressed in what we all draw. We're accountable to the communities we serve. There is this thread of our own personal identities and how that's influenced the work.
You and your team at PAU are leading the design and master plan of Sunnyside Yard—a major 180-acre mixed use development at a former rail yard in Queens. How are you working to avoid the criticisms leveled against a similar project, Hudson Yards?
One of the most significant differences is that [Sunnyside Yard] is led by the public sector. It is very much driven by the assessment of public need through innumerable stakeholder meetings and a task force drawn from community leaders and local elected officials.
There isn't consensus about what should happen there…but there are clear needs that have emerged: open space, affordable housing, infrastructure, cultural space, creating jobs. We've been trying to integrate all of that community feedback. I personally enjoy working with communities; I don't think of that stuff as bureaucracy. In my practice, I don't want to work with someone who just tells me to build an icon, where we don't talk to anyone, where we just draw something and it gets built. There's just no sport in that whatsoever. And architecturally, we're having to think deeply about what it means to build buildings and public space on top of a rail platform, which is a very physical thing.
You may also enjoy "RBA Director Anne-Marie Lubenau on the Power of Design to Transform Communities."
Would you like to comment on this article? Send your thoughts to: [email protected]