March 26, 2019
The Kansas City Fabricator Quietly Exporting Its Architectural Prowess to the World
With a legendary roster of clients and collaborators, the fabrication company Zahner continues to perfect its ability to render almost any form in metal.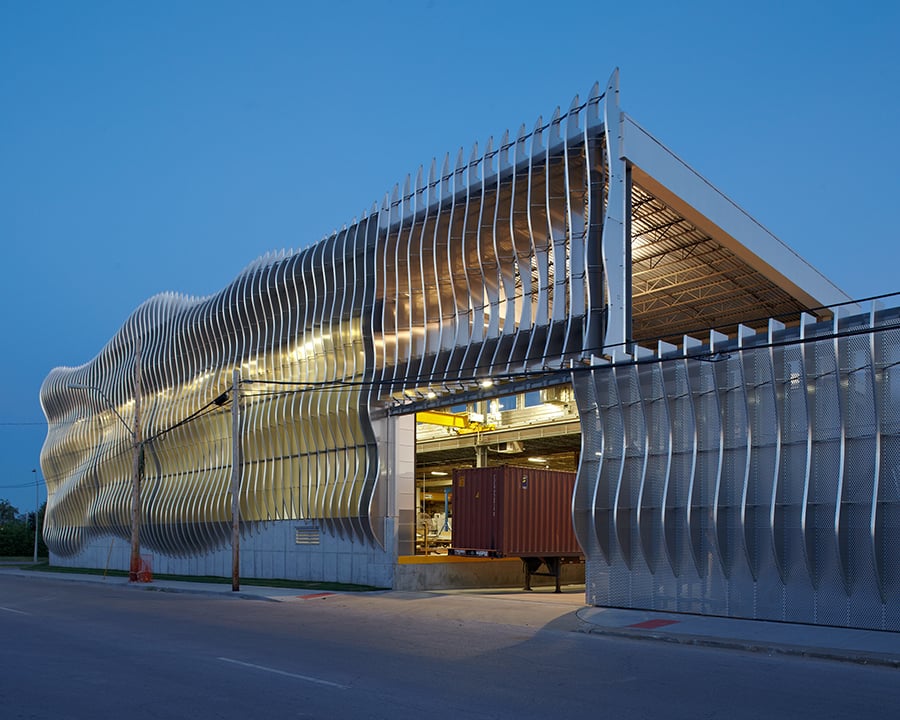 ---
On a remarkably gray January morning, Zahner's Kansas City, Missouri, facilities are overflowing with numbered crates ready to be shipped to California. Inside the crates are pieces of the new BIG and Heatherwick Studio–designed Google headquarters in Mountain View. Approximately 2,200 stainless-steel panels, finished with a soft matte texture, are moving across the shop floor. In an expansive, hangarlike section of the plant, larger pieces resembling airplane wings, and clad in the same stainless-steel material, are being preassembled. When all is said and done, 500 of these assemblies will have been produced, shipped, and bolted onto the Google building's structure.
Zahner has come to specialize in exactly this kind of complex custom work, but it wasn't always this way. Founded in 1897, the company produced fairly standard architectural metal features for much of its history. The foray into more ambitious forms started in the 1980s, when Bill Zahner, president and CEO, met Frank Gehry.
"I was his customer," Zahner says with mock pride. Gehry had been commissioned to design a monument to commemorate the centennial of the Sheet Metal Workers' International Association, and the union recruited Zahner to liaise with the architect.
Their first major joint undertaking was the Experience Music Project, today Seattle's Museum of Pop Culture. Gehry's wild, undulating design was reduced to 3,300 unique prefabricated assemblies that were produced at Zahner's headquarters, then shipped and installed much like a gigantic 3D jigsaw puzzle.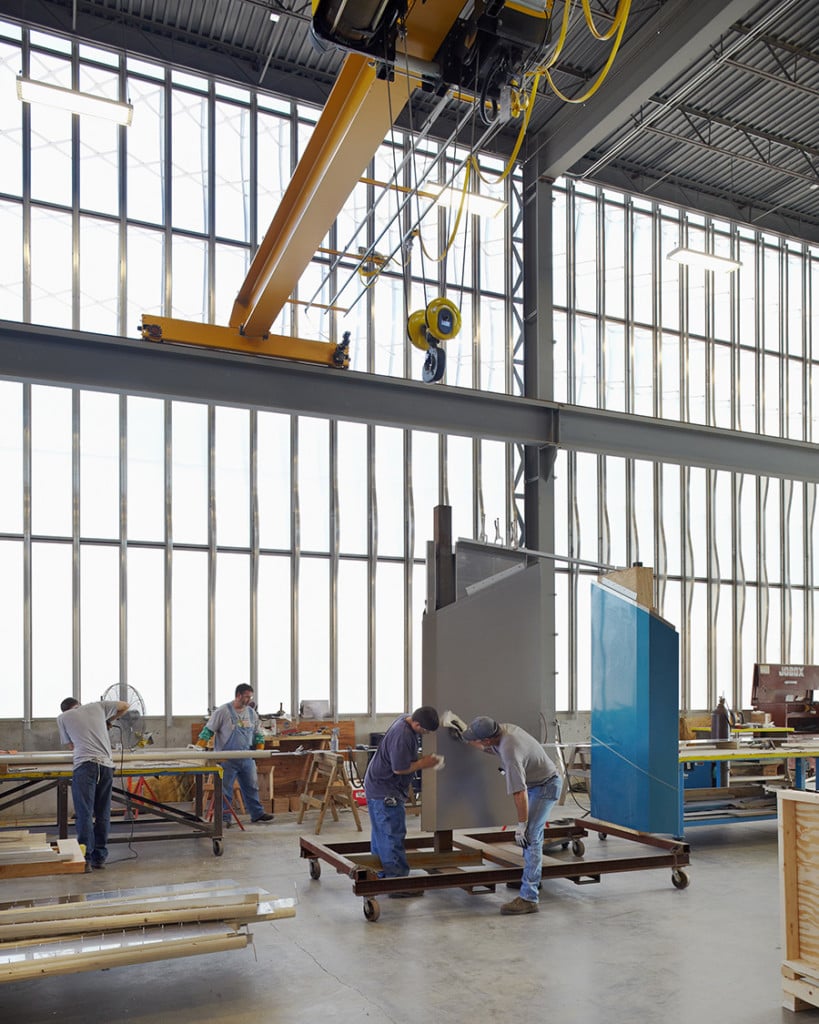 ---
Nearly two decades after that first building, Zahner continues to perfect its ability to render almost any form in metal, and its president still experiments with materials and treatments to expand the range of aesthetics his firm can achieve. Throughout his studio lie pieces of metal that have been painted, patinated, pressed, or punched. A prototype for the new Australian embassy in Washington, D.C., designed by Bates Smart, hangs exposed to the elements just outside Zahner's newly renovated offices, which are adjacent to the production plant.
Pondering the future of his business, Bill Zahner recognizes two paths that capitalize on the company's innovative, experimental core. The first is one of large custom projects. He loves this kind of work, and his company is well-suited to continue delivering it, as it has the muscle to mass-customize forms and finishes, and the know-how to develop custom processes, too.
Thom Mayne, for example, has tapped Zahner to produce some of his firm Morphosis's most complex projects over the years. "We've grown and developed in parallel as new digital design tools expanded both the formal possibilities of our work, especially facades, as well as their performance and fabrication process," he says. For the Bloomberg Center on Cornell Tech's New York City campus, Morphosis designed a louvered screen made of perforated aluminum. Instead of using established methods to produce the panels, Zahner's R&D team decided to repurpose a FANUC ARC Mate robot arm, which until then had been used for welding, and reprogrammed it to push out 337,500 precut tabs in delicate, repetitive motions.
Commoditization is a second possible future path for the business. In contrast to complex custom projects, a commoditized approach would give Zahner's customers more direct control over the fabrication of smaller, simpler products. One of Zahner's incursions into the "commodity" realm is ImageWall, a free web application that allows users to easily design and manufacture their own custom-perforated surfaces. This technology is part of a broader suite of tools, named ShopFloor, that helps designers create custom projects within predefined constraints—an idea that was inspired by Gehry.
"One time he said to me, 'I want to be able to control your shop floor,'" says Zahner. "That's what this concept is all about: Give the designer the ability to control the floor."
According to collaborators, Zahner does that routinely. Mayne describes Bill Zahner as a de facto member of the design team who is constantly looking for opportunities to advance the realization of architecture. "Working with Zahner is like having an extension of our own studio," Mayne says, and what better image to convey what may be the company's most significant contribution: a narrowing of the gap between design and fabrication.
You may also enjoy "Bandido Studio Draws from Traditional Mexican Crafts in Its Modern Designs."
Would you like to comment on this article? Send your thoughts to: [email protected]