November 13, 2008
Bicycling in Brooklyn: The Results
The winner of the Red Hook Bicycle Master Plan Design Competition is announced
Monday night the Forum for Urban Design announced the winner of the Red Hook Bicycle Master Plan Design Competition, the first step in a grassroots initiative to make "Red Hook the most bicycle friendly neighborhood in New York." The competition challenged designers to create a bicycle garage or loft near the Smith/9th Street Station that increases accessibility for local commuters and safety for recreational cyclists. Teams were judged based on the success of their approach to the three essential components of the competition: architecture, urban planning and design, and funding feasibility.
The winning entry by Jonathan Rule of Morcillo + Pallares Architects (pictured above) promises to serve not only as a community center and hub for bicycle activity, but also as an example of sustainable urban development. With its internet café, lounge, and ample parking garage, The Bike Loft would undoubtedly add to the appeal and convenience of a re-imagined Red Hook waterfront. In the wake of the success of this summer's New York Bike Share Project, the Bike Loft is also representative of the growing trend in urban centers across America to promote the use of bicycles as a primary form of city transportation.
For more information on the entrants, finalists (images below), and their designs, visit the Forum's Web site.
Route Peddlers
Heather Aman Design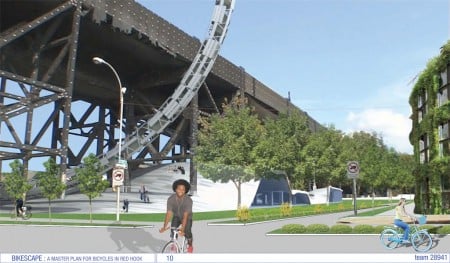 HOK Sport
 Jordan Parnass Digital Architecture
 H3 Hardy Collaboration Architecture + Eng-Wong, Taub & Associates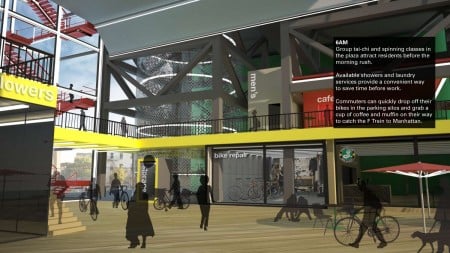 Jordan Parnass Digital Architecture